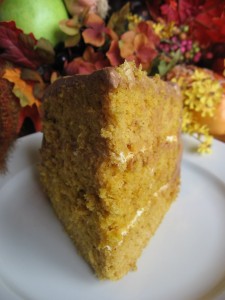 I was very excited for November's cake for the Cake Slice Bakers: a sweet potato spice cake with chocolate frosting. The name of the cake just oozed autumnality (if that's not a word, it should be). I've had so many other things going on, however, that I put off making this cake until almost the last minute. When I finally got around to making it, it was pretty easy and tasted delicious! It was a new combination of flavors for sure; I would have put chocolate with a spice cake, and I would have put orange with a spice cake, and I would have put chocolate with orange, but I would never have thought of putting all three flavors together. But it really worked. Very tasty, and perfect for the season! I stuck to the exact recipe we were given except I used pumpkin instead of sweet potato. Our grocery store only ever has white sweet potatoes, and I wanted that lovely orange color. To see how other bakers fared with this recipe, click here. And ignore the crazy way this post looks. I couldn't get it right!
Sweet Potato Cakefrom Sky High: Irresistible Triple-Layer Cakes by Alisa Huntsman, Peter Wynne, and Tina Rupp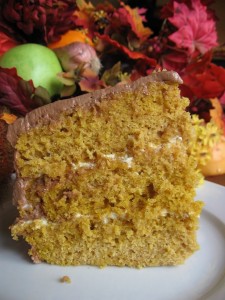 Cake:2 medium or 1 large sweet potato (12 ounces)3 cups of cake flour3 teaspoons of baking powder1 and 1/2 teaspoons of ground cinnamon3/4 teaspoon of ground nutmeg1/4 teaspoon of cloves5 eggs, separated2 and 1/4 cups of sugar1 stick plus 2 tablespoons of butter, at room temperature1 and 1/2 teaspoons of vanilla1 and 1/4 cups of milkMakes a 9-inch triple layer cake, serves 16-20 people
1. Preheat the oven to 400F degrees. Prick the sweet potatoes in 2-3 places, place on a small baking dish and bake for 1 hour or until the potatoes are very soft. Remove from the oven and cool slightly.2. Reduce the oven temperature to 350F degrees. Butter the bottoms and the sides of the pans and line with parchment paper. Butter the parchment paper also.3. When the sweet potatoes are cool peel off the skin and remove any dark spots. Cut the potatoes into chunks and puree in a food processors. Puree until smooth. Measure out one cup of potato puree and set aside.4. Sift the flour, baking powder, cinnamon, nutmeg, and ground cloves. Set aside.5. In the bowl of electric mixer add the egg whites and attach whip attachment. Beat on medium speed until egg whites are frothy. raise the speed to high and gradually beat in 1/4 cup of sugar. Continue to beat until the egg whites are moderately stiff.6. In another large bowl with the paddle attachment, combine the sweet potato, butter, vanilla, and remaining sugar. Beat until light and fluffy. Add the egg yolks one at a time. Make sure to scrape the sides of the bowl after each egg yolk is added. With the mixer on low speed, add the dry ingredients and milk in alternately in 2-3 additions. making sure to begin and end with the dry ingredients.7. With a large spatula, fold in one fourth of the egg whites into the batter to lighten. Then fold in the remaining egg whites until no streaks remain. Making sure to not over mix or this will deflate the batter. Divide the batter among of the three pans.8. Bake for 25-30 minutes or until a cake tester comes out clean. Let the cake layers cool in the pan for 10 minutes. Then turn out the cake layers onto a wire rack and cool completely at least 1 hour.9. To assemble the cake, place one layer flat side up on to a cake stand. With a pastry bag fitted with a 1/2 inch round tip and filled with chocolate cream cheese icing, pipe border around the edge of the cake. Fill the center with the orange cream filling smoothing it to the edge of the border. Place the second layer on top and repeat the process.Place the third layer on top and use all the chocolate cream cheese frosting to cover the top and sides of the cake.

Chocolate Cream Frosting:makes 3 cups10 ounces cream cheese at room temperature1 stick of butter at room temperature16 ounces of powdered sugar; sifted1 and 1/2 ounces of unsweetened chocolate melted and slightly cooled
1. In a large mixing bowl, beat together the cream cheese and butter until fluffy. Slowly add the powdered sugar to cream cheese butter mixture. Making sure to scrape down the sides the sides of the bowl. Then beat until light fluffy 2-3 minutes.2. Measure out 1 cup of frosting and set aside.3. Add the melted chocolate to the remaining icing in the bowl and beat until well combined.

Orange Cream Filling:
1 cup of reserved cream cheese icing from above.2 tablespoons of frozen orange juice concentrate, thawed1/4 teaspoon of orange extract
1. Stir together all the ingredients until well mixed.