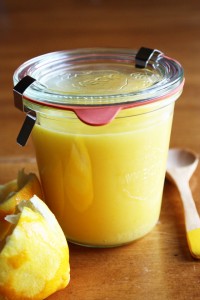 Lemon curd is such a delicious treat! It is silky and rich, and tastes like sunshine. I'm always surprised when I make it at how easily and quickly it is ready. You'd think something as indulgent and luxurious as lemon curd would be really finicky and temperamental, and require lots of steps and special tools. But it is ridiculously simple! And ridiculously tasty! And just…special. That's a lot to live up to, right?!
Possibly the best thing of all about lemon curd is how many delightful treats it can be paired with! It can be spread atop a sweet crust to make lemon bars, tucked into buttery cookies, sandwiched between the layers of a tall and luscious cake, covering a creamy cheesecake…the list of delicacies is truly endless. But why are you still reading? You should be out whipping up a batch of lemon curd!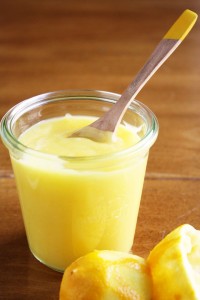 3 whole eggs
2 egg yolks
1/2 cup sugar
1/2 cup plus 1 Tablespoon fresh lemon juice
zest of 3 lemons
4 Tablespoons unsalted butter, at room temperature
Whisk together all ingredients except butter in a nonreactive saucepan. Gently heat mixture over medium-low heat, whisking until it thickens to a pudding-like consistency. Pour the mixture through a fine mesh sieve into a heatproof bowl. You'll probably need to push it through with a wooden spoon. Stir in the butter and cover the curd with plastic, making sure the plastic touches the surface of the curd. Refrigerate until cold or use immediately.