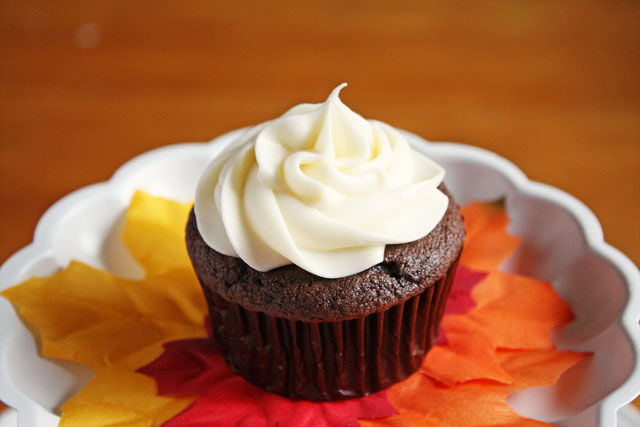 My mom has possibly the best job ever at church. She gets to throw a brunch once a month for all of the ladies at church who have a birthday that month. Fun, right?! And I'm the lucky one who gets to make the cupcakes each time! For the October Birthday Brunch, I thought it would be fun to finally try that yummy chocolate-pumpkin cake recipe that graced the cover of Country Living magazine years ago, and that I mentioned in my October Favorites post earlier this month. And let me tell you, these chocolate pumpkin spice cupcakes are delicious! They are chocolately and spicey, with a little mellowness from the pumpkin and a little tanginess from the buttermilk. They are moist and light and fluffy, and bake up extremely beautifully (which not all cupcake do, guys). Such a tasty fall treat! We frosted ours with this cream cheese frosting, and it was a delicious combination. Country Living suggests this orange cream cheese frosting, which I think would be amazing–but I was out-voted folks! This kitchen is nothing if not a democracy. Except when my kids want mac & cheese 5 times a week. Gotta draw the line somewhere.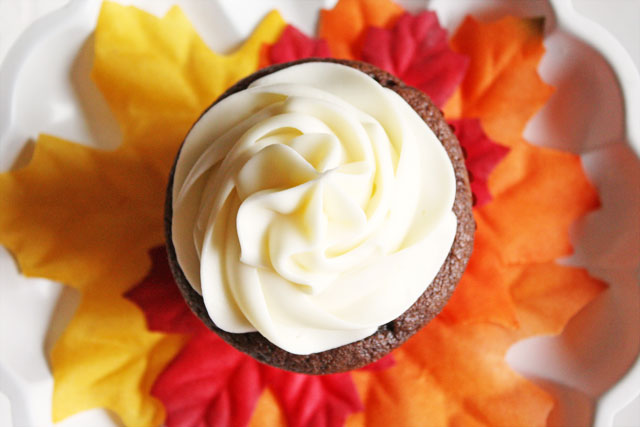 Chocolate Pumpkin Spice Cupcakes
Ingredients
1⅔ cup + 4 teaspoons flour
⅔ cup + 4 teaspoons cocoa powder
2 teaspoons baking powder
1 teaspoon baking soda
1½ teaspoons cinnamon
½ teaspoon nutmeg
½ teaspoon salt
½ cup buttermilk
1 cup canned pumpkin
1 teaspoon vanilla
1½ sticks unsalted butter (12 Tablespoons)
1 cup sugar
1 cup brown sugar
3 extra-large eggs
Instructions
Preheat the oven to 350°F. Line 24 muffin tins with cupcake papers and set aside.
In a large bowl, combine flour, cocoa powder, baking powder, baking soda, cinnamon, nutmeg, and salt; set aside. In a medium bowl or large liquid measuring cup, combine buttermilk, pumpkin, and vanilla, and whisk until smooth. In a large bowl or the bowl of a stand mixer, beat butter and sugars until light and fluffy. Add eggs and beat until incorporated. Add ⅓ of the flour mixture, and beat until combined. Add ½ of the buttermilk mixture, and beat until combined. Repeat until all ingredients have been added and batter is well-mixed.
Divide batter evenly among prepared pans. Bake 18-22 minutes, until a toothpick inserted in the center of a cupcake comes out clean.
Allow cupcakes to cool completely before frosting.