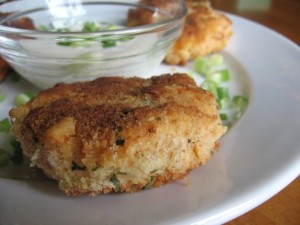 Have you ever bought a book out of the bargain bin? If you haven't given in to the urge, you've probably at least been tempted. Who can resist discount books? Who can look at those red clearance price tags with things like "$1.00" written on them and just walk away? I already have a weakness for shopping. Combine that with my love of books and I'm completely hopeless! Sometimes you can find great books in the sale bin, but usually, they're at least a little wacky. Case in point: The Toddler Cookbook by Annabel Karmel.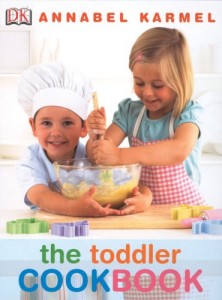 The large, hardbound cookbook for kids from DK Publishing has just 19 recipes, many of which my child would never eat or I would never take the time to make! It has a section at the beginning with some helpful tips–how to crack an egg–and some that for a toddler cookbook are just plain weird–hand whisking egg whites to stiff peaks, using ring molds to make mini cheesecakes, etc. Unfortunately, my daughter loves to look at it and constantly asks me to help her make things from it.
Good things
–It has a picture index of kitchen tools, neatly labeled and everything, which would probably even be good for anyone who doesn't know their way around a kitchen.
–Each recipe gets a two-page spread, and the steps are all numbered AND pictured.
–The kids are cute.
–The pages are engaging and brightly colored without being annoying.
–We've only made one thing from this cookbook, but it was actually really tasty. Scroll down for more info on that.
Bad things
–The recipes are a little weird. Maybe mine is the exception, but I just don't think toddlers want to eat meringues or tuna salad boats. I know I don't!
–At just 19 recipes, there simply isn't a lot going on.
–Several of the recipes require a lot of parental set-up to be anything special, which just doesn't work for everyday in my house (i.e. the Artist's Fruit Palette and Dips [an actual painter's palette full of sliced fruit and four different kinds of homemade fruit dips]).
–This is another cookbook that has lots of chopping and frying, things I wouldn't let my toddler do without help, yet nowhere in the directions does it say anything about an adult helper.
Overall: If your library has a copy of The Toddler Cookbook by Annabel Karmel, it would be worth checking out, but I wouldn't recommend buying it. There are so many other cookbooks out there with more recipes and better recipes
Chicken Cakes
from The Toddler Cookbook by Annabel Karmel
I am not a seafood eater, so when my daughter kept requesting the Salmon Cakes from the Toddler Cookbook, I was at a loss. Then it occurred to me that I could easily substitute canned chicken for the canned salmon called for in the recipe. Even with that substitution, however, I was fully prepared to eat cold cereal for dinner the night my daughter and I made these! I have never been more pleasantly surprised in my life! They were actually good! Hot, savory little chicken cakes studded with scallions, covered in bread crumbs, and fried until golden brown!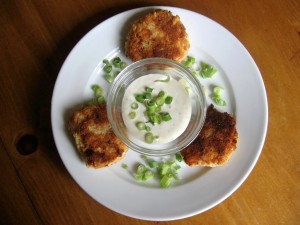 1 can chicken
2 medium scallions
2 teaspoons fresh lemon juice
1/2 Tablespoon mayonnaise (I used probably double that)
1/2 Tablespoon ketchup
1 cup fresh breadcrumbs
2 Tablespoons all-purpose flour
1 egg
3/4 cup dried breadcrumbs (I used Italian-style)
2 Tablespoons vegetable oil
Drain the liquid from the chicken, then put the chicken in a bowl. Mash lightly. Chop and add the scallions. Add lemon juice, mayonnaise, and ketchup and mix it all up. Add the fresh breadcrumbs, then mix again. Divide the mixture into 6 and form into balls, pressing firmly together. Then gently flatten into round patties. Put the flour on a plate. Beat the egg in a shallow dish and put the dried breadcrumbs on another plate. Take each cake, dust it with flour, then dip it in egg, and coat with breadcrumbs. Wash your hands. Heat the oil in a nonstick frying pan and fry the cakes over medium-high heat for 1 1/2 minutes on each side, until they turn golden. Blot on paper towels and cool slightly. Really good served with ranch, in my opinion!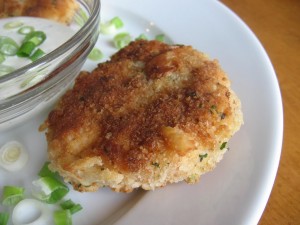 PS–According to King Arthur Flour, tomorrow is World Bread Day. I think this is the first time I've found out about a World _______ Day or even a National _______ Day before the fact! I guess I'll be making bread tomorrow!