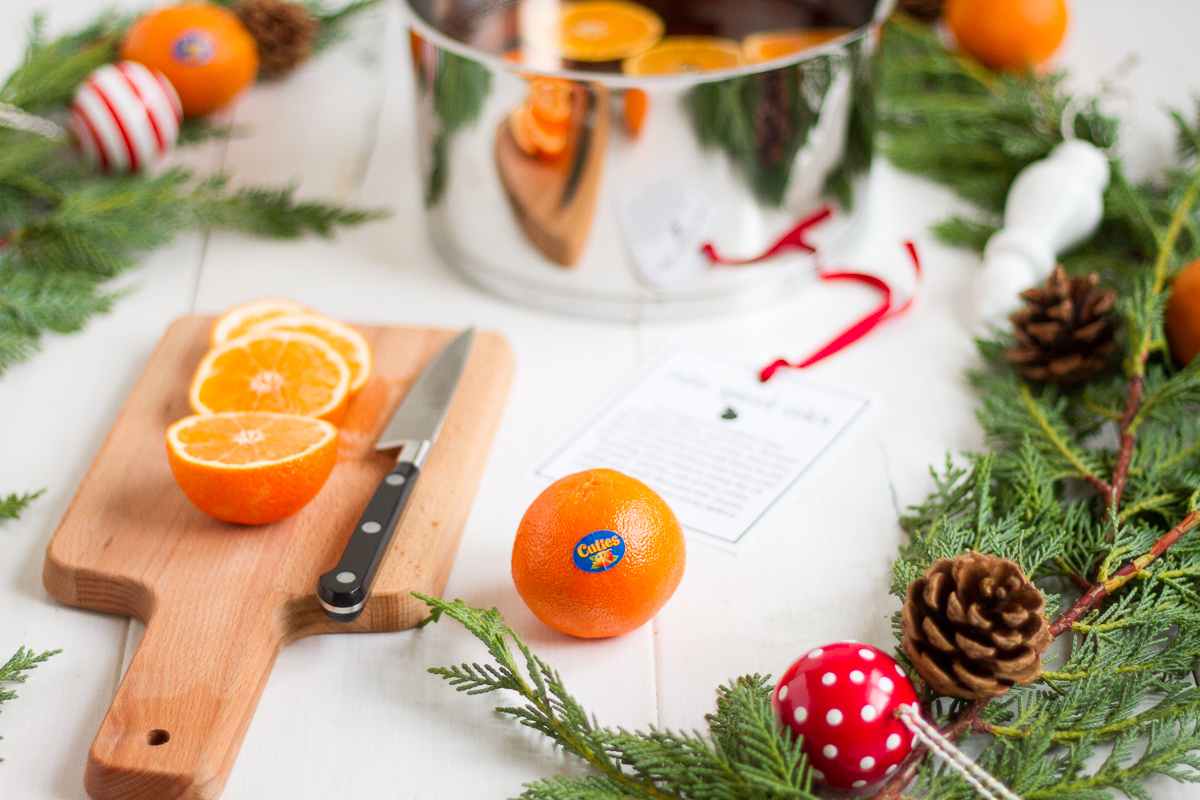 This post is sponsored by Cuties. All thoughts and opinions are my own.
Last year, my friend Emily hosted a favorite things party just before Christmas. Everyone brought three of their favorite thing to share, and everyone went home with three new gifts from other party-goers. I brought three little bags filled with bright red nail polish and some of my favorite candy. My friend Amy brought lip balm and knit beanies. Someone brought their favorite eucalyptus spearmint lotion, which has now become my favorite too. My friend Casey brought her favorite DIY spiced cider with cinnamon, cloves, and Cuties, and I was one of the lucky ones who got to take it home. Everyone in my family loves spiced cider, and this recipe was not only delicious, but probably the easiest we've ever tried. It also happens to be the perfect simple gift to put together during the holidays to bring a little sunshine to someone's day!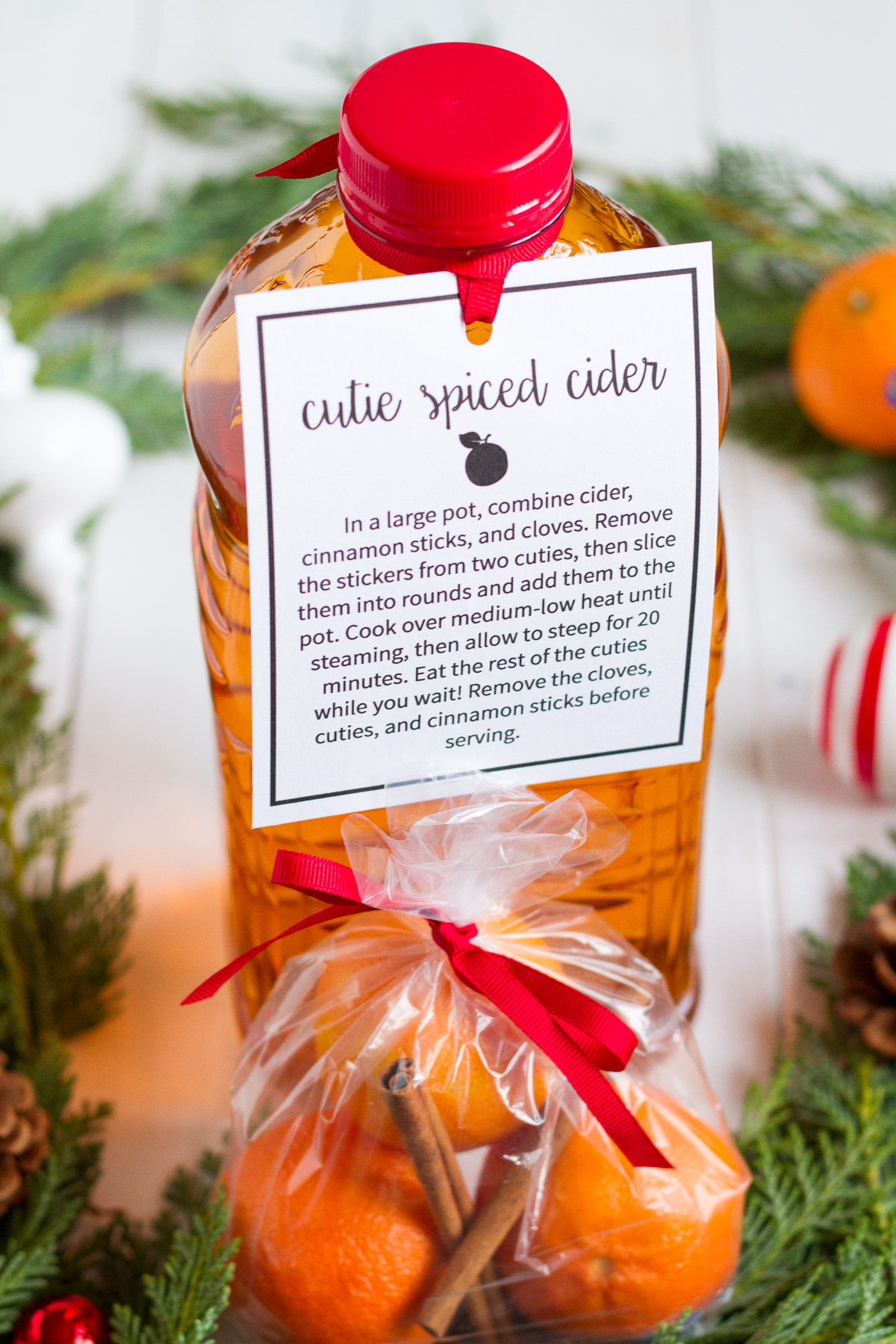 The holidays fall right in the middle of Cuties season, when Cuties are back in store, ripe and ready to eat. Cuties is running a fun campaign right now to spread love and positivity with #100DaysofSunshine, and what better way to spread love during the holidays than to put together homemade gifts for friends and neighbors. This do-it-yourself Cuties Spiced Cider is the perfect gift for your elementary school kids to put together for their teachers, or for you to leave on your neighbors porch with a pretty holiday card tucked inside. Here's how you put it together…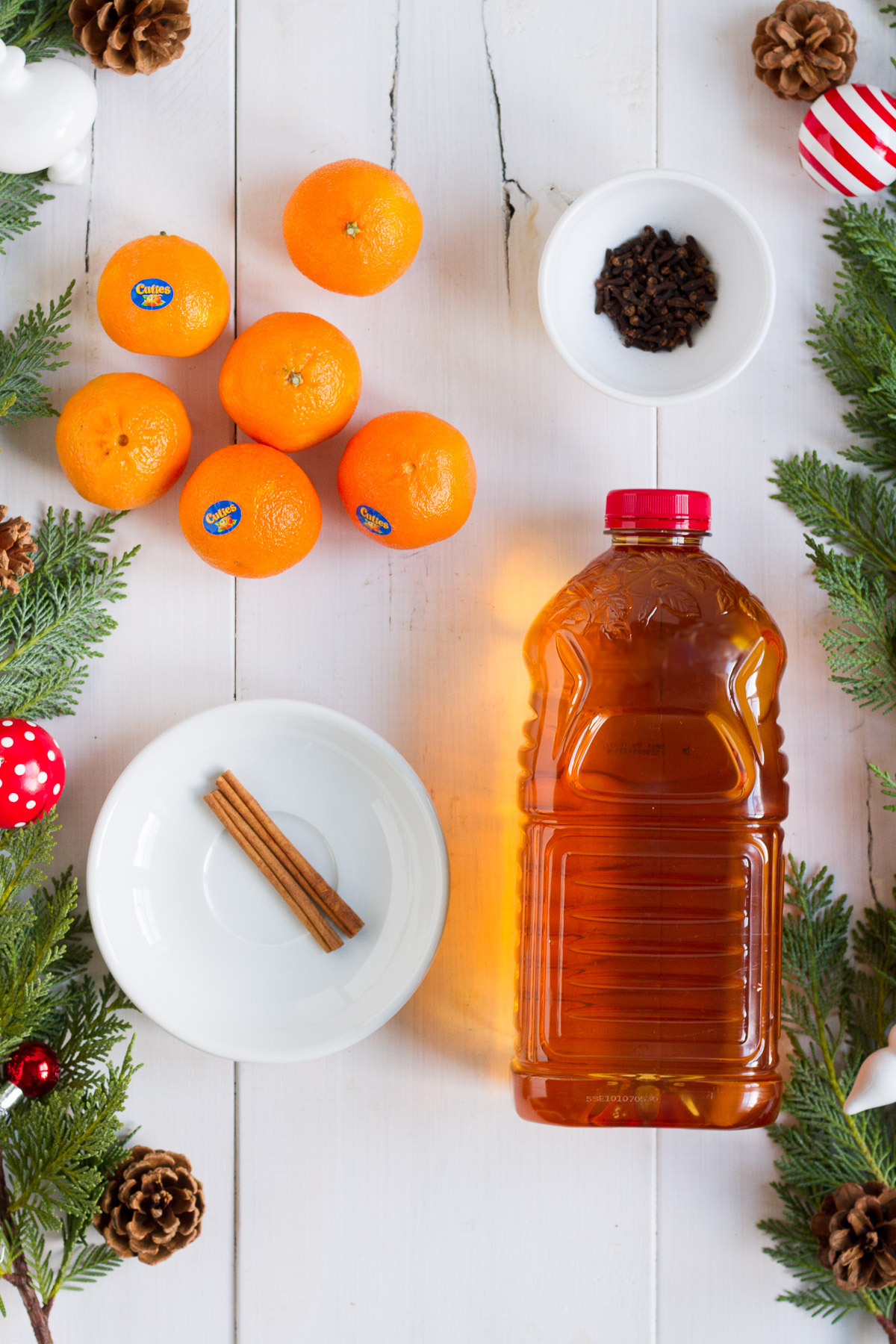 MATERIALS
1 bottle of apple juice or apple cider
Cuties (the recipe only calls for two, but be sure to add extras for snacking!)
2 cinnamon sticks
1-2 teaspoons whole cloves
a cellophane bag or a pretty basket to package everything in
some ribbon
a printable Cutie Spiced Cider gift tag (CLICK HERE)
INSTRUCTIONS
1. Package everything up! That's basically it! If you have a basket, you probably want to put at least the cinnamon sticks and cloves in a small bag, jar, or container. If you have a medium-sized cellophane bag like the one I used, you can fit several cuties in it along with the spices. And if you have a really large bag, you can probably fit the entire bottle of cider in there too!
2. Print out, trim, and attach the gift tag. Don't forget this step because the gift tag has the instructions your gift recipient will need to make their Cuties Spiced Cider.
3. Deliver sunshine and happiness to friends, neighbors, teachers, and coworkers!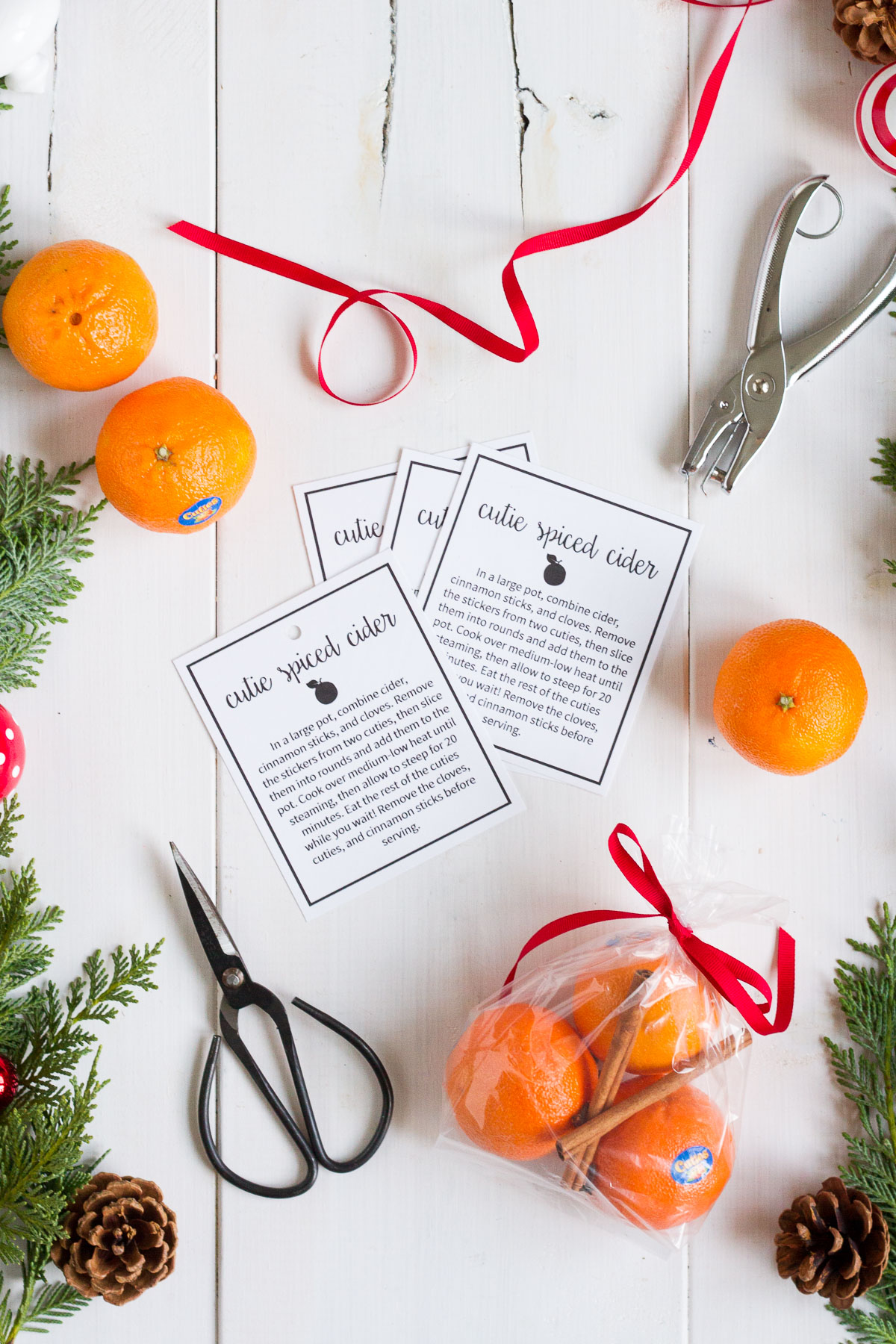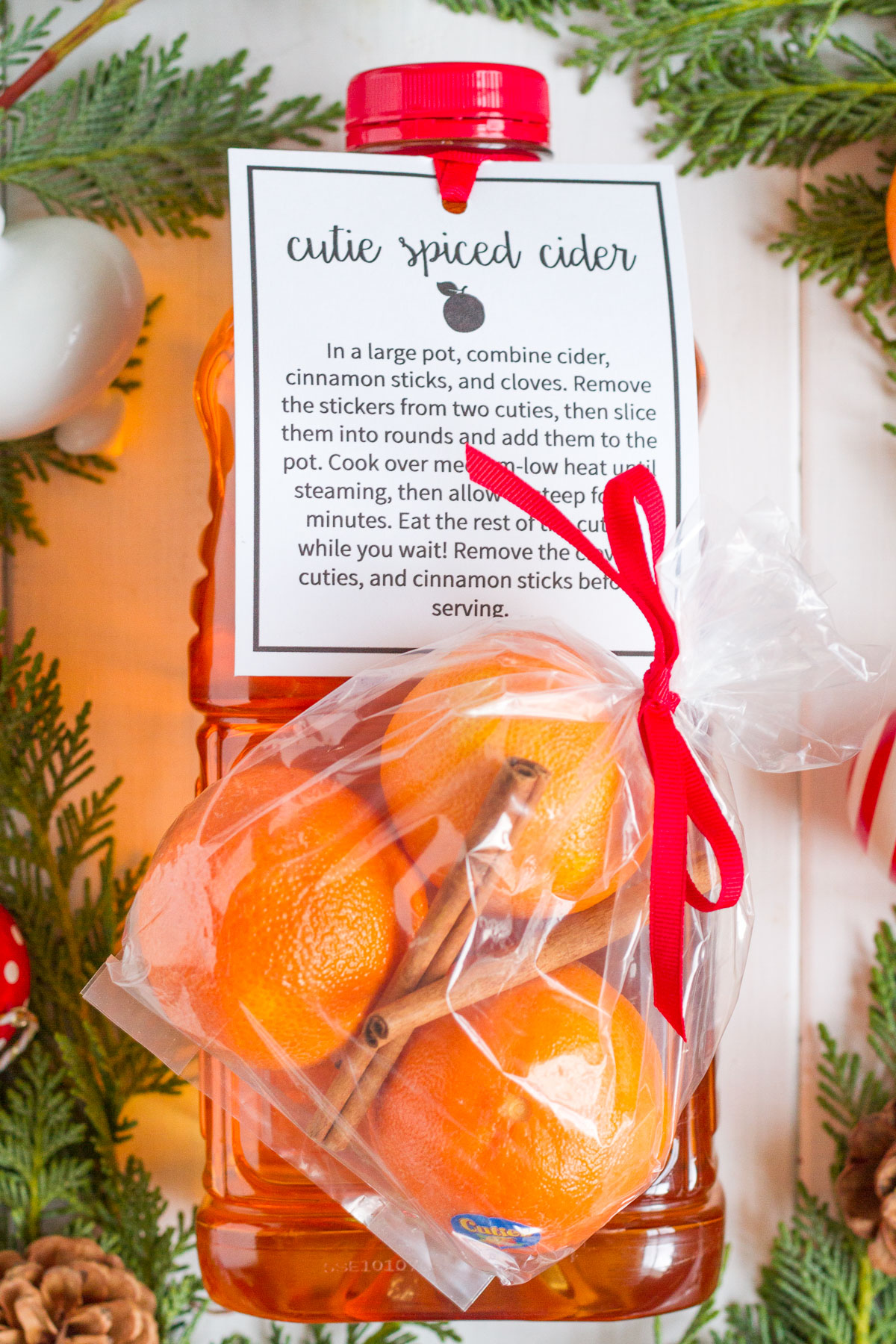 You can read more about Cuties' #100DaysofSunshine campaign on their website HERE. And for Cuties updates and inspiration, be sure to follow along on Instagram and Facebook.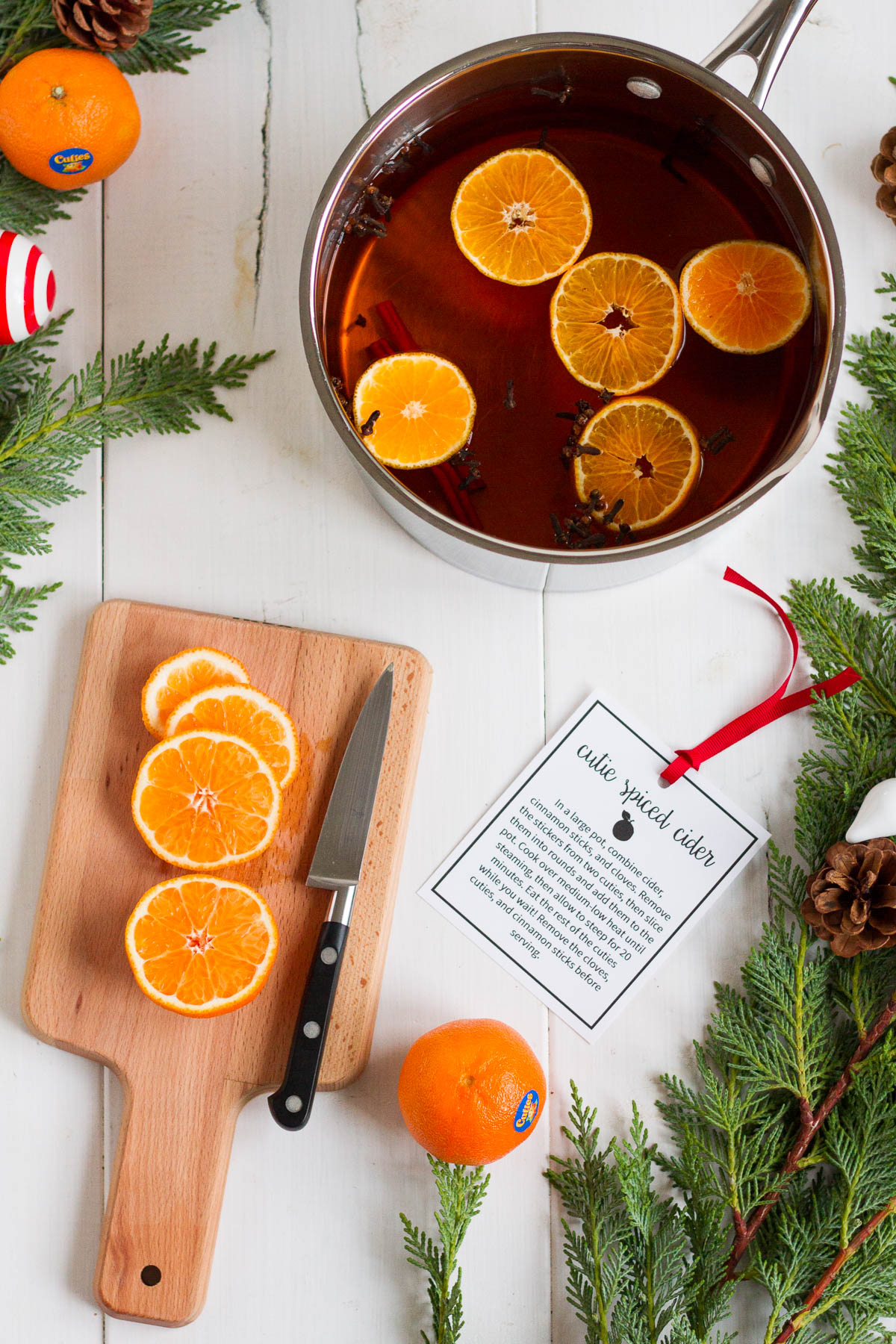 SaveSave
SaveSave