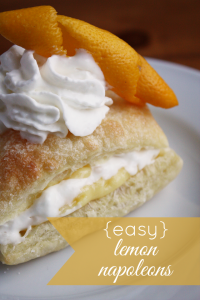 Napoleons fall into that category of things that look fancy and complicated, but are really easy to make. They have lovely layers that make them impressive, and people will think you slaved over them, even if you threw the components together in just a few minutes! These quick and easy little beauties look sweetly elegant, and taste every bit as wonderful as they look. The sugar-coated puff pastry is the best part. No, wait…that'd be the tangy, lemony pudding layer. No, hold on…it's the whipped cream layer. You'd think after eating four of them I'd have this figured out!
As with all easy desserts, it is really up to you how much time you spend on these lemon napoleons. You can use instant vanilla pudding, cook and serve pudding, homemade pudding; they'll all taste great. And you can certainly whip up a batch of homemade whipped cream, but the kind in the can tastes pretty darn good!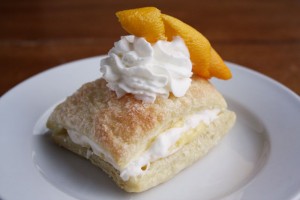 1 box Pepperidge Farms frozen puff pastry
2 Tablespoons cream
1/2 cup granulated sugar
1 cup lemon curd
1 cup vanilla pudding
sweetened whipped cream
Lay both sheets of frozen puff pastry out on a clean, lightly floured work surface, and allow to thaw for about 40 minutes. Preheat the oven to 400°F. Prepare 2 baking sheets by lining them with parchment paper or silicon baking mats. When the puff pastry sheets have thawed, unfold each one, and use a pizza wheel or sharp knife to cut each sheet into 6 equal pieces. You can cut along the 2 fold marks to divide the pastry into 3 strips, and then cut once across the middle to divide each strip in half. Place the rectangles onto the prepared baking sheets. Brush with cream and sprinkle very generously with granulated sugar, then poke each rectangle 3 or 4 times with a fork. Bake at 400°F for 10-15 minutes, until lightly golden and puffy. Remove baking sheets from oven and allow to cool.
While the pastry is baking, combine the lemon curd and vanilla pudding in a medium bowl, stirring until smooth. When the puff pastry is completely cool, gently divide each rectangle into a top half and a bottom half. Place the bottom half on a plate, spoon about 2 Tablespoons of the lemon curd mixture on top (I just used a serving spoon), cover with whipped cream, and finish with the top half of the puff pastry, sugar-side up. Garnish with a little swirl of whipped cream and serve immediately. Makes 12 servings.