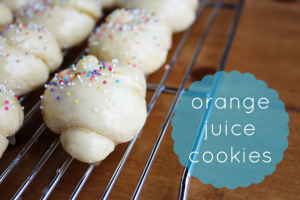 So, I'm guessing no one noticed, but I stayed up late Friday night to update the links to all of my old recipes on the "Recipes" tab at the top of the page. Being a blogger is so exciting! Aside from being a little tedious, it was surprisingly fun to go back through every single post on this blog, to read old intros I wrote, to review old recipes I posted, and to look at the very first photos I took. And to see just how bad some of those photos were! Yikes! While all of the recipes are stellar (would I admit if they weren't?), not all of the old photos measure up. These orange juice cookies are an oldie but a goodie, some of my absolute favorites. My mom made these a lot for us when I was growing up, and all of us still love them and request them often. They are just sweet enough, and deliciously light and tender. And now they have new and improved photos that make them look as good as they taste!
adapted by my mom from Eat This…It'll Make You Feel Better by Dom DeLuise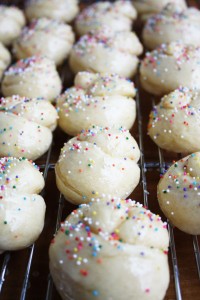 for the cookies:
1 1/2 sticks salted butter, softened
1/3 cup sugar
3 eggs
1 teaspoon vanilla
1/2 cup orange juice
3 cups flour, plus more for sprinkling
3 teaspoons baking powder
1/2 teaspoon salt
for the glaze:
1/2 cup orange juice
2 cups powdered sugar
1/2 teaspoon vanilla
colored sprinkles for topping
Combine butter, sugar, eggs, vanilla, and orange juice in a blender. Blend until smooth (as smooth as you can get it). In a medium bowl, combine flour, baking soda, and salt. Add wet ingredients, and stir with a wooden spoon until mixed. Turn dough out onto a clean, well-floured surface, and knead until smooth and no longer sticky. It is very important that the dough not be sticky. It might take a lot of extra flour to get to that point!! Preheat the oven to 350°F and get out two baking sheets. Divide the dough into 24 equal pieces. Roll each piece into a strip about 6″ long, then swirl like a cinnamon roll or tie gently in a knot. Place 12 cookies on each baking sheet, and allow the cookies to sit at room temperature for 10 minutes before baking. Bake for 15 minutes.
While the cookies are baking, whisk the glaze ingredients (except for the sprinkles) in a medium bowl until smooth. When cookies come out of the oven, allow them to cool until you can touch them. Then dip the top of each cookie in glaze, and place on a cooling rack with wax paper underneath. When the glaze is dry, dip each cookie in glaze again, and sprinkle immediately with colored sprinkles. Allow cookies to cool and glaze to dry before serving.