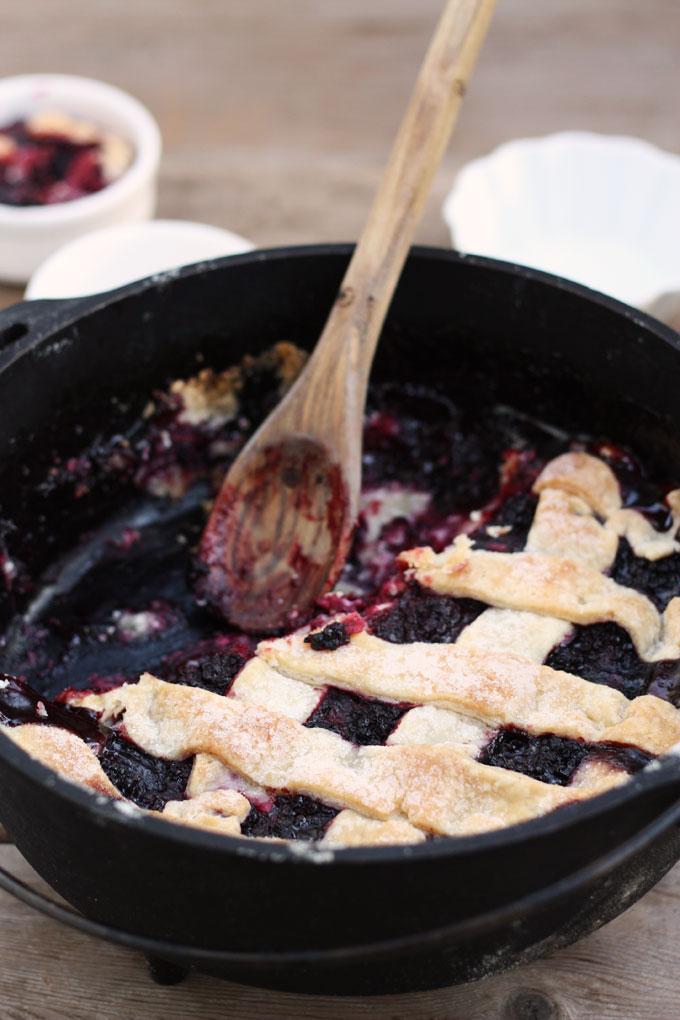 My husband's grandparents moved to Grants Pass, Oregon when they retired in the early 80's. My husband spent most of his childhood summers on their little homestead on the Applegate River, sleeping in a bunkhouse with his cousins and picking blackberries for Grandma Eddie. She'd send them out with a coffee can with a wire handle and tell them to go play outside and come back when they'd filled their "basket" with blackberries. They ate more than they collected, but Eddie always managed to get enough berries to make this delicious cobbler. It's basically rearranged blackberry pie, only easier and less fussy. With a nutmeg-scented filling and three layers of buttery dough, it's classic comfort food at it's finest!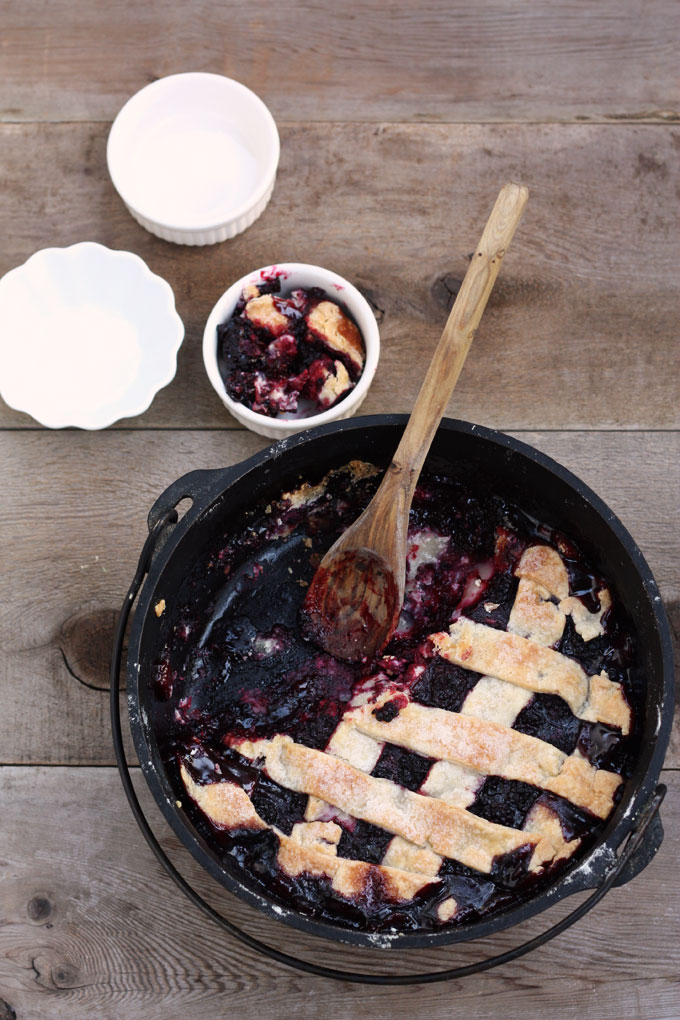 Eddie's Old-Fashioned Blackberry Cobbler
Ingredients
for the crust
2½ cups flour
2 Tablespoons sugar, plus more for sprinkling on top
1 teaspoon salt
8 Tablespoons shortening, cold and cut into small chunks
12 Tablespoons unsalted butter, cold and cut into small chunks
8 Tablespoons ice water
for the filling
1 cup sugar
2 Tablespoons cornstarch
2 Tablespoons minute tapioca
¼-1/2 teaspoon nutmeg (It totally depends on how much you love nutmeg!)
a pinch of salt
6 heaping cups fresh blackberries (Frozen is OK, but you'll need to thaw them first.)
2 Tablespoons butter
Instructions
To make the crust, combine the flour, 2 Tablespoons sugar, and salt in the bowl of a food processor. Add shortening, and pulse until combined. Add butter and pulse until the butter is the size of peas. Add water and pulse until dough comes together. Wrap dough in plastic wrap and chill 30 minutes.
To make the filling, combine sugar, cornstarch, tapioca, nutmeg, and salt in a large bowl. Add blackberries and toss to coat. Preheat oven to 375°F. Lightly spray a 10″ dutch oven with nonstick cooking spray. Divide the pastry dough into three pieces. Roll the first piece out into a circle about ⅛″ thick, and use a knife or pizza wheel to cut the dough into strips. Lay the dough strips on the bottom of the dutch oven in a criss-cross pattern. Top with half of the berry mixture. Repeat the criss-cross pattern with another layer of dough, then top with the remaining blackberries. Cut the 2 Tablespoons butter into small pieces and scatter them over the top of the berries. Roll out the last piece of dough, cut into strips, and form a final criss-cross pattern. Sprinkle granulated sugar over the top layer of crust, and place cobbler in oven. Bake about 1 hour, until the top is golden and the fruit is thickened and bubbly. Allow to cool slightly before serving and eating. Tastes great with vanilla ice cream!
This post is part of the Summer In September series I'm working on with
Jen from Carlsbad Cravings
! Be sure to visit Jen's blog tomorrow for another delicious recipe that will keep summer lingering in your kitchen!