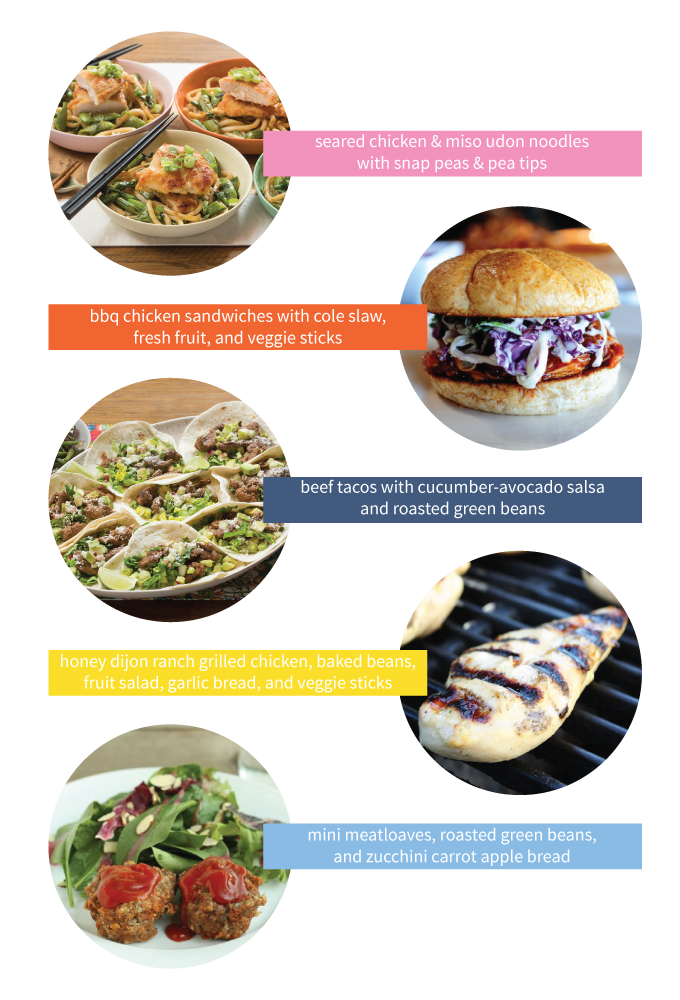 Have I ever told you that planning the week's menu is one of my favorite little chores? I like to grab my note pad, sit down in a quiet spot, and think of delicious meals to make for my family. I find it rewarding and relaxing, and I love writing these dinner posts just as much. This week's menu ideas are all winners, with quite a few long-time family favorites in the bunch. We have a few that are perfect summer dinners, some that are ready in a flash, and lots of new go-tos in the making. Happy menu planning!
Seared Chicken & Miso Udon Noodles with Snap Peas & Pea Tips
If you've been following along with this series, it probably seems like we eat Blue Apron dinners fairly often at our house. While we don't actually get a delivery every week, or even every other week, the truth is that we've had some absolutely amazing dinners from them lately! This seared chicken and udon noodle stir-fry was spectacular. My husband and I loved it, the kids loved it, and we ate every last bite of it in one sitting. When I was making it, I felt like the prep work took forever, but the cooking part took less than 15 minutes, and it ended up being a really quick, delicious dinner. I highly recommend it!
BBQ Chicken Sandwiches with Cole Slaw, Fresh Fruit, and Veggie Sticks
I love throwing things in the the slow-cooker as much as the next person, but these chicken sandwiches cooked in the oven were fantastic, and had a much better texture than their crock-pot cousins. The recipe for the chicken comes from The Pioneer Woman, and it is a winner. I followed her directions exactly except I used boneless, skinless breasts and lightly smashed the garlic cloves before adding them to the pot. So easy and so good! Serve it on buttered, griddled buns, topped with your favorite cole slaw, and you've got one mouthwatering sandwich.
Beef Tacos with Cucumber-Avocado Salsa and Roasted Green Beans
I promise this is the last Blue Apron dinner for a while; it was too good not to share! These beef tacos with cucumber-avocado salsa were terrific, and so easy to make. Blue Apron sent us a package of really thinly sliced beef, which I've never seen for sale anywhere, but the texture and flavor were pretty close to ground beef. It just needed to be seasoned and browned, then served with tortillas, cotija, and a simple salsa of diced cucumbers, radishes, and avocado. Very fast, very fresh, very tasty!
Honey Dijon Ranch Grilled Chicken, Baked Beans, Fruit Salad, Garlic Bread, and Veggie Sticks
This summer, we're making a big effort to have friends over for dinner once a week to eat and hang out. Since we live out in the country, the kids don't have tons of friends on our block like they used to, so we feel like this will be a fun project. Tonight is our first dinner date, and we're having this easy, marinated chicken, baked beans, fruit and veggies, and garlic bread. It's a super simple dinner that I know everyone will love.
Mini Meatloaves, Roasted Green Beans, Bottled Peaches, and Zucchini Carrot Apple Bread
This meatloaf recipe is one of the first things I remember making a lot when my husband and I were first married, and it's been our go-to recipe ever since. It is so good, and takes less than 30 minutes from start to finish. While the meatloaves are cooking, toss some fresh green beans with olive oil, garlic salt, and freshly ground black pepper, spread them out on a cookie sheet, and pop them in the oven too. The zucchini carrot apple bread takes the most time of anything, but it can be made earlier in the day or even the evening before, and tastes so good you might just eat both loaves in one sitting. And I almost forgot that we had bottled peaches with this dinner too—yum!