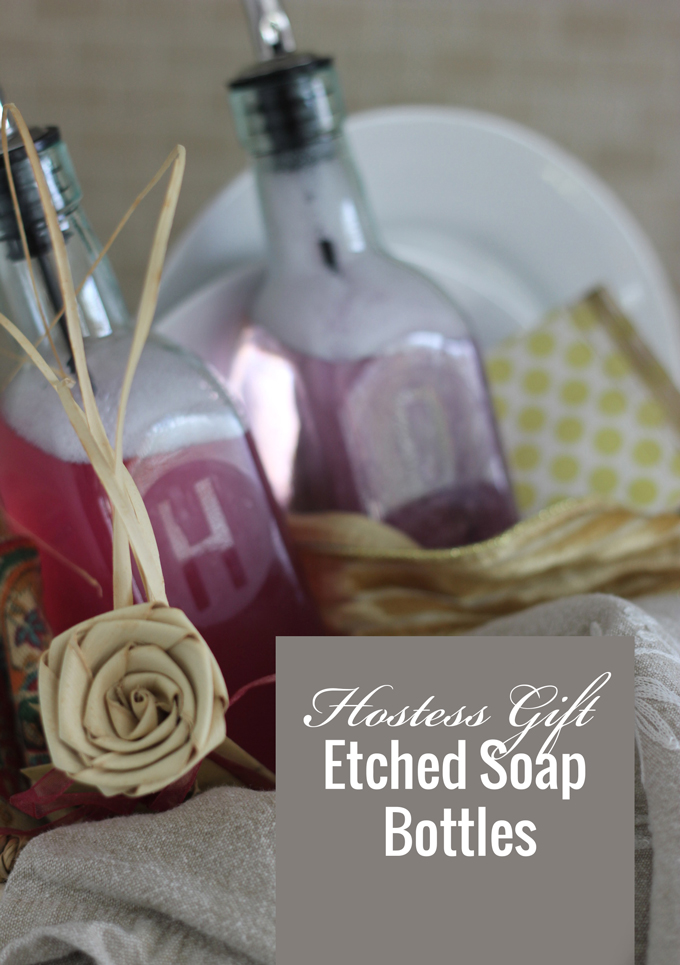 I'm cutting back on blogging this holiday season to get ready for the baby boy we're expecting at the end of the month! I'm so thrilled to have some talented friends stepping in to share amazing gifts, DIYs, recipes, and more with you, lovely readers. Today, my good friend MJ from Pars Caeli is here to share a gorgeous hostess gift that would be perfect for any holiday party. Enjoy!
The chill of November brings also the warmth of holiday celebrations with friends and family. I'm delighted to be here on Lulu the Baker to enjoy some holiday time with you as our friend and inspiration, Melissa AKA Lulu, prepares for the arrival of another adorable child. I'm M.J. from the blog Pars Caeli, and I've had the rare joy of knowing Melissa on and off the internet. I know that if Melissa and I lived anywhere within driving distance (hello Oregon and Indiana), we'd be back and forth to one another's homes for some very yummy (thanks to her) and festive dinner parties.
I love entertaining and being entertained as the snow blows outside and the smells of hot and savory meals fill the home. It only feels right to bring the hostess or host an expression of appreciation for such a great time, right? But what can you bring besides the usual bottle of wine or side dish?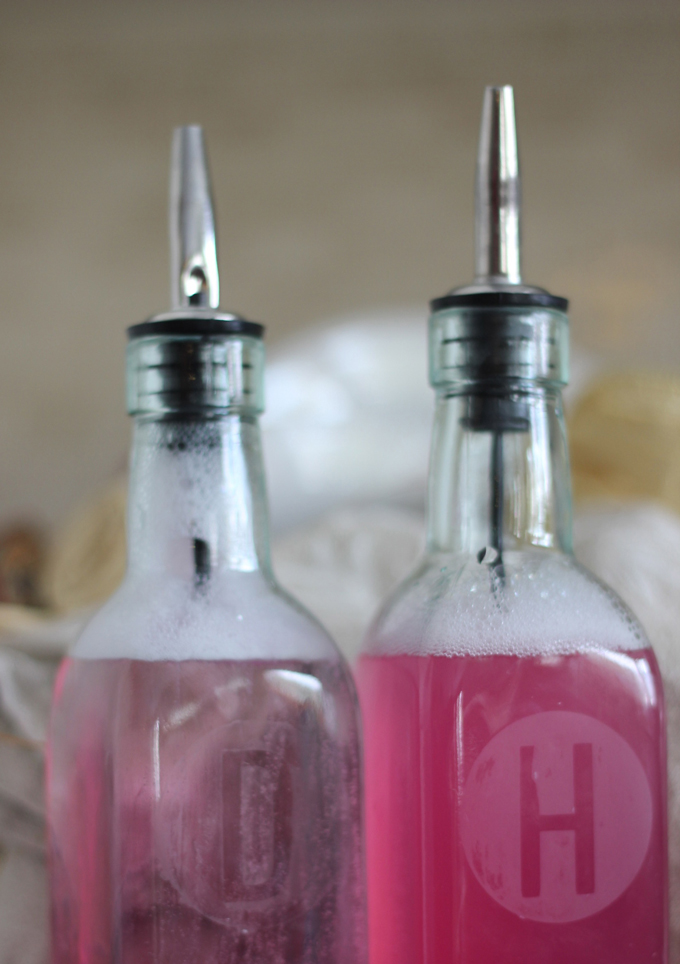 Etched Soap Bottles are a clean addition to any sinktop. This is a quick and charming DIY that you can prep as the kids are getting their clothes changed for dinner. You'll need two glass oil dispensers, the kind like they use in Italian restaurants to pour olive oil with spices at your table, as well as an etching medium to paint on, a paintbrush, and a vinyl stencil. Here vinyl letters can work really well or traditional plastic stencils. I cut out vinyl letters and circles using a die-cutting machine. H for hand soap and D for dish soap.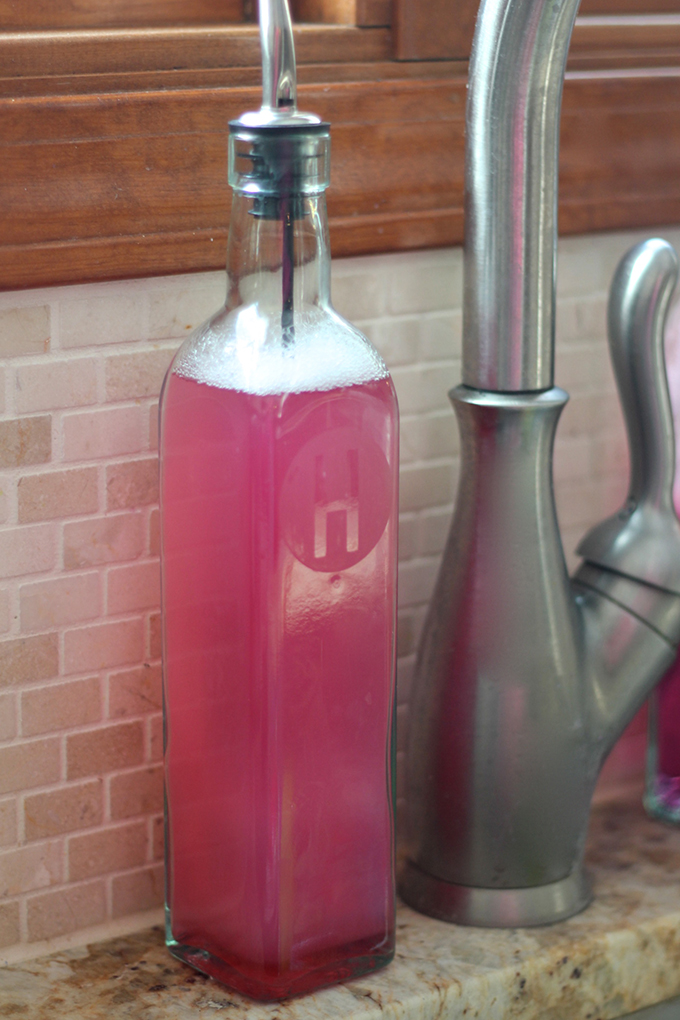 First, clean off your bottles and be sure to remove all tags and labels, and all the goo they leave behind. Next, place your stencil onto your bottle. With vinyl it's really easy to get your stencil to stay exactly where you want it. Paint a thick layer of the etching medium in the design. Let it dry for five minutes. Then, run the bottle, with the vinyl still adhered, under water until the whitish medium washes off. Be careful not to rub it, but use your brush to help the water remove the top layer. Let the bottles dry completely to reveal your etched design.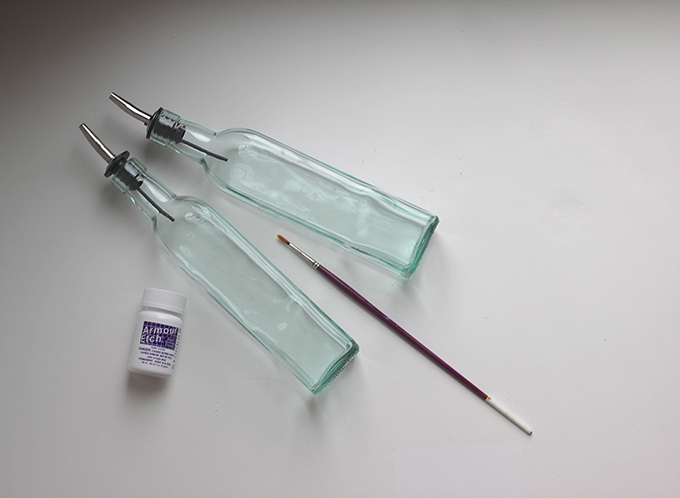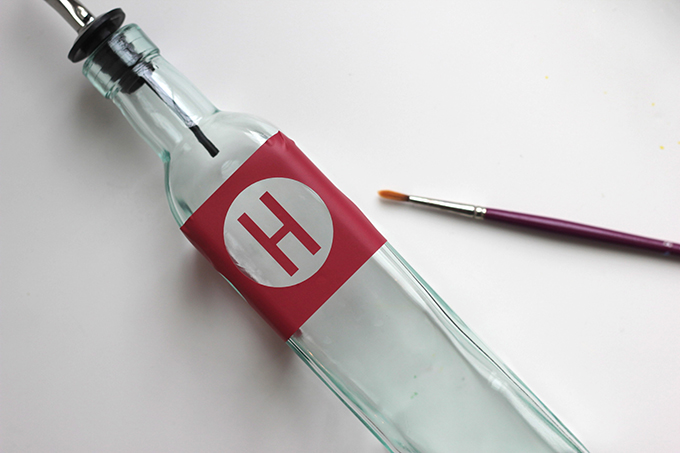 Pair these soap bottles with some classic white plates and linen napkins or pop them in a basket with some holiday plates and messy-good treats.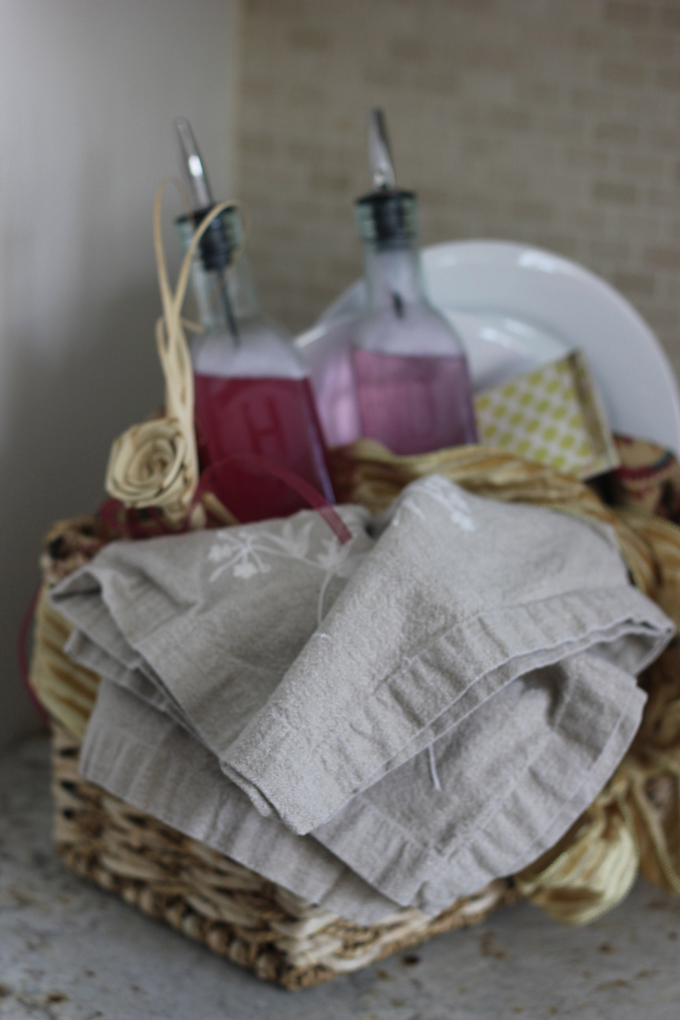 Enjoy the warmth that can only come from good times with good people! Happy holidays.