Reveal day for the Fall 2017 One Room Challenge is finally here! Actually, it was yesterday, but we didn't manage to shake the bad luck that's been plaguing us for the entire 7-week challenge, so we are a day late. But we're finished!! Before I show you any photos of the finished room, I'll remind you that the ORC is a semiannual design event hosted by Linda of Calling It Home. Twenty featured bloggers and hundreds of guest participants commit to making over a room in their house in just 6 weeks (this time, it was 7 weeks, but anyway). Our oldest daughter turned 12 at the beginning of the month, and we decided that it was high time she had a cute, grown-up bedroom with new, matching furniture, pretty bedding, and cute accessories. We went with a constellations-meet-wildflowers theme with mostly navy, a little aqua, and some touches of pink, coral, and yellow. We ran into basically nothing but roadblocks every step of the way, but almost everything managed to show up just in the nick of time, and the room is as done as it's going to get!
Here are a few before pictures from the beginning of the challenge back in October…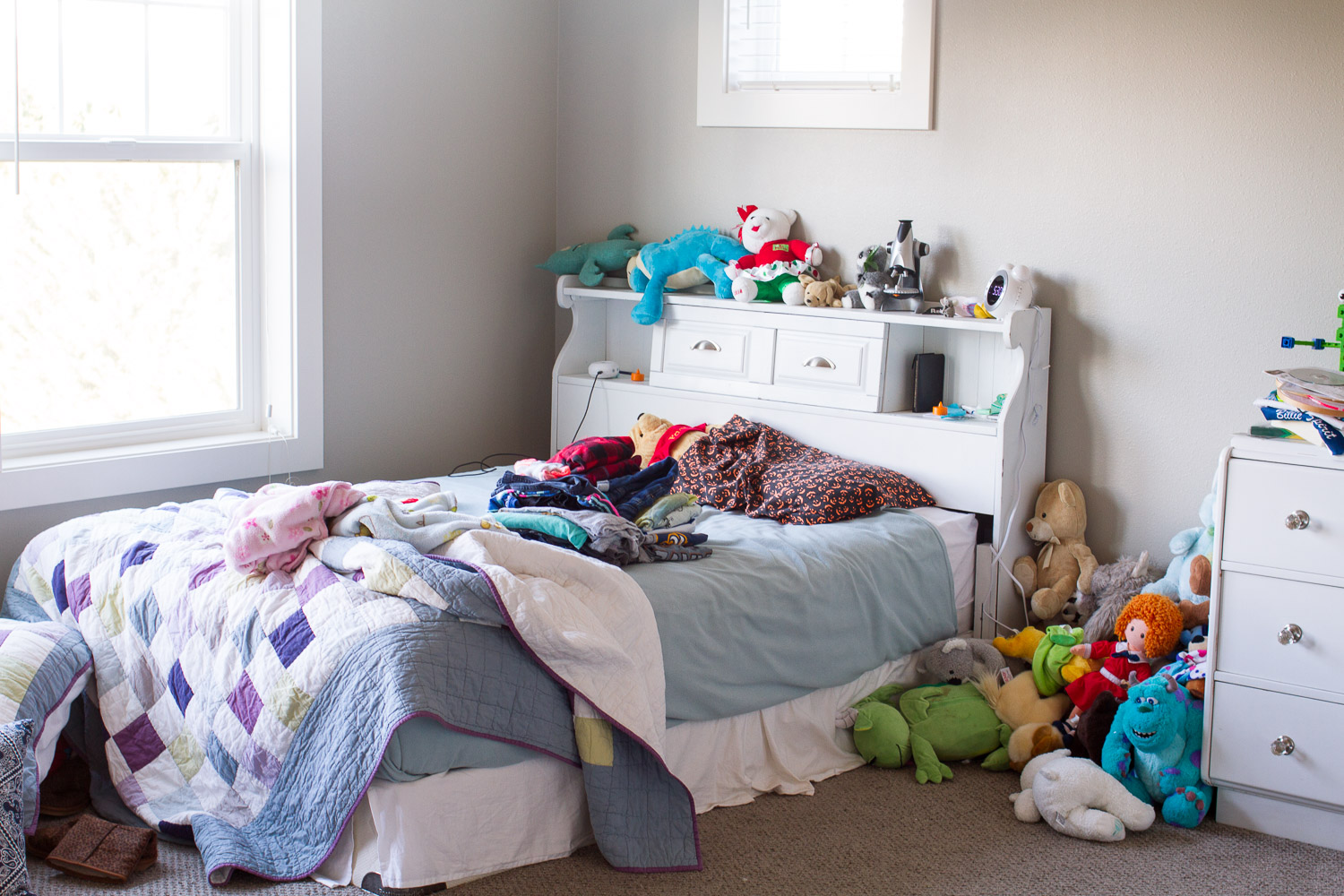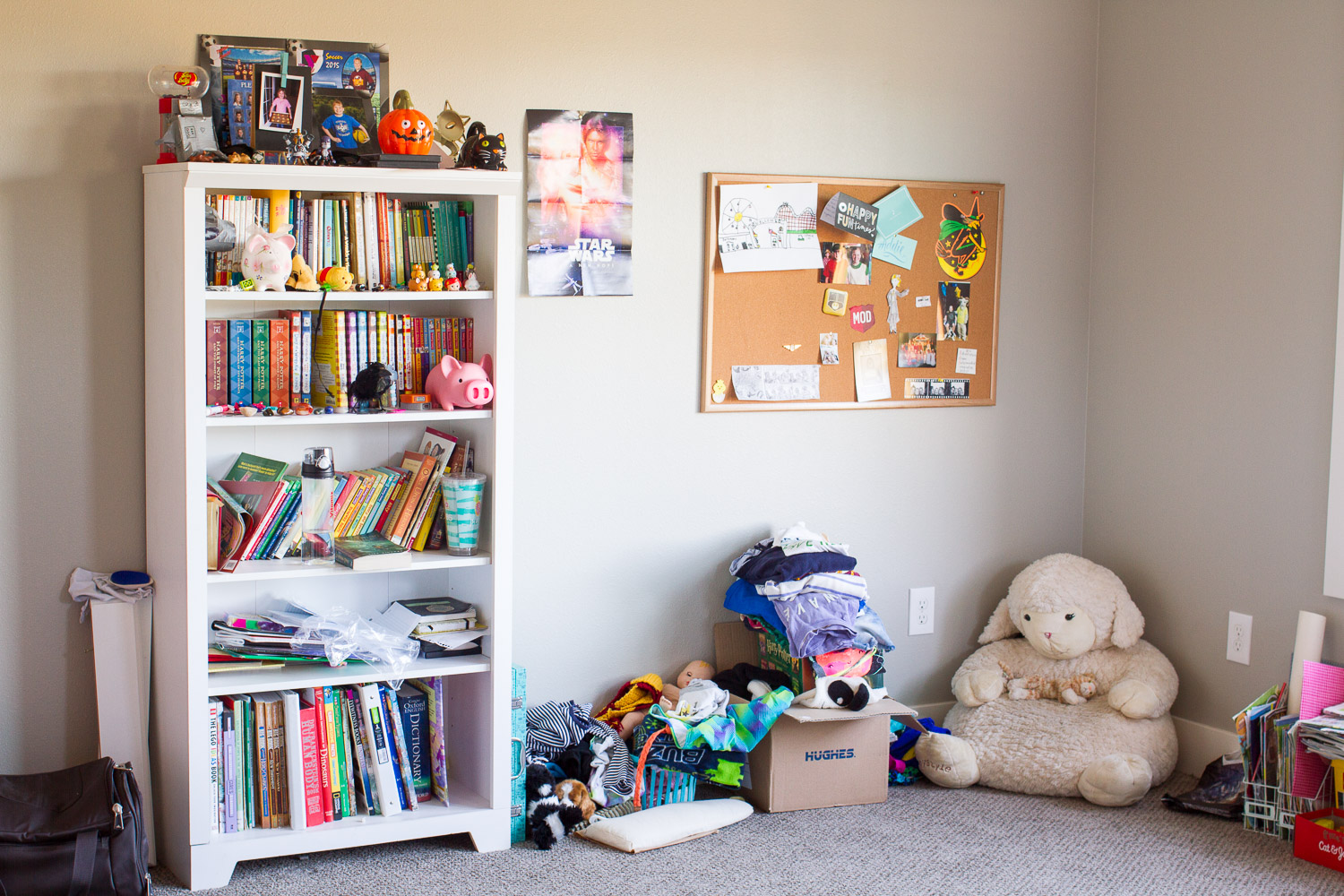 And here's the room now…!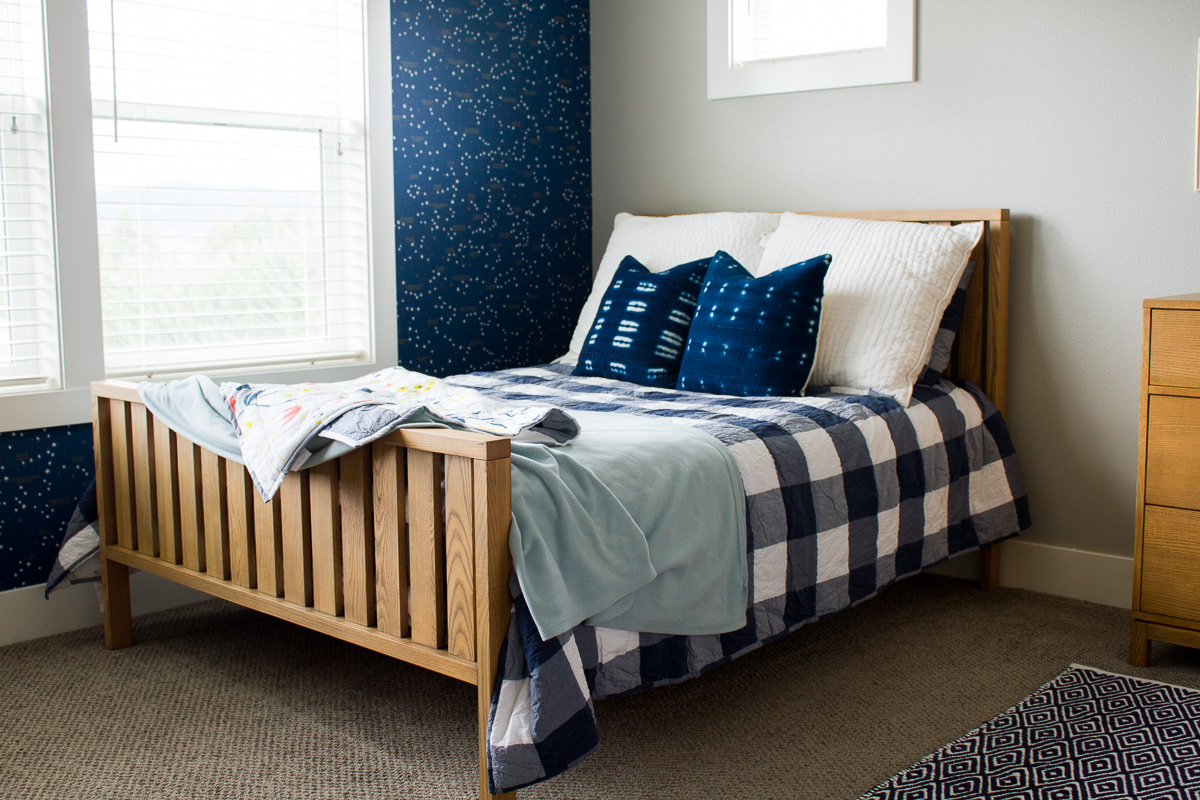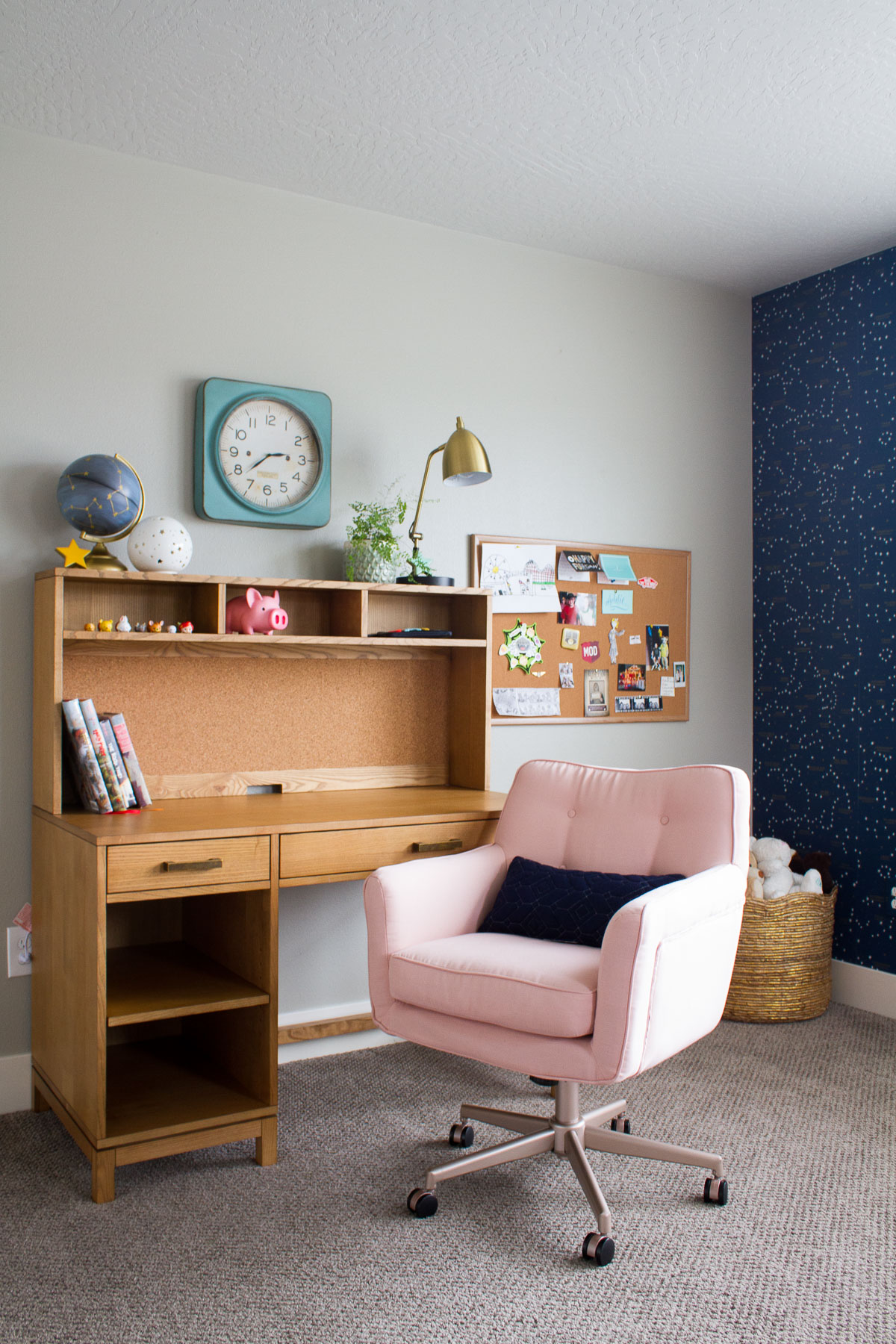 We love how it turned out, and our daughter loves how it turned out, so all's well that ends well. There are a few odds and ends that didn't show up in time, but they'll make their way here eventually. In the meantime, let's talk about details!
FURNITURE
It was important to us that our daughter actually like this bedroom and have a say in how it ended up looking, so we let her pick out the furniture. And I really love what she chose. This is the Cargo set in Natural from the Land of Nod. It's very simple and straightforward, and can lend itself to pretty much any style she might want down the road. We don't have a lot of midcentury modern stuff in our house, but I think this furniture set is just a little mod, and I really like it.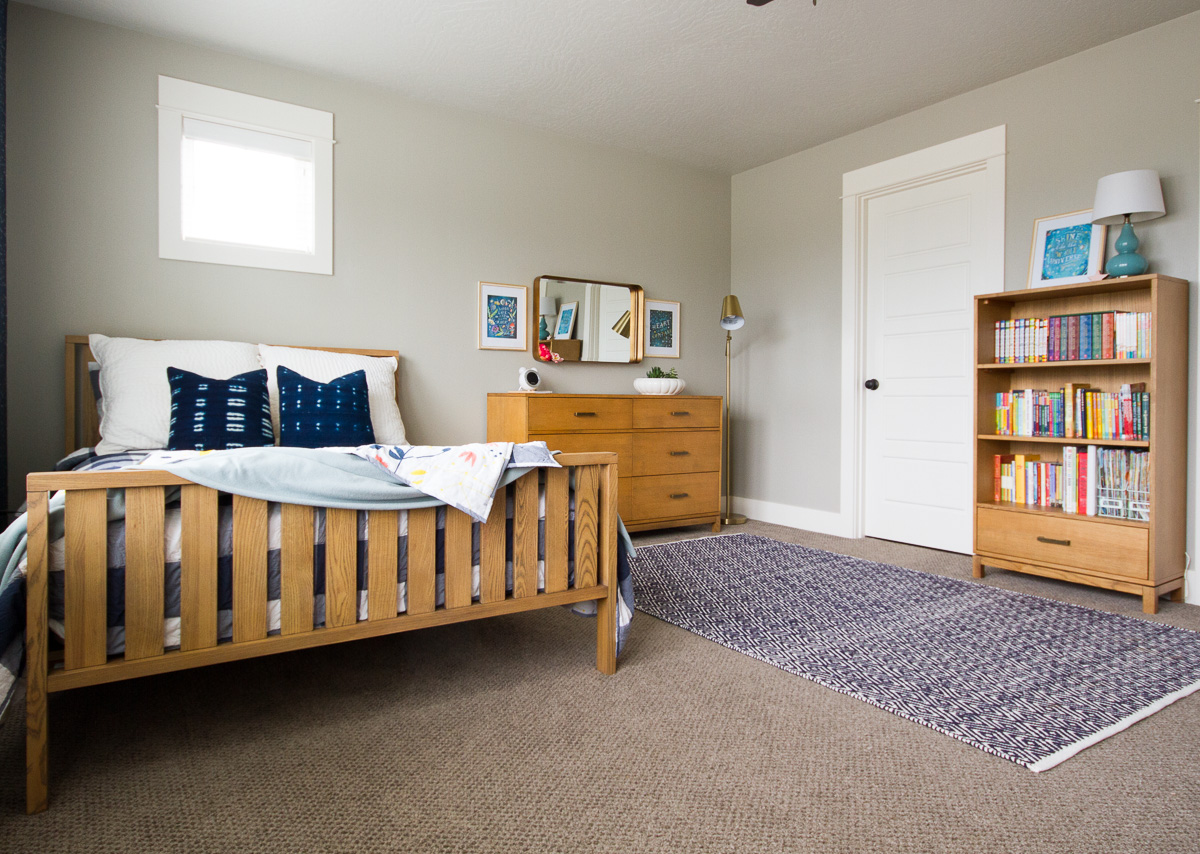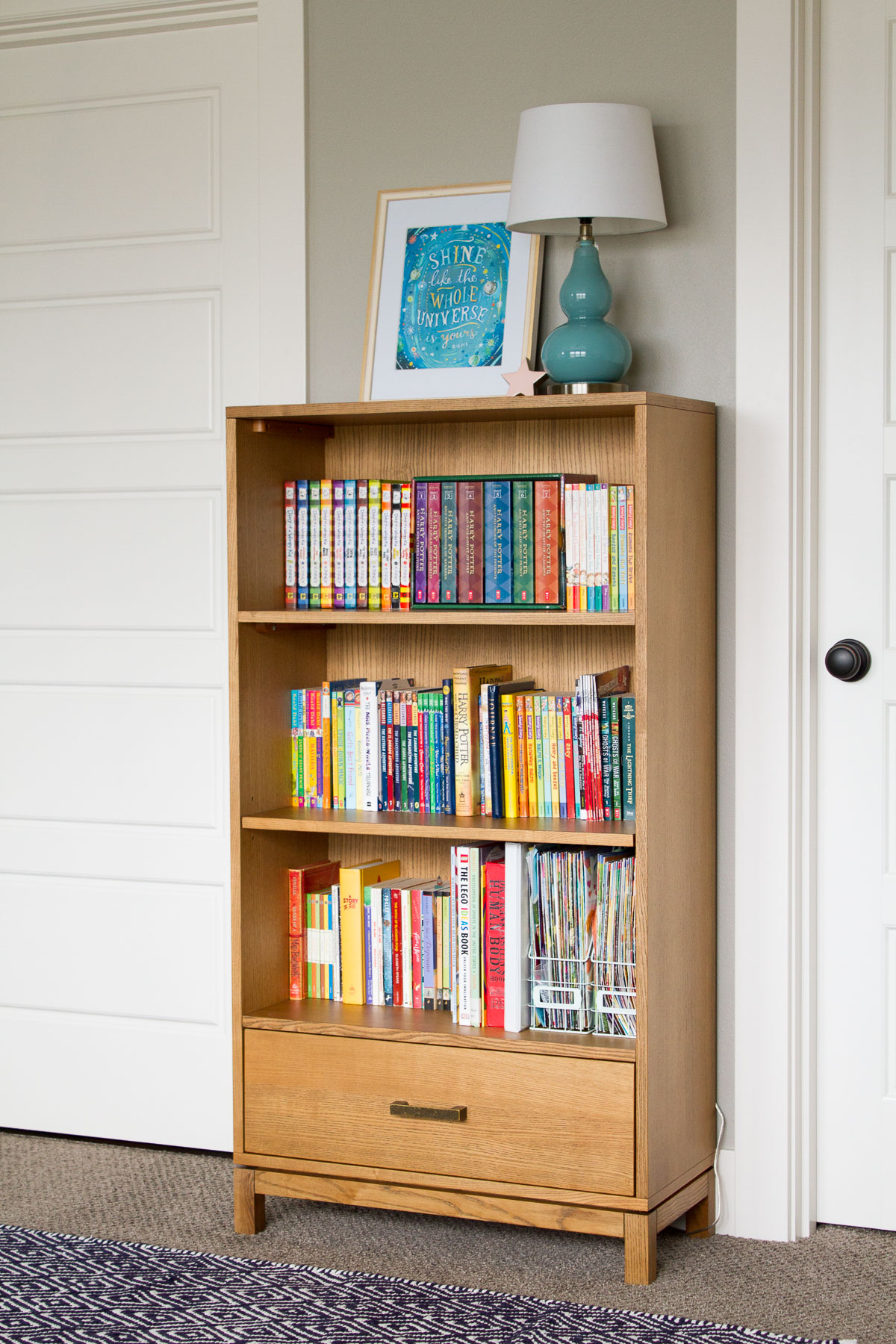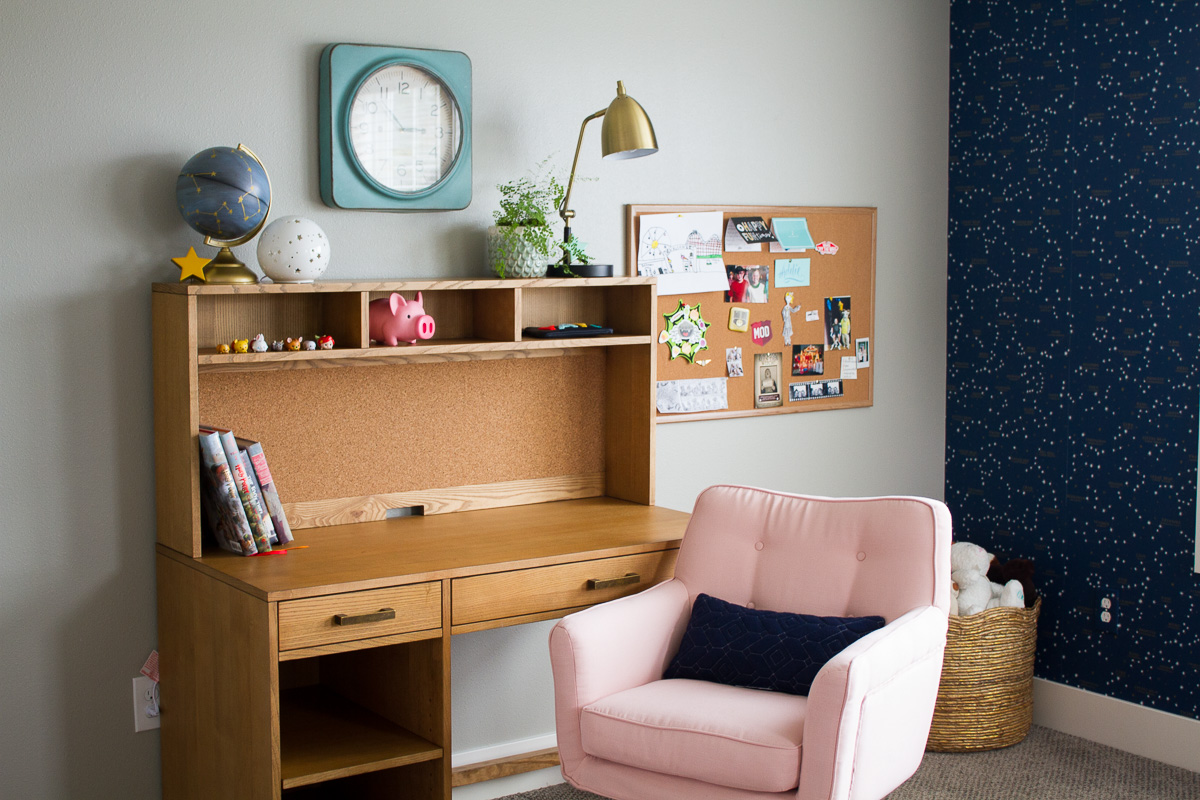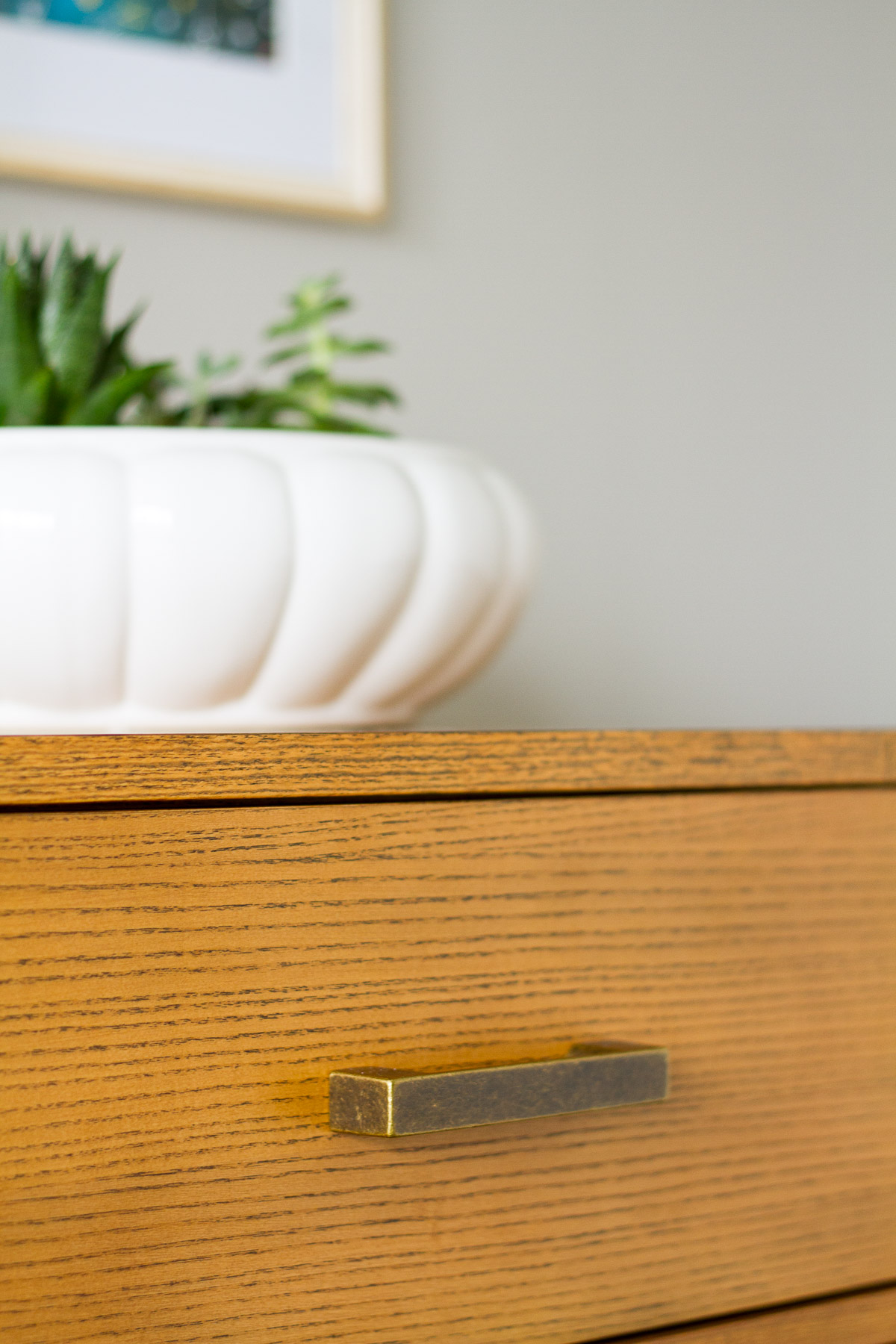 BEDDING
The bedding comes from the Land of Nod too. It's the gorgeous Floral Bedding by Genevieve Gorder, with the Organic Plaid Sheet Set. Sadly, the quilted shams that match the floral quilt haven't arrived yet, but of course they'll look great when they get here.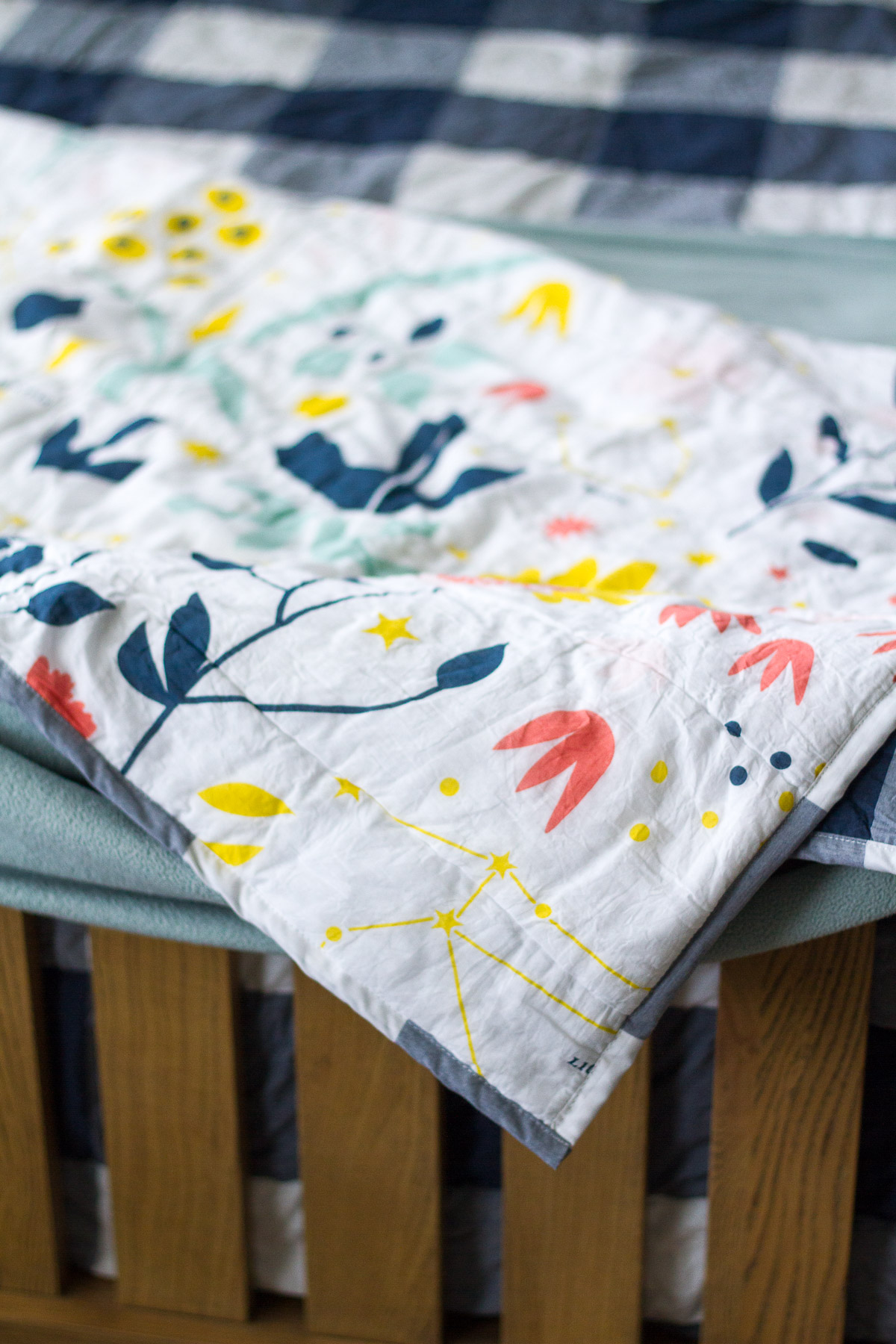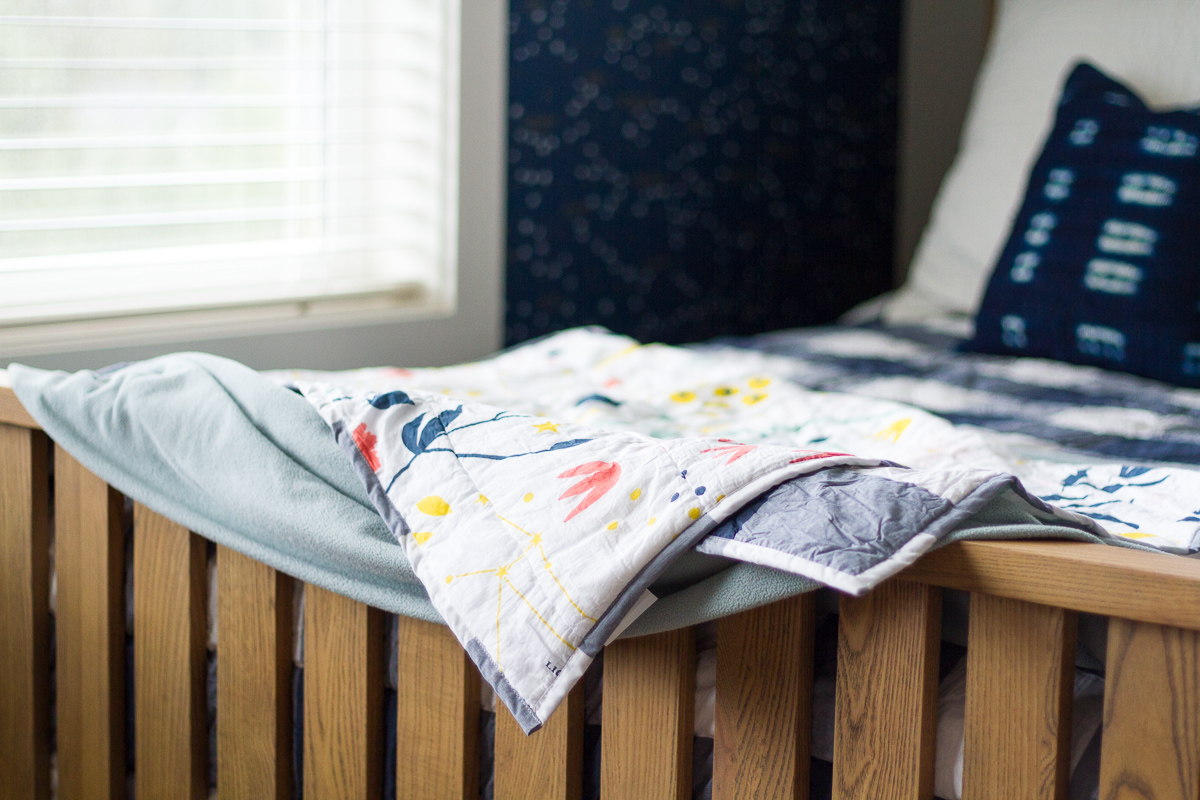 LIGHTING
I didn't know we'd even be adding any new lighting to the room. We already had a flush mount ceiling fan in the room and a cute little aqua table lamp from World Market. I really didn't think we would be getting anything else, but I picked up a couple of good-looking brass lamps at Target just in case, and we liked them both so much, we kept them! The desk lamp is from the Murphy Collection, and the floor lamp is the Cantilever Floor Lamp.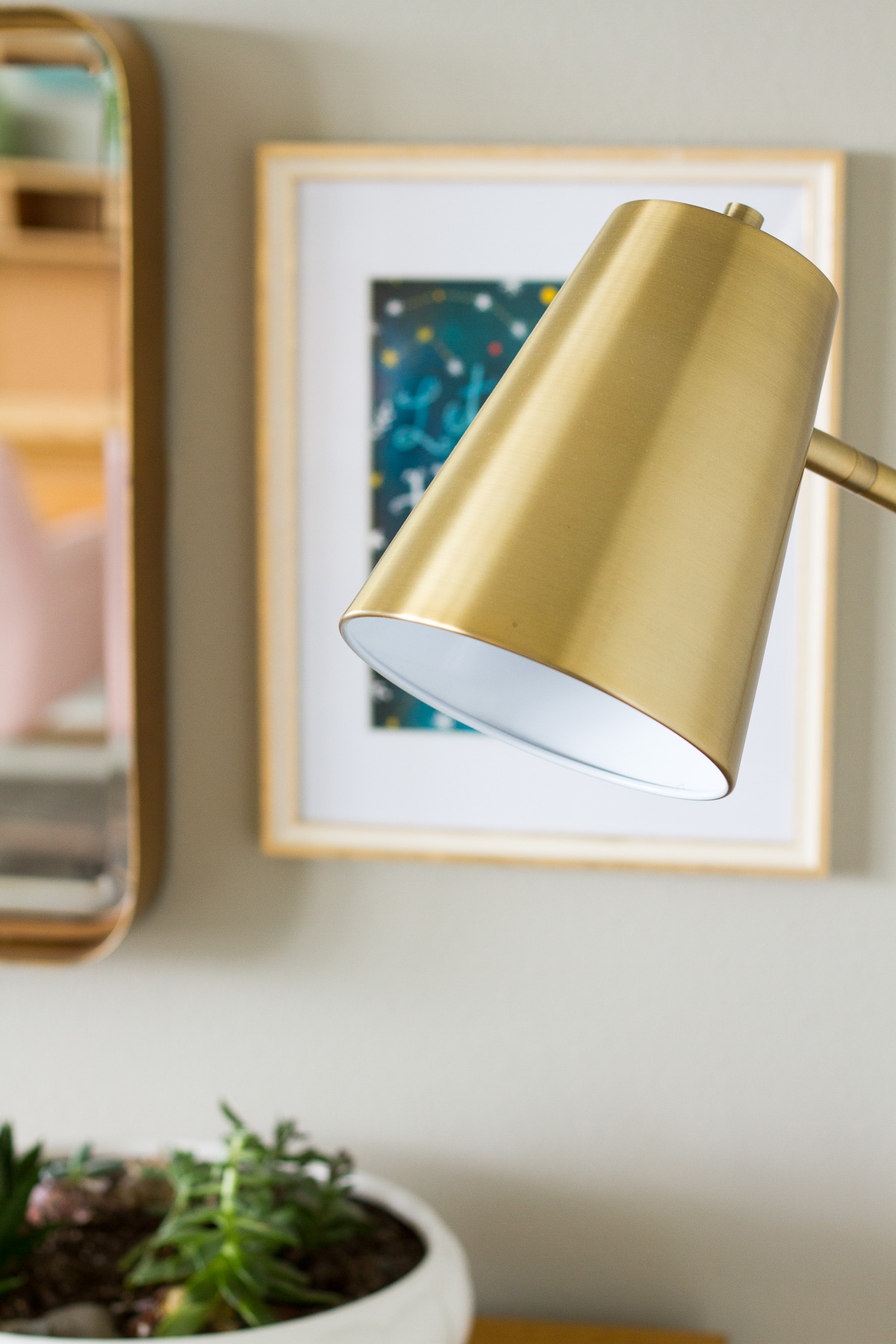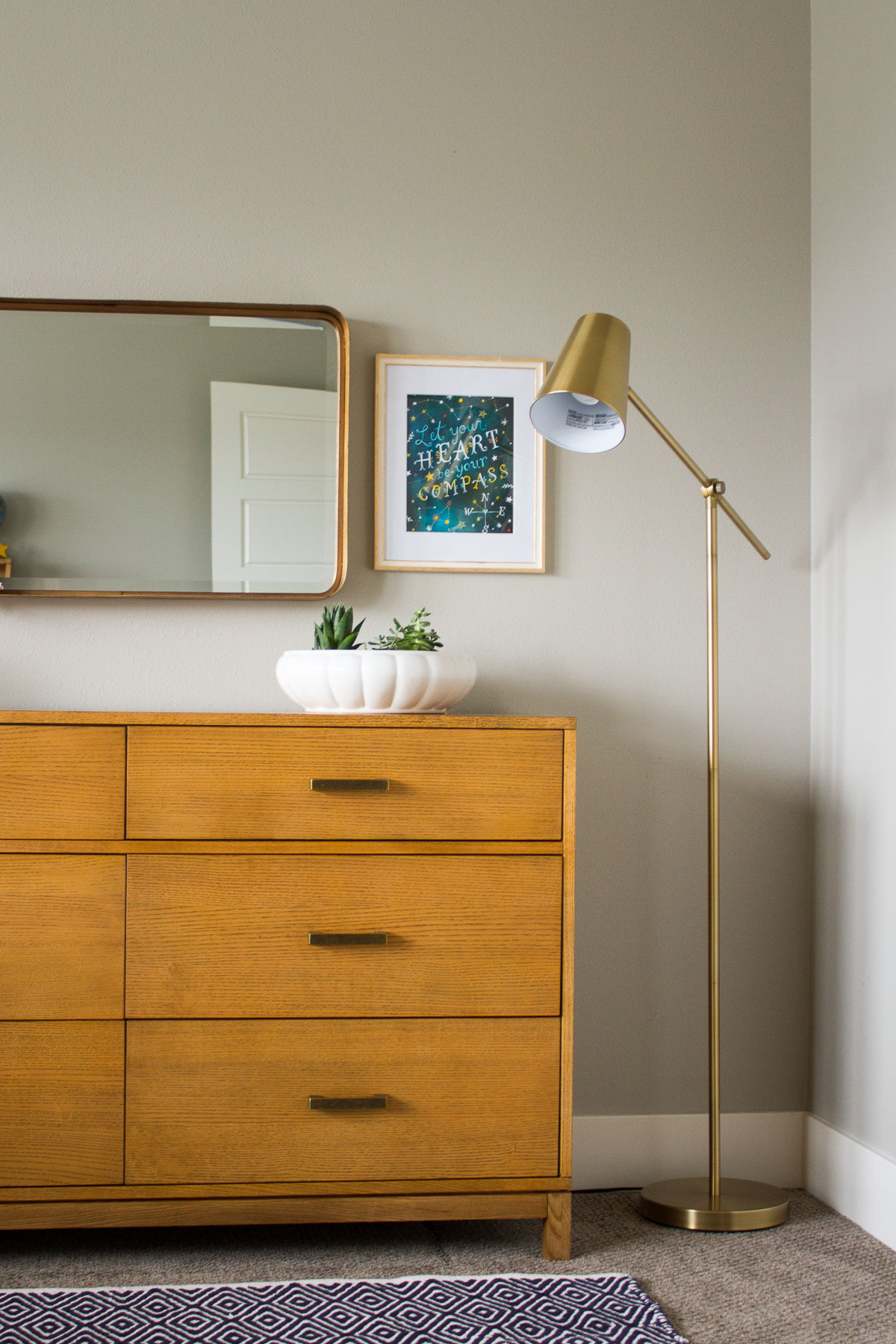 ART & MIRROR
I pinned these prints from Katie Daisy's Etsy shop, The Wheatfield, years ago, and when we started working on this bedroom, they were kind of a jumping off point for the room. I didn't know what we wanted to do with the room besides these prints, but when my sister showed me the Genevieve Gorder quilt with a mix of constellations and flowers on it, it all seemed absolutely perfect.
We had a smaller mirror we were planning on using in this room, but once we got the dresser in place, the mirror felt really, really small. I knew immediately what kind of mirror I wanted to put over the dresser instead, and found this gorgeous, gold leaf tray mirror from Wayfair. It is super hefty. I decided to hang it horizontally with an art print on either side, but I'm second guessing myself now. If you have an opinion on it, I'd love to hear it!!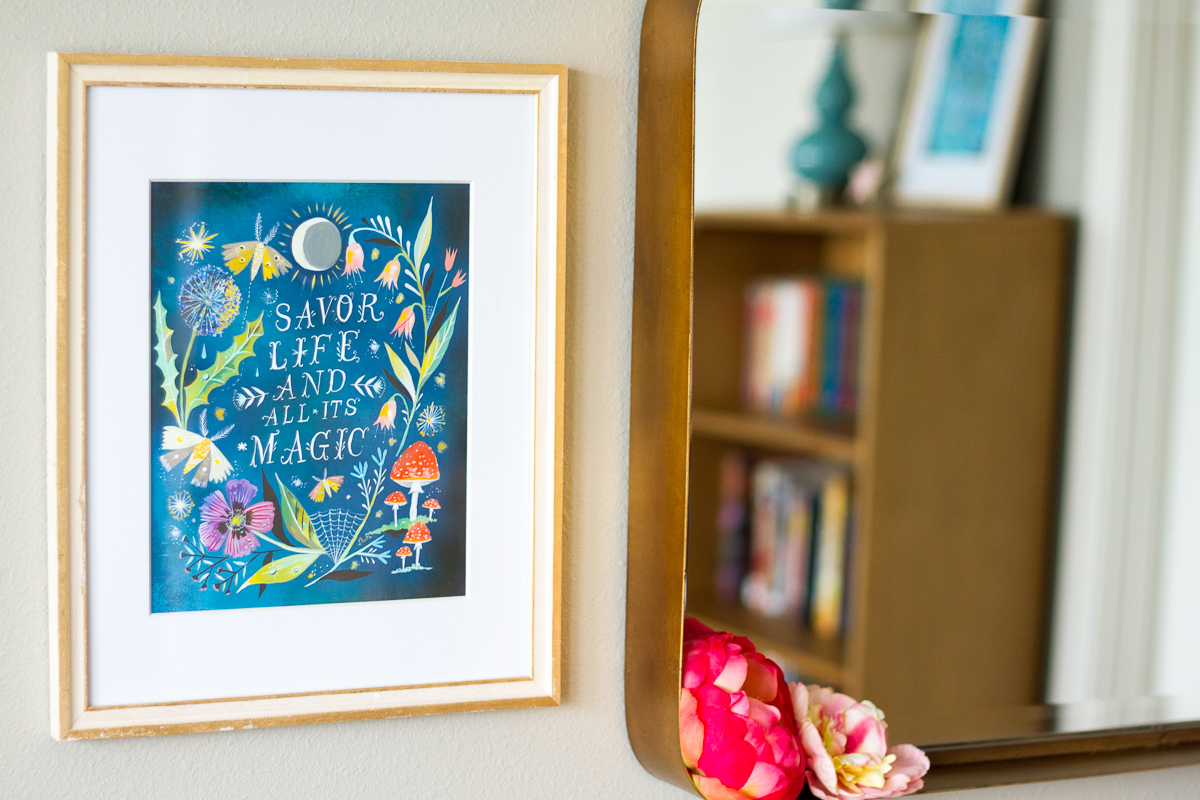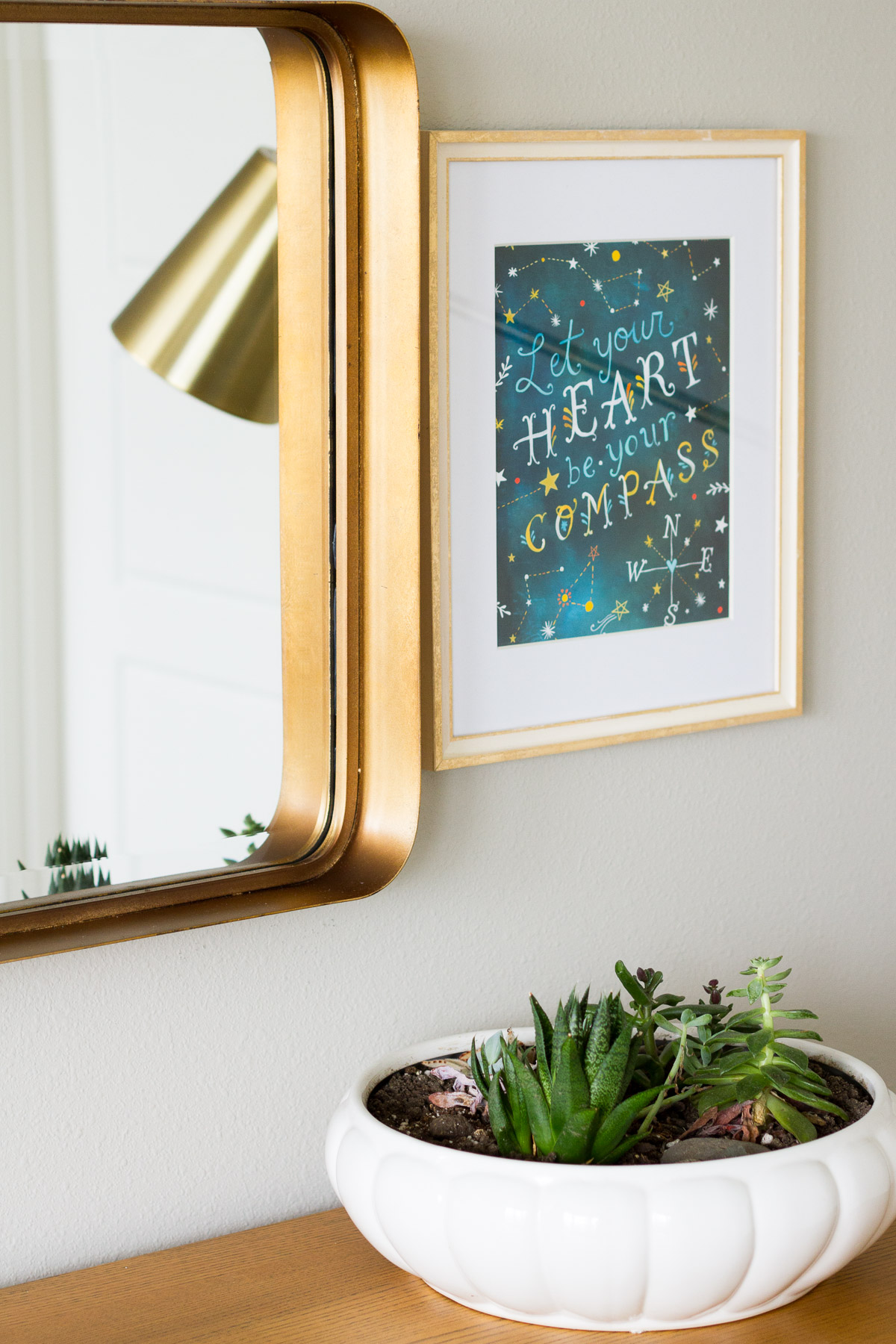 DESK ACCESSORIES
One of my favorite parts of this room redo is the little area on top of the desk hutch. There are so many cute things! First, we have the little gold constellation globe. My sweet friend Heidi texted me from Ross one night saying she had spotted this globe from 1canoe2 and asking me if I wanted her to grab it for $7. Of course I said yes! The globe had a copper or rose gold base, which didn't really match the room, so I spray painted it gold. And the stars were just printed on in white, so I traced over all of them with a gold paint sharpie. I love how it looks now! Next to the globe is a little white constellation lamp from Target. In the middle is an aqua clock we bought a few years ago from World Market. We picked up a really cute teardrop fern from the store, and it's right next to the Murphy Collection desk lamp from Target. The Land of Nod also sent us some really darling, enameled star wall hooks that we were going to use to hang the old mirror. We need to figure out where to hang them now, but in the meantime, we're using them as little objets d'art. And I can't talk about the pretty things on the desk without talking about the pink chair! Granted, it is too big for the desk, but it is super comfy and our daughter loves it. We bought it from Overstock.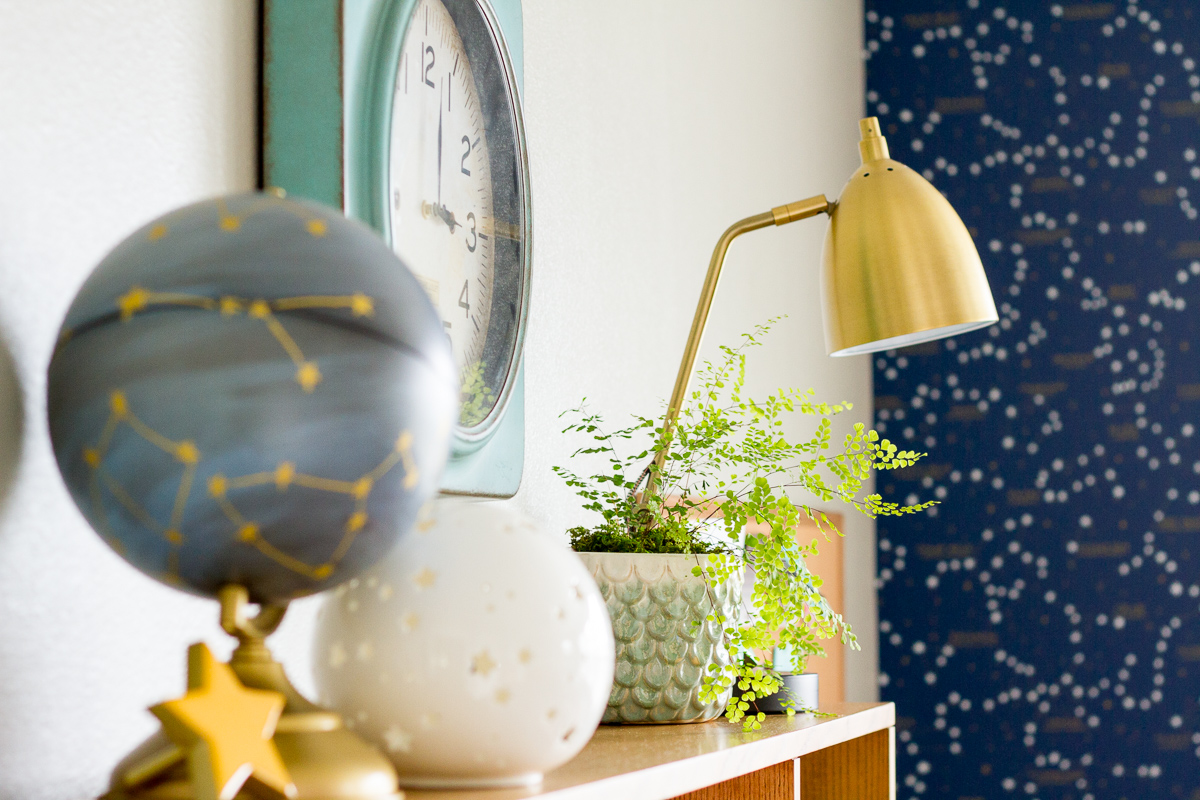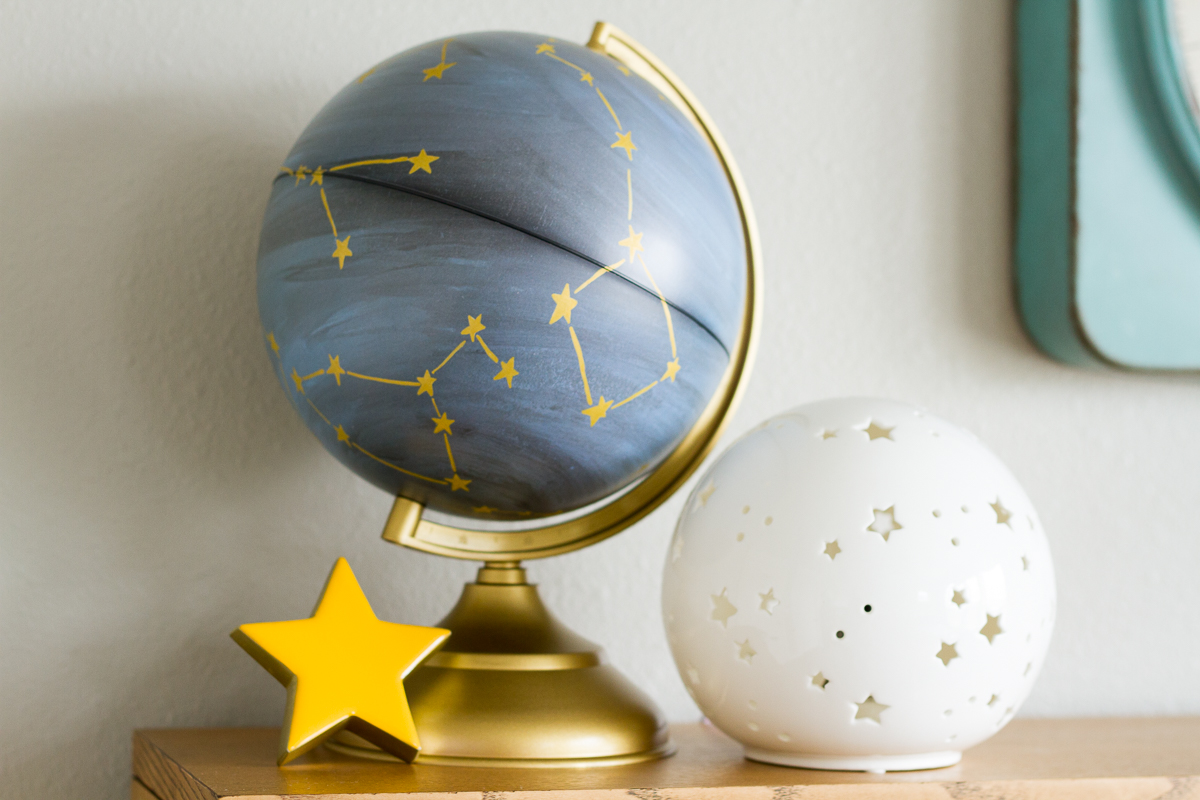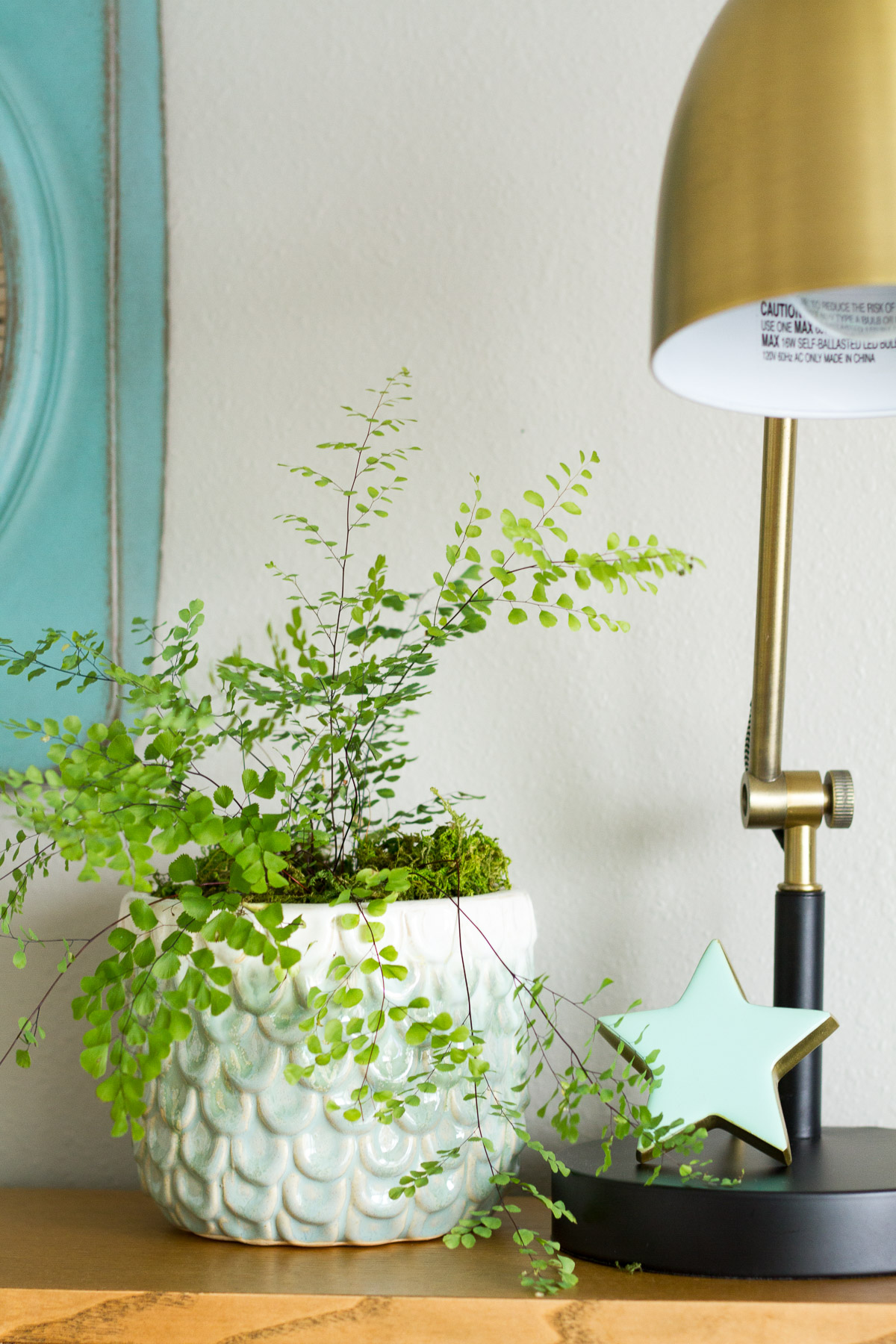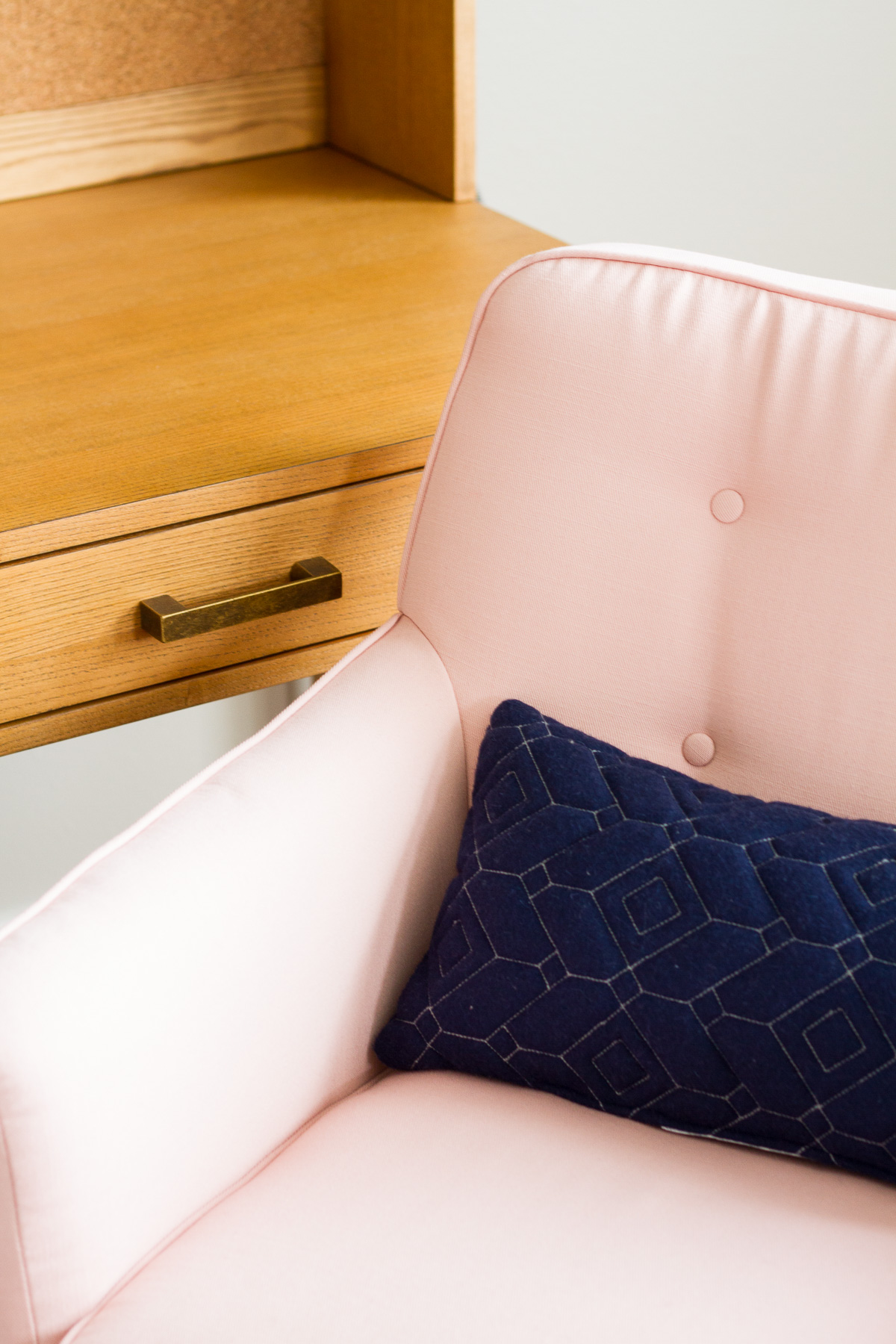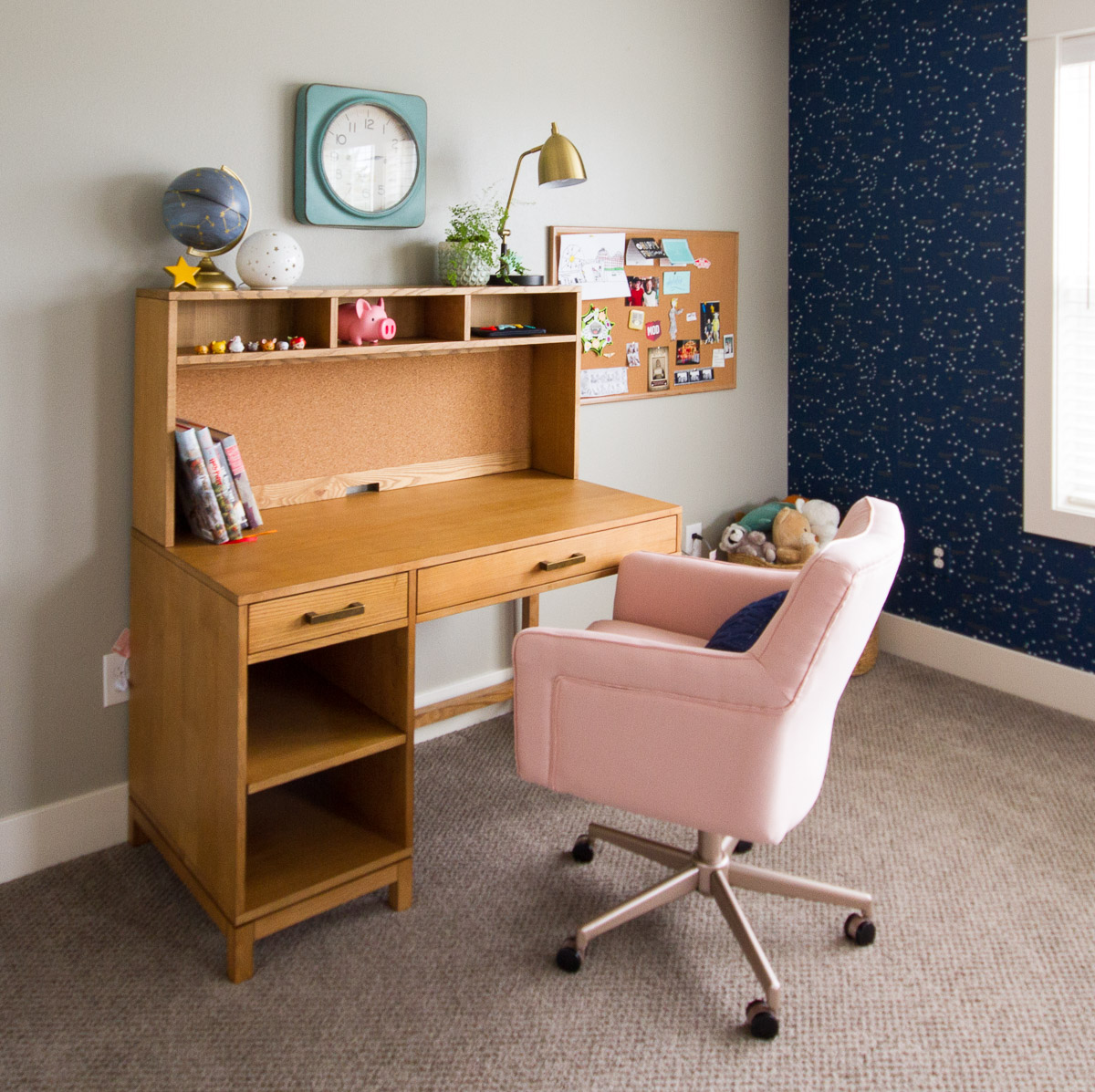 RUG & WALLPAPER
Ok, the last two, big things in the room are the rug and the wallpaper. I'm not usually into rugs on top of carpet, but there was so much empty space in this bedroom, that a rug just felt right. I pinned a bunch of options and let my daughter choose the one she liked best, which was this Boston rug from Safavieh. We bought ours from Overstock, but it is available from lots of online retailers.
And now the star of the whole room, the wallpaper! My little sister—who is a much better decorator than I—suggested doing an accent wall in the room, and after scouring wallpaper websites, I found a removable, navy constellation wallpaper that looked cute, and ordered a sample. The very next day, I randomly found this stunning wallpaper from Ralph Lauren, and ordered a sample of it too, just in case the other didn't work out. And I'm so glad I did! The sample of the RL wallpaper was really dreamy, and the removable sample didn't stick to the wall. Having a whole wall of this luxurious paper really makes the room. And the stars glow in the dark!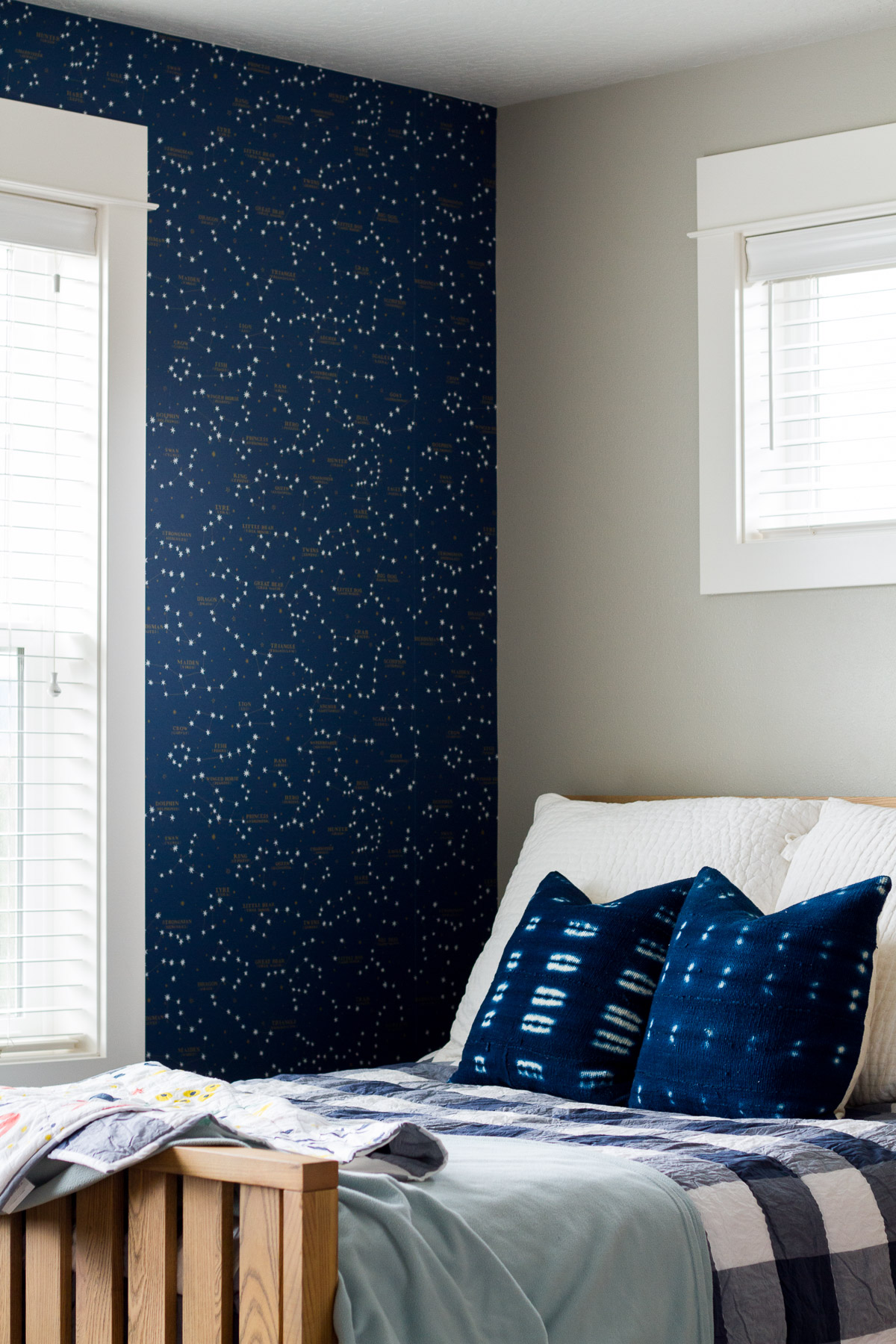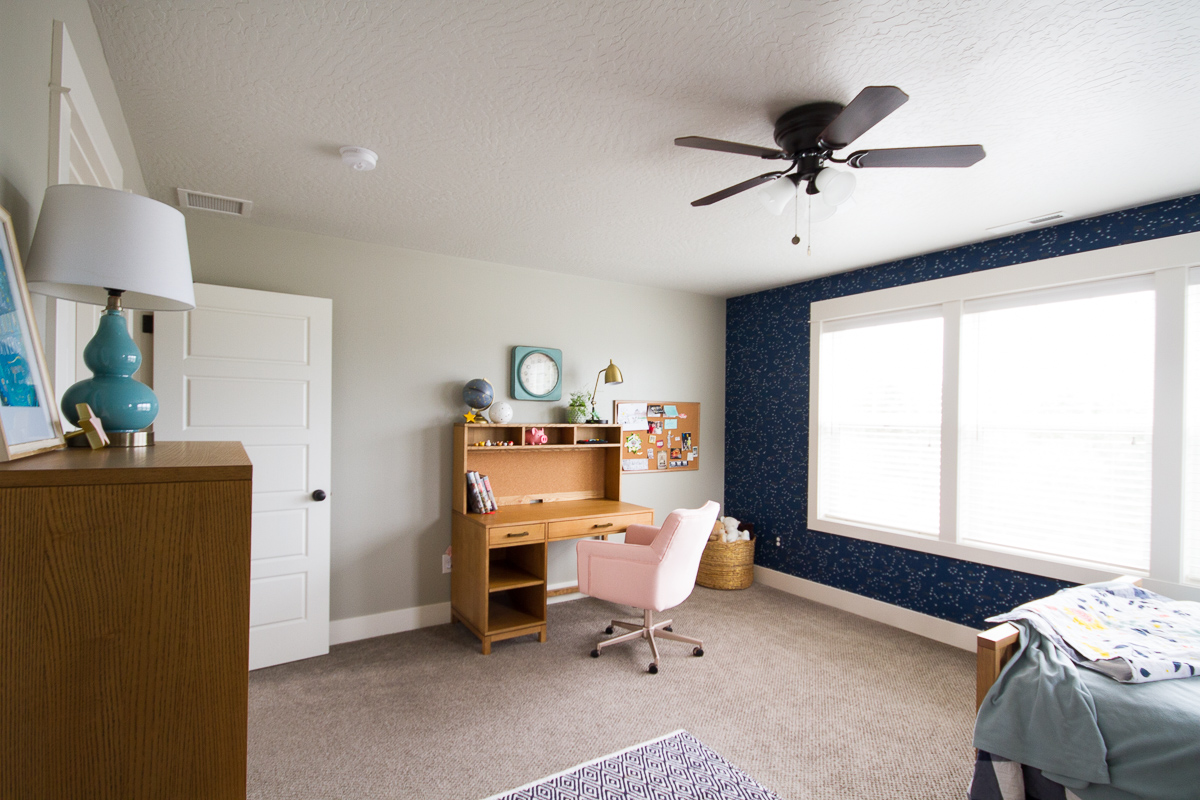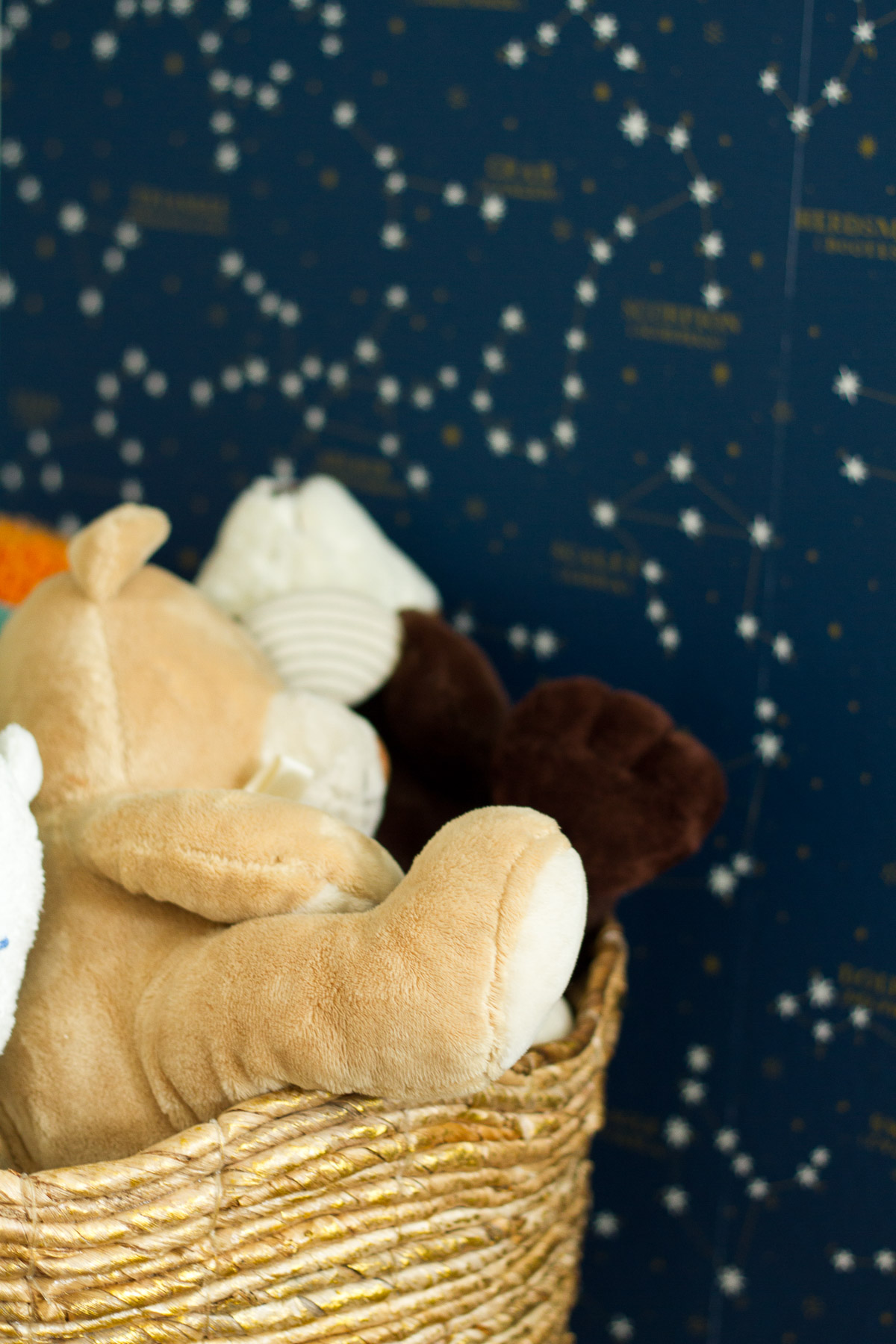 Thanks for sticking with me through this Fall 2017 One Room Challenge. It's been a doozy! Thanks to Linda of Calling It Home for hosting. Please go check out the finished rooms of the 20 featured designers and all the guest participants. The rooms I've seen so far have been absolutely gorgeous! If you want to see how we got from those before pictures to the finished room, you can find those posts here: WEEK 1 | WEEK 2 | WEEK 3 | WEEK 4 | WEEK 5 | WEEK 6. See you in the Spring!

SaveSaveSaveSave
SaveSaveSaveSave
SaveSaveSaveSaveSaveSave
SaveSave