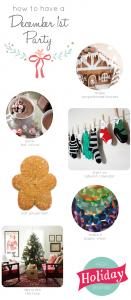 Tomorrow is Thanksgiving, I know, but December starts this weekend, and I just couldn't pass up the opportunity to share a sweet holiday tradition with you: a December 1st party. When I was growing up, my mom threw a December 1st party every year for us. It was the official start of the Christmas season in our house. We'd put up the Christmas decor, eat Pepperidge Farms Ginger Men, make paper chains, watch Christmas movies, and sing Christmas songs. We looked forward to it all through November, and it really helped us get in a festive mood. I loved the tradition so much that I do it with my own kids. And they love it just as much as my siblings and I did oh-so long ago. Throwing a December 1st party is easy! Just plan a few simple holiday activities that you were going to be doing anyway at some point, buy or make some sweet treats, and get ready to make merry!
Here are the Fresh Holiday Traditions we've had so far in our series:
Tune in next Wednesday for another Fresh Holiday Tradition from Jennifer of
Classic Play
! If you try any of our traditions, or if you want to share one of your own, post a picture of it to Instagram with the hashtag #freshholidaytraditions. And Happy, Happy Thanksgiving!