Happy Saturday, everyone! I hope your Thanksgiving was filled with friends and family and love and good food. My family has been in Southern California for the week visiting good friends we don't get to see often and grandparents, siblings, aunt, uncles, and cousins galore. And we might have spent two days at Disneyland, the most magical place on earth! It's been an amazing trip, which is why I simply did not have a post ready yesterday. Instead, you get a special weekend edition of Lulu the Baker.
My latest post for the
Better Homes & Gardens Style Spotters blog
is up, and November has been such an exciting month! The basement walls have gone up, and we've picked out most of the materials for our kitchen. I put together a fun style board for our farmhouse kitchen;
visit BHG.com
to check it out, and to see lots of pictures of the Dream House progress!
And tomorrow is December 1st! Earlier in the week, I posted about a long-running tradition my family has had for as long as I can remember: a December 1st party! They're fun and festive and oh-so-easy. Click here to see how you can throw your own December 1st party, and start making those holiday memories!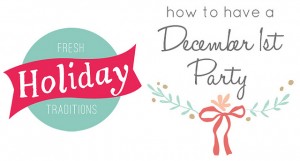 Have a great Thanksgiving/December 1st weekend, and I'll see you back here on Monday to kick off Christmas baking with a delicious and easy peppermint recipe!