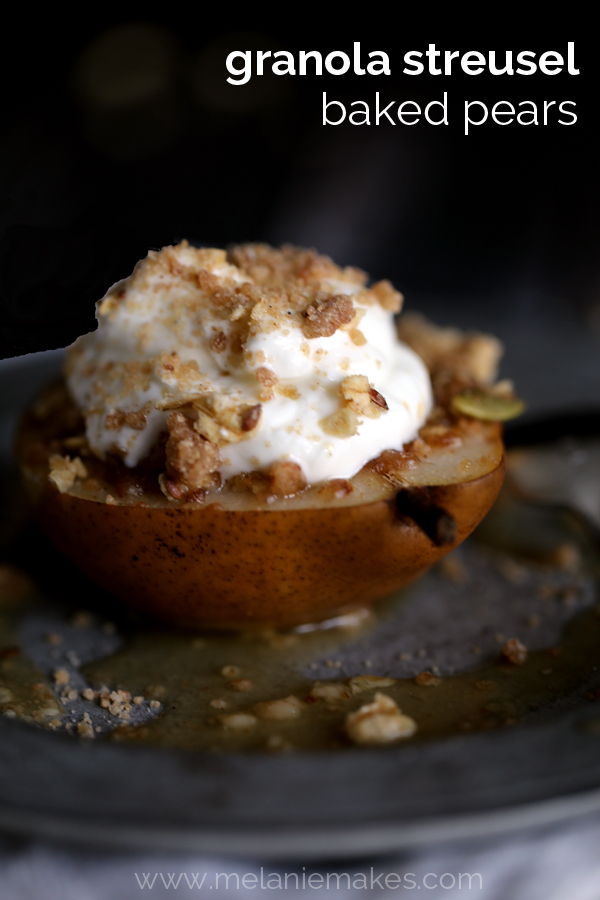 I'm cutting back on blogging this month to spend time with my new baby! I'm so thrilled to have some talented friends stepping in to share amazing DIYs, recipes, and more with you, lovely readers. Today, my good friend Melanie from Melanie Makes (and my collaborator on the Melanie Makes/Lulu Bakes series!) is here to share a scrumptious (and super easy) dessert recipe. Enjoy!
Hello, Lulu the Baker readers!  I'm Melanie from Melanie Makes and I'm thrilled to be guest posting for Melissa while she enjoys her family after the birth of her sweet baby boy.  I'm due with our own bundle of joy in just eight weeks so it's been fun to follow Melissa's journey and I'm hoping that she'll be sharing with me all her mama tricks of the trade soon when I join the mom to four ranks!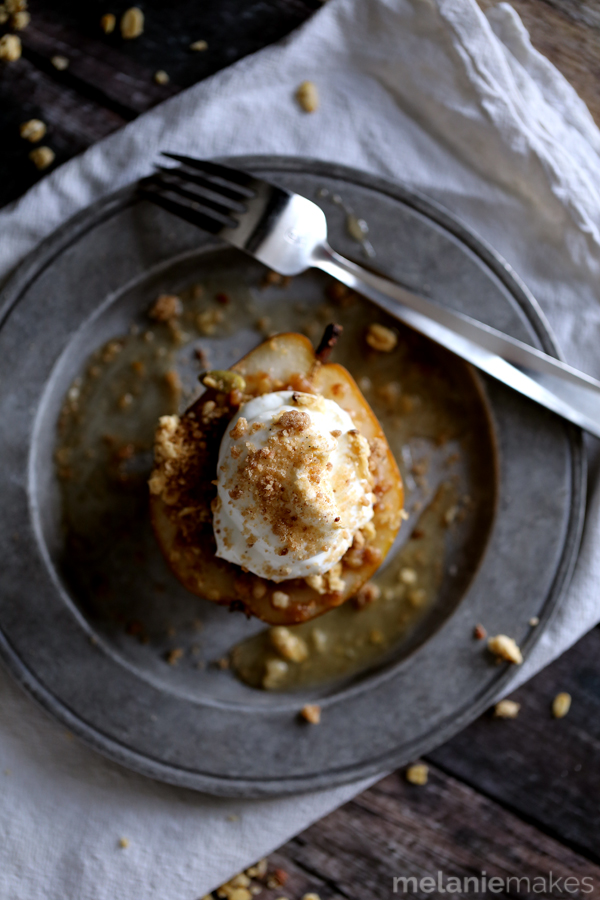 Back before we had children, I remember making baked pears as a side dish for breakfast when my husband's parents were visiting.  For some reason, I hadn't made them much since then.  When I saw pears on sale last week while grocery shopping, I decided to remedy the situation as I knew my little ones would enjoy them as much as we had in the past.
When my 4 year old daughter asked what I was making and I told her the recipe title, she immediately said, "I love streusel!"  Like mother, like daughter!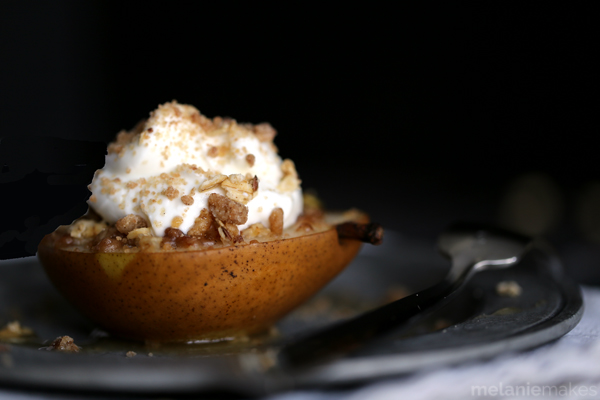 These pears couldn't be easier to make and make a great breakfast treat or even a fabulous – almost healthy! – dessert.  I decided to change up the original recipe I had used in the past by including granola in the streusel mixture.  If I do say, it was a smart decision on my part!  Gorgeous D'Anjou pears are stuffed with a delicious cinnamon granola streusel and baked in an apple juice bath until fork tender.  A dollop of Greek yogurt is placed on top before being sprinkled with yet more struesel.  You can't ever have enough, right?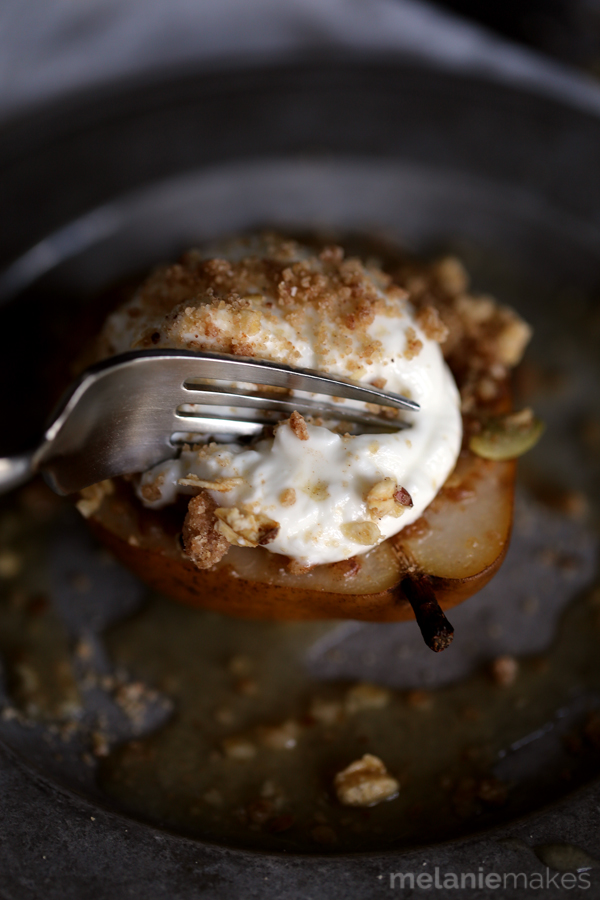 Granola Streusel Baked Pears
Author:
Melanie Bauer for Lulu the Baker
Ingredients
½ cup flour
½ cup brown sugar
3 tablespoons butter, melted
2 tablespoons maple syrup
1 teaspoon cinnamon
½ teaspoon salt
½ teaspoon allspice
1 cup granola
4 D'Anjou pears, cut in half lengthwise
1 cup apple juice
2 cups plain Greek yogurt
Instructions
Preheat oven to 375°F.
In a small bowl, stir together flour, brown sugar, butter, maple syrup, cinnamon, salt and allspice. Add granola and stir to combine. Set aside.
Using a melon baller or spoon, scoop out the core from each pear half. To allow pears to sit evenly in baking dish, cut a small piece from the bottom of each pear and place in 9x13" baking dish.
Spoon streusel mixture evenly into pear halves.
Pour apple juice into baking dish around pears.
Cover baking dish with foil and bake for 30-35 minutes. Uncover and bake and additional 5 minutes or until pears are fork tender.
Serve each pear half topped with ¼ cup Greek yogurt and additional streusel. If desired, drizzle with cooking liquid.
These Granola Streusel Baked Pears are the perfect marriage of seasonal fruit and comfort food, and are sure to be loved by anyone lucky enough to give them a try.