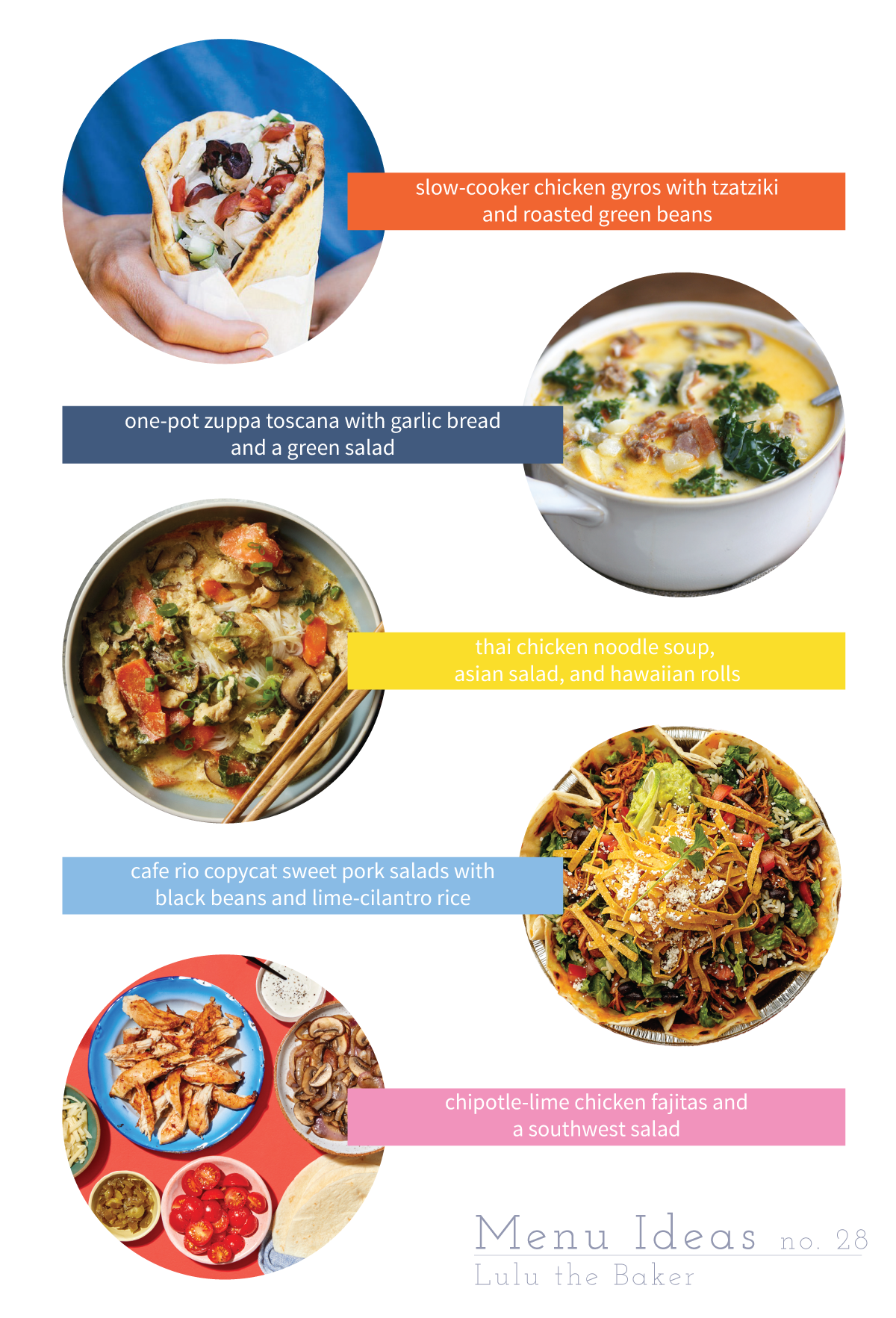 I'm always horrified to see how long it's been since I posted my last round-up of Menu Ideas. Because we eat dinner every single night, mostly at home, mostly made from scratch (ish), and I have a huge list of recipe links to share with you and I get so far behind. So let's just jump in, shall we?
This post contains affiliate links. You can read more about them on our policies page.
Slow-Cooker Chicken Gyros with Tzatziki and Roasted Green Beans
Our family loves chicken gyros, and this slow-cooker version from Sarah Waldman's beautiful book Feeding a Family is a delicious, easy, cold-weather version. It's a true dump-and-go recipe, which is always helpful on busy days. I used boneless skinless thighs because I love them so much, and I didn't bother chopping them up first. They were perfectly tender after 6 hours and shredded easily. I also used a pinch of dried oregano instead of the fresh oregano the recipe calls for because I didn't want the rest of the package of herbs to go to waste. We served ours with warm naan bread and lots of toppings: chopped romaine, kalamata olives, chopped cucumbers, crumbled feta, halved cherry tomatoes, and homemade tzatziki from Gimme Some Oven. You can find the gyro recipe in Sarah's book, which I love, or on this post from Not Without Salt. On the side, we had easy oven-roasted green beans.
One-Pot Zuppa Toscana with Garlic Bread and a Green Salad
I found this one-pot soup recipe—a knock-off of the Zuppa Toscana served at Olive Garden—last fall on Mom on Timeout and have made it lots of times since. I think it's absolutely delicious, possibly my new favorite soup. To be honest, my kids don't love it, but I don't know what their deal is. I made it on Christmas Eve for my family's annual soup night, and everyone there looooooved it. So maybe it's just my kids. You can make it in one pot, but there is some transferring of ingredients involved. However, I'd rather wash an extra plate that had some cooked bacon or sausage sitting on it than an extra skillet, so I'm good with it. It's fabulous and easy, very cozy on a chilly night, and tastes great with garlic bread (or any kind of bread, really) and any kind of green salad. And it's super delicious left over and reheated for lunch.
Thai Chicken Noodle Soup, Asian Salad, and Hawaiian Rolls
We've had cousins living with us since last summer, so we haven't gotten any new Blue Apron boxes in a very long time. For now, our household is just too big. However, we've taken the opportunity while on hiatus to make some of our old favorites, and this thai chicken noodle soup is one of them. I got all of the hard-to-find ingredients at one of our local asian markets, so they weren't actually hard to find at all. We served our soup with a chopped salad and some Hawaiian rolls (because I just can't have soup without bread!).
Cafe Rio Copycat Sweet Pork Salads with Black Beans and Lime-Cilantro Rice
If you've never eaten at Cafe Rio (or any of the restaurants just like it), you are missing out! I'm sure to people who have a Cafe Rio in their town, it becomes just another restaurant option for quick, delicious Tex-Mex food. But when you don't have one anywhere near you, you become obsessed with having it any time you travel, and you resort to making copycat versions of your favorites at home. To make the Cafe Rio Copycat salad with sweet pork, you start with a big tortilla (preferably the kind you cook at home on a griddle) topped with melted cheese. Then you pile on chopped romaine, lime-cilantro rice and black beans, sweet pork, and all the toppings you can imagine: avocado/guac, pico/salsa, shredded cheese, cilantro, sour cream, tortilla chips, and—at least in our case—a creamy tomatillo ranch dressing. I'd be lying if I said this is a quick dinner, but it isn't particularly difficult to make, and it's delicious and impressive. The pork cooks in a slow cooker, the dressing can be made ahead of time, and then you're really just dealing with lots of chopping, so grab a helper and you're good to go. You can find the recipe for both the sweet pork and the black beans on this old post for huevos rancheros (another winner, btw). I still haven't found a go-to for lime-cilantro rice; if you have a favorite, please let me know! And the tomatillo ranch recipe is my sister's and goes as follows: In a blender, combine 1 packet Hidden Valley Buttermilk Ranch salad dressing mix, 1 cup mayo, 1/4 cup green taco sauce (I used my homemade tomatillo enchilada sauce), 3/4 cup buttermilk, 1 teaspoon minced garlic, 1 cup cilantro, and freshly ground black pepper. Blend until smooth, pour into a container with a tight fitting lid, and refrigerate until ready to use. Delicious!
Chipotle Lime Chicken Fajitas
When I was little, I went through a fajita phase (didn't we all?). Anytime my family went out to eat, I'd order fajitas if they were on the menu. There's something so fancy about fajitas. The sizzle, the special serving platter, the extra plate just for the toppings. My very favorite make-at-home fajita recipe is from Blue Apron and Chrissy Teigen. They're based on Chrissy's fajita recipe from her book Cravings, and they're super easy to make and really delicious. We had ours with lots of yummy fajita toppings and a southwest salad. Instead of the mushrooms the recipe calls for (since they wouldn't go over particularly well at our house), I did sautéed onions and bell peppers—a classic fajita topping.
So there you have it! Five menu ideas that we make and love to help you plan a week's worth of easy weeknight dinners for your family. If you have any go-to dinner recipes your family loves, please share them in the comments below.