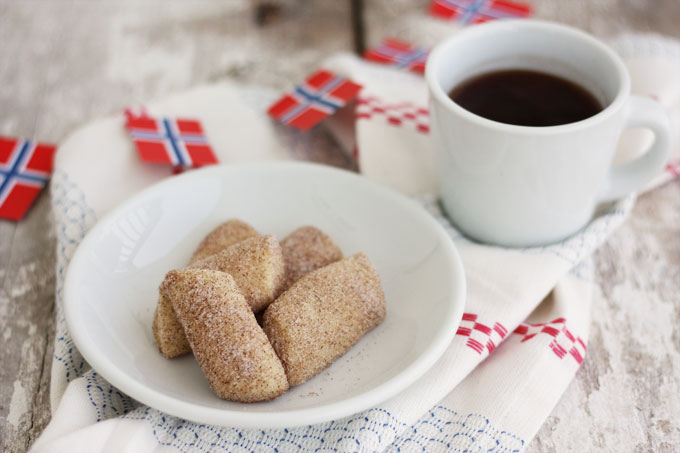 Cinnamon Thumbs in just a minute. Let's just cut straight to the huge news because I'm bursting at the seams to share it: I'm writing a book! That bears repeating: I'm writing a book! Talk about dreams coming true. 
It will be called Scandinavian Gatherings, it will be filled with delicious recipes and charming projects inspired by the flavors and style of Scandinavia, and it will be published in the Fall of 2016 by Sasquatch Books!
Believe it or not, that's really soon in the publishing world, and I'm up to my elbows every day in old family recipes and flour. It's a project that I've been chipping away at for years thanks to an idea from my Norwegian grandpa, and at the beginning of 2014, I finally decided to quit tinkering with the it and to just go for it with gusto. Whole hog. Jumping in with both feet.
I created an entire sample chapter with pictures from a huge photo shoot I did in my garage one Sunday morning. I hired an illustrator to create some gorgeous artwork and a talented friend to do hand-lettered titles. I spent hours polishing a lengthy book proposal and querying agents.
And I'm just giddy and still a little in awe that all of that hard work is paying off in a big, beautiful way, and that this book that's only existed in my head until now is going to become a real book that I can hold in my hands and see on bookstore shelves!
I have to say a huge thank you to all of the people who have supported this book from its humble beginning so many years ago–my parents, grandparents, and siblings, and my wonderful husband and children. More gratitude for my friends in the blogging world who have given me encouragement and friendship, and for my agent Mackenzie Brady and her assistant Danielle Barthel at New Leaf Literary for working tirelessly on my behalf. I got to have lunch with them when I was in New York last Fall, and I think "I'm meeting my agent for lunch in New York" might be the coolest thing I've ever gotten to say.
To give you a little sneak peek at what's in store in Scandinavian Gatherings, I wanted to share this recipe for Norwegian Cinnamon Thumbs. These sweet, buttery cookies are so tender they practically melt in your mouth. They have a flavor and texture similar to shortbread, and a delicious cinnamon-sugar coating. They'd be perfect for a holiday cookie exchange, but are easy enough to make for an after school snack or an afternoon coffee break.
My mom got the recipe decades ago from the Las Vegas chapter of the Sons of Norway, and my baby sister made them for her elementary school heritage day project. So you can eat them and feel like a viking!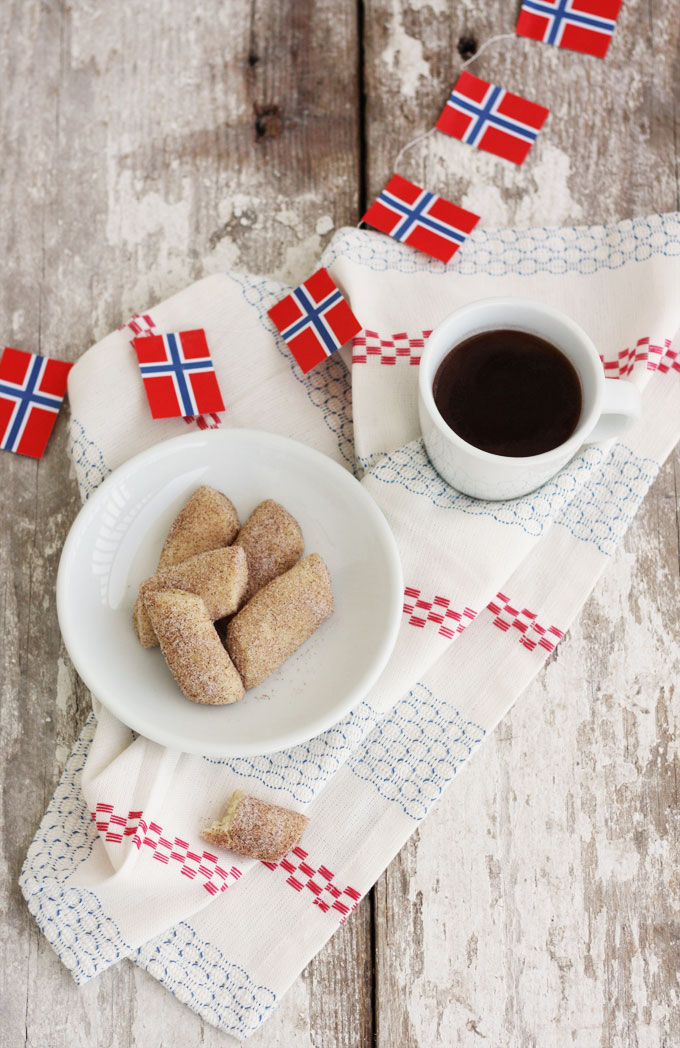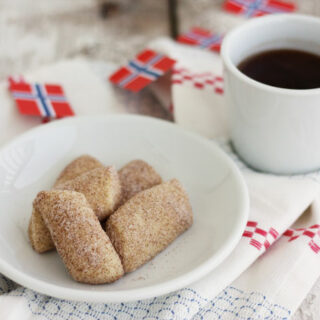 Norwegian Cinnamon Thumbs
Buttery shortbread cookies rolled in the cinnamon sugar, these Scandinavian cookies are perfect for the holidays.
Ingredients
for the cookies
5 Tablespoons sugar
1 cup butter
2 cups flour
1 teaspoon vanilla
for rolling
1 teaspoon cinnamon
1/4 cup sugar
Instructions
Preheat the oven to 350°F.
To make the cookies, beat the sugar and butter together until fluffy. Add the flour and vanilla, and beat until the dough comes together.
Take a small amount of dough (about the size of a tennis ball), and roll is gently into a long, skinny rope 1/2" in diameter (about the width of your pinky). Using a sharp knife, cut the dough into 2" pieces, making sure to cute on the diagonal instead of straight across.
Place cookies a few inches apart on a lined baking sheet, and bake 8-10 minutes, until just beginning to turn golden on the bottom edges. Remove cookies from oven and allow to cool slightly.
While cookies are cooling, combine the cinnamon and sugar for rolling in a small bowl. When cookies are cool enough to handle, roll each gently in cinnamon sugar, and place on a cooling rack to finish cooling completely.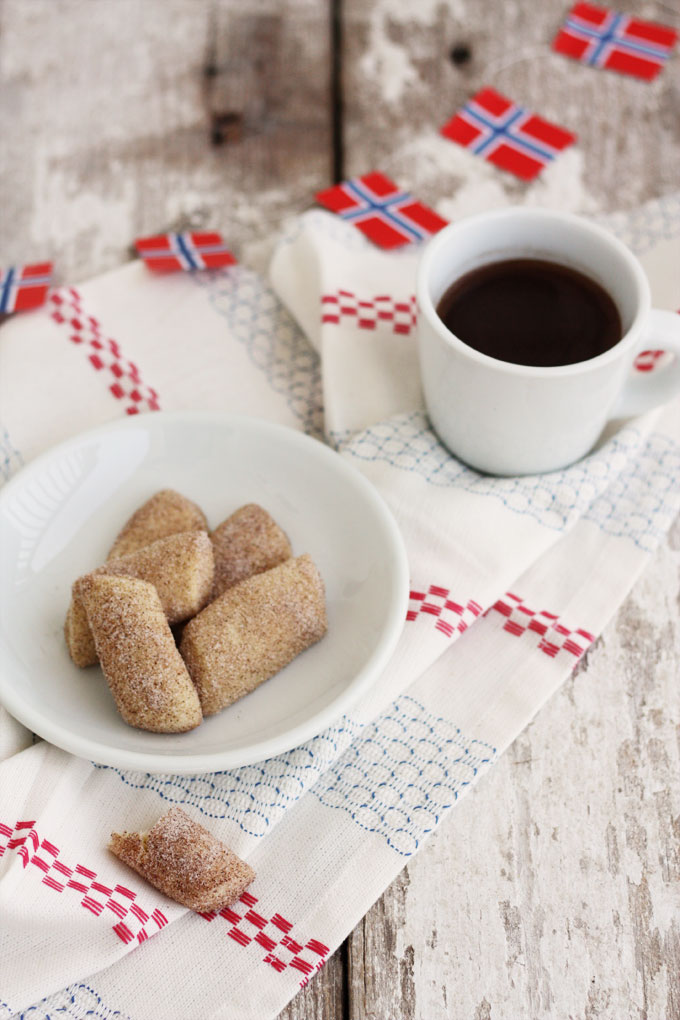 SaveSave