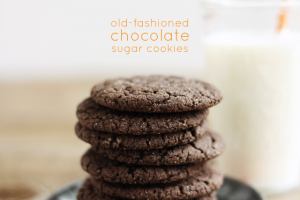 I must be in a cookie-loving mood this month, because I have so many cookie recipes in the works for October! Our theme for the month is going to be Autumn Treats, and these sweet, chocolatey cookies are definitely a delight. When I made my batch of Old-Fashioned Chocolate Sugar Cookies, I was in the mood for simple, straight-forward chocolate cookies. No molten centers, no hidden layers of surprise ingredients, no nuts or nibs or chunks or chips. Just pure chocolate goodness combined with a chewy texture and crispy sugar coating. They're exactly the kind of cookies you'd find in a cookie jar, or that your mom would have waiting for you when you got home from school, accompanied by a tall glass of cold milk. I've maybe been watching Stranger Than Fiction a lot lately, OK?
Old-Fashioned Chocolate Sugar Cookies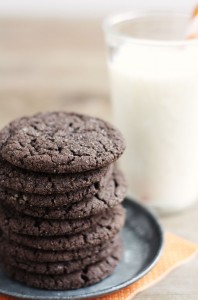 2 1/4 cups flour
1/2 cup natural, unsweetened cocoa powder
2 teaspoons cream of tartar
1 teaspoon baking soda
1/4 teaspoon salt
1 cup butter, softened
1 1/2 cups granulated sugar, plus more for rolling
2 eggs
Preheat the oven to 400°F. In a medium bowl, combine flour, cocoa powder, cream of tartar, baking soda, and salt; set aside. In the bowl of an electric mixer, beat butter and sugar until light and fluffy. Add eggs, and beat until combined. Add dry ingredients to butter mixture, beating until just combined. Roll dough into 1″ balls, roll balls in granulated sugar, and place on a parchment-lined baking sheet about 2″ apart. Using the bottom of a glass, flatten the cookie dough balls slightly. Bake at 400°F for 8-9 minutes. Remove from oven and allow to cool.