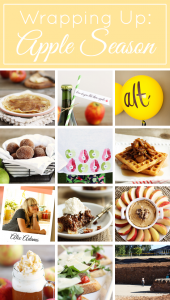 I become increasingly amazed at how quickly the months go by! My kids have been begging to talk about Halloween costumes for months, and I guess we should probably do that, since Halloween is right around the corner now. Here are the highlights on Lulu the Baker from this lovely September, where we celebrated Apple Season!
This month on Lulu the Baker
Apple Cinnamon Crepes
Printable Apple Flags & Tags
Amazing Online Classes for Creatives
Applesauce Donuts
Apple-Stamped Tea Towels
Sauteed Cinnamon & Brown Sugar Apples
In My Kitchen with Alix Adams
German Apple Cake
Candy Bar Caramel Apple Dip
Caramel Apple Cider
Godiva Truffles & Italian Steak Bruschetta
Lulu the Baker & BHG
And Elsewhere in the Blogosphere
I'm featured on Cut Out + Keep as this week's Cooking Superstar!
My first post for the Style Spotters Blog on BHG.com!
My latest post for The Font Feast on Ciera Design
An awesome, apple-filled DIY I did for Rue Rococo
See you on Wednesday for something fun and pumpkin-y! Or Halloween-y! Or something just generally October-y!