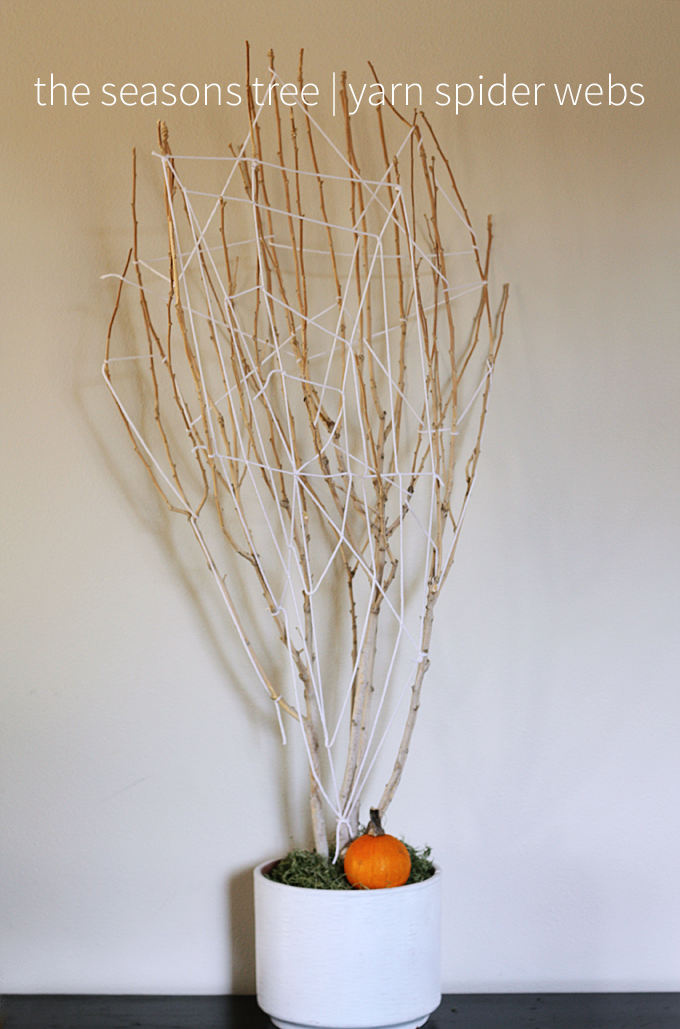 Oh, you guys, I'm so behind on my little Seasons Tree! Luckily, this month's idea is the perfect last-minute Halloween decoration, so it all works out. If you need to doll up your porch for trick-or-treaters this Friday, or decorate you car for that neighborhood Trunk-or-Treat you've got coming up, this super inexpensive, super easy yarn spider web is awesome. Basically, you just take white yarn–the ridiculously cheap, humongous skeins of yarn are perfect for this–and create a spider web with it. I did one on the front of my tree that was a little more spider web-ish and a little more labor-intensive, but it didn't quite look complete, so I used the rest of the yarn I had cut to just randomly zigzag the yarn back and forth across the middle and back of the tree, and I think it looks fab!
If you want to do a regular spider web shape, start by cutting 4 pieces of yarn. Attach one piece of yarn at the top and bottom of your space, another one on the left side and right side, and the last two pieces criss-crossing diagonally. I knotted all of my pieces in the center to give the web stability, but you could also just overlap them. Then, take a really long piece of yarn (or the whole skein), knot the free end onto the outside edge of one of your cross pieces, and start wrapping the yarn around in a big circle, knotting it to another piece of yarn whenever they intersect. When you get back to the first cross piece, move in toward the center a few inches and keep going. Keep wrapping and knotting until you reach the center, or until you run out of yarn, or until you feel like stopping.
And if you decide to just free-hand the whole thing, you don't need to tie many knots. Tie the free end of your yarn to something and just start zigzagging the yarn and wrapping it around stuff. When you're done, cut the yarn and tie the end onto something to anchor it. All done, and so easy!