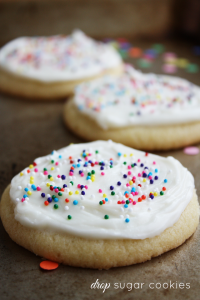 Drop Sugar Cookies might possibly be one of the greatest things to happen to mankind ever. You might think I'm overstating things a bit, and maybe I am, but I stand by the statement and here's why:
Sugar cookies are delicious. Everybody loves them. I think lots of people might even say that sugar cookies are their favorite cookie save for one glaring flaw: they are a hassle to make. And I'm not talking about a 30-minute stint in the fridge hassle. I'm talking about a several hour stint in the fridge plus a roll on the counter plus cutting out with cookie cutters hassle, and that's before all of the frosting and sprinkling and general cookie decorating. By the time you actually get to eat a sugar cookie, that craving that hit 6 hours ago is long gone; making sugar cookies is the complete opposite of instant cookie gratification.
One Valentine's Day, when I was quite pregnant but very much in need of a sugar cookie, I decided to try and find a recipe that tasted like the ones I grew up eating–buttery, soft, delicious sugar cookies–without any of the fuss. I found this amazing recipe on the internet for drop sugar cookies that didn't have to be chilled, didn't have to be rolled out, didn't have to be cut out with fancy cookie cutters. They were as easy to make as their less glamorous cookie cousins, chocolate chip and oatmeal, and rivaled traditional sugar cookies in flavor and texture. In the 5+ years since that glorious day, I've rarely bothered to make any other sugar cookie recipe, because now we can have sugar cookies on a whim. My family, as you can imagine, is delighted.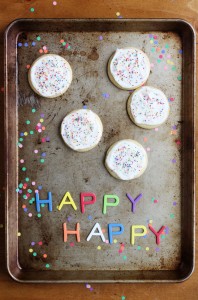 1/2 cup butter, softened
1/2 cup crisco
1 cup sugar
1 teaspoon vanilla
1 egg
2 1/2 cups flour
3/4 teaspoon salt
1/2 teaspoon baking soda
2 Tablespoons milk
Preheat oven to 350°F. In the bowl of an electric mixer, cream butter, crisco, and sugar until fluffy. Add vanilla and egg; mix. In a separate bowl, sift together flour, salt, and baking soda. Add dry ingredients to mixer and combine. Add milk and stir until completely incorporated. Roll dough into Tablespoon-sized balls and place on a greased baking sheet. Flatten balls slightly with the palm of your hand or the bottom of a drinking glass dipped in flour. Bake for 10-12 minutes, until cookies are just beginning to turn golden on the edges. Remove from oven and cool completely before frosting. Makes approximately 3 dozen cookies.