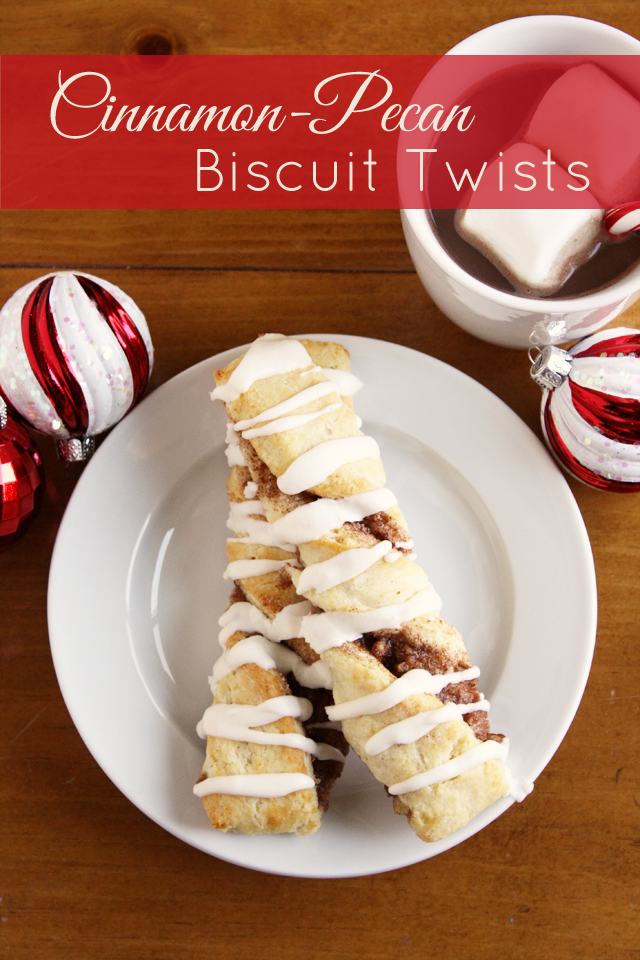 I think Christmas morning is one of the most magical times! There are very few days that are as filled with joy and wonder and love as Christmas. These yummy Cinnamon-Pecan Biscuit Twists would be the perfect addition to any Christmas morning breakfast spread, with a layer of sweet, spicy cinnamon sugar and nutty pecans tucked between buttery biscuit dough, and a sweet vanilla icing drizzle topping it all off. Best of all, they are as easy to make as they are delicious, so you can spend your time making magical memories with the people you love, instead of making breakfast!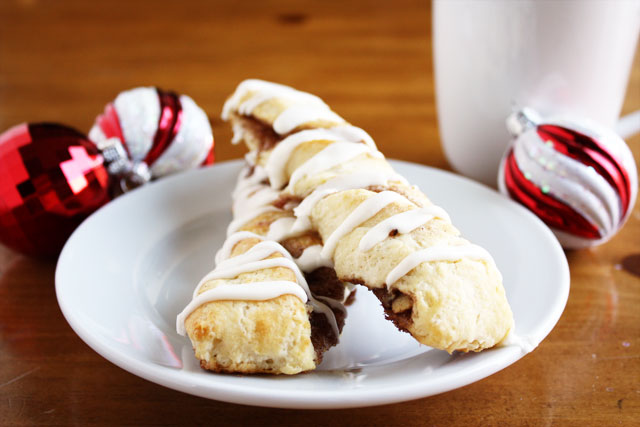 Cinnamon-Pecan Biscuit Twists
These easy breakfast biscuits are filled with sweet cinnamon sugar and crunchy pecans, and topped with a delicious vanilla drizzle.
Ingredients
for the biscuit dough:
2 cups flour
2½ teaspoons baking powder
½ teaspoon salt
6 Tablespoon cold, unsalted butter, cut into chunks
¾ cup cold milk
for the filling:
1 Tablespoon butter, melted
¼ cup pecans, chopped
¼ cup sugar
1½ teaspoons cinnamon
for the glaze:
1 Tablespoon butter, softened
1 cup powdered sugar
3½-4 teaspoons milk
¼ teaspoon vanilla
Instructions
Preheat oven to 425°F. Line a cookie sheet with parchment paper.
In the bowl of a food processor, combine flour, baking powder, and salt. Add butter chunks and pulse until the mixture looks crumbly. Add milk and pulse just until dough comes together in a ball.
Place dough on a well-floured surface and roll into an 8x12" rectangle, about ¼" thick.
Brush the entire surface of the dough with melted butter (you won't use all of the butter). In a small bowl, combine chopped pecans, sugar, and cinnamon, and sprinkle this mixture over half of the rectangle (you should basically make an 8x6" rectangle with the cinnamon-sugar.)
Fold the dough over to enclose the cinnamon-sugar, and press the two 6" edges that are now on top of each other together to seal that end of the dough.
Using a pizza wheel, cut the dough into 8 strips, each one being 1" wide and 6" long. Gently pick up 1 strip of dough, give it 1 full twist, and place it on the prepared cookie sheet. Repeat with remaining dough strips.
Brush twists with remaining melted butter, and bake for 15 minutes, until lightly golden. Remove cookie sheet from oven and allow twists to cool.
While twists are cooling, prepare glaze. In a small bowl, combine softened butter with powdered sugar, milk, and vanilla. Whisk until smooth. The glaze should be just thin enough to drizzle.
When twists have cooled for about 10 minutes, drizzle with glaze. Serve warm! Makes 8 twists.