I'm so excited that the One Room Challenge is here again! Last Spring, we made over our living room, turning it from a boring, mostly empty storage space into one of our favorite rooms in the house. This time around, we're tackling our oldest daughter's bedroom. It just so happens that she turns 12 the week of the One Room Challenge final reveal in November, and we thought there couldn't be a more perfect present to give her for that special birthday than a new bedroom. We hope to turn her bedroom from a drab, messy mix of unmatched furniture and leftover accessories into a peaceful oasis, perfect for a young lady just getting started on her teenage years. Let the tween girl's bedroom makeover commence!
Any good makeover story requires some fairly heinous "before" pictures. At Lulu the Baker, we aim to deliver. Allow me to present our oldest child's bedroom as it looks pretty much every day, even when we've asked her to clean it up: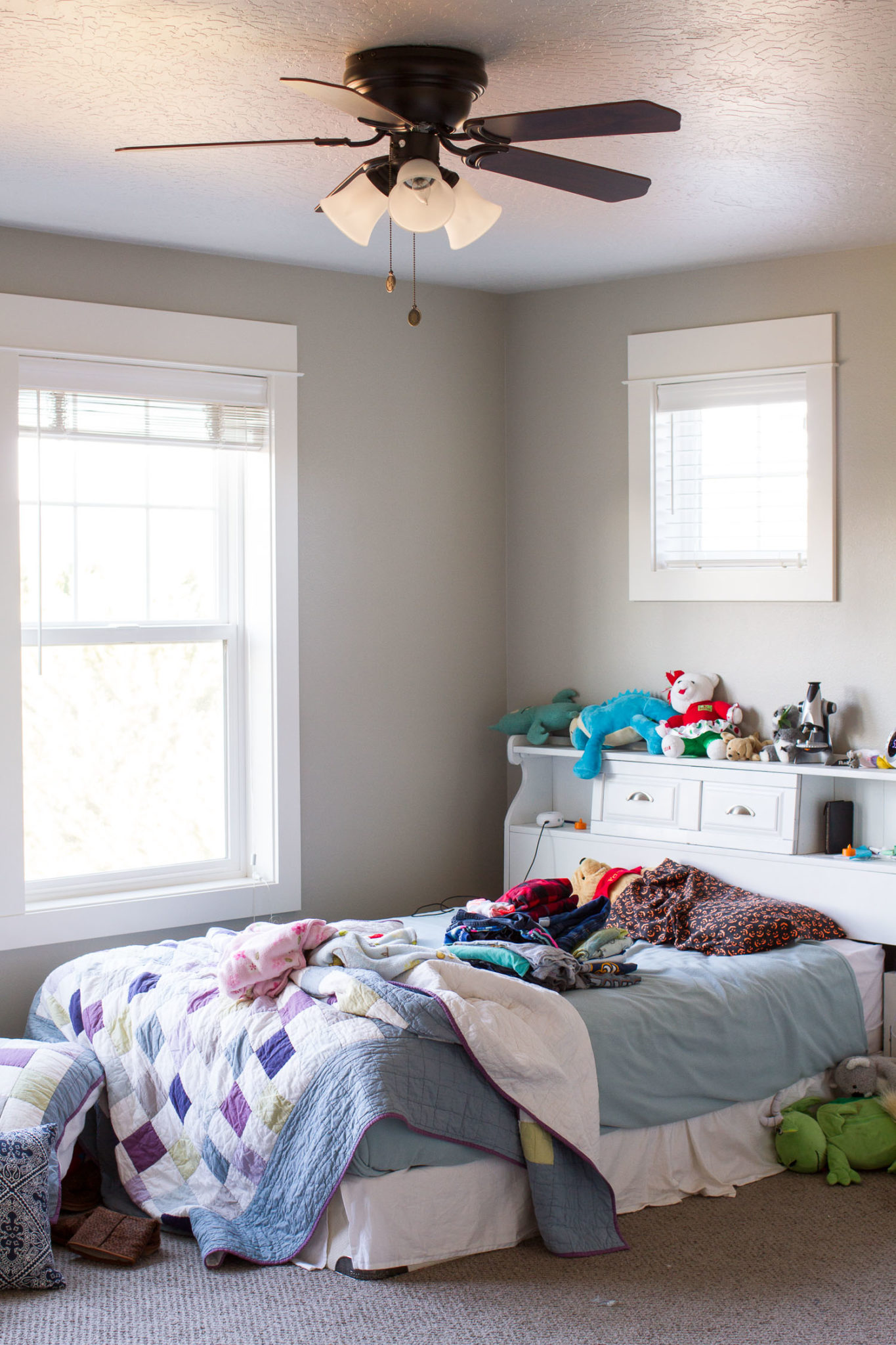 Where to even start! Our oldest has one of the best views in the house from her bedroom windows. They face north-northeast and overlook a beautiful, tree-filled valley and the forested hills on the other side. But her bedroom is one of the most neglected in the whole house, design-wise. Let's start with the headboard. Years ago, this was my grandparents' headboard. It used to be stained wood with the usual fancy, swirly brass hardware. Right after college, I inherited the headboard, painted it a lovely, glossy black, and replaced the hardware with these silver cup-style pulls, which, incidentally, weren't originally installed incorrectly as they are now! After my husband and I got married and were expecting our oldest, we painted the bed white and moved it into the nursery/guest room in our condo. When we moved from Las Vegas to Oregon, we brought the bed with us, but the frame broke during the move, and the mattress has sat directly on the floor ever since. To make things even worse, the headboard was in storage for a few years before we moved into the dream house. The storage didn't turn out to be weather proof, and the headboard is now warped and cracked. For those few years in between, our daughter also slept with a headboard that came out of an old brothel (I'm not even joking, guys!), and then homemade bunk beds. Let's get this poor girl, who has never had a new bed in all of her nearly 12 years, a nice headboard!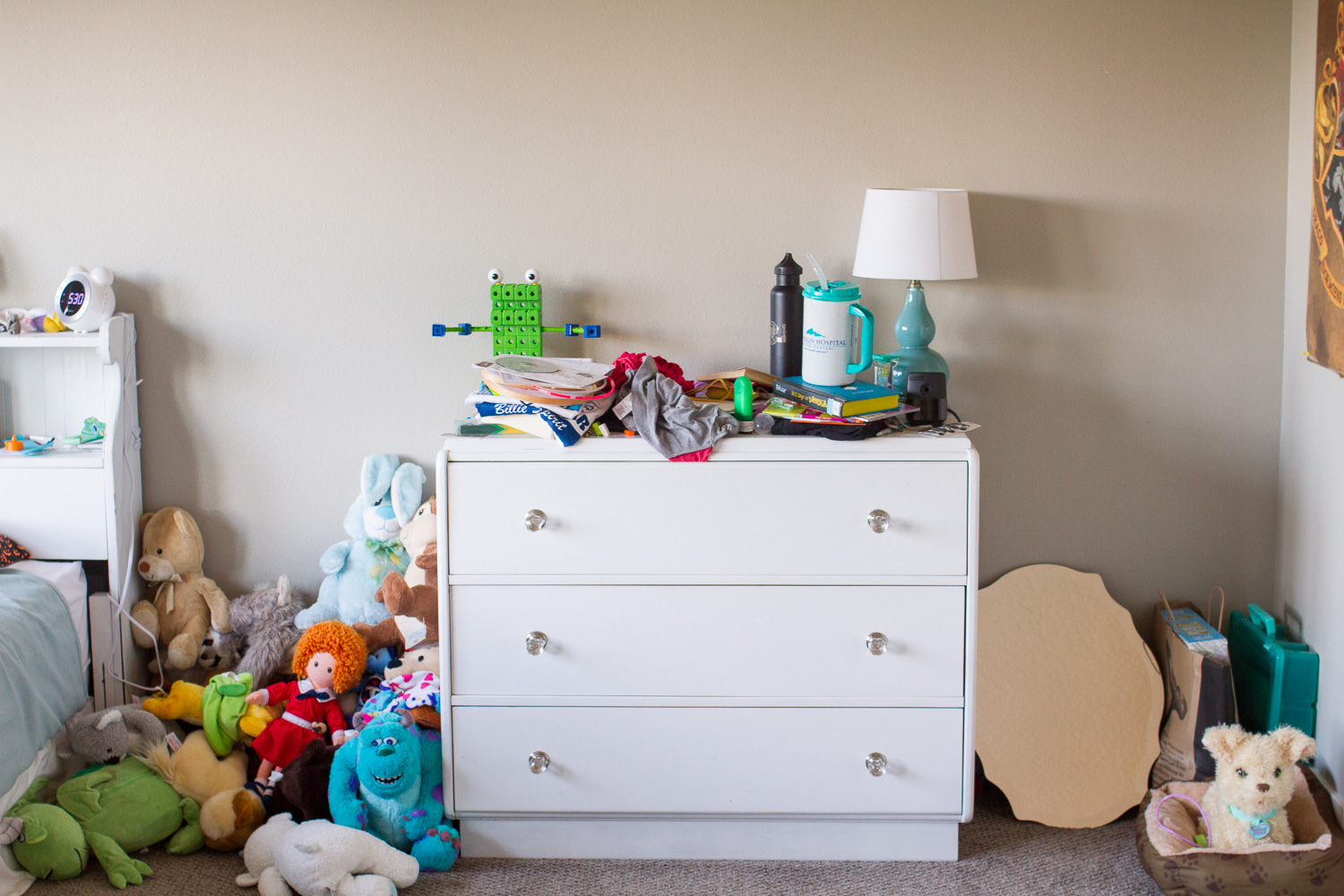 Moving around the room (past the giant pile of stuffed animals), we have a secondhand dresser refinished by my mother-in-law. It's fine, but it won't match the new bed we picked out, so out it goes! It'll probably end up in the boys' room because they are in desperate need of dressers. The new dresser will almost double the storage, which (you can see from all the pictures) is needed. Maybe that will help encourage her to put her clean clothes away.
There are a few hidden gems in this bedroom. Underneath the clutter and clothing, the garbage and knick knacks, is a cute lamp from Target that Santa brought a few years ago. It matches the current quilt on her bed, but will also match the new bedding, so it gets to stay. And the jury is out on the little mirror propped against the side of the dresser, but it's cute and in good shape. When the furniture gets moved in, we'll see how it looks with the dresser and decide what to do with it.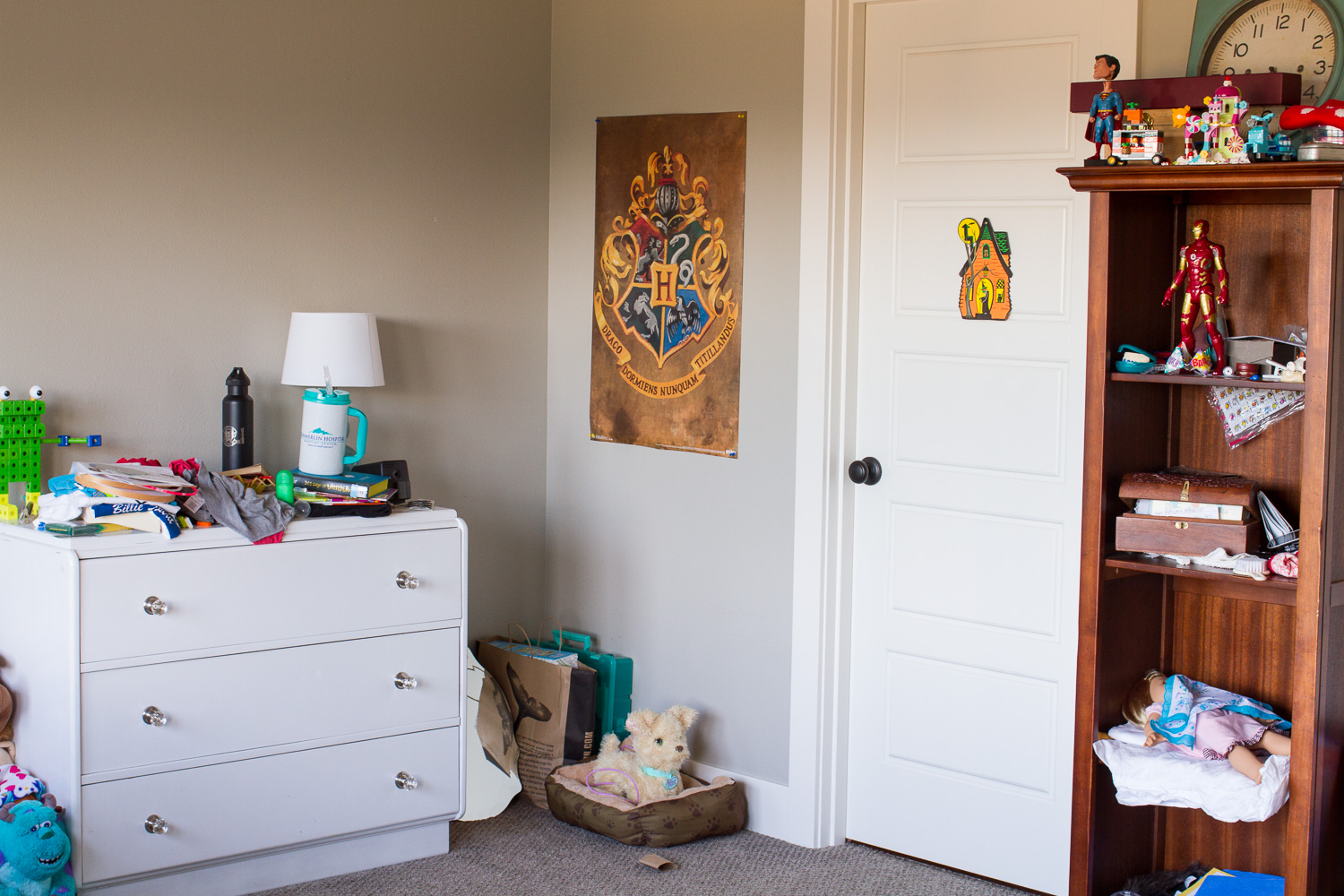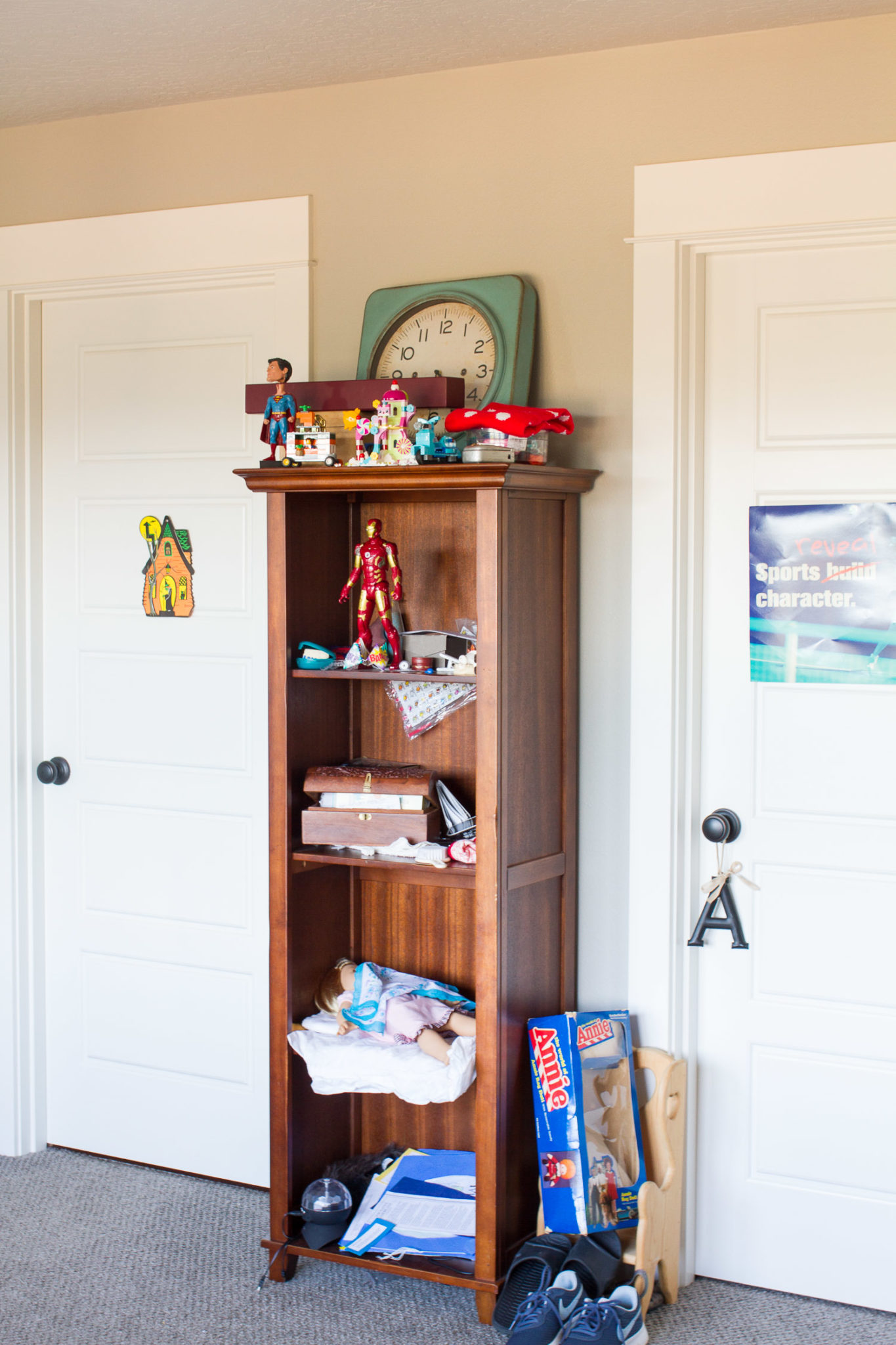 Something else is sticking around during the makeover, and it's not the random bookshelf that used to be in the kitchen in our old house! Seriously, this poor bedroom. The square, aqua clock on top of the bookcase is a fairly recent purchase from World Market and will find a home in the new bedroom. Kit Kittredge will probably stick around too, but maybe we can find her an actual place to be instead of a makeshift bed made out of a pillowcase and a vintage handkerchief. I think the bookcase will end up in my husband's office, and we'll have to come to some sort of compromise on the posters and knick knacks.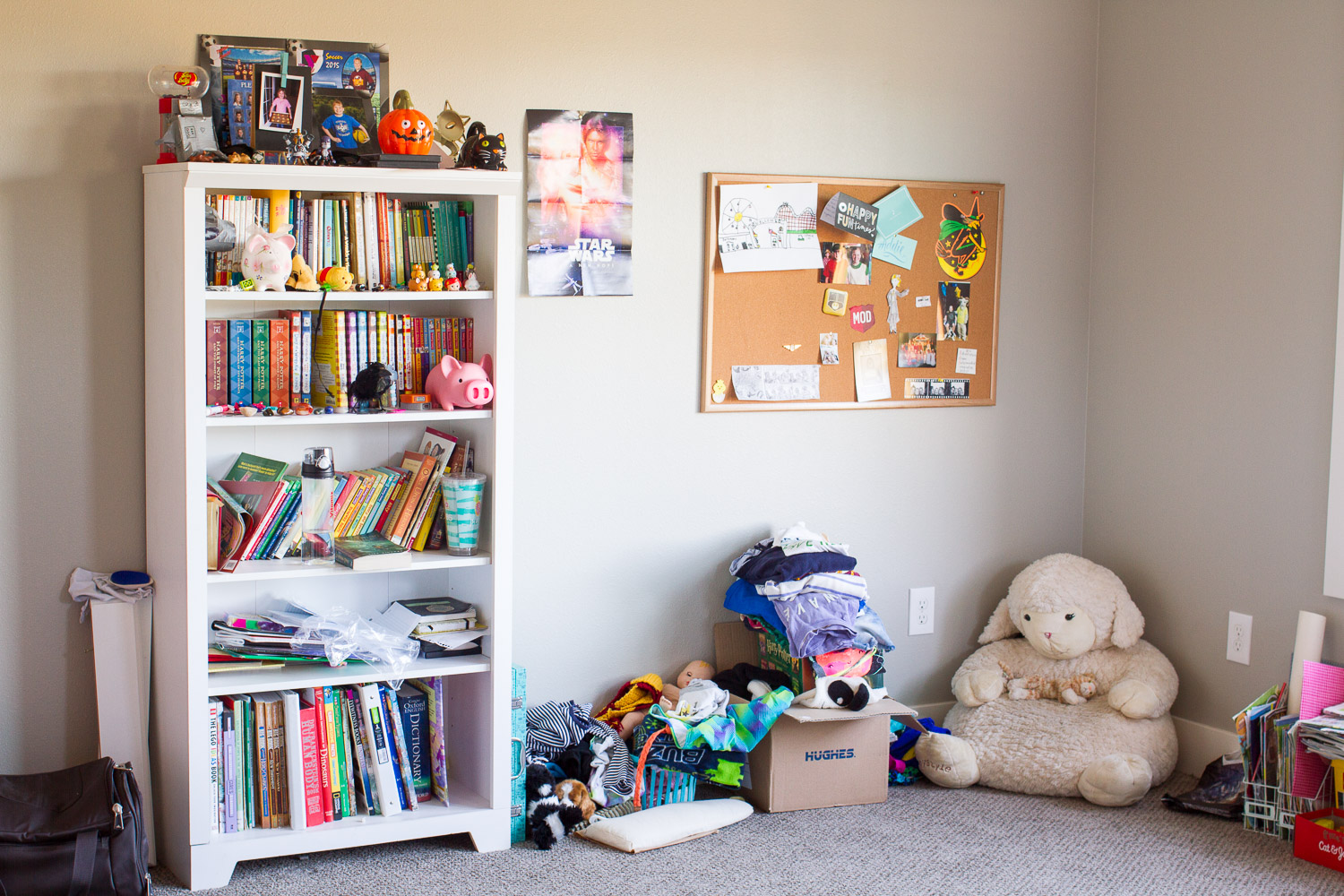 On the wall opposite the bed sits another mismatched bookcase. We can definitely find a good home for this in a different room. We've ordered a new desk with a hutch for this wall. Now that she's in middle school, our daughter could really benefit from a quiet place to do her homework. She also desperately wants a bean bag for the corner currently housing Lulu the Lamb (a 12 year-old holdover from her nursery!). The plan is to turn this wall and corner into a little study area where she can do school work and read.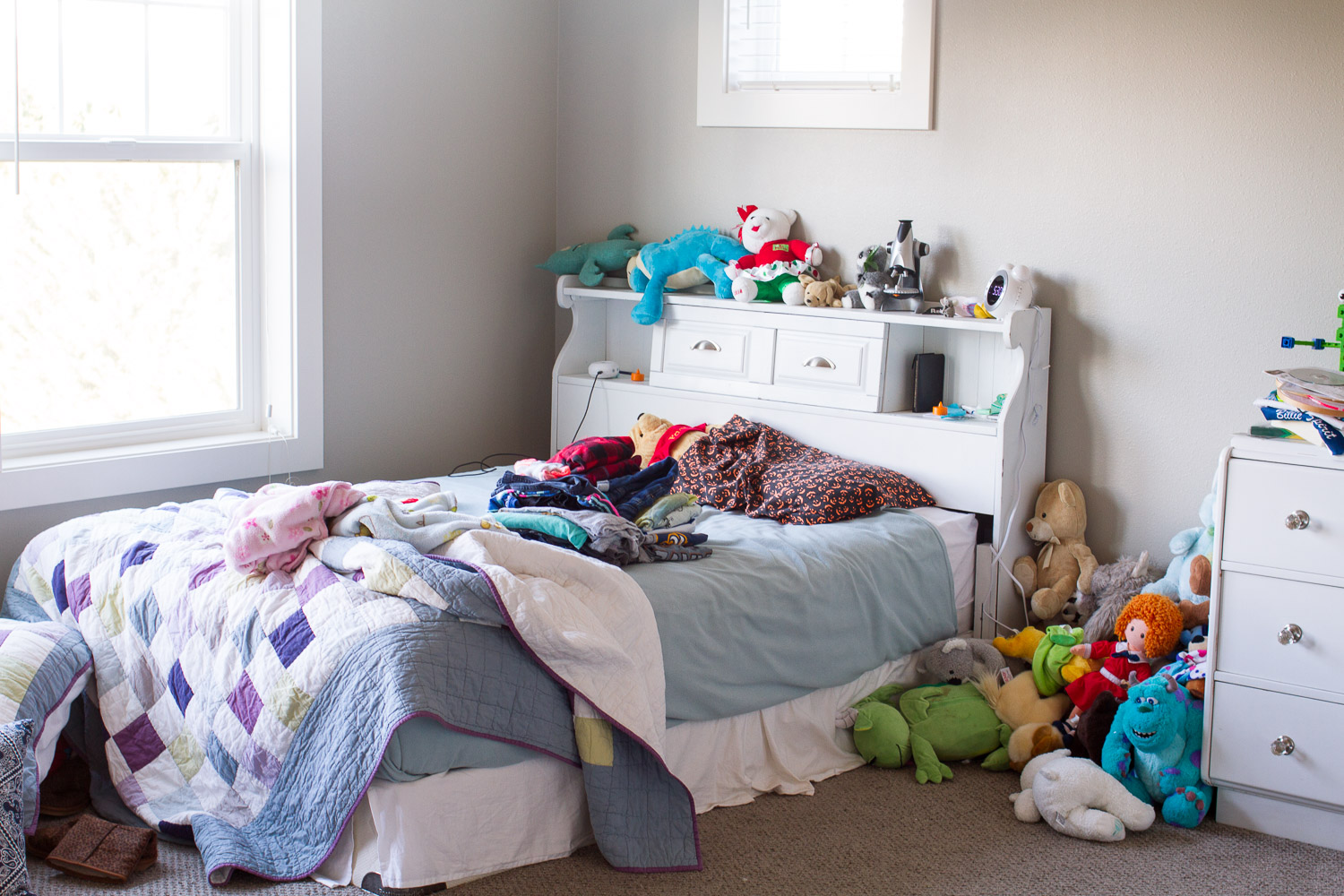 As you can see, we really have our work cut out for us with this room makeover! The bones of the room are perfect, but we're basically starting from scratch when it comes to furniture and decor. Our goal is to create a room that is youthful but not babyish, something that our daughter can grow into as she goes through her teen years. We want a place for her to study and do homework, plenty of storage for her clothes and collections, and furniture and decor that look purposeful instead of accidental and left over. We have a few challenges to overcome along the way! Our sweet girl is very sentimental and loves to save everything. She treasures all of her dolls, figurines, and stuffed animals, of which there are many. She likes her things arranged just so, usually in little vignettes on her shelves, and sometimes involving the battery operated tea lights that belong in jack o'lanterns! We love our dear girl and hope we can give her the beautiful, neatly organized rooms she needs and deserves, a place she'll enjoy spending time in. I'm excited to share the first steps with you next week. We still have a lot of stuff we're waiting on—basically everything at this point!
Big thanks to Linda of Calling it Home for organizing the ORC! There are some really talented designers featured this year. Seriously, some of my favorite bloggers are participating as featured designers this time around and I can't wait to see what amazing things they do! Click HERE to see their kick-off posts. And don't forget to check the link-up for all of the guest participants' Week 1 posts! I'll see you here next week with a Tween Girl's Bedroom Makeover Week 2 update, including an inspiration board featuring some of the beautiful things we've picked out for this bedroom. See you then!

SaveSave
SaveSave
SaveSave
SaveSave