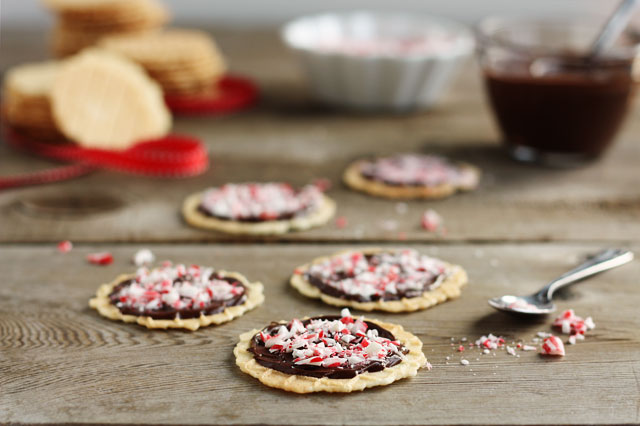 My friend Annie said something quite lovely a few months ago. She said once in a great while, you find a recipe that is far from ordinary. Sometimes you find a recipe that is special, one that you just know will have a place in your repertoire from that first bite on. With their sweet, buttery flavor and crisp, lighter-than-air texture, these beautiful little waffle cookies are a cookie to remember. They take a little bit of work, but they are so pretty and so delicious that the hour or so spent making them is time most well-spent.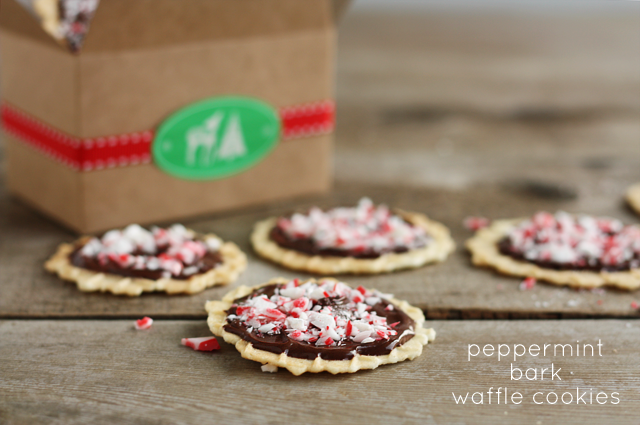 Peppermint Bark Waffle Cookies
These taste just like the Mini Peppermint Waffle Cookies from Trader Joe's!
Ingredients
1 whole egg
1 egg white
¼ teaspoon salt
½ cup sugar
⅔ cup flour
2 Tablespoons melted butter
2 cups semisweet chocolate chips
6 candy canes, crushed
Instructions
Plug in a waffle cone iron or pizzelle iron.
While the waffle cone iron or pizzelle iron is preheating, combine the whole egg and egg white in a medium bowl. Whisk until smooth. Add salt and sugar, and whisk until thick, about 1 minute. Gently whisk in flour. Add melted butter and whisk until smooth.
Drop batter by the ½ teaspoon onto the hot waffle cone (or pizzelle) iron, and close the lid. Incidentally, I could successfully cook two cookies at a time without having them run into each other. Allow to cook until just golden.
Carefully remove the waffle cookies and place on a cooling rack to crisp up and cool completely. When all of the cookie batter has been used and cookies are cooling, place the chocolate chips in a microwave-safe bowl. Microwave until chips are melted and chocolate is smooth, stirring the chocolate chips every 30 seconds. Spread a small amount of melted chocolate on the top of each cookie, and sprinkle generously with crushed candy canes. Place the finished cookies on a cookie sheet, tray, or plate, and place in the fridge to allow the chocolate to set up, about 10 minutes. Makes about 4 dozen cookies 3-inch cookies.
SaveSave
SaveSave