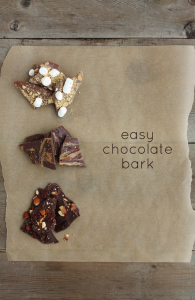 As I mentioned on Monday, I'm all about quick & easy recipes this Holiday season. It is only the 4th day of December, and our calendar for the month is already filled to capacity with birthday parties, breakfasts with Santa, work dinners, and festive music programs. So, as promised, I have another delicious recipe for you today that will only take you a few minutes to make. Actually, it's three (or more) recipes in one! Everybody loves chocolate bark, right? It tastes great, looks pretty, makes a thoughtful gift, is easy to customize, and is a snap to put together. In just a few minutes, you can have S'mores Bark, Sea Salt Caramel Bark, or Almond Cherry Bark–or any other mouth-watering combination you can think of! To get the full directions and list of ingredients for the Chocolate Bark varieties I mentioned, you can visit
my latest post for Rue Rococo.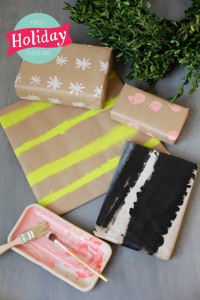 Fresh Holiday Traditions time! Today's sweet, fun tradition comes from Jennifer Cooper of Classic Play, who is one amazing lady, by the way. Painted Wrapping Paper is a lovely Holiday craft project that is perfect for kids and grown-ups alike! We're expecting a snow day on Friday, and I can picture my little ones sitting around our kitchen table watching the falling snow and quietly painting the day away. Cross your fingers for me, folks! Read more about today's Fresh Holiday Tradition by clicking here.
We're over the halfway point in our Fresh Holiday Traditions series! Here's what we've seen so far:
Remember to post photos of your own Fresh Holiday Traditions on Instagram with the hashtag #freshholidaytraditions. And I'm not actually sure who's posting next week (we all seem to be a bit jumbled this time around!), but I'll have a lovely link for you next Wednesday. Cheers!