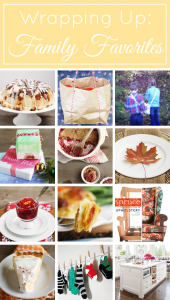 Even though we're already almost a week into December, I never got to wrap up November's theme, Family Favorites. We had a wonderful November and a beautiful (although unusual) Thanksgiving, and I hope you all did too. Here are some of our family favorites from November's posts…
This Month on Lulu the Baker
Easy Overnight Cinnamon Pull-Aparts
Paper Bag Baskets
The Creative Side-Projects of Bloggers
DIY Watercolor Wrapping Paper
The Party Hop Presents a Handmade Holiday
Cherry Cobbler
Gilded Leaf Place Cards
Cranberry Jello
Gratin Dauphinois
Spruce Upholstery Book Tour
Pumpkin Chiffon Pie
Fresh Holiday Traditions: A December 1st Party
Building a Dream House
And Elsewhere in the Blogosphere
Yummy Maple & Brown Sugar Spiced Pecans I made for Rue Rococo
A french-themed baby shower I threw a few years ago is part a beautiful baby shower round-up
A Gifts For Baby gift guide for Better Homes & Gardens!
What happened this month at the Dream House? My latest post for BHG.com
Two of my recipes are featured in the Holiday Sweets edition of the Foodie Recipes App!
My family's favorite cheesy potatoes on The Font Feast on Ciera Design
The gilded leaf place cards I made for Say Yes To Hoboken were featured on Apartment Therapy!