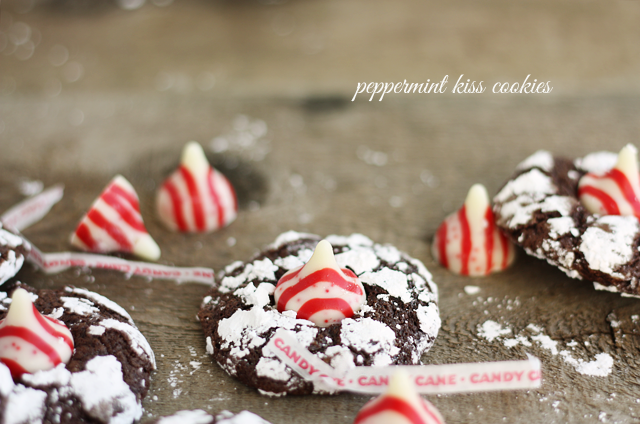 I've always loved holiday cookies. When I was growing up, we made big plates of cookies to deliver to our friends on Christmas Eve every year. We were masters of the Christmas cookie plate, my siblings and I. We each got to choose one kind of cookie to make: Peanut Blossoms, Snickerdoodles, Molasses Crinkles, and Russian Tea Cakes made frequent appearances. New cookies had to be pretty amazing to earn a spot on the cookie plate. These rich, chocolately crinkles with hints of peppermint and a kiss of minty white chocolate in the center wouldn't have had any problem making the cut.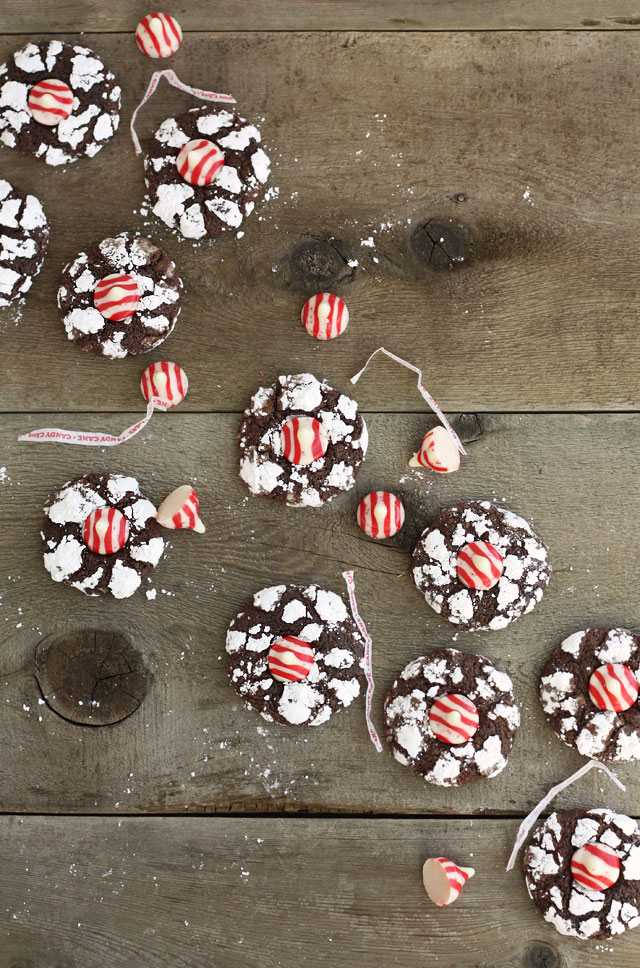 Peppermint Kiss Cookies
Ingredients
48 Candy Cane Kisses
4 oz unsweetened chocolate
¼ cup unsalted butter
1½ cups flour
½ cup Dutch processed cocoa powder
2 teaspoons baking powder
½ teaspoon salt
4 large eggs
2 cups sugar
½ teaspoon vanilla
1 teaspoon peppermint extract
powdered sugar for rolling
Instructions
Unwrap the Candy Cane Kisses, put them in a bowl, and stick them in the freezer.
In a small saucepan, heat the unsweetened chocolate and butter until just melted.
Combine flour, cocoa powder, baking powder, and salt in a small bowl and set aside.
In the bowl of a mixer, beat eggs and sugar until thick, about three minutes. Add vanilla, peppermint, melted chocolate, and flour mixture, beating until just combined.
Cover cookie dough with plastic wrap and chill until firm, at least two hours.
Preheat the oven to 325°F. Line cookie sheets with parchment paper and fill a small bowl with about a cup of powdered sugar.
Roll dough into 1½" balls, then roll balls in powdered sugar. Place 12 cookie dough balls on a cookie sheet, and bake for 13 minutes.
Remove cookies from the oven and immediately place a Candy Cane Kiss from the freezer in the center of each cookie. Allow cookies to cool on the cookie sheet before removing, and allow to cool completely before eating. Makes 4 dozen.
SaveSave