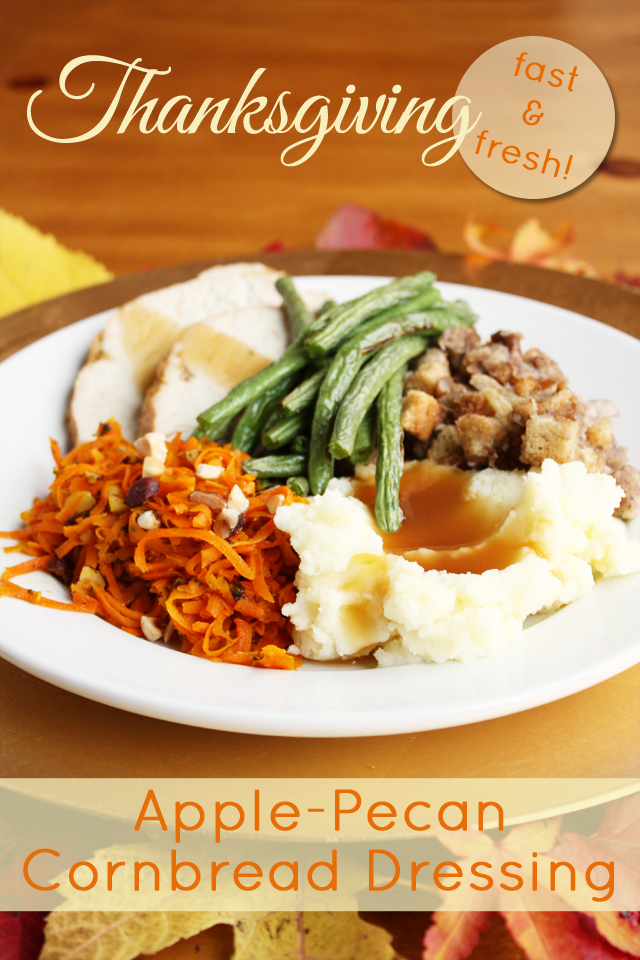 I love cooking and baking, and I love eating good food, so it makes sense that I love Thanksgiving! Like most families, we usually get together with grandparents, aunts, uncles, and cousins for a huge feast, and both sides of the family have traditional Thanksgiving dishes that we make year after year. The only downside I can think of to Thanksgiving is that it usually means spending a long, stressful day in the kitchen slaving over a hot stove, followed by 10 minutes of eating, then hours and hours back in the kitchen cleaning up! The recipes I'll be sharing for the next two weeks as part of the Thanksgiving, Fast & Fresh series are super quick and easy to make, don't get a million dishes dirty, and keep the flavors fresh and satisfying!
First up is my mother-in-law's cornbread dressing, which she makes all year, and which I love! It is great on Turkey Day, but goes equally well with a weeknight roasted chicken or stewed pork chops. The cornbread makes it slightly sweet, the apples give it a little tanginess, the pecans are for crunch, and the onions and seasoning make it deliciously savory, like good dressing should be. In fact, I just pulled a pan out of the oven and am going to grab a fork and dig in!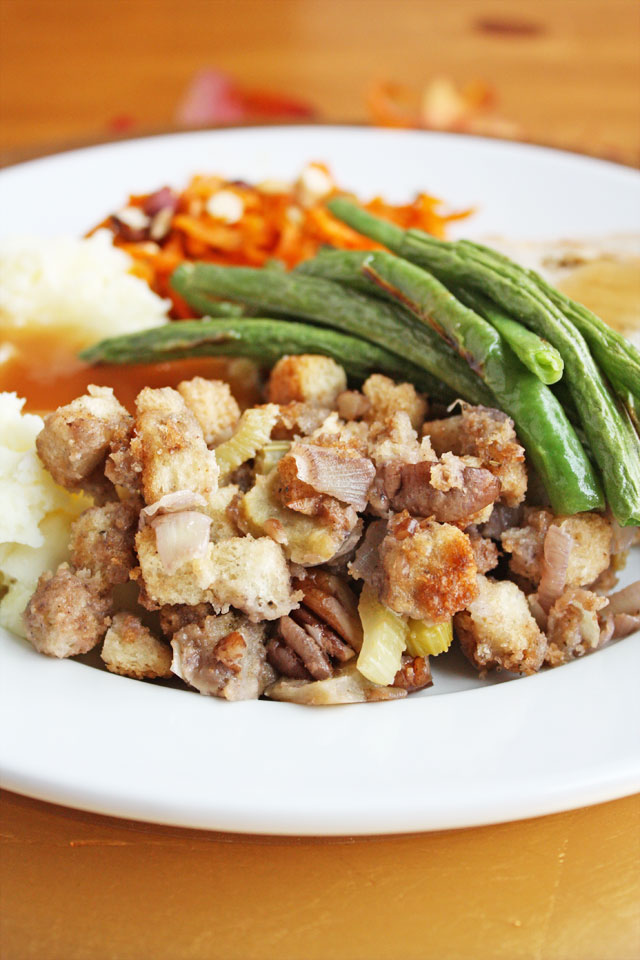 Thanksgiving, Fast & Fresh: Apple-Pecan Cornbread Dressing
To make your own stale bread cubes, cut some slices of french bread and leftover corn muffins into ½" cubes, and leave them out on baking sheets for 24 hours before making the stuffing, or stick them in the oven for a while.
Ingredients
1 stick butter
1 large yellow onion, diced
3 stalks celery, sliced
2 large granny smith apples, peeled, cored, and chopped
1 cup chopped pecans
1 teaspoon salt
freshly ground black pepper
3 teaspoons poultry seasoning
6 cups stale bread cubes
6 cups stale cornbread cubes
3 cups chicken broth
Instructions
In a large pot or dutch oven, melt butter. Add onion and celery, and saute until just beginning to get tender, about 5 minutes. Add chopped apples and continue sauteing for 5 more minutes. Combine onions, celery, and apples with all remaining ingredients, and toss gently until well-mixed. Pour mixture into a greased 9x13" baking pan. Cover with foil and bake for 20 minutes, then uncover and bake 20 more minutes.
SaveSave