Waffle French Toast combines two breakfast favorites into one delicious treat. All you need besides the usual french toast ingredients is a waffle iron.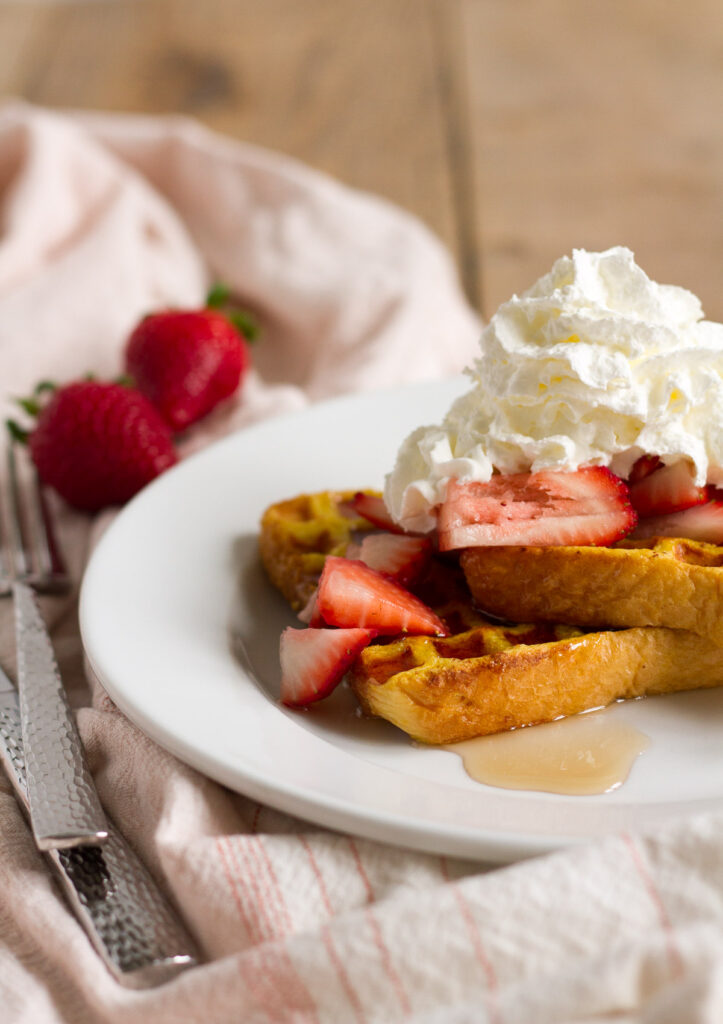 Every Sunday morning, we eat brunch together as a family. We started this tradition a few years ago, even before the pandemic, and it's something that we all look forward to.
To keep things interesting, we take turns choosing what to have, and this Waffle French Toast pops up often. It's a crowd-pleaser!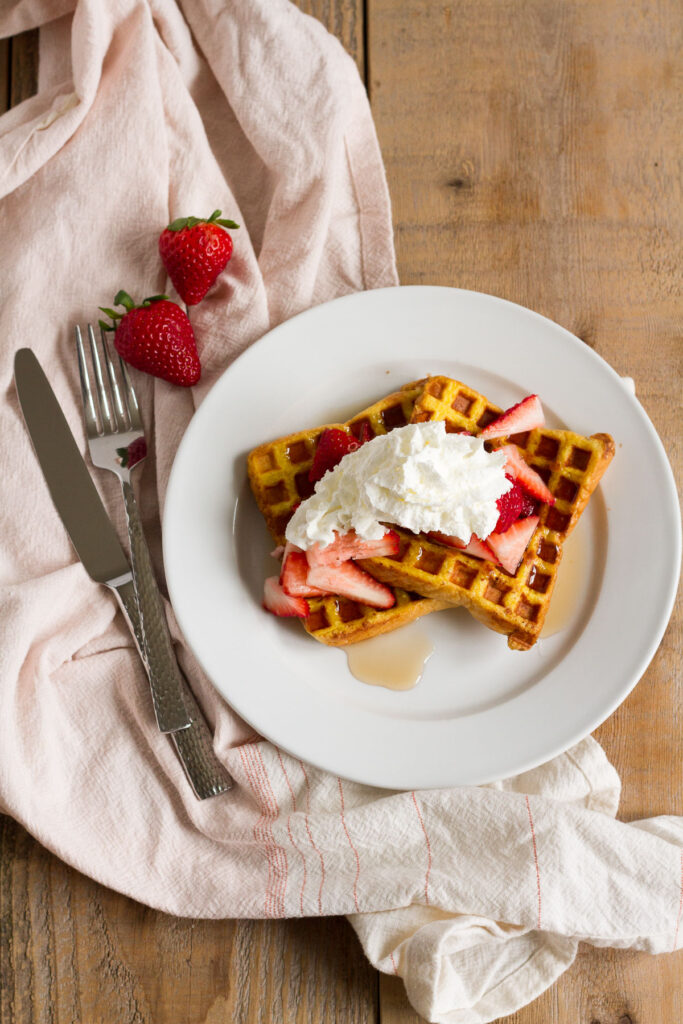 Waffle French Toast is really easy to make. You basically just make regular french toast, but instead of cooking it on a griddle, you put it in a waffle iron! The result is french toast that is crispy and golden on the outside and fluffy on the inside, with lots of waffle pockets for holding butter and syrup—yum!
There are a few additional requirements. First, while chewy bread like sliced french bread or baguettes makes great french toast in general, it's not the best fit for this recipe. I think this is because it has a thicker, chewier crust that gets really hard when cooked in a waffle iron.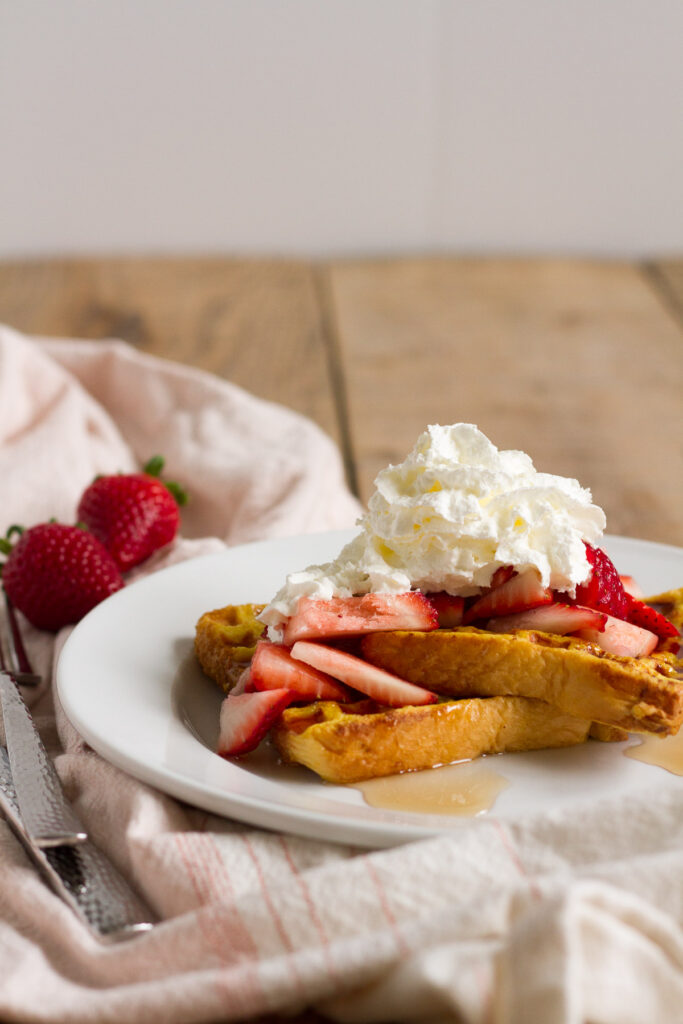 Our favorite bread for waffle french toast is Texas Toast, but any bread with thick, fluffy slices and a thin, soft crust will work.
Second, while butter and syrup taste really good on this french toast, we like to be a little extra and add whipped cream and fresh, sliced strawberries too. Trust me, the combination is delicious!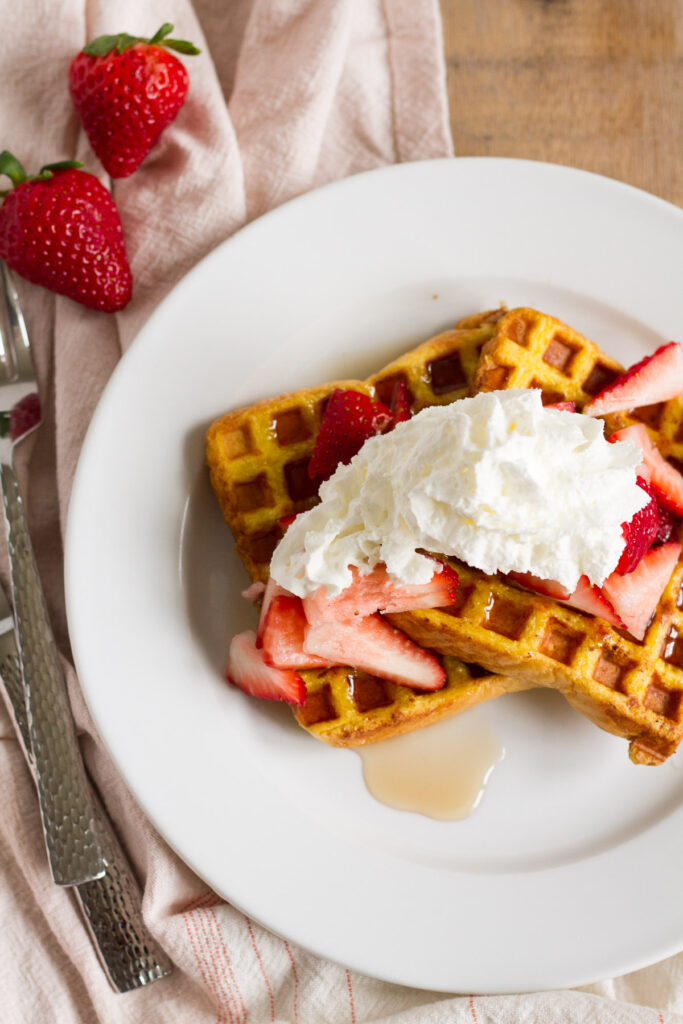 Finally, you can use whatever kind of spices you like in your egg mixture. Our favorite is called Cake Spice from Penzeys Spices. It's a mix of cinnamon, star anise, nutmeg, allspice, ginger, and cloves, and it gives the french toast added layers of flavor. If you don't have Penzeys Cake Spice, you can use just cinnamon, pumpkin pie spice, or whatever warm spice combo you like. Or you can leave it out entirely.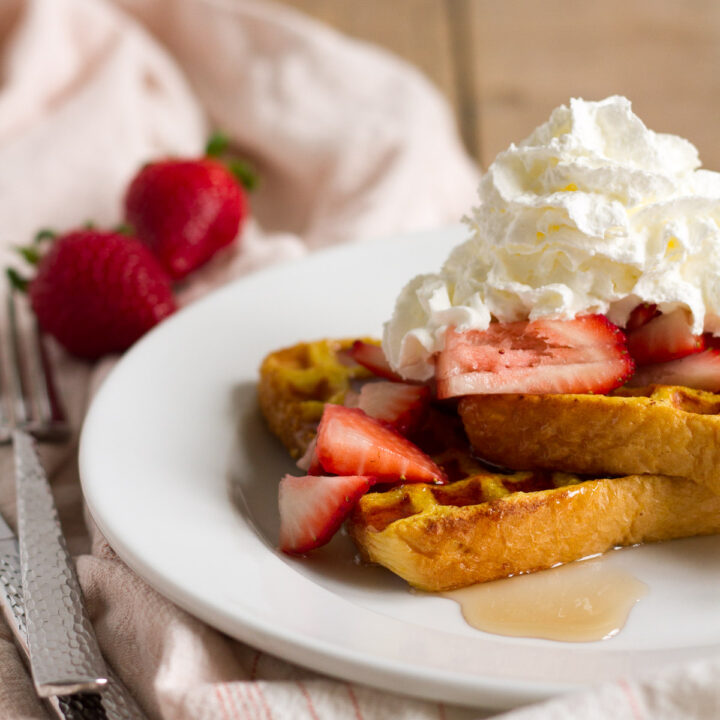 Waffle French Toast
Ingredients
6 eggs
2 cups half-and-half (or 1 cup cream + 1 cup whole milk)
2 teaspoons vanilla
1/2 teaspoon Cake Spice (or cinnamon or pumpkin pie spice or whatever spice mix you like)
16-18 pieces Texas Toast bread
butter, syrup, strawberries, and whipped cream for serving
Instructions
Preheat a waffle iron.
In a medium bowl or large glass measuring cup, combine eggs, half-and-half, vanilla, and spice. Whisk until smooth. Pour the mixture into a shallow baking dish.
When the waffle iron is preheated, dip a piece of bread in the egg mixture and place in the waffle iron. Repeat with as many pieces of bread as will fit in the waffle iron at one time. Close the lid and cook until the french toast is golden.
Remove the french toast from the waffle iron, being careful not to burn yourself. Serve hot french toast immediately with butter, syrup, sliced strawberries, and whipped cream.
Continue cooking and serving french toast until everyone has had their fill!
Notes
We have a classic waffle iron with small, shallow squares. A belgian waffle iron is different--larger, deeper, squares--but should work!