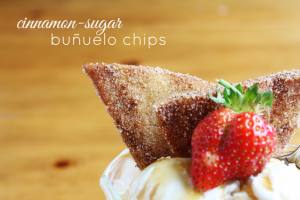 Both of my husband's parents grew up around San Diego. My father-in-law comes from Escondido, and my mother-in-law grew up in Chula Vista. Even though my in-laws live near us now, my husband still has lots of family in Southern California–aunts, uncles, cousins, siblings, nieces, nephews, even a spry, 99 year-old grandma. Any time the family gets together down San Diego way, there's an unspoken rule that we must get taquitos from El Indio in Mission Hills. It's been a family tradition since my mother-in-law was little, when Grandpa Speedy discovered a little hole-in-the-wall mexican restaurant with an abuelita sitting just inside the door making tortillas by hand. He was smitten by their taquitos, and passed the love on to his descendants. The last time we were there, we discovered another addicting El Indio treat, not-so-subtly placed in big bags near the cash register: Buñuelo Chips. Buñuelo Chips aren't exactly fancy. They're just fried flour tortillas dredged in cinnamon sugar. But boy howdy, are they fantastic! We ate several bags of them plain, but they're also amazing tucked into an ice cream sundae or nestled next to fresh fruit.
Cinnamon-Sugar Buñuelo Chips
inspired by the ones sold at El Indio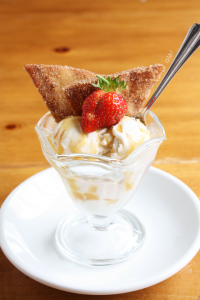 1/2 cup sugar
1 Tablespoon cinnamon
vegetable oil
6 small, fajita-sized tortillas
In a small bowl, combine sugar and cinnamon until well-mixed; set aside. Fill a heavy, 12″ skillet with enough oil to cover the bottom to a depth of about 1/4″ and put over medium heat. Stack tortillas up and, with a pair of kitchen shears, cut them into 6 wedges. Dip the tip of a tortilla wedge in the oil and see if it bubbles. If it does, the oil is hot enough to get started. Working in batches of 6 chips at a time, fry chips until golden on the bottom (about 1 minute), then flip and continue frying until golden on both sides (about another minute). If the chips are getting too dark too quickly, you can either turn the heat down a little or reduce the frying time. Once golden on both sides, remove chips with a pair of tongs onto a plate covered with a paper towel. When all tortilla wedges have been fried and have cooled enough to handle, place them in a gallon-sized ziplock bag. Add 1/3 cup cinnamon sugar, seal, and gently move back and forth until all chips are evenly coated with cinnamon sugar. Pour into a bowl and eat! These will actually keep for at least 2 days if left uncovered, but I'd be shocked if you had any left over for that long!