Double Chocolate Peppermint Bark Cookies are perfect for the holidays! These soft, chocolatey cookies are filled with chunks of peppermint bark.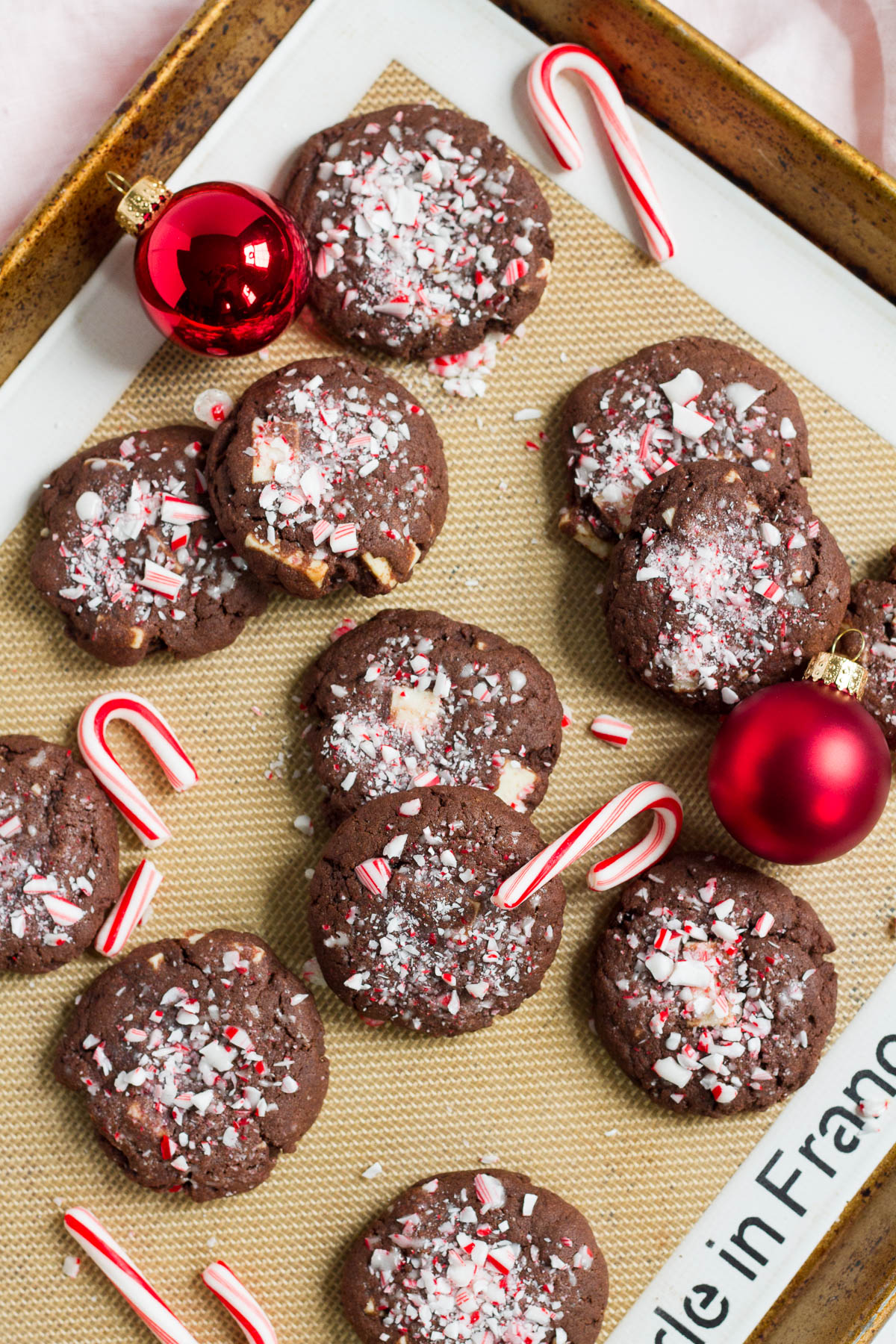 I've been dreaming these little cookies up for a couple of weeks now and finally got around to making them! Years ago, when I very first started blogging (seriously, over a decade ago!), a recipe for triple chocolate cookies went through my little friend group. It's so delicious and makes really nice, soft, chocolatey cookies thanks to a secret ingredient: instant chocolate pudding mix.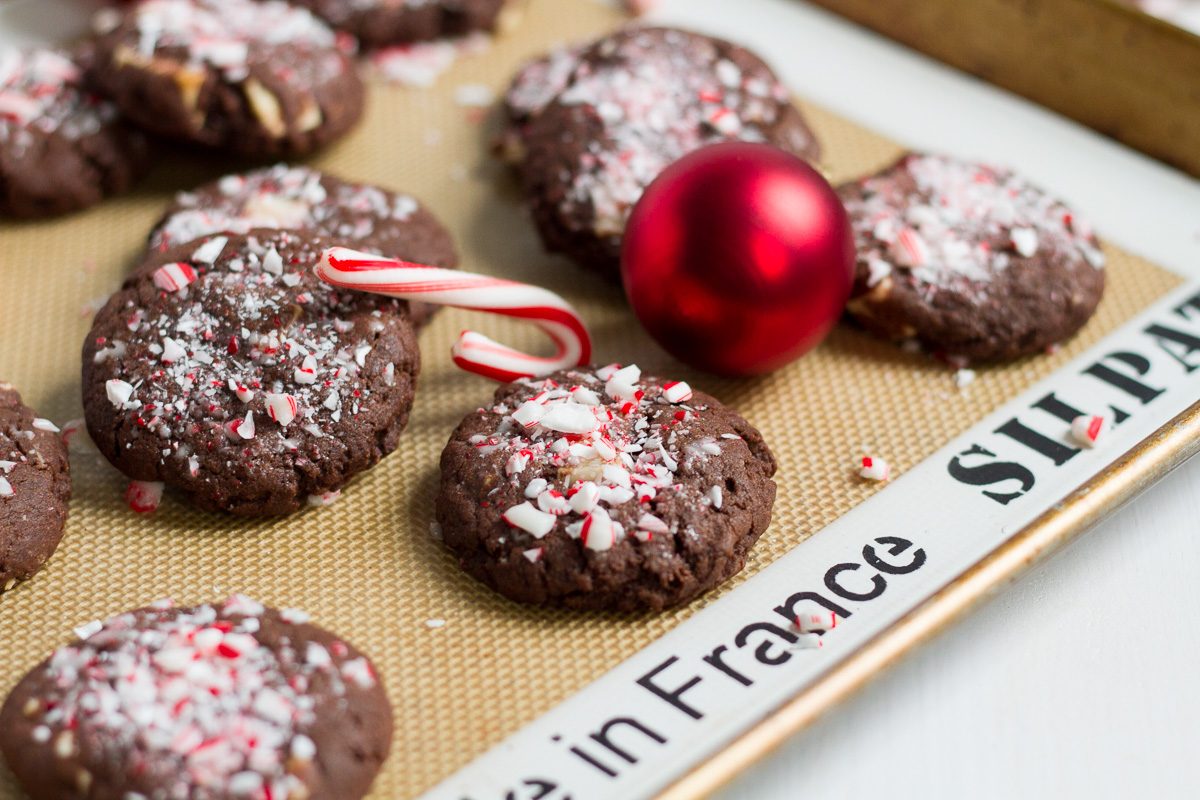 I made a batch a few weeks ago to share with our neighbors who loaned us all their garden shovels for a project, and as I was noshing on cookie after cookie, it occurred to me that they'd be so good with peppermint!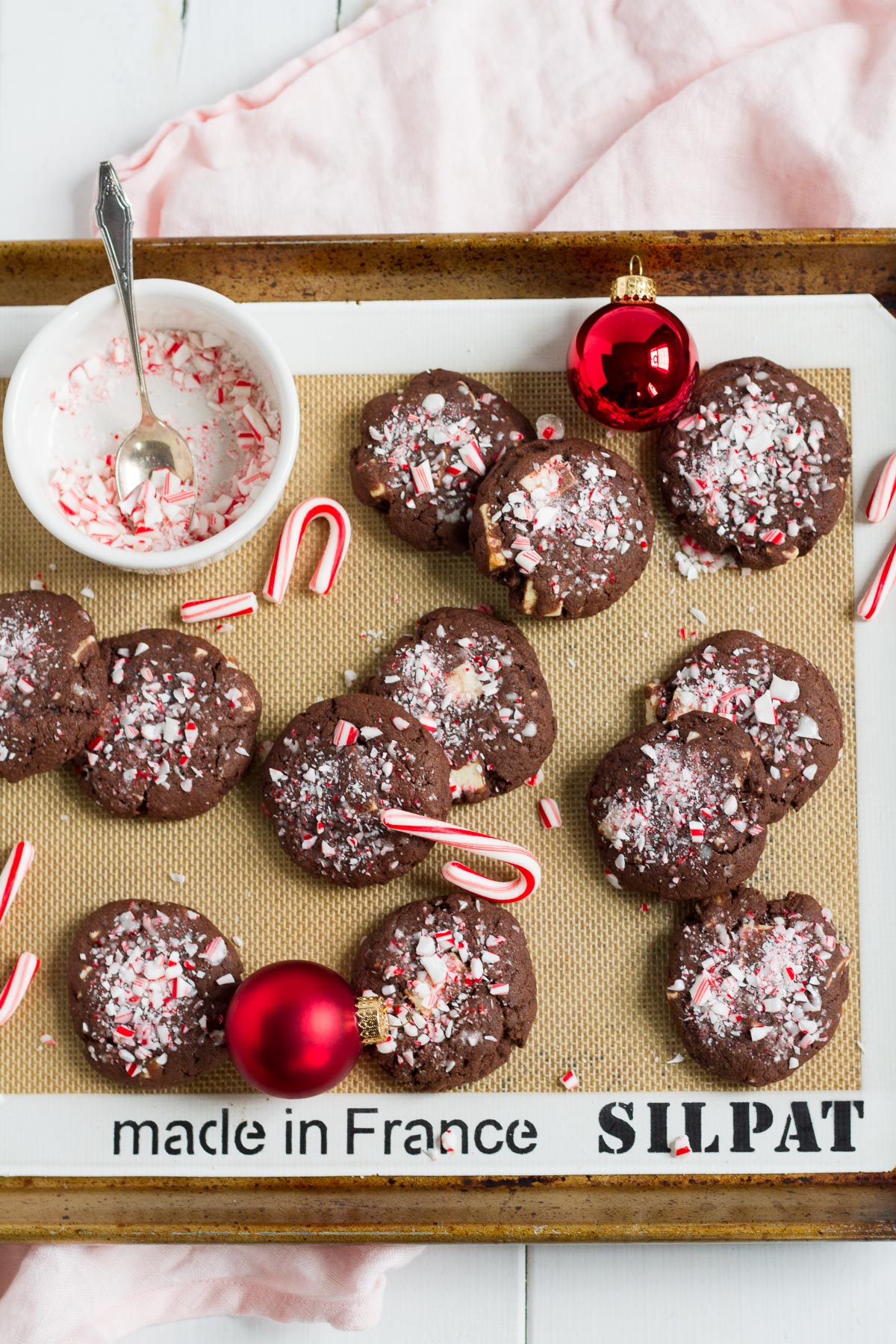 I spotted limited edition Ghirardelli Peppermint Bark Chunks at Target at the beginning of the month, and as soon as I thought these cookies up, I knew that's what I wanted to put in them. Of course I didn't get them and instantly regretted it, and then I couldn't find them anywhere. So far, Target is the only store I've seen them at, but they make these cookies so tasty, it's worth a special trip.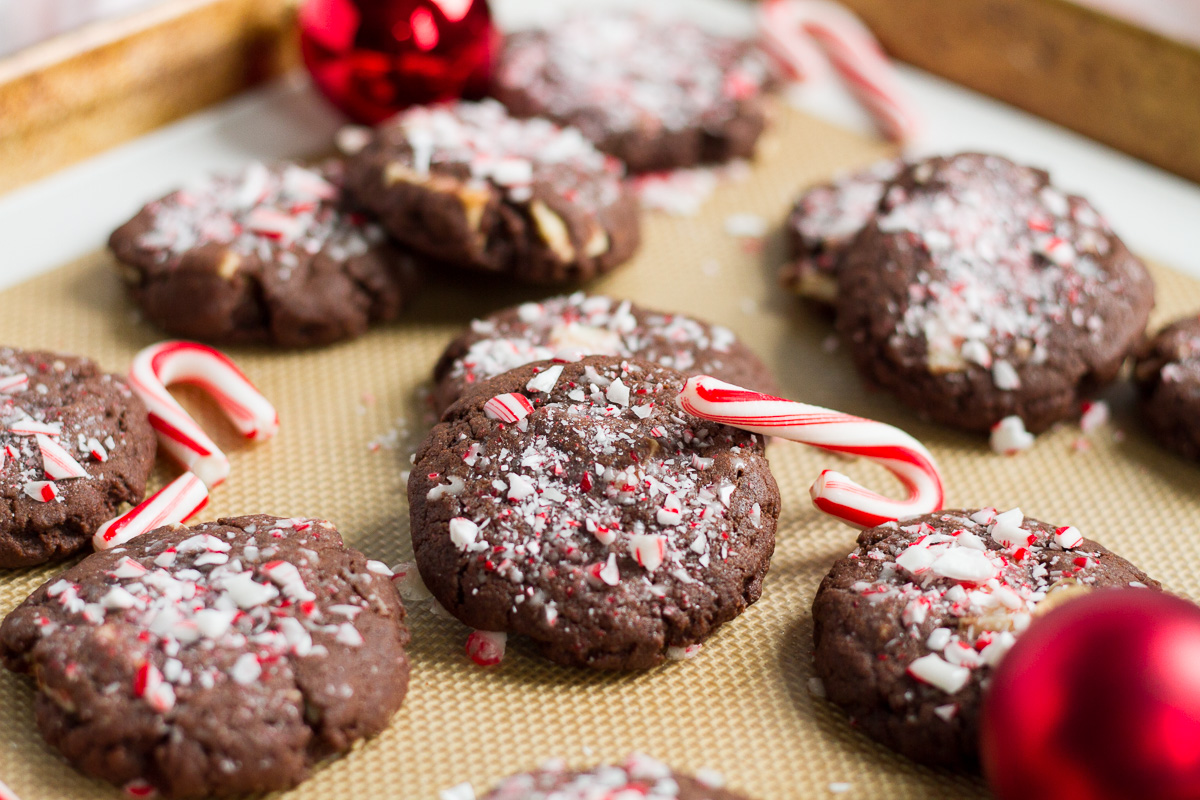 In a pinch, any brand of peppermint baking chips will work, and in a really big pinch, you could chop up some peppermint bark bars or squares. Without too much more ado (this post is light on text and heavy on photos, which is as it should be), here's the recipe: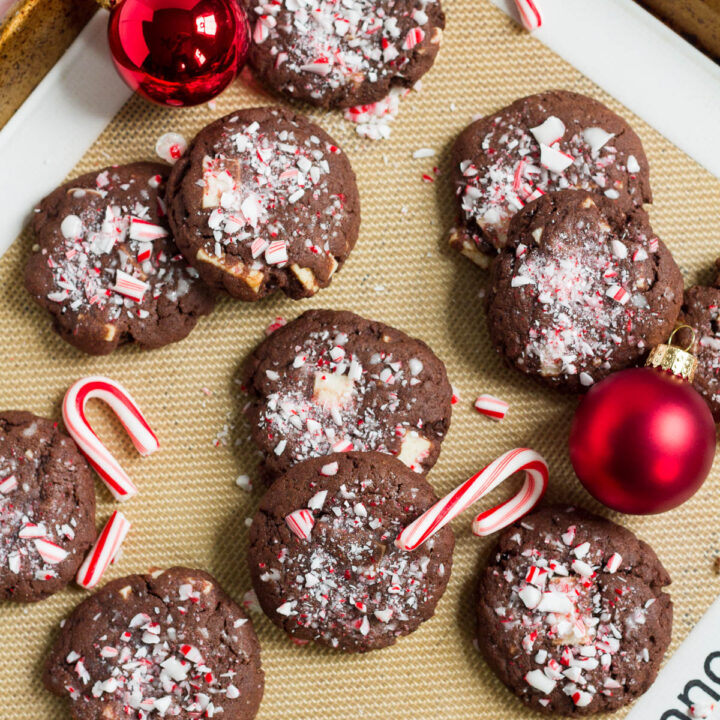 Double Chocolate Peppermint Bark Cookies
Chocolate cookies stuffed with chunks of peppermint bark--perfect for the holidays!
Ingredients
1 cup butter, softened
3/4 cup packed brown sugar
1/3 cup granulated sugar
1 small (3.9 oz) package instant chocolate pudding mix
2 large eggs
1 teaspoon vanilla extract
1 teaspoon peppermint extract
2 1/3 cups flour
1/3 cup cocoa powder
1 teaspoon baking soda
1/2 teaspoon salt
2 cups ghirardelli peppermint bark chunks
3-4 peppermint candy canes, crushed
Instructions
Preheat oven to 350°F. Cream butter, sugars, and pudding mix. Add eggs and vanilla, beating until well combined. Add dry ingredients and mix just until incorporated. Fold in peppermint bark chips by hand. Scoop by heaping teaspoons (I used a level ice cream scoop!). Roll each scoop into a ball, flatten slightly, and place on a parchment-lined baking sheet. Sprinkle the top of each cookie with crushed candy canes. Bake 8-9 minutes. Sprinkle the cooled cookies with more crushed candy canes just before serving.
Notes
If you can't find the ghirardelli peppermint bark chunks (because I had a hard time finding them!), you can use any brand of peppermint baking chips or chop up about 10 ounces of thin peppermint bark bars or squares---like the ghirardelli ones!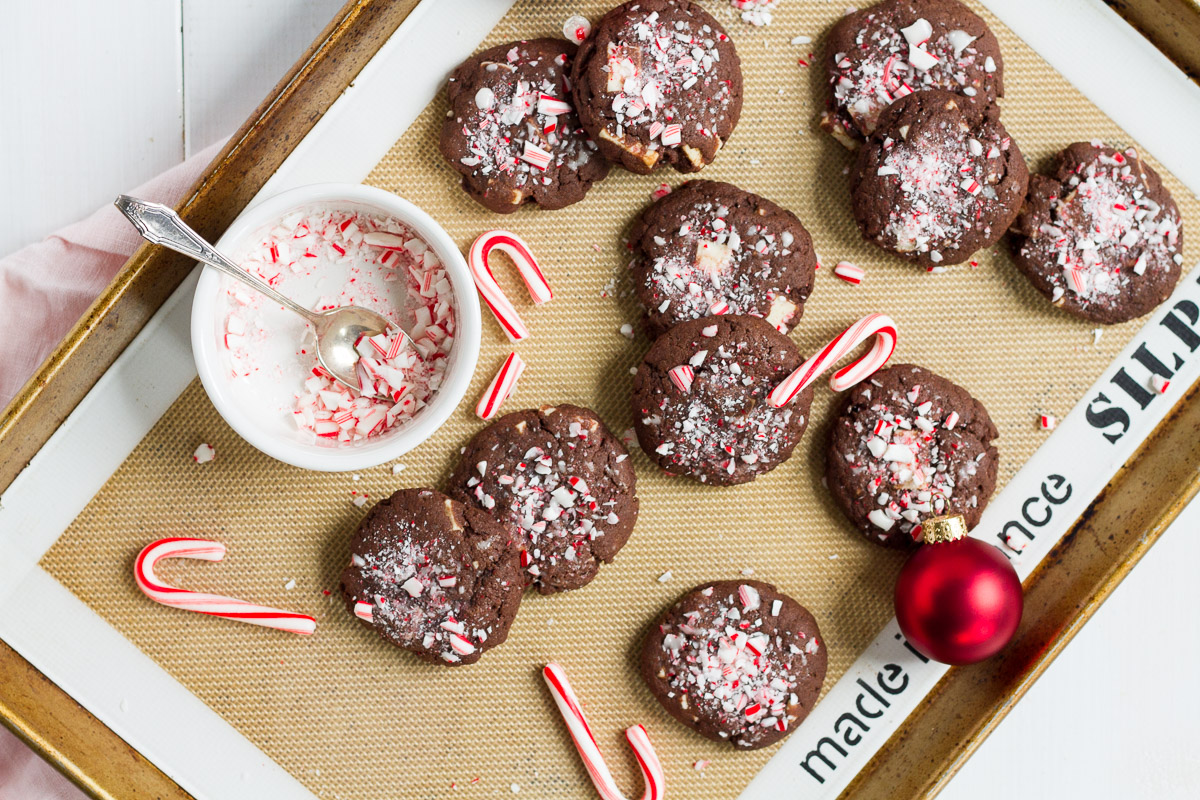 Peppermint bark is one of my favorite holiday treats, and if you're a fan too, I think you'll love these Double Chocolate Peppermint Bark Cookies! And for more Christmas cookie recipes, check my Christmas Archives HERE.