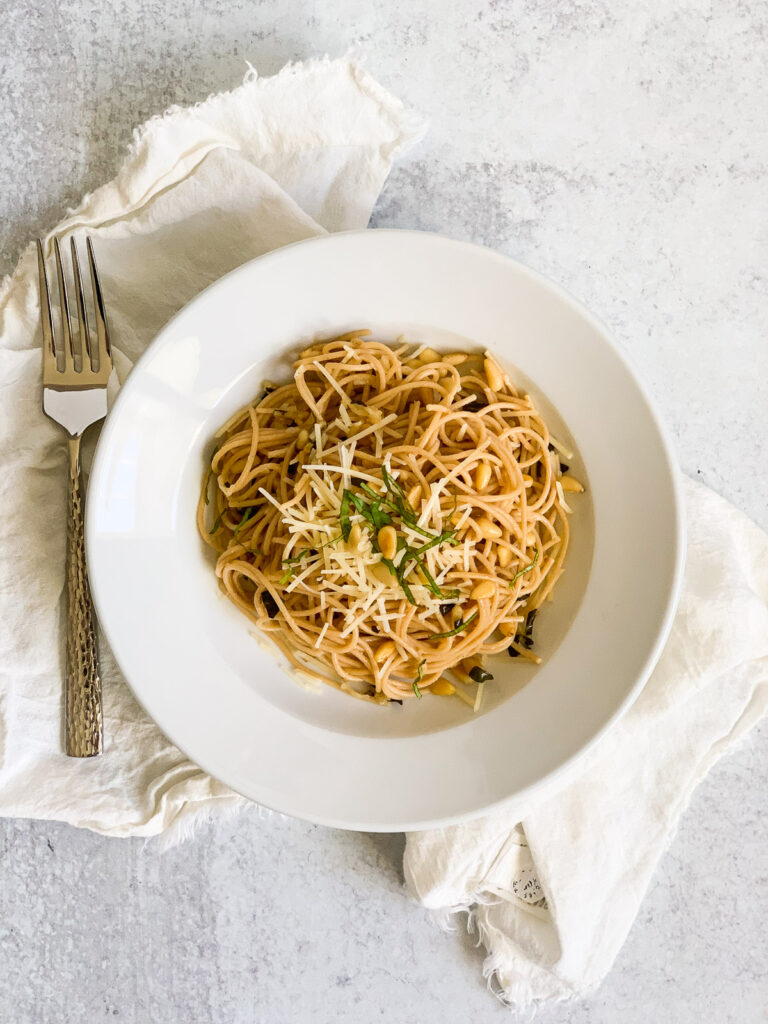 Lemon garlic spaghetti is one of our favorite weeknights dinners. When I was regularly sharing our weekly menus here on the blog, it was one of the meals that popped up in the dinner rotation most often.
There are lots of things to love about this yummy pasta dish. First, and probably most importantly, it's delicious! The salty parmesan, herby basil, and bright lemon flavors go beautifully together, and the toasted pine nuts add a lovely crunch. It's a dinner that is always popular with everyone in my family.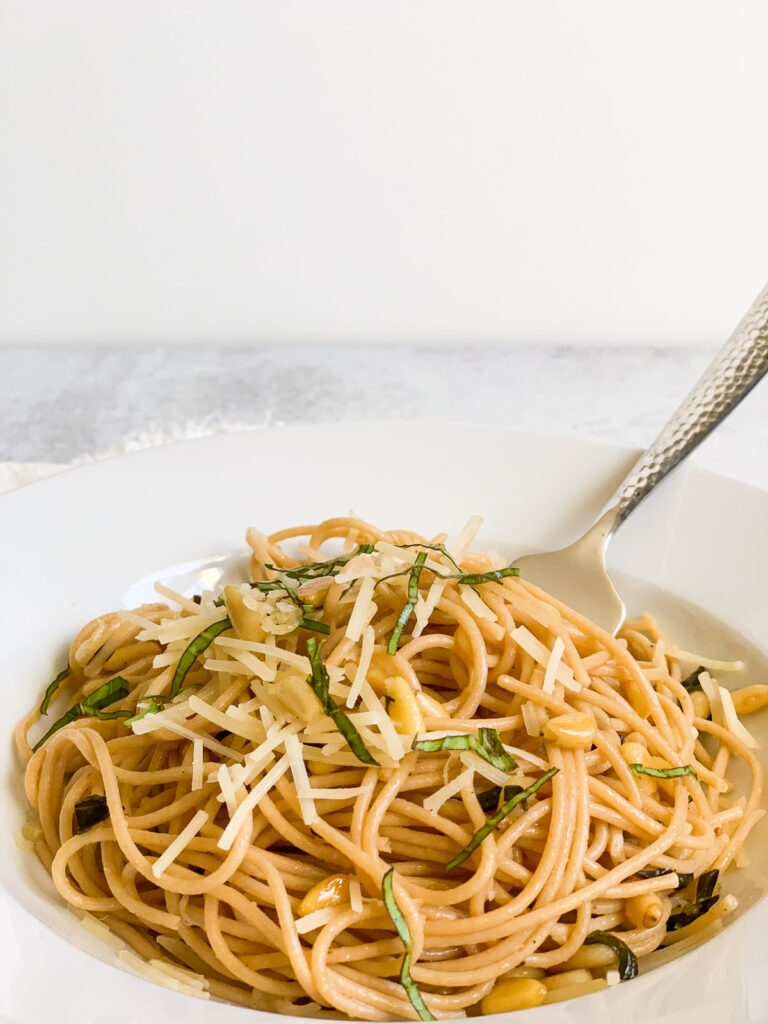 On top of being delicious, lemon garlic spaghetti is really simple to make, too. I know lots of "easy" weeknight dinners are more complicated than they appear at first glance, but this one is as simple and as quick as possible.
First, bring a large pot of salted water to boil, and cook the spaghetti according to the instructions on the package. Because there are so few ingredients, higher quality dried spaghetti will taste much better in your finished dish than the cheap stuff, so splurge and buy the higher end pasta. I've never tried the recipe with fresh, refrigerated spaghetti, but I imagine that would be great, too.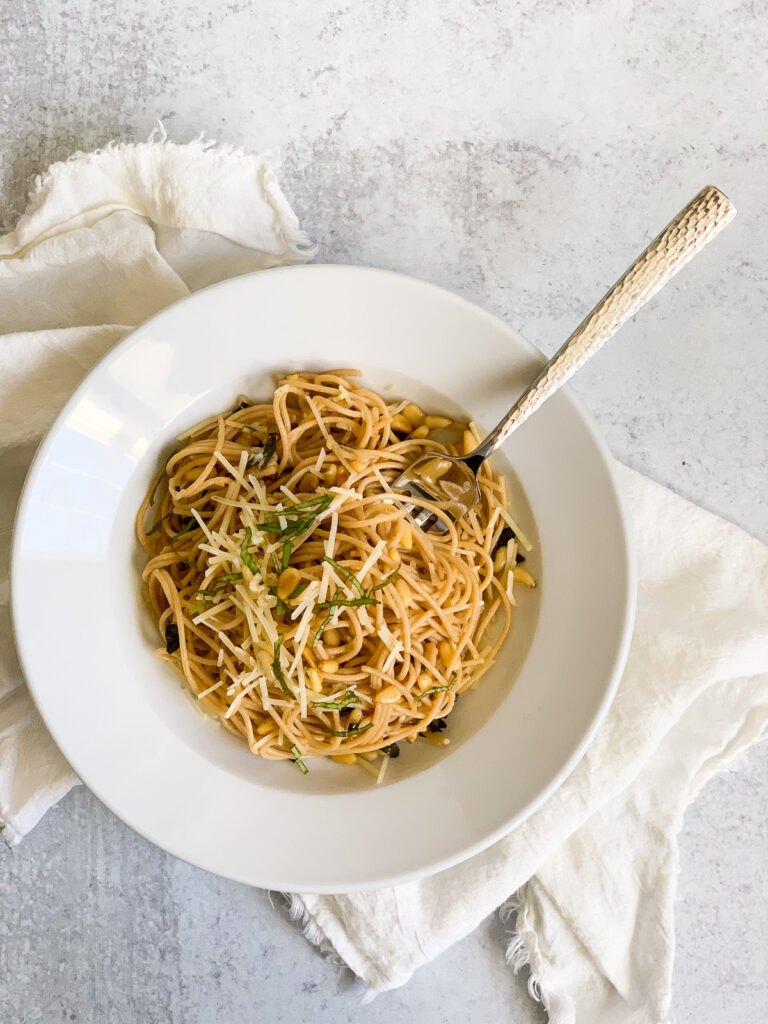 While waiting for the water to boil and the pasta to cook, briefly toast some pine nuts in a small, dry skillet. Set the toasted pine nuts aside to cool, add olive oil to the skillet, and add minced garlic. Cook the garlic over low heat until it is tender and just turning golden.
Finally, toss the cooked drained pasta with the toasted pine nuts and garlicky olive oil, and add salt, pepper, fresh parmesan cheese, and fresh lemon juice. That's it! It really is done in a flash. Pair the lemon garlic spaghetti with a quick green salad and a loaf of bakery french bread from the grocery store, and you've got a super fast, super tasty dinner that I promise you will turn to again and again.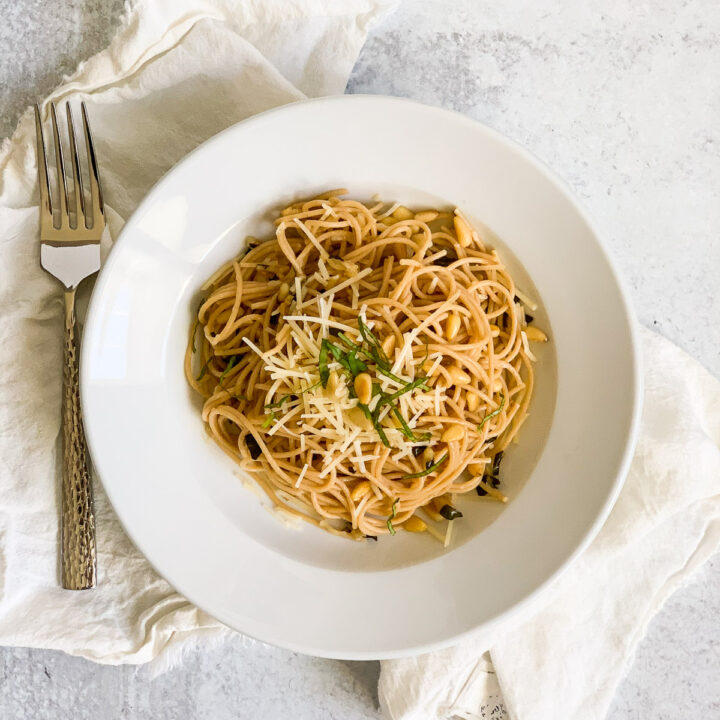 Lemon Garlic Spaghetti
This lemon garlic spaghetti is a favorite weeknight dinner at our house. It's ready in minutes using a mix of fresh ingredients and pantry staples.
Ingredients
1 lb dried spaghetti
1/2 cup pine nuts
3 Tablespoons olive oil
4 cloves garlic, pressed or finely minced
1/4 cup finely minced fresh basil
1 cup grated parmesan cheese
1/4-1/2 cup fresh lemon juice
Instructions
Bring a large pot of salted water to boil. Add the dried pasta and cook according to package instructions, stirring occasionally to prevent it from sticking.
While the spaghetti is cooking, toast 1/2 cup pine nuts in a small skillet over medium heat until golden, stirring gently, about 3-4 minutes. Watch them carefully; when they're toasted, put them on a small plate or in a small bowl and set aside.
Add olive oil and garlic to the skillet, turn the heat to low, and cook until golden, about 2-3 minutes.
When the pasta is done cooking, drain it, return it to the pot, and add the toasted pine nuts, garlic and olive oil, fresh basil, grated parmesan cheese, and 1/4 cup fresh lemon juice. Add salt, pepper, and more lemon juice to taste.
Notes
Serve this lemon garlic spaghetti with a tossed, green salad and crusty french bread with butter.