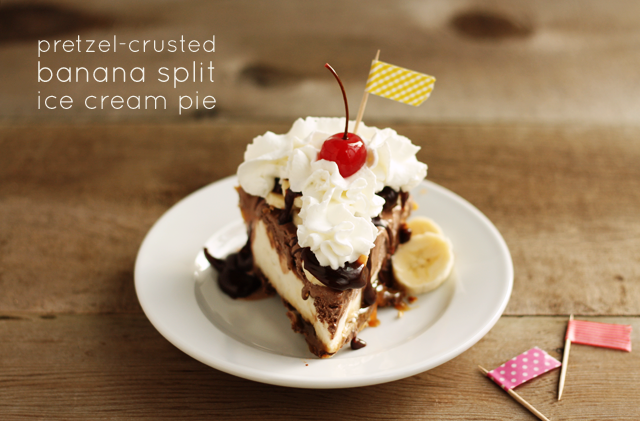 I'm so excited to introduce a new collaboration I've had in the works for the past couple of months: Melanie Makes/Lulu Bakes! I'm teaming up with Melanie Bauer of
Melanie Makes
for a fun recipe challenge every month. We'll start with the same three ingredients and create two completely different recipes! I'm really excited to see what fun treats we both come up with. Today, Melanie has some Pretzel Crusted Banana Bread Brownies with Nutella Ganache for you;
check out her post
!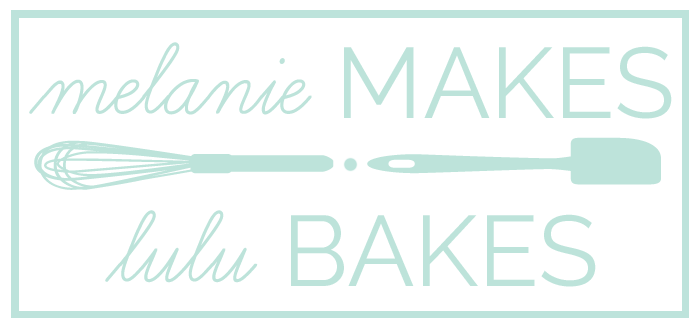 For January, Melanie chose pretzels, bananas, and nutella. I was actually a little stumped for a bit with this ingredient combination. It sounded like it would be a good spin on banana bread, except I don't really like banana bread that much (Shhhh, don't tell anyone; it's my most hideous secret!). And then I got the idea to do a banana split ice cream pie similar to one I had at a friend's house when I was younger. Sheets of gooey chocolate and caramel sauces sandwiched between layers of ice cream, topped with luscious clouds of whipped cream, slices of fresh banana, and a bright red cherry, and anchored by a delicious, crunchy crust. I thought maybe, just maybe, a sweet and salty pretzel crust would be a yummy change, along with a layer of chocolatey Nutella, and with the first bite, I knew I was right!
All of the flavors in this tasty ice cream pie work perfectly together: the salty pretzel crust is a nice contrast to the rich, sweet layers of ice cream, chocolate, and caramel, and the bananas add a tangy freshness. It's like a grown-up, show-stopping, company-worthy banana split!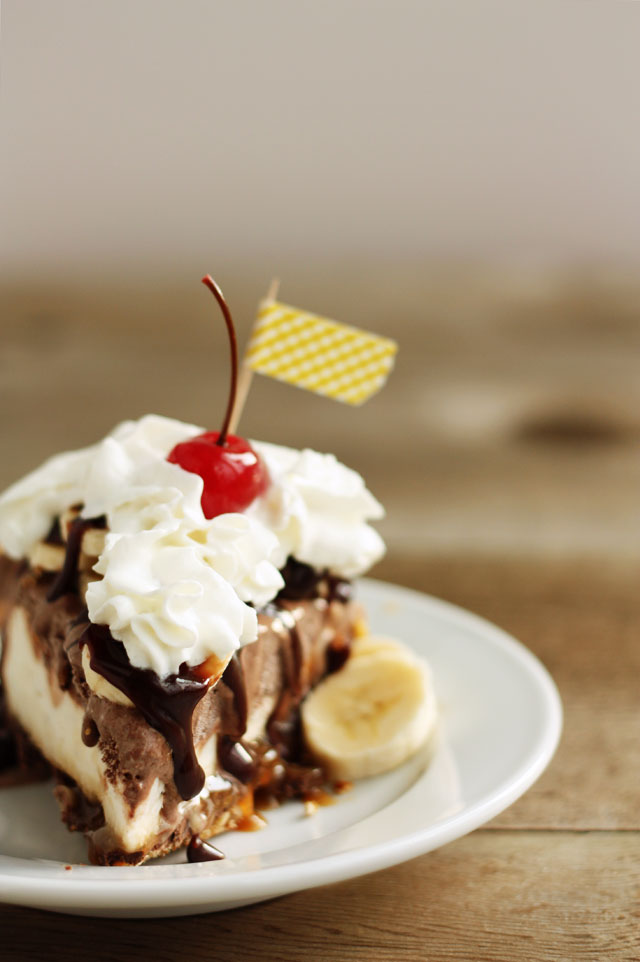 Pretzel-Crusted Banana Split Ice Cream Pie
This decadent dessert is easy to make and tastes delicious!!
Ingredients
1 cup finely crushed pretzel crumbs
6 Tablespoons butter, melted
1½ Tablespoons sugar
½ cup Nutella
½ of a ½-gallon container of vanilla ice cream
½ cup caramel ice cream topping
½ of a ½-gallon container of chocolate ice cream
hot fudge sauce
bananas
whipped cream
maraschino cherries
Instructions
Preheat the oven to 400°F.
Combine pretzel crumbs, melted butter, and sugar in a medium bowl. Press the pretzel mixture in the bottom and up the sides of a standard 9" pie plate. Bake fore 5 minutes.
Remove from oven and immediately scoop Nutella into the crust. Allow it to soften for a few minutes, then spread the Nutella evenly over the crust.
Allow the vanilla ice cream to soften slightly, then spread evenly over the Nutella Freeze about 30 minutes, then drizzle caramel sauce over the vanilla ice cream. Freeze another 30 minutes.
Allow the chocolate ice cream to soften slightly, then spread evenly over the caramel layer. Freeze until firm.
When ready to serve, allow the pie to soften slightly, then cut into 8-10 slices. Serve topped with hot fudge sauce, sliced bananas, whipped cream, and maraschino cherries.
Save
Save