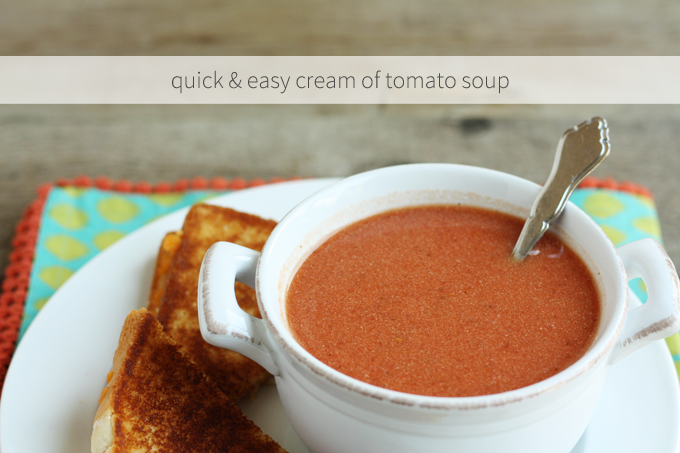 I've been planning and planning this week for several months now and am so excited that it's finally here! Now that school's back in session, after-school activities are back as well. Dance lessons, art classes, music lessons, sports practice, martial arts, swimming lessons–life gets busy! It can be easy during busy times to slip into dinner ruts, and it always helps to have new ideas for quick, simple, delicious dinners. So that's what I have for you this week–a bunch of easy, quick, dinner ideas for you. They're favorites in my family, and they're all easy to make, even on busy nights. I hope they'll become favorites in your family too!
First up this week, a super quick recipe for tomato soup. My aunt gave me this recipe a few years ago, and my family has loved it ever since. It tastes so much better than plain condensed tomato soup from a can, but it really isn't much harder to make. It's delicious with grilled cheese sandwiches and a green salad, and even on the busiest nights, it's a snap to make.
Quick & Easy Cream of Tomato Soup
Ingredients
1 can diced tomatoes with italian herbs (Every brand is a little different.)
1 can chicken broth
1 can tomato soup
¼ cup heavy cream
a generous pinch of sugar
salt and pepper
Instructions
Puree diced tomatoes (with the liquid from the can) until smooth. You can use a food processor, blender, or stick blender. Combine diced tomato puree, chicken broth, and tomato soup in a medium saucepan. Whisk until combined. Heat over medium until simmering. Remove from heat, add heavy cream and sugar, and salt and pepper to taste.
Tune in tomorrow for another quick and easy dinner idea!