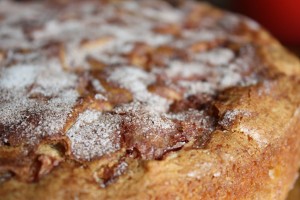 I am a sucker for anything with a lot of cultural heritage behind it. So, while I have absolutely no ties to Hanukkah, I still love the idea of it. It seems like a sweet holiday, steeped in thousands of years of religious lore and symbolism, safely shielded from the commercialism that surrounds Christmas. And you know I'm an even bigger sucker for Holidays that incorporate delicious foods like this yummy apple cake! Hanukkah starts tonight at sunset; get in the spirit with this dense, sweet cake studded with bits of tart apple and covered in a generous sprinkling of cinnamon sugar.
PS–I don't know why it's called "Hanukkah Apple Cake." Most jewish apple cakes are parve, which means they're made without dairy products. This cake is full of butter and cream cheese, so the name is a mystery to me. I do know that the cake is delicious!

based on a recipe from a very old edition of Cooking Light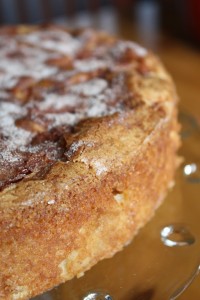 1 3/4 cups sugar, divided
1/2 cup butter, softened
1 teaspoon vanilla
6 oz cream cheese, softened
2 large eggs
1 1/2 cups flour
1 1/2 teaspoons baking powder
1/4 teaspoon salt
2 teaspoons cinnamon
3 cups chopped, peeled apple (anything tart-ish will do)
Beat 1 1/2 cups sugar, butter, vanilla, and cream cheese until well blended. Add eggs one at a time, beating well after each addition. In a medium bowl, combine flour, baking powder, and salt. Add flour mixture to creamed mixture, beating on low until just blended. In a small bowl, combine 1/4 cup sugar and cinnamon. Sprinkle 2 Tablespoons of cinnamon sugar over chopped apples and toss to coat. Gently fold apples into cake batter, and pour batter into a greased 8″ spring-form pan*. Sprinkle remaining cinnamon-sugar on top. Bake cake at 350 degrees F for 1 hour 15 minutes or until cake pulls away from sides of pan. Cool completely before removing from pan and serving.
*Can also be made in an 8″ square pan.