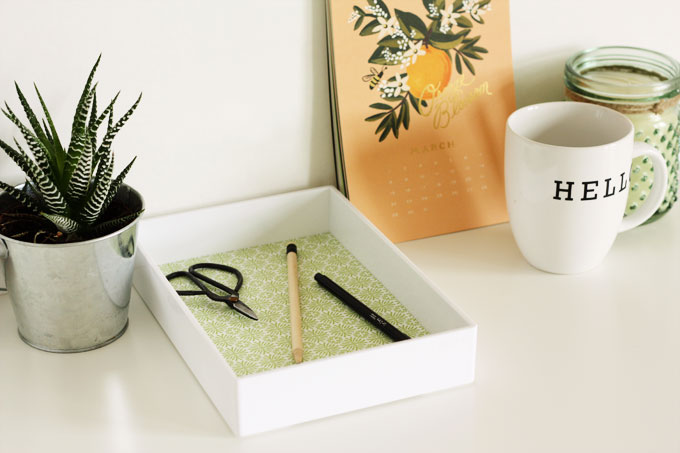 I mentioned a few weeks ago that my studio in the basement should be finished soon, which is super exciting! I have a set of awesome cubby/bookshelves just waiting to be put together, and a brand new desk and lots of pretty office accessories to fill it with. I'm really excited to dress up my desk, and today, I have a super easy, 5-minute DIY so you can dress your desk too!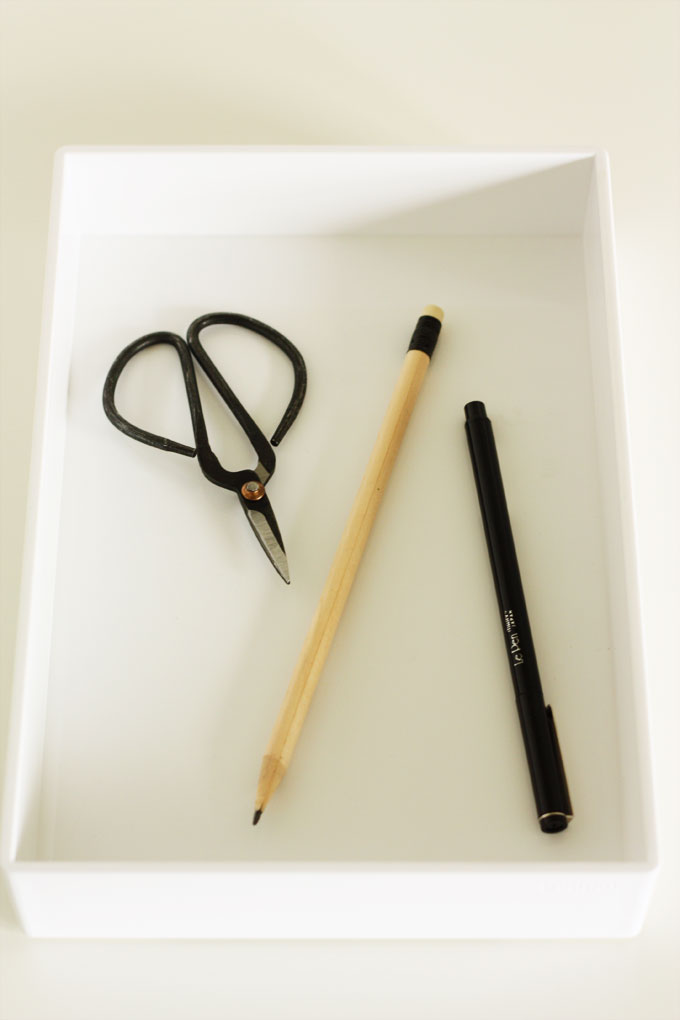 This plain white Poppin desk tray I picked up from The Container Store last weekend is the perfect blank canvas for our 5-minute project. It's cute and sturdy, and the perfect size for a desktop. I love having a handy place to keep small office items like pens, pencils, and my favorite tiny scissors, and by adding a little color, it really pops. POP!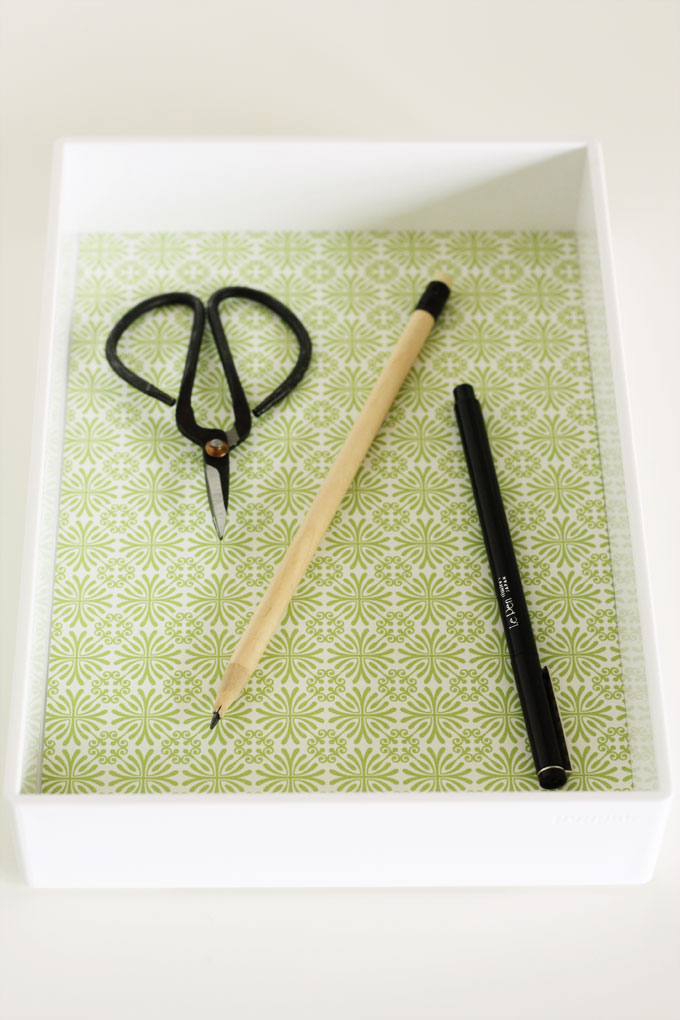 Step 1. Measure the inside of the tray with a measuring tape or ruler. Using a paper cutter (or a steady hand and a good pair of scissors), trim the card stock to fit inside the tray.
Step 2. On the back of the card stock, place a small piece of double stick tape in each corner.
Step 3. Carefully lay the card stock in the bottom of the tray and smooth it down. Easy peasy.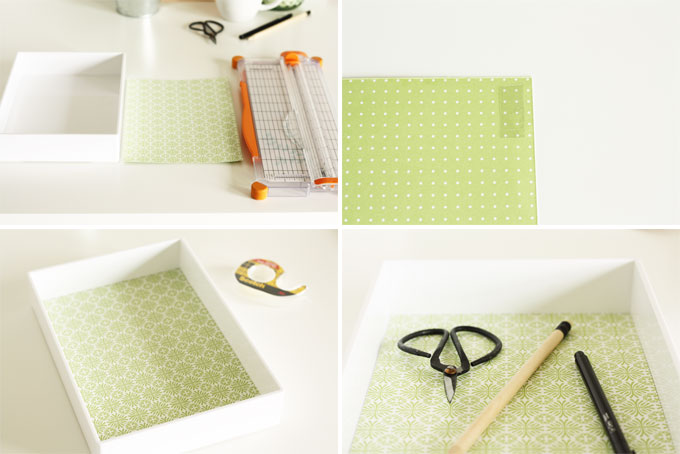 One of my favorite things about this project is that you can change the paper whenever you need a refresh! If you decide to redecorate your office, paint the walls, or go with a different color scheme, your little desk tray can still coordinate with just a few minutes of work. And if white's not your color, the tray also comes in red, grey, and aqua. So many fun possibilities!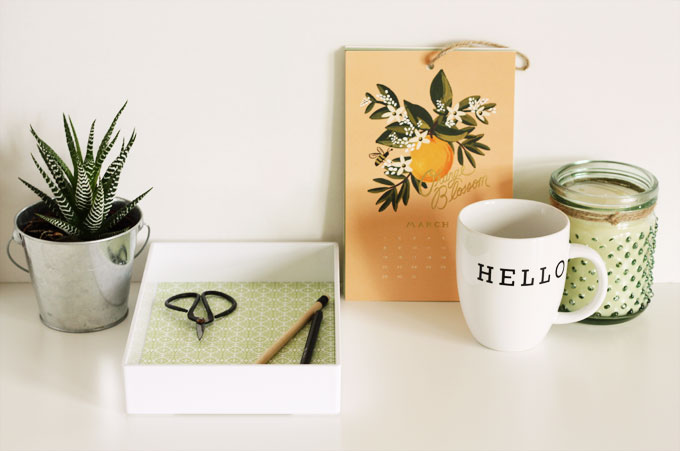 I'm not the only one with a fun and easy idea to dress up your desk today. Check out these other lovely blogs for more great Dress My Desk ideas…
Design Improvised
The Proper Blog
Earnest Home Co.
Just Destiny
Damask Love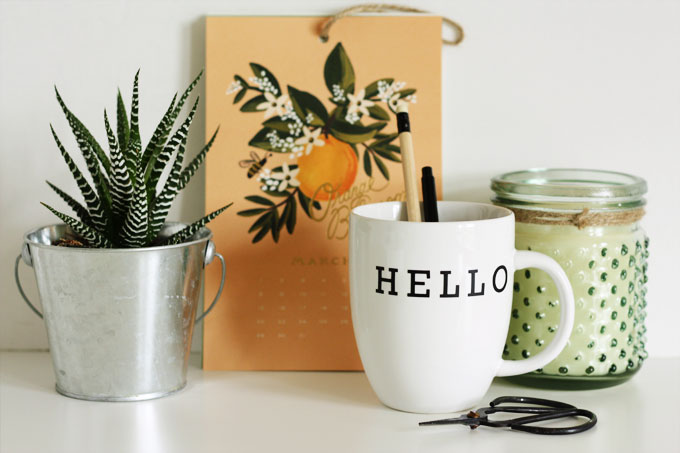 This post is sponsored by The Container Store. Hit REFRESH on your office this season with great deals from The Container Store's Orderly Office Sale going on until March 22nd! Thanks for supporting the companies that help support this little corner of the internet. xo