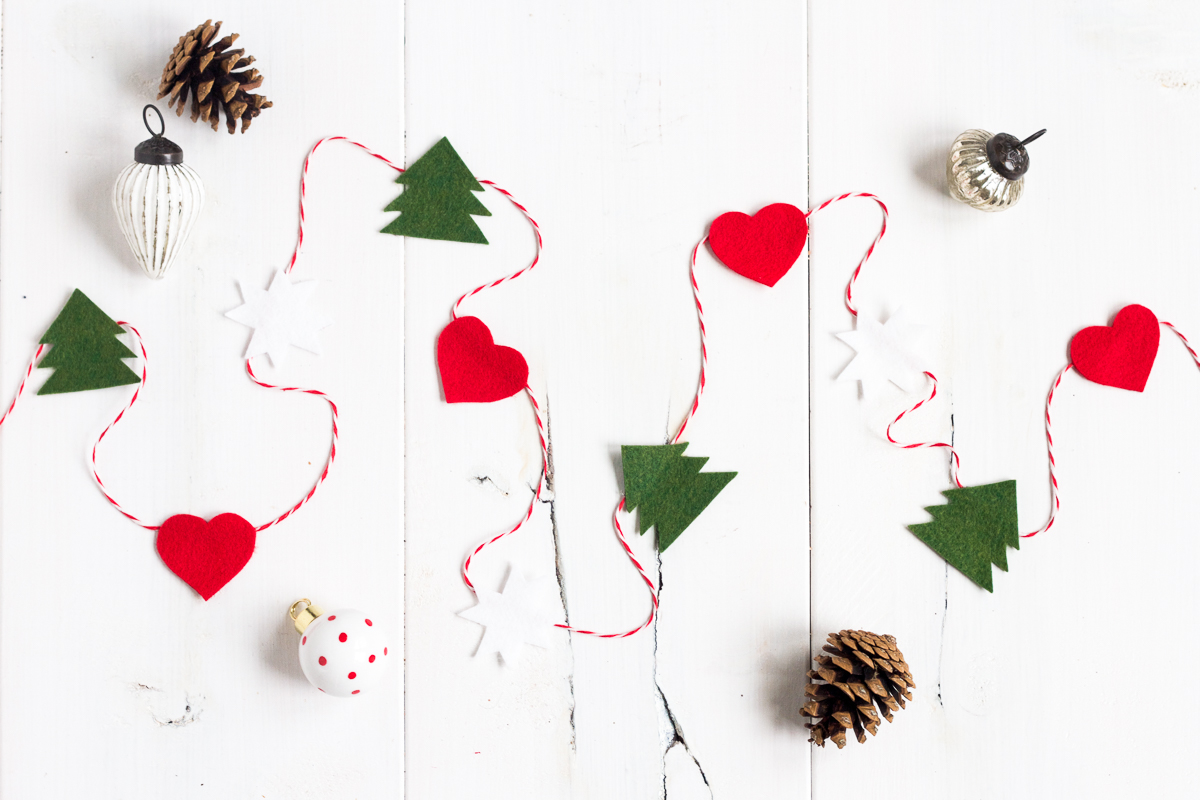 When I was little, my parents always made us wait until December 1st to put up our Christmas tree, decorate for the holidays, and sing Christmas songs. My mom always threw a fun December 1st party for us with lots of treats and surprises, which made the wait worth it. But now that I'm an adult, I just can't wait that long to start celebrating the season! We got home from a long Thanksgiving road trip to Southern California on Saturday night, and spent all day Sunday getting in the Christmas spirit by trimming our tree and putting up decorations. So even though we're still hanging onto November for a couple more days, our house is already decorated inside and out for Christmas, and when December 1st finally gets here, we'll be ready and waiting!
I made this super easy, no-sew felt holiday garland a few weeks ago for a workshop I taught at Minted Local in San Francisco. So many people turned out for it and had a blast making garlands! They turned out so cute and are so simple to make. They look great hanging in a doorway, on a wall, across your fireplace, or even tied around presents. You can make one with just a few supplies and a quiet hour to yourself. Here's how…
MATERIALS
felt holiday garland template (click HERE to download and print)
card stock
scissors
black ink pen
wool blend felt in red, white, and green
hot glue gun
hot glue sticks
red and white striped bakers twine
INSTRUCTIONS
1.  Download the felt holiday garland template by clicking the link above. After downloading, print the template on card stock. Be sure to print it at 100%.
2.  Cut out the heart, snowflake, and pine tree shapes.
3. Use the black ink pen to trace the shapes onto the felt. Trace the hearts on red, the snowflakes on white, and the trees on green. You can trace as many of each as you like. Cut out the felt shapes.
4. Use the hot glue gun and glue sticks to attach the felt shapes to the baker's twine. Leave at least 18 inches of twine on each end, leave several inches of twine between shapes, and make sure to glue the twine across the top half of the back of each shape. If you glue the twine across the middle, the shapes won't know which way is up.
5. When all the shapes have been attached to the twine and the glue is dry, hang up your holiday garland!
**This post contains affiliate links. You can read more about them on our policies page.**