Four years ago on this very day, I wrote my very first post on Lulu the Baker. I started this blog so that I could join the Daring Bakers, but in the past four years, it has become a place where I catalog the things my family loves to eat and the recipes that I hope never to lose track of. The past year has been big here, and I thank you from the bottom of my heart for stopping by and saying hi.
I meant to have some big to-do to post today–a spectacular give-away or something–but this round-up of cupcake recipes will have to do instead!
Happy Birthday, little blog!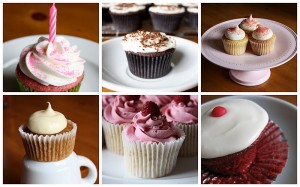 {top row, left to right: strawberry cupcakes, devil's food cupcakes, the most delicious cupcakes ever; bottom row, left to right: carrot cupcakes with orange cream cheese frosting; hazelnut cupcakes with raspberry buttercream; red velvet cupcakes}