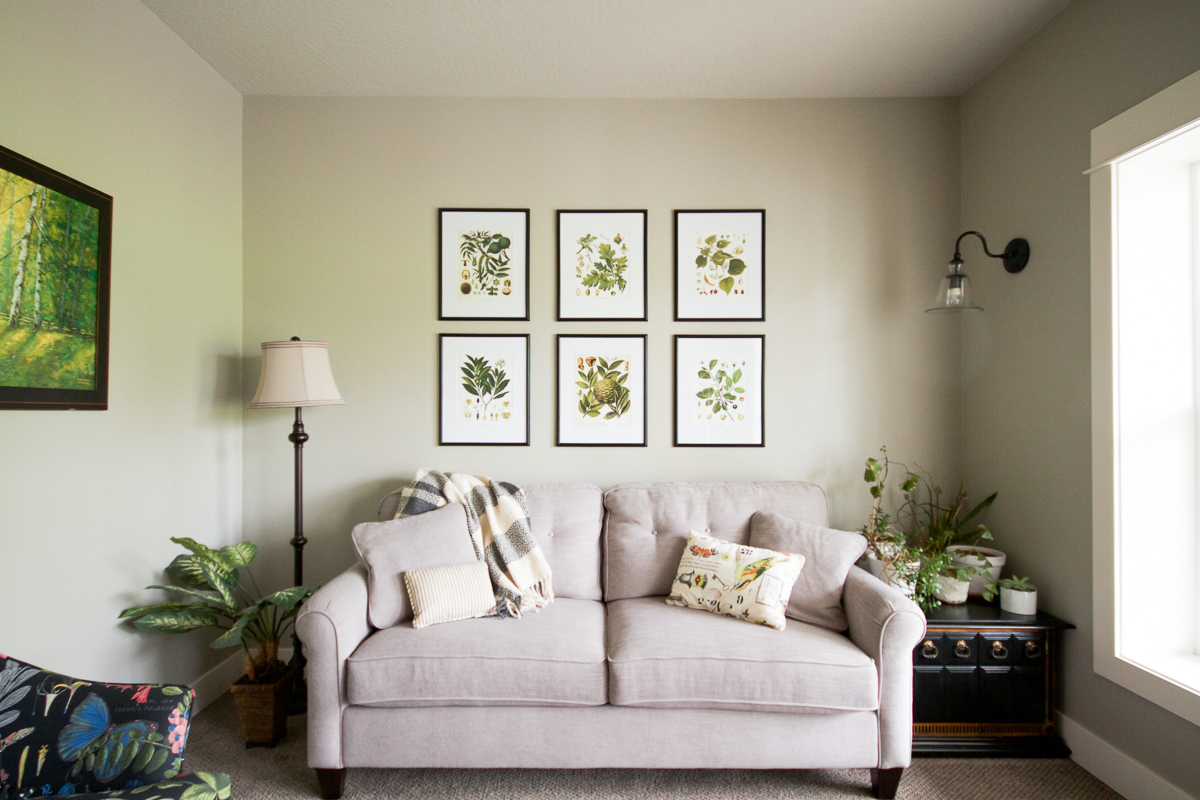 It's week two of the One Room Challenge, and we've made lots of progress on our naturalist living room makeover already! This wall used to have a little glass-front book case against it, and the left wall had the upright piano. One of the first things we did was pick out and order a new love seat. We looked at lots of sofas and ended up really liking one we saw at La-Z-Boy. Who knew they made great looking furniture besides recliners? It was a pretty, dark blue love seat, and is now in my husband's office at work, but we ordered the same couch in a durable, heavyweight gray fabric. We love it so far. It's nice looking and very comfortable. I've already gotten to clean up vanilla ice cream drips on the cushions, and they seem to clean up really well.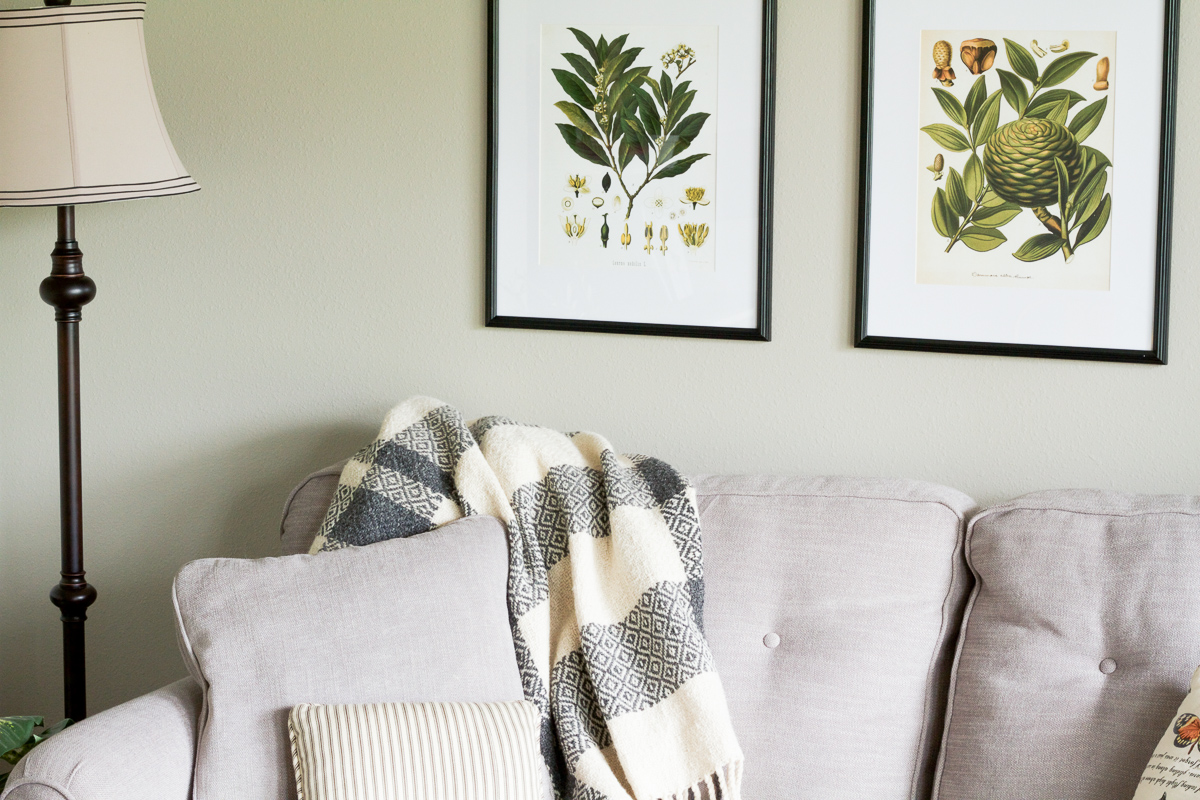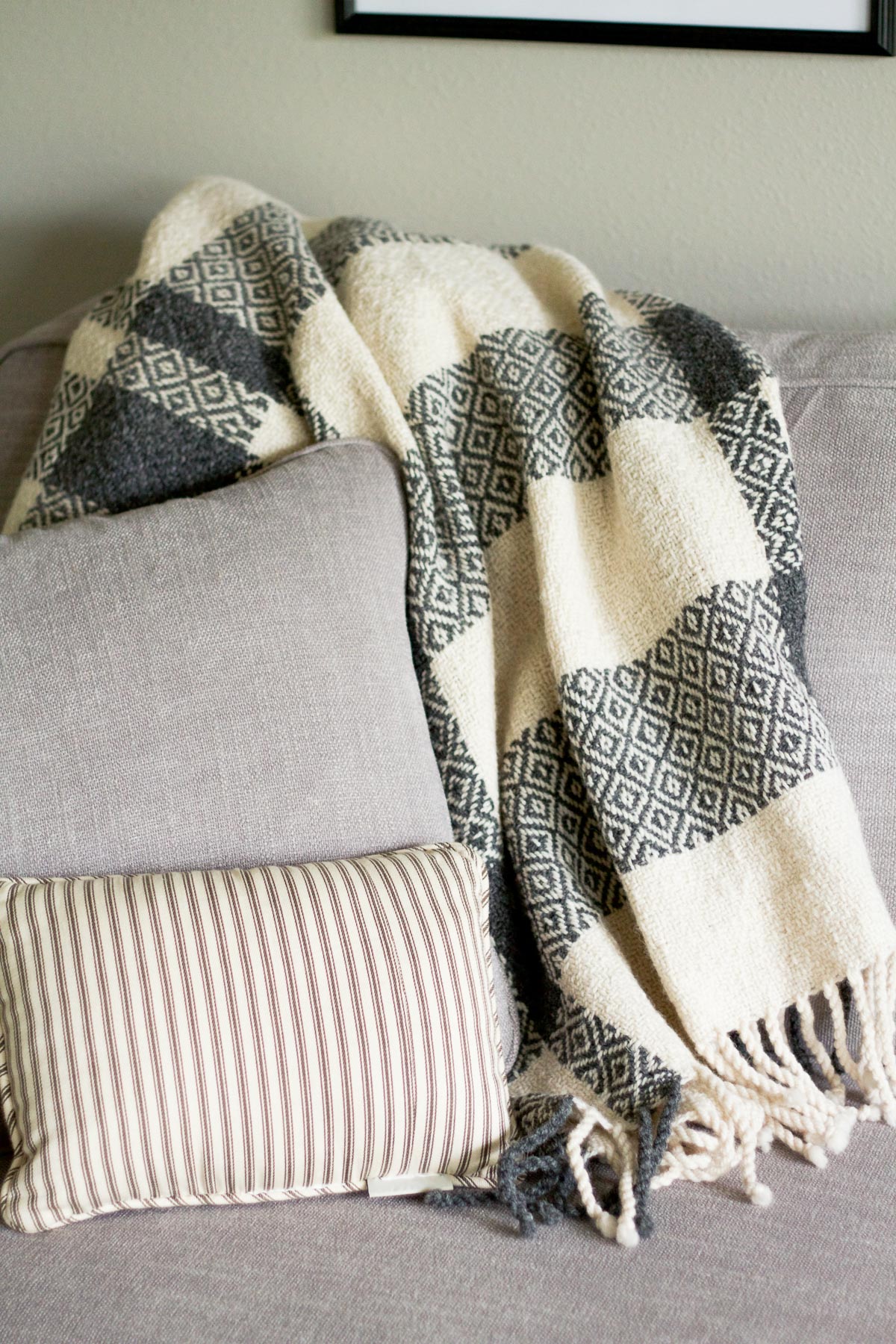 We bought a beautiful set of six vintage-inspired botanical prints from Lettered & Lined, a print shop on Etsy. I stuck with mostly green prints, but they have a great selection of fruits and flowers too. I wanted really simple black frames with white mats, and found some inexpensive ones at Michaels. We hung them using 3M strips, which I'm addicted to; they make me want to hang all the things! Right after I got these framed and hung on the wall, I had the idea to frame them in clear acrylic with brass standoffs like this, which I think would have looked amazing, but I'm just going to call it water under the bridge.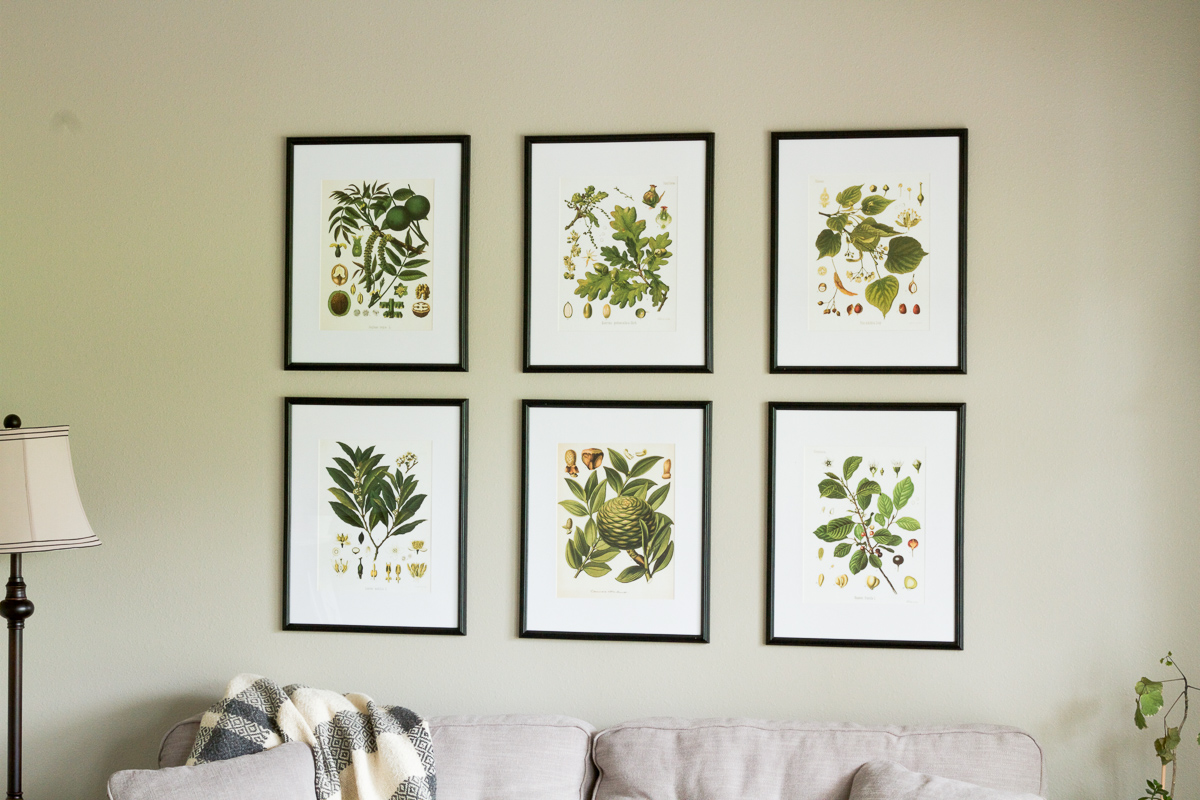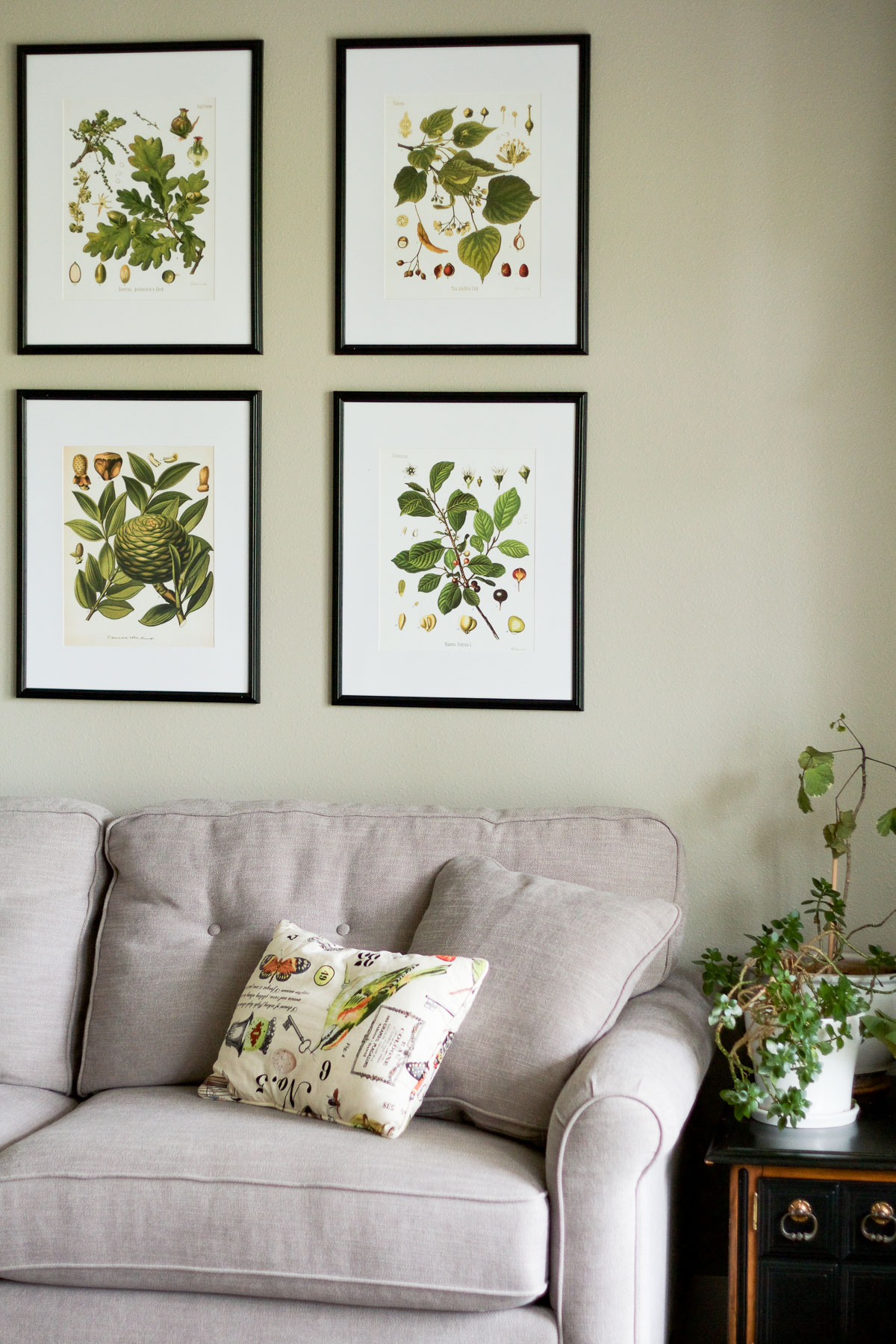 Next to the couch is currently a cool end table that my mother-in-law refinished and gave to us a long time ago. She painted it black and added some nice bronze and brass touches. The metallic finish looks much darker in these pictures than it actually is. I've always really loved it, but I'm not sure if we'll keep it where it is right now. I might move it to the other side of the couch and turn it so that the pulls face the windows. It also currently holds my houseplant collection, which is also staying in the room, but maybe not in this spot. We'll have to see! The table offers some much needed storage for this room, as long as we can clean out the stack of papers inside that we haven't cared about or looked at in a decade.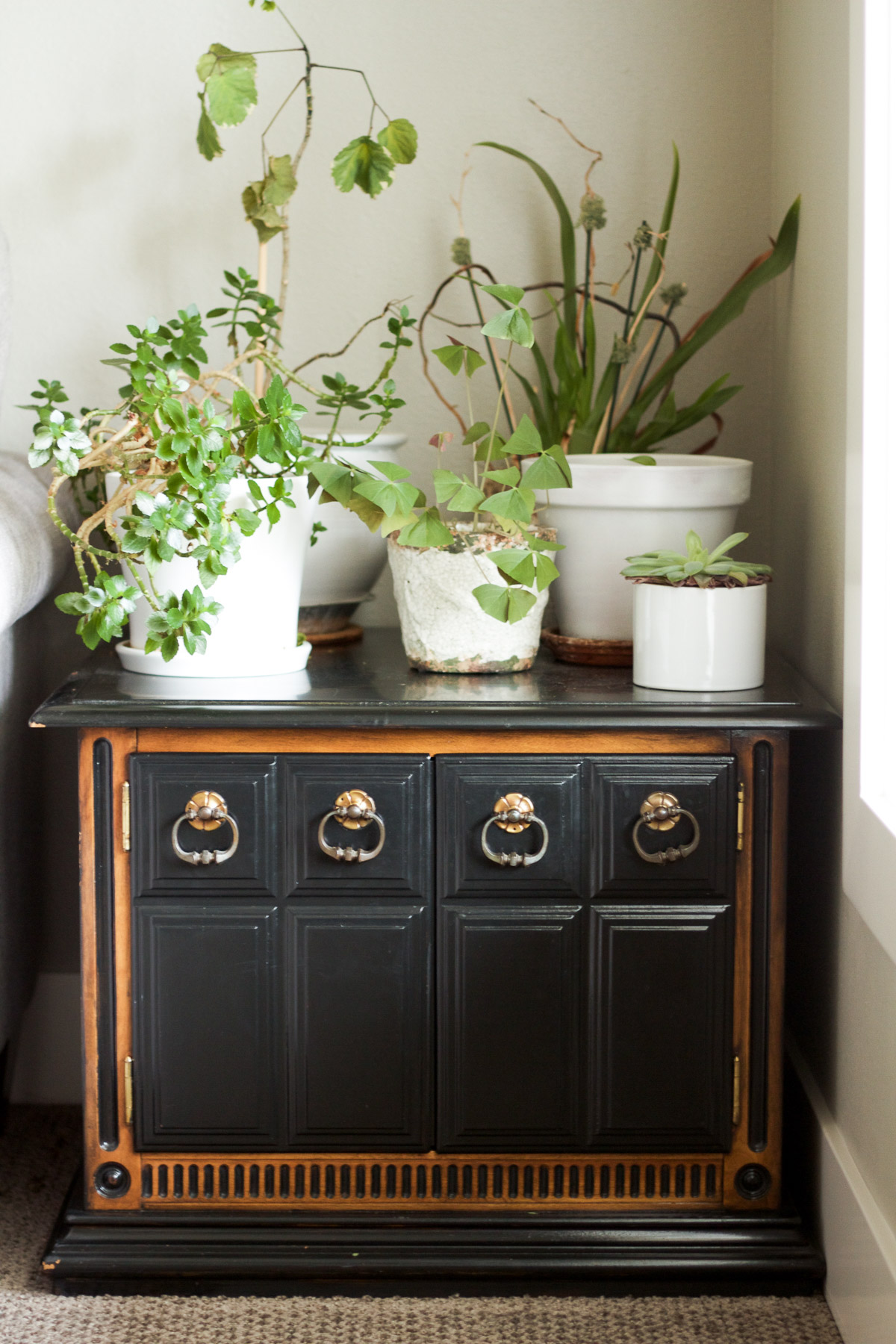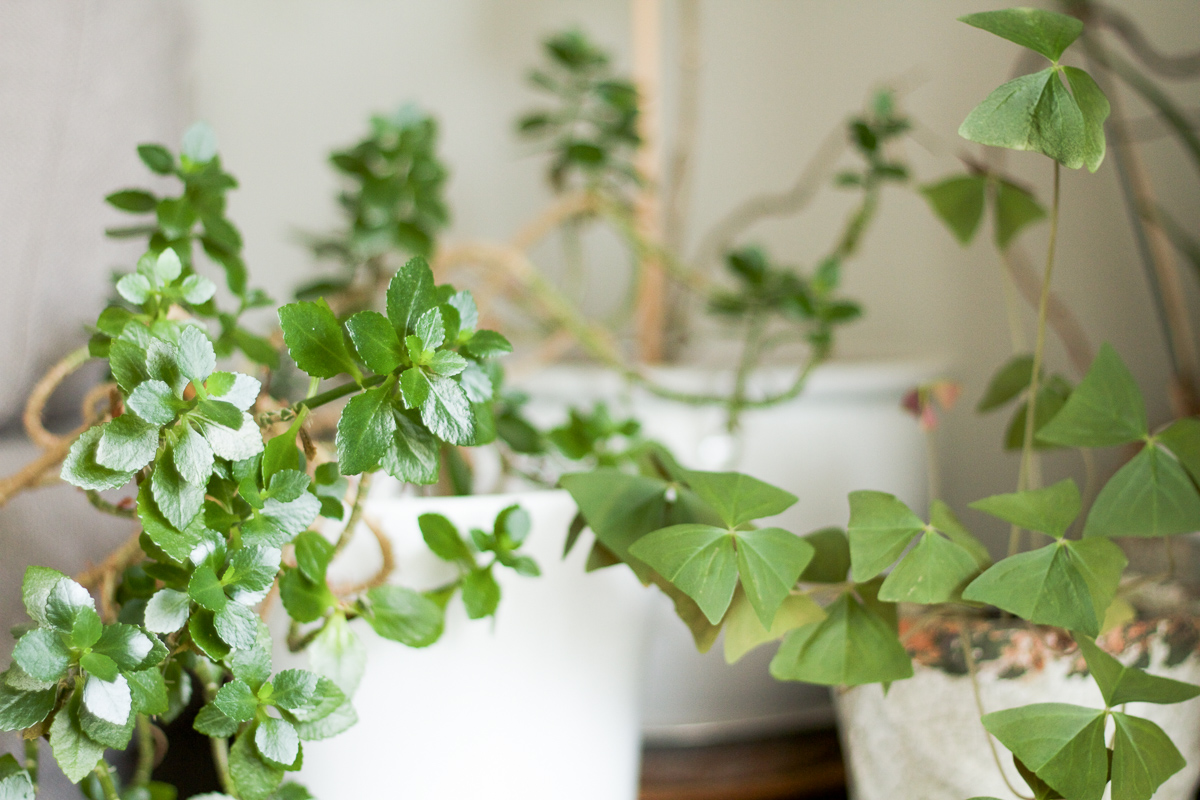 On the left side of the couch is a gorgeous new chair from Pottery Barn. Sadly, it's no longer available. We seriously bought one of the last ones in stock. After looking through lots of furniture stores both in person and online, we spotted this chair and immediately fell in love. I love the upholstery, the shape, the nailhead trim—everything. We're having a little bit of a hard time figuring out how to orient it. It looks strange perpendicular to the couch, but it looks even stranger at an angle. I'm wondering if putting the black end table next to the chair on the couch side might help. We need to get the rest of the big pieces for this room and shuffle everything around until we find a layout that works. There's a little footstool at the base of the chair that is a bit of a problem piece. My mom bought it for me to use as a nursing stool when I was a brand new mom, so it has sentimental value, but it kind of sticks out wherever we try to put it. I'm wondering if painting the base, recovering the upholstered section, and treating it as a tiny end table on the near side of the chair might work.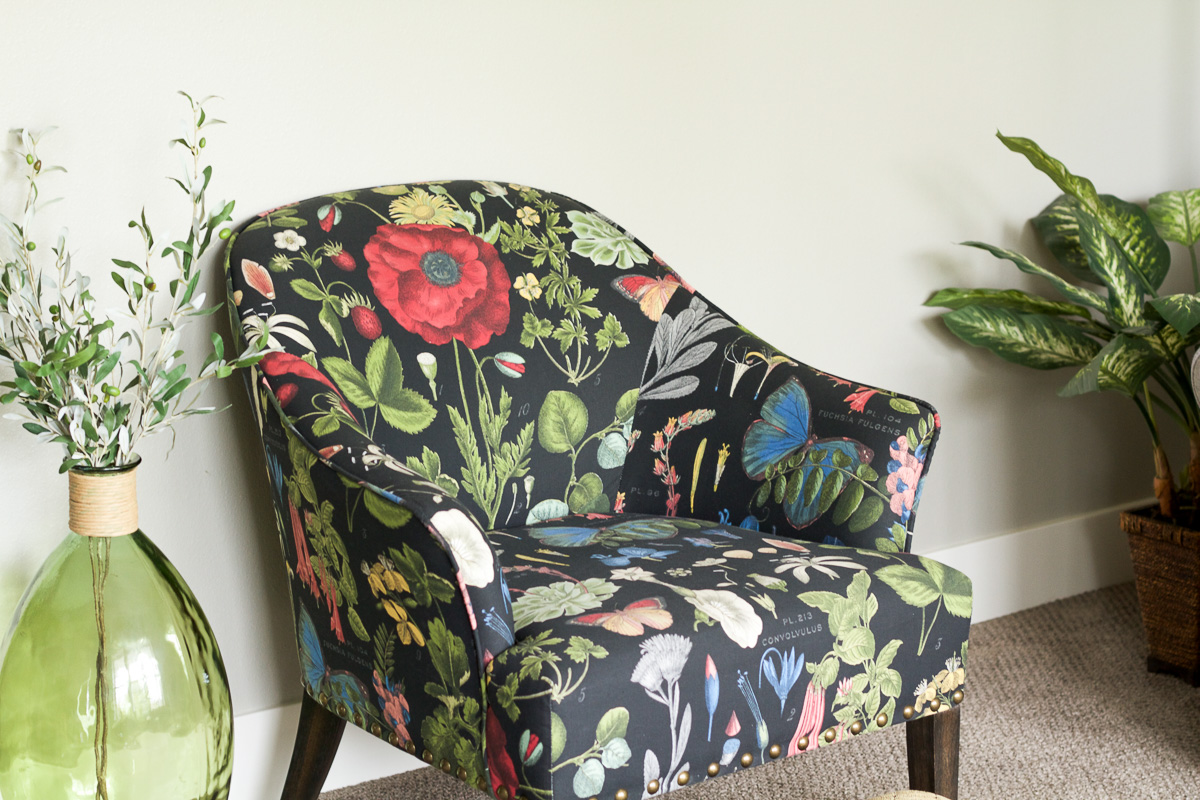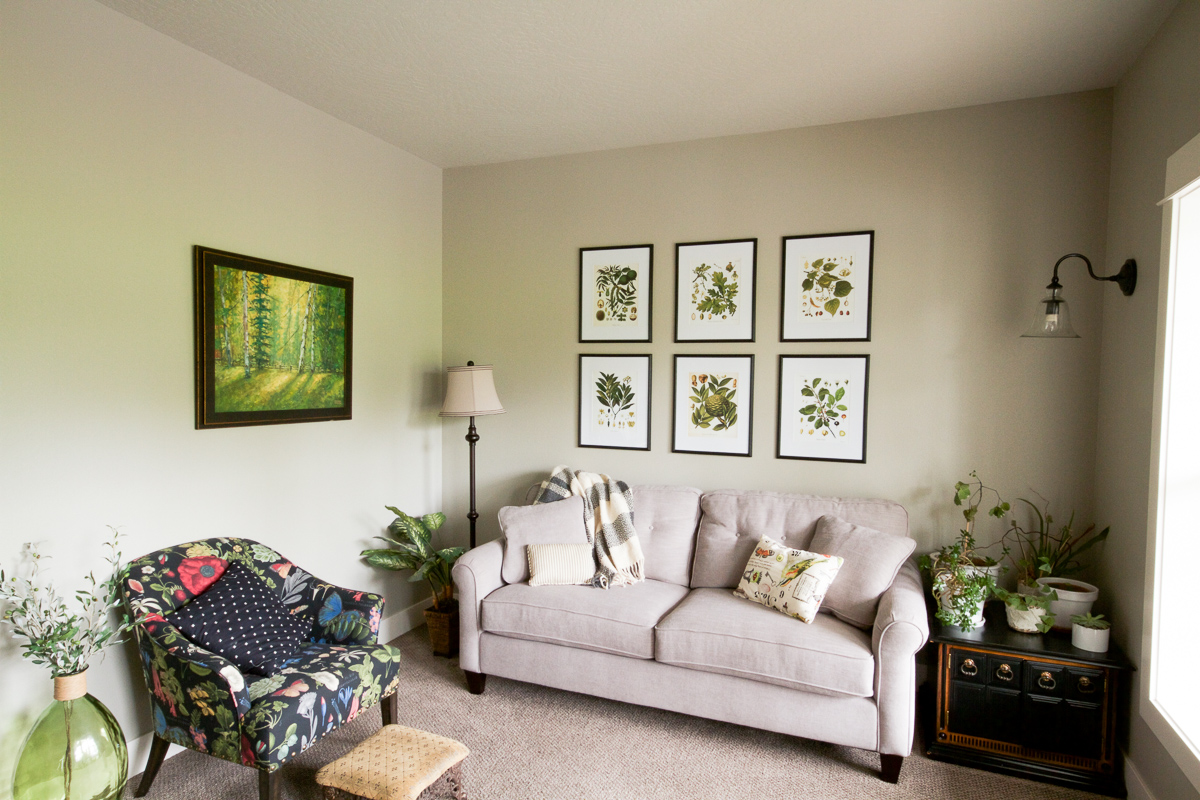 We bought this green vase years ago at Home Goods. I stuffed some faux olive branches in it for the pictures, but I think it would look better with monstera leaves or palm fronds or something. I don't want the room to look too tropical, but I think the size of the vase requires something with big leaves.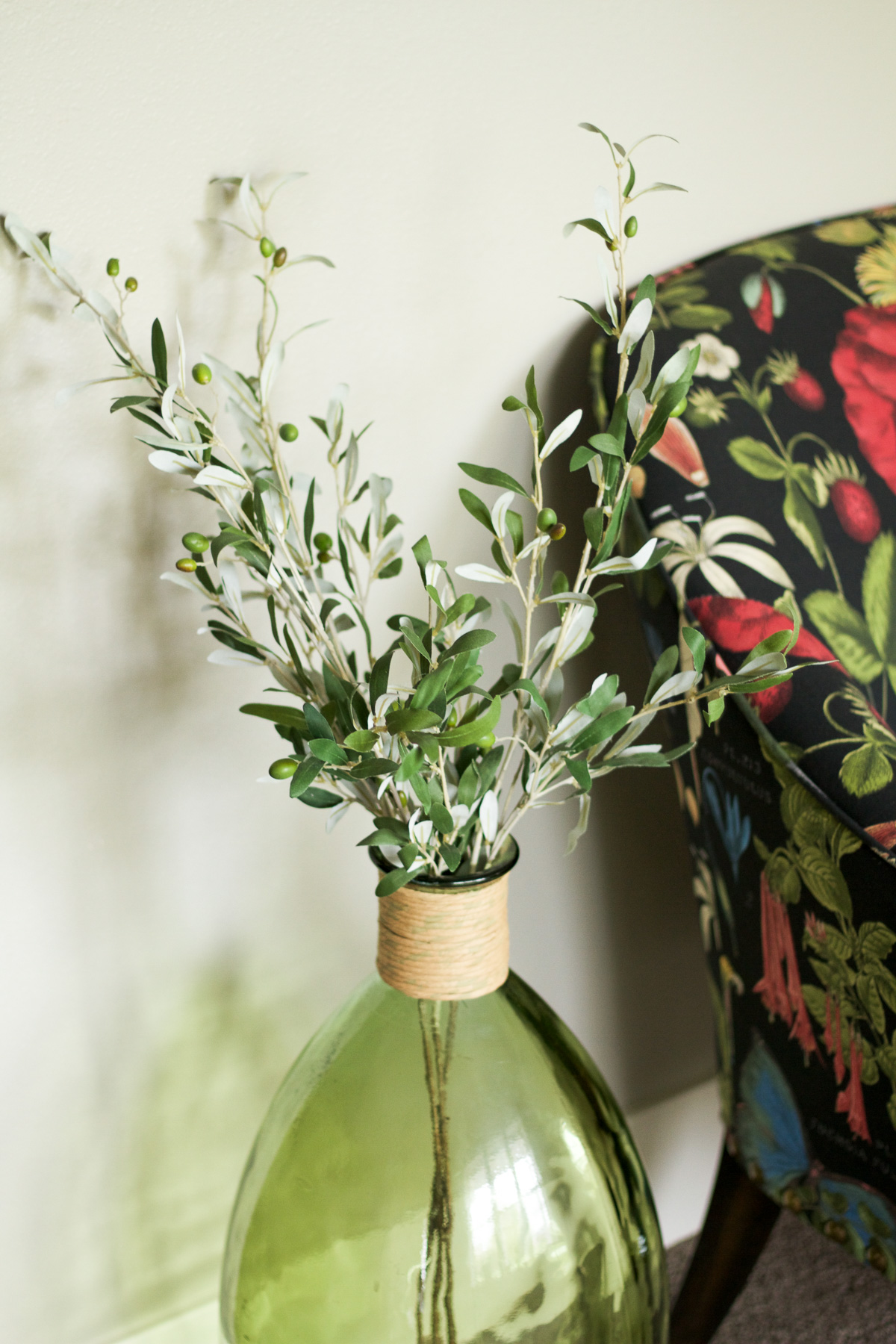 Lastly, the lamp and the painting that currently hangs on the wall above the chair both need a little help. The lamp is fine-ish and doesn't look out of place exactly, but the shade definitely needs to be replaced. Or maybe the whole lamp needs to be replaced with something different, maybe something brass. And the painting just needs to be moved to a different wall. I think the dark frame above the dark chair is just too much darkness on one wall, especially with the other wall so light. I'm on the hunt for a really large, round, gold- or brass-framed mirror. I hope that a mirror in that spot will not only look lighter by default, but will reflect the light from the window and add even more light to the room. I think the bigger the mirror the better, but the one I've fallen in love with that is 41″ also costs many, many dollars. So I'll see if I can make due with a smaller round mirror. And maybe having the brass and the mirror on the wall above the chair will make the lamp look better. Who knows! I love the baby steps we've taken so far, and I feel like we are most definitely on the right track with our naturalist living room makeover. To see the before pictures and our inspiration board, check out my week 1 post HERE. You can read about the other One Room Challenge guest participants this week on Calling It Home, and be sure to check back here next week for my week 3 update!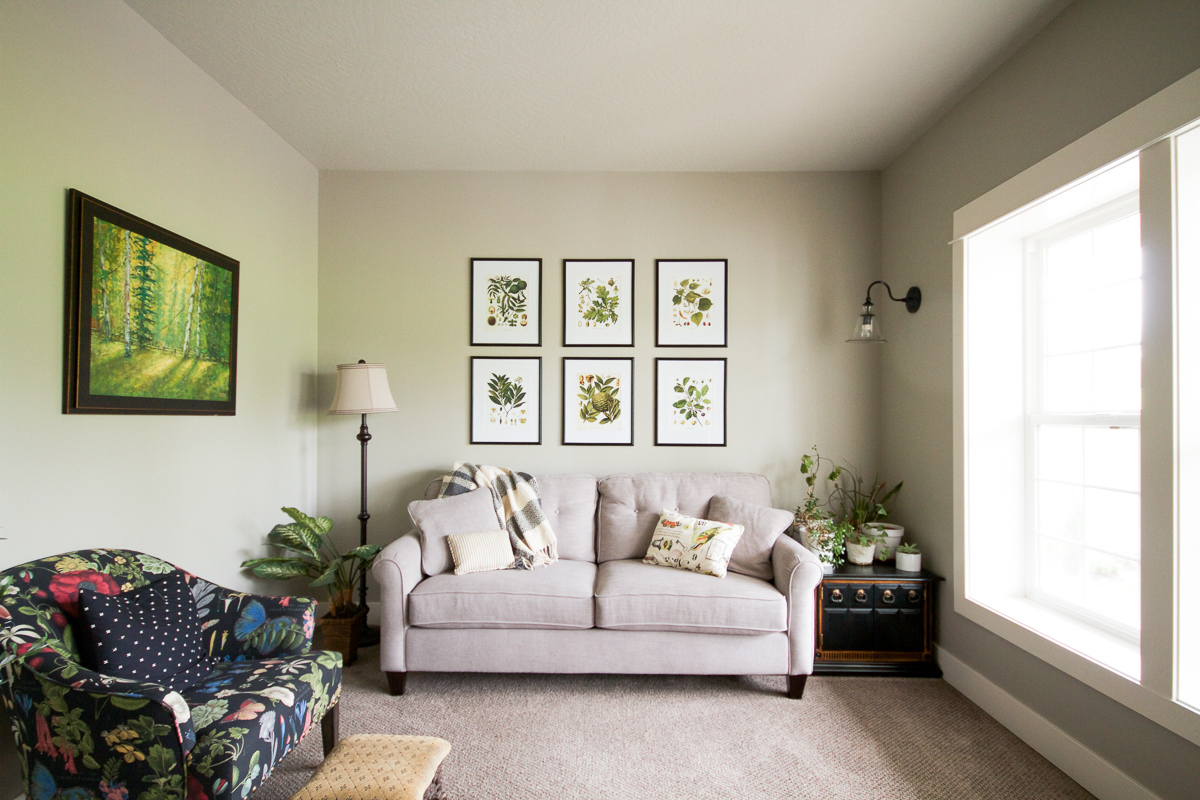 SOURCES:
Glass Sconce: Rustic Glass Sconce from Pottery Barn
Sofa & Gray Pillows: Laurel Premier Sofa from La-Z-Boy
Botanical Prints: Lettered & Lined on Etsy
Black Frames & White Mats: Michaels
Black Botanical Print Chair: Ellis Upholstered Armchair from Pottery Barn (no longer available)
Green Glass Vase: Home Goods
Painting: Edmond Woods Original