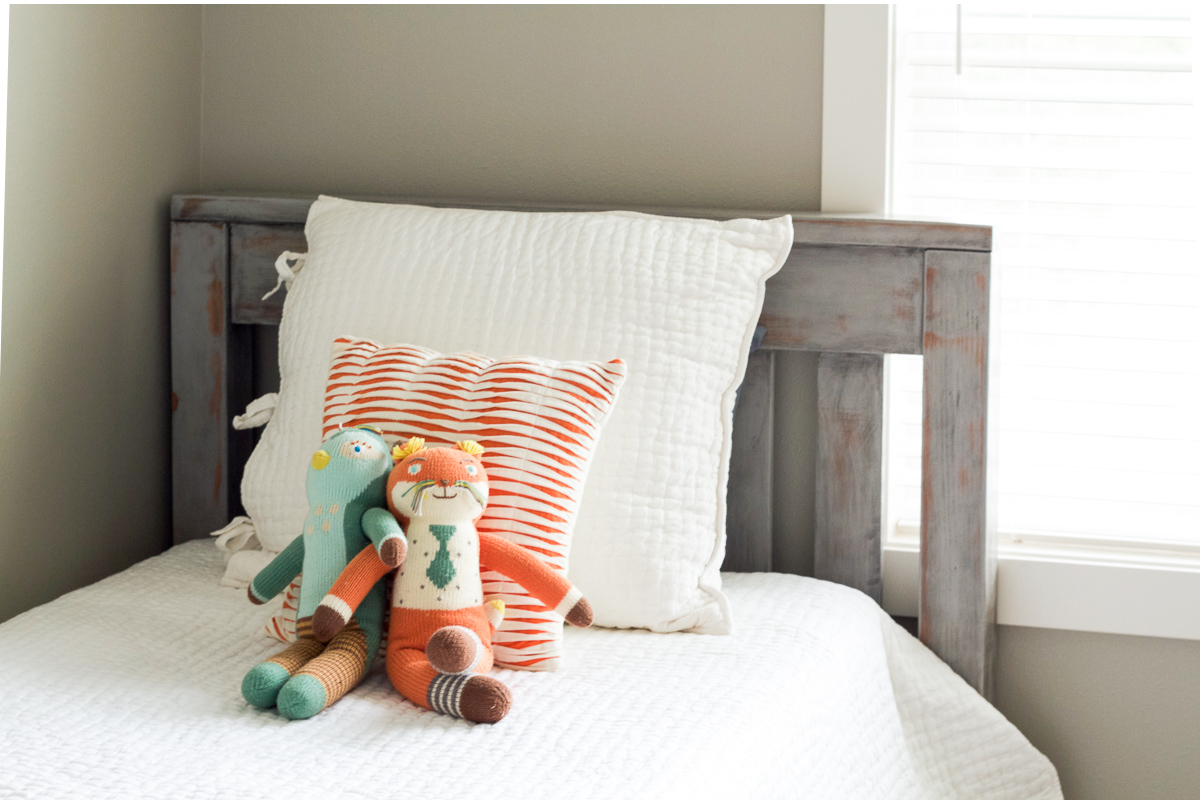 If you follow me on instagram, you might have seen a few instagram stories about these rustic twin beds we've been building and finishing for our boys' shared bedroom—since August. The beds didn't start out as a crazy, 7-month project. We decided last summer that our very sweet preschooler probably needed to move out of the crib and into a real bed. The actual baby is going to need to sleep in the crib at some point, after all. And then we couldn't find any beds we really liked. So instead of buying new beds, we decided to refinish a set of bunkbeds my husband had built for our girls when they shared a tiny bedroom in our old house. It seemed like such a simple solution. All we needed to do was convert them from bunk beds to twins, modify the width slightly to accommodate the windows in the new bedroom, and stain them a beautiful, weathered gray. We're talking weekend project here. The bunk-to-twin conversion was a piece of cake; we simply had to swap a footboard on one bed for the headboard on the other bed. Modifying the width was as easy as measuring, marking, and sawing, and while I was nervous that the beds would look weird without the extra width, I actually think they look pretty cool. This all happened in one afternoon, and I seriously thought we'd get these babies finished before school started last Fall. And then the staining happened.
We followed all the directions to get a good staining result. I did research, people. I actually went out and bought the required materials and tested them on scraps of wood instead of phoning it in like I sometimes do. I was, in short, staining very responsibly. We sanded and pretreated and sanded some more. We stained and stained and stained and stained those beds. But you know what? Back when my husband was building the beds 4 or 5 years ago, he used two different kinds of wood—douglas fir for the legs and white pine for everything else. And no matter what you do to douglas fir, it will NEVER stain the same color as white pine. EVER. EVER. Learn that lesson now, my friends! We wasted so many weekends trying to stain those beds.
And then school started, and my book came out, and I was traveling all over, and The Hello Sessions happened, and we stuck those frustrating beds in the corner of the garage to be dealt with later. We bought our preschooler a cool little cot to sleep on so that he didn't have to sleep in the crib anymore (although to be fair to everyone, he never once complained or tried to climb out). And then one day at the end of September, while I was back east doing book tour stuff, my sister said, "Why don't you just paint the beds?" I don't know why it hadn't occurred to me before that we could paint the beds. I think I'd just fallen in love with the idea of these rustic twin beds still looking very much like wood, with the beautiful grain and texture showing through, and the driftwood-meets-old barnwood look of it all. And I didn't think I could get that with paint. I thought stain was the only option that could give me the look I wanted, but staining these beds had been a complete failure. I thought I'd be doomed to a flat, solid paint job that wasn't particularly interesting or exciting, that had no depth or personality. And then I discovered Chalk Paint® decorative paint by Annie Sloan. *Cue the heavenly choirs!* I had heard of Chalk Paint® and knew it was different than regular paint, and wondered if it might be worth investigating. At this point, I was investigating every paint possibility. While doing a little research I happened upon this Warehouse Look Table on the inspiration page of the Annie Sloan website and knew immediately that this was the answer! It was love at first sight. It had depth and texture and warmth. It looked weathered without being too beaten up. It was, in a word, perfect, and our rustic twin beds look better than we could have imagined.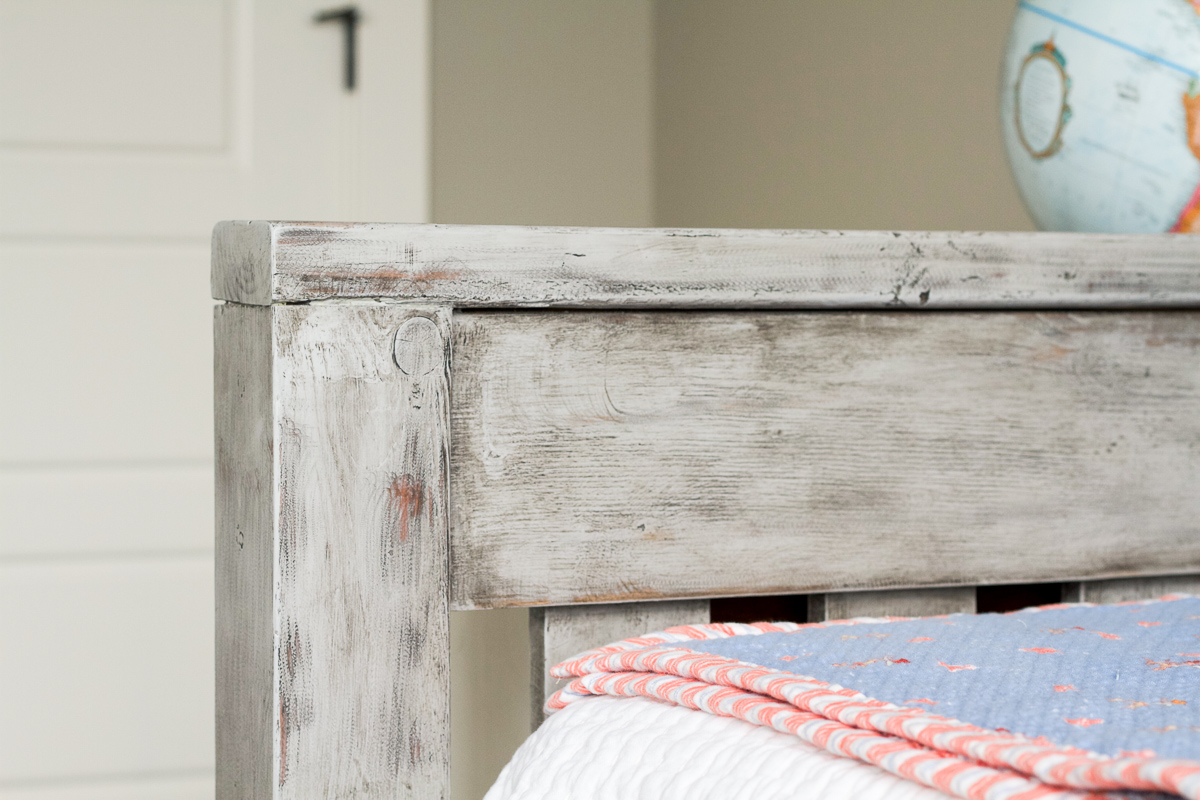 I think the beds turned out pretty darn amazing, if I do say so myself. While doing my original staining research (seriously, so many hours wasted), I read somewhere that one of the high end furniture stores puts 8 or 9 layers of product on their pieces to get the super expensive finishes that people pay the big bucks for. And I think we ended up with a really beautiful, expensive-looking finish on the beds with just 5 or 6 layers, a little bit of money, and some elbow grease. In my next post, I'll be sharing exactly what materials we used and what steps we followed so that you can get this same rustic, weathered finish on your own DIY furniture projects. Be sure to check out all of the frustrating "before" pictures below (we had so many failed attempts!), and click HERE to see the beautiful "after" pictures.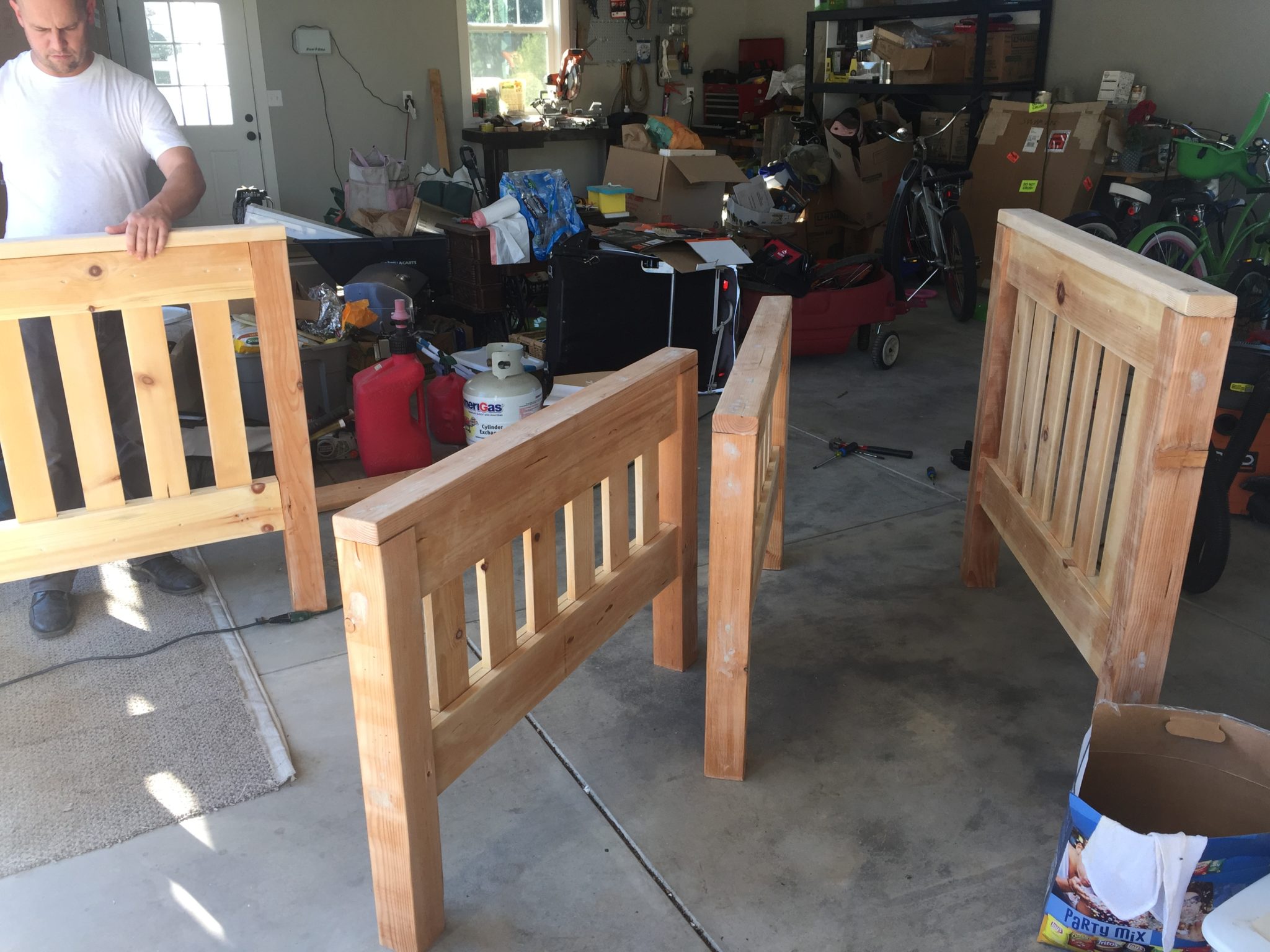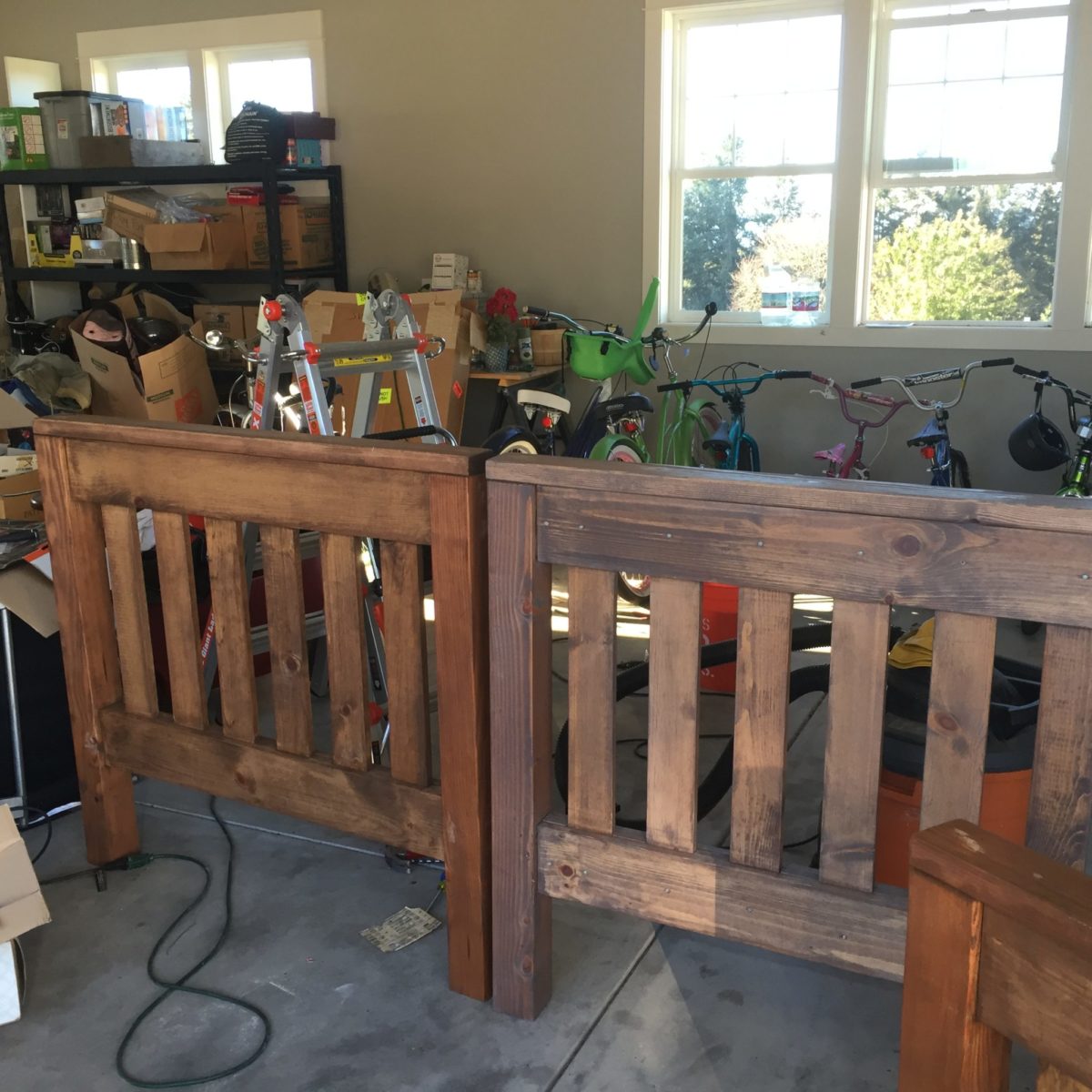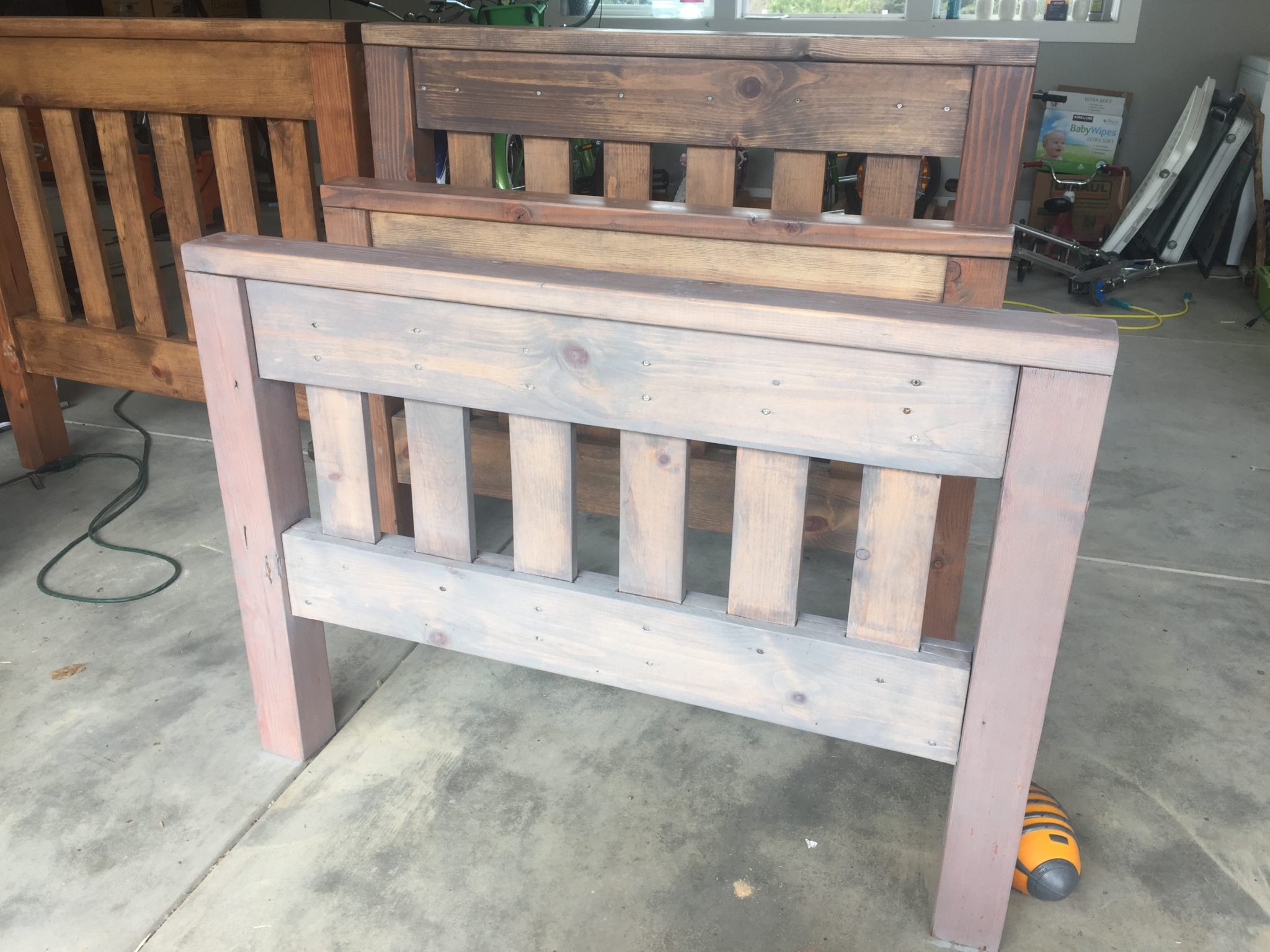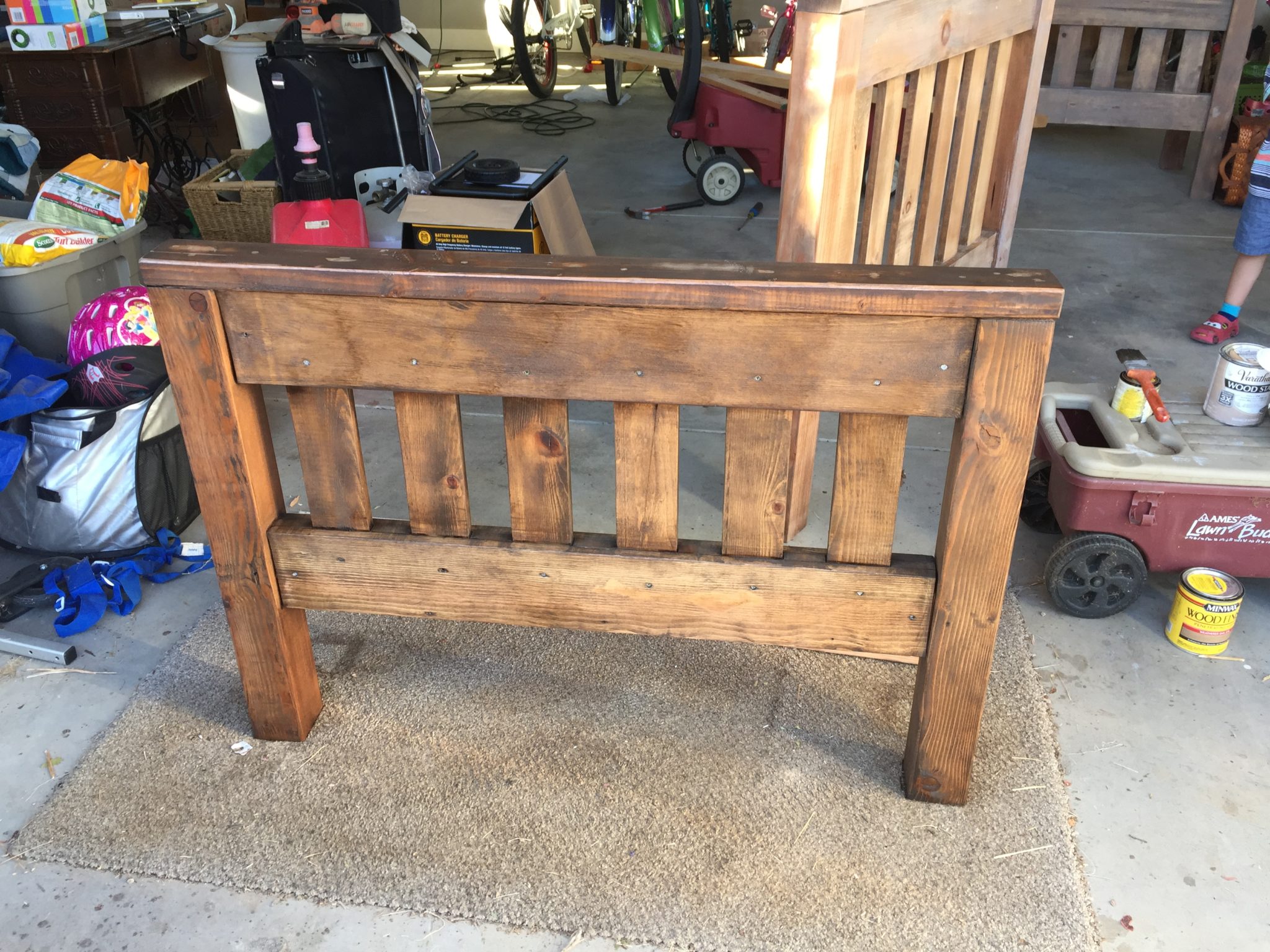 PS—If you're curious about what instructions we used to build the original beds, it is the Simple Bed Twin from Ana White. We built them exactly as specified with one modification: the top rail on both the headboard and footboard of each bed is flush with the posts and doesn't hang over 2 1/2″ on each side. Again, I was originally worried that it would look weird, but I love how they turned out! I think eliminating the overhang makes them look a little more modern.