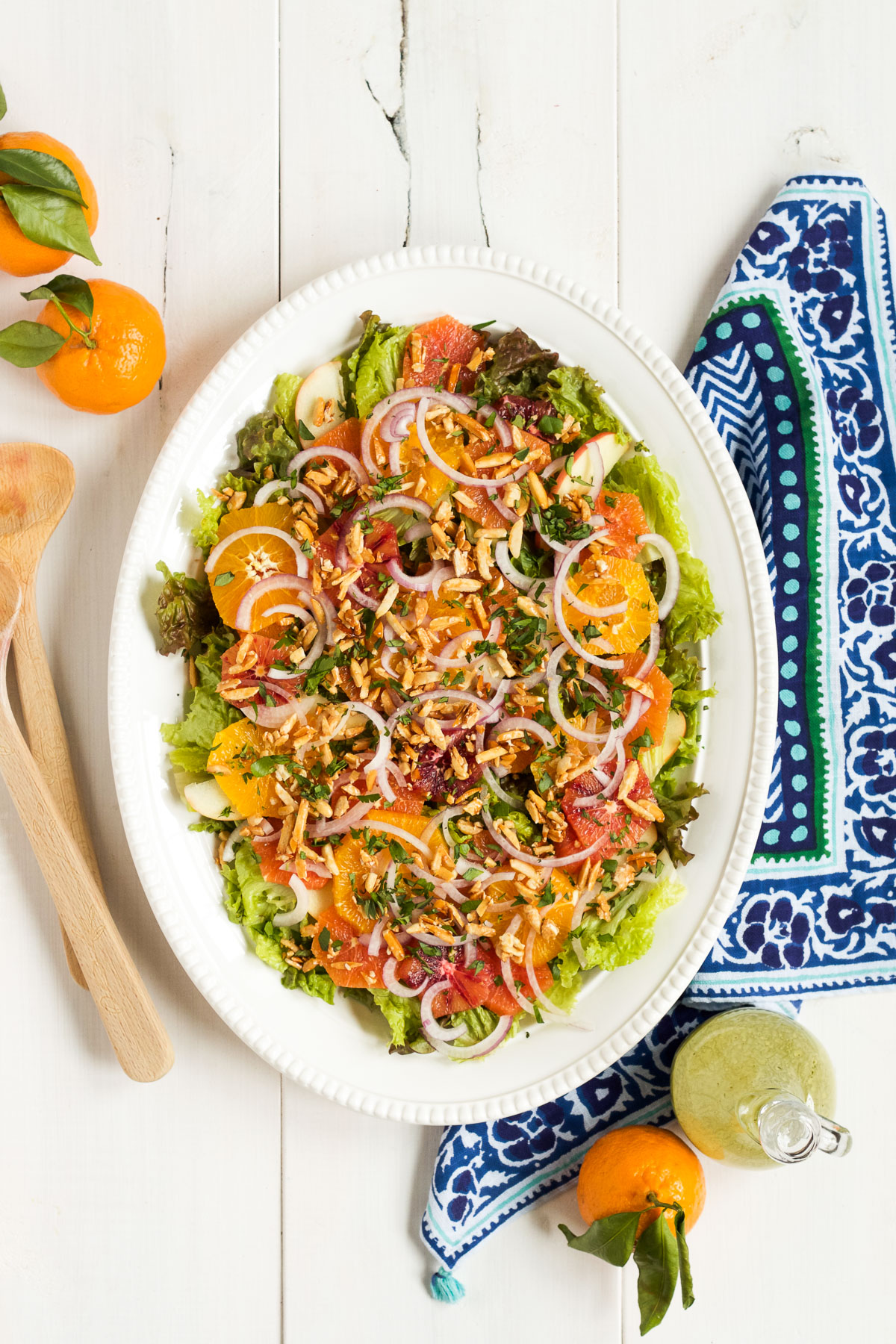 This post was created in collaboration with Vitamix.
I am so excited for today's post! It has been in the works for months, and then I got a late start on the photo shoot yesterday and had to redo everything last-minute (i.e., this morning) because yesterday was dark and gloomy. But this morning's pictures turned out beautifully, so it was worth the hassle. Vitamix contacted me just before the holidays to see if I wanted to try out one of their brand new Ascent Series blenders. Of course my answer was an enthusiastic yes! We have absolutely loved using it over the past few months, and have made everything from smoothies to soup to salad dressing to pancakes. It is not only a powerhouse appliance, but it is also sleek and attractive, so I don't mind letting it sit on the kitchen counter permanently. And I'm giving one away today! If you want to skip the recipe (but don't because it's a good one), just scroll down to the bottom of the post.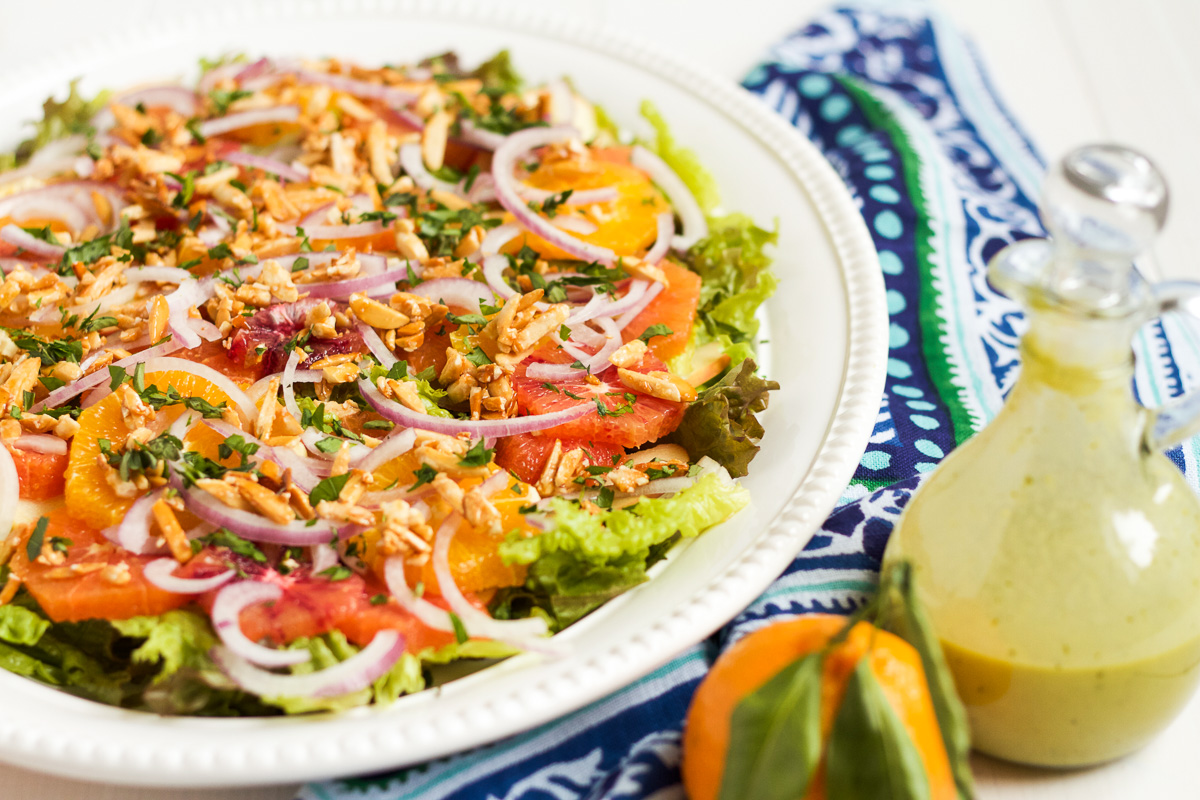 We used our Vitamix twice yesterday: once to puree a delicious cream of tomato soup, and once to make the herby raspberry citrus vinaigrette for this amazing salad. My husband and I polished off an entire platter of this salad last night with dinner because it is so good. It starts with a bed of hand-torn red leaf lettuce, which I love because it is pretty, tasty, and tender without being too flimsy. Then the salad gets a layer of very thinly sliced honey crisp apples, followed by slices of fresh orange. Since it is citrus season, you can get lots of interesting citrus fruits at the grocery store right now. I used regular navel oranges along with salmon-colored cara caras and deep red blood oranges. A layer of thinly sliced red onion comes next, then a generous sprinkling of homemade sugared almonds. Just before serving, drizzle the whole salad with a delicious, homemade vinaigrette made with fresh orange juice, extra-virgin olive oil, raspberry vinegar, and lots of fresh herbs. I love using the blender to make this dressing because it means less chopping, and a creamier dressing.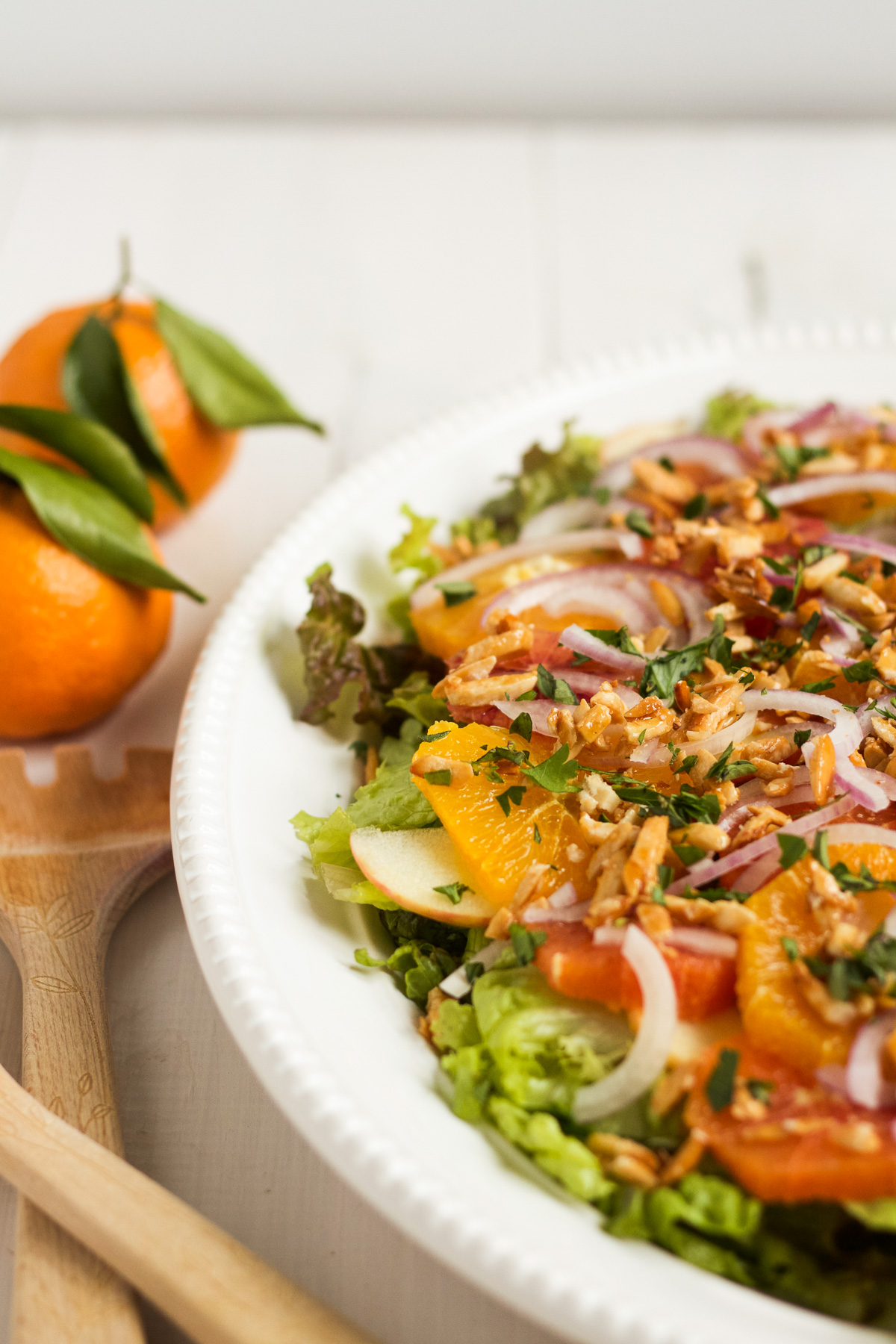 My husband isn't always a big salad eater, but he loves this salad. It is light and refreshing and full of amazing flavor. The recipe comes from my book, Scandinavian Gatherings. It is a long-time family favorite that I remember fondly from when I was growing up. It always seemed very fancy to me, and is a great special occasion salad. It's perfect for this time of year thanks to the fancy citrus available at grocery stores, but is also wonderful any time you need a really beautiful salad for brunch, dinner, or a celebration.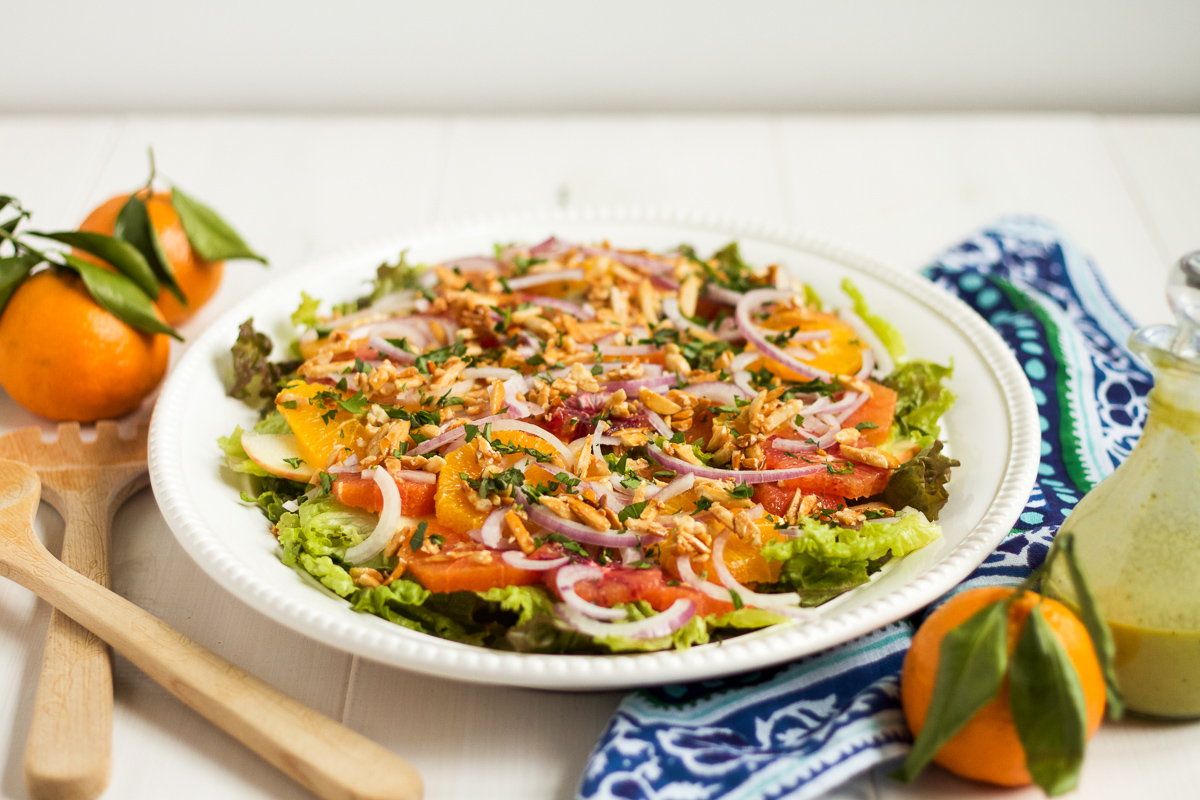 Red Leaf Lettuce Salad with Raspberry Citrus Vinaigrette
This salad is as delicious as it is beautiful. It is perfect for the winter months, when lots of exciting kinds of citrus are available, but it makes a great brunch or dinner addition all year. The recipe makes a huge amount of salad. Feel free to halve it. Recipe from
Scandinavian Gatherings
Ingredients
for the sugared almonds:
¾ cup slivered almonds
3 Tablespoons sugar
a generous pinch of salt
for the vinaigrette:
½ cup extra-virgin olive oil
⅓ cup fresh orange juice
3 Tablespoons sugar
3 Tablespoons raspberry vinegar
2 Tablespoons coarsely chopped fresh oregano
1 Tablespoon coarsely chopped fresh parsley
1 clove garlic
1 teaspoon Dijon mustard
½ teaspoon salt
freshly ground black pepper
for the salad:
2 large heads red leaf lettuce
3 to 4 medium apples, cored and thinly sliced
4 large sweet oranges, peeled and sectioned or sliced
1 small red onion, halved and thinly sliced
Instructions
To make the sugar almonds, combine almonds, sugar, and salt in a small skillet over medium heat, cook, stirring gently, until sugar is melted and almonds are golden, 5 to 10 minutes. Pour almonds onto a piece of aluminum foil and set aside to cool.
To make the vinaigrette, combine all ingredients in a blender. Blend until smooth and creamy. If you are using a Vitamix or a blender with multiple settings, begin with the lowest setting and gradually increase the power until all of the ingredients are combined. Pour the dressing into a jar or serving container, and refrigerate until needed.
To make the salad, begin by washing and drying the lettuce. Cut off the root end, then tear the leaves into bite-sized pieces. Top with apple slices, oranges, and onions. Break the cooled almonds into small pieces (they can be sharp, so handle them gently), and sprinkle evenly over the top. Pour on the dressing and toss to coat. Season with more salt and pepper as needed.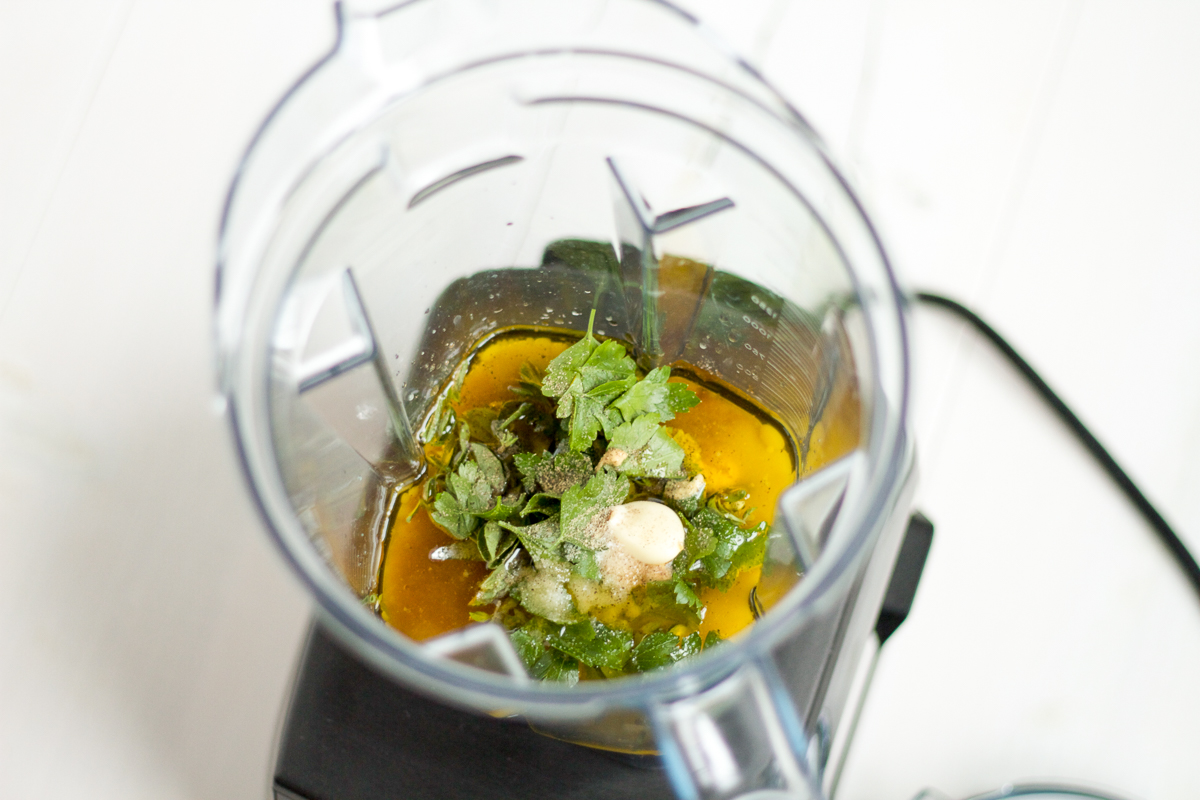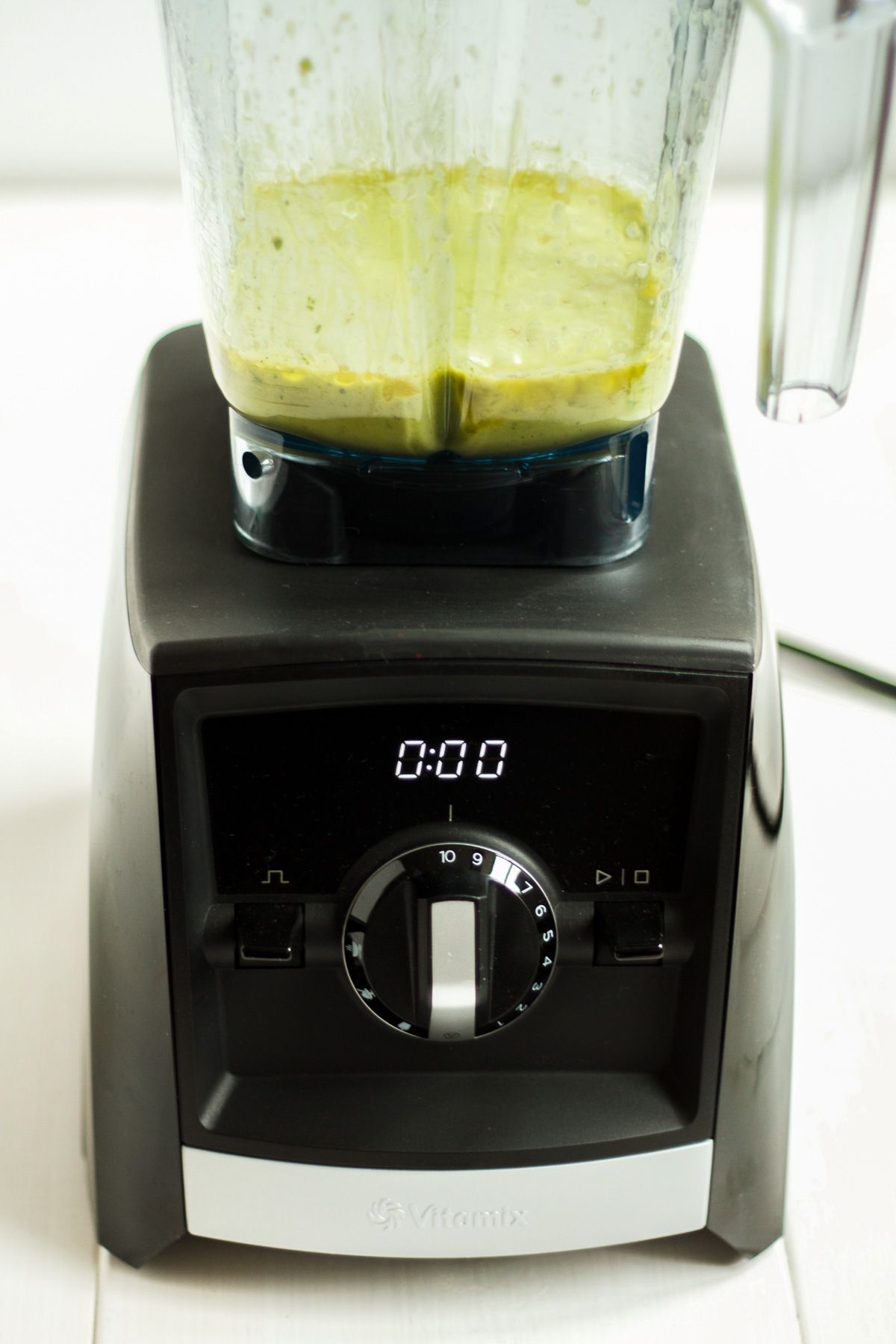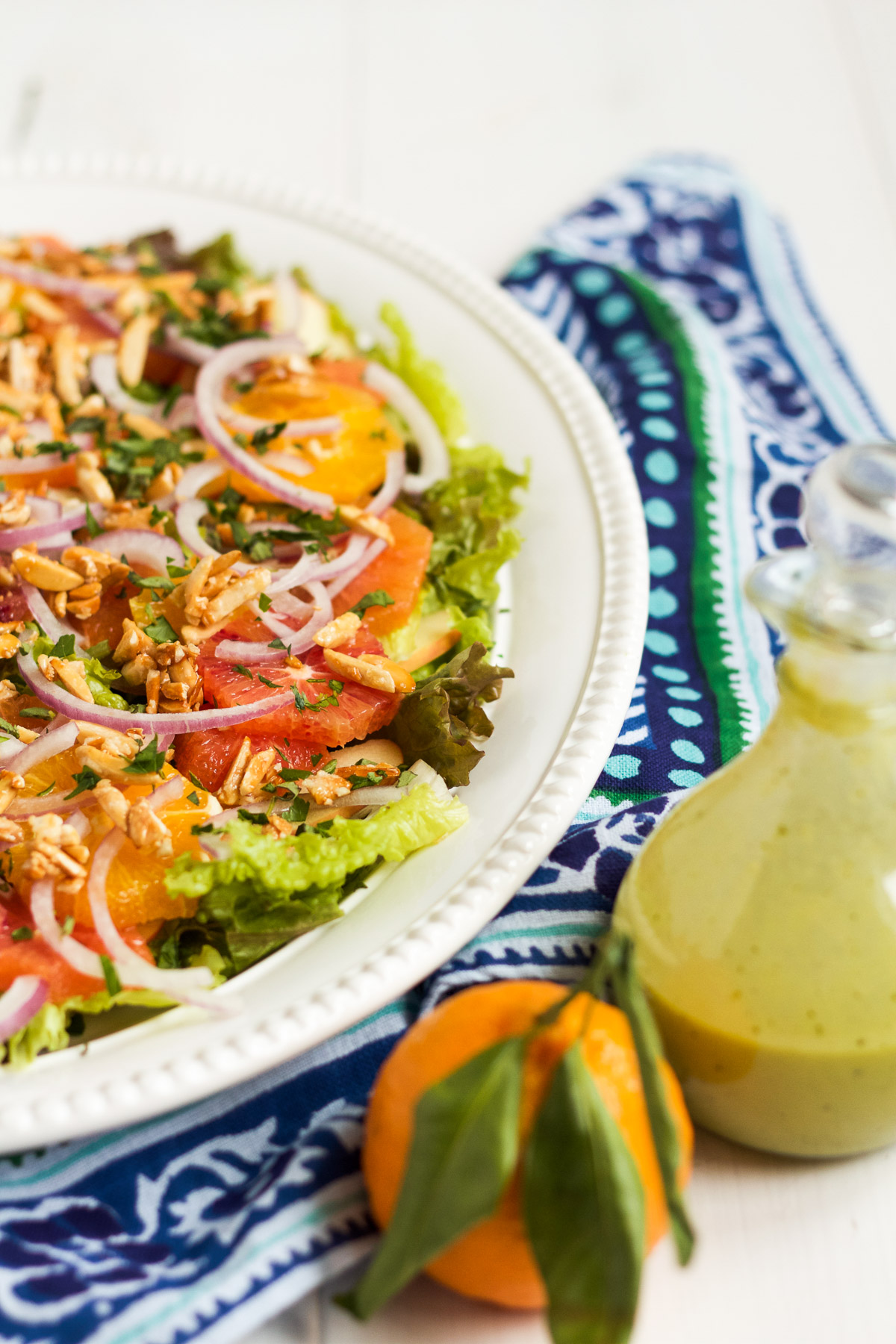 And now for the part you probably came here for—the Vitamix giveaway! Using the Rafflecopter widget below, you can enter to win a Vitamix Ascent Series A2300 blender in black. You have several entry options; feel free to use as many or as few of them as you want. The giveaway will run through Friday, February 24th at midnight PST. The winner will be notified by email and will have 24 hours to respond before an alternate winner is chosen. Best of luck!!
a Rafflecopter giveaway
This post was created in collaboration with Vitamix. I was sent a Vitamix Ascent Series blender to review, but all opinions are my own. Thanks for supporting the brands who help make Lulu the Baker possible.