This darling pink donut bundt cake looks just like an old-fashioned donut! With dense, sweet, flavor and classic pink frosting, it's as yummy as it is cute!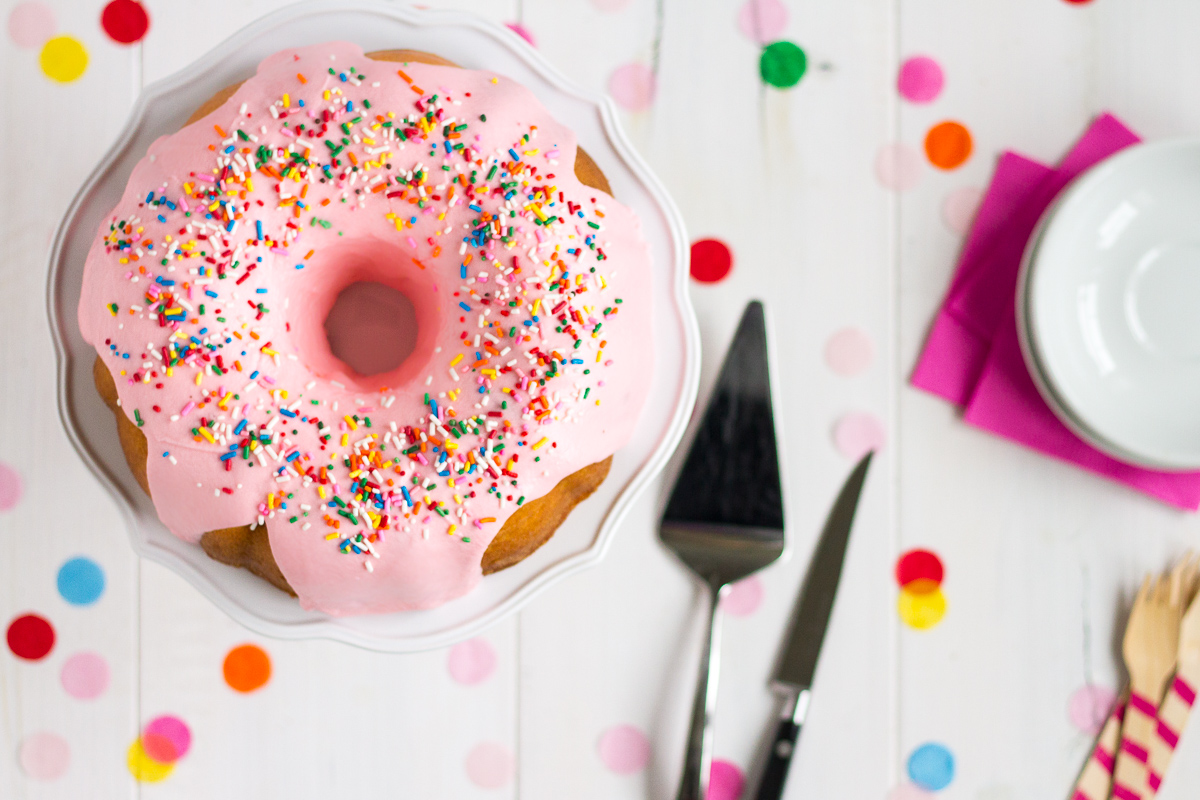 Happy National Donut Day, friends!! I love made up food holidays, and this one might just be my favorite. My family loves donuts more than just about anything, and you better believe we are celebrating today with our favorite sweet treat.
In honor of National Donut Day (or National Doughnut Day, if you prefer that spelling), I created this yummy pink donut bundt cake reminiscent of an old-fashioned cake doughnut with pink frosting. The cake is dense and sweet, and the frosting is the perfect, classic shade of pink. Finishing it off with some colored jimmies is the icing on the cake—or rather, the sprinkles on the icing on the cake.
Everyone who tried this yummy cake commented that it looked and tasted just like an old-fashioned pink donut. Mission accomplished.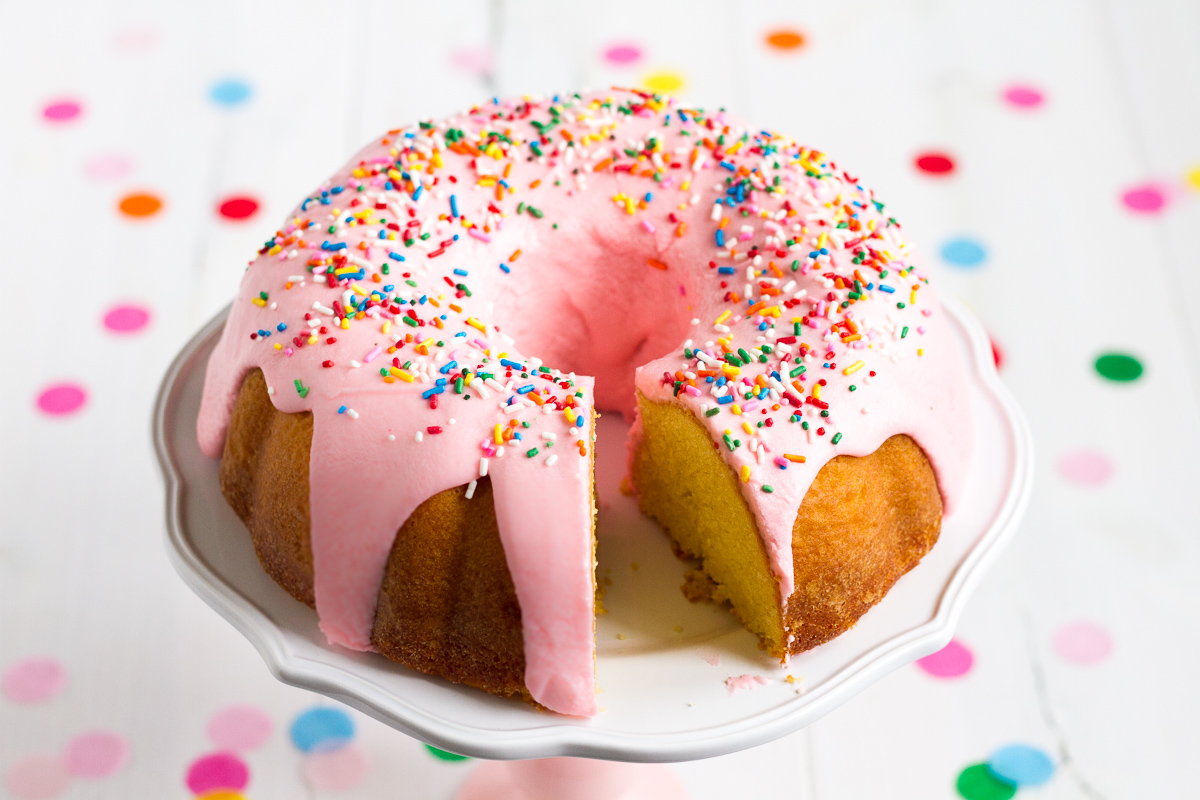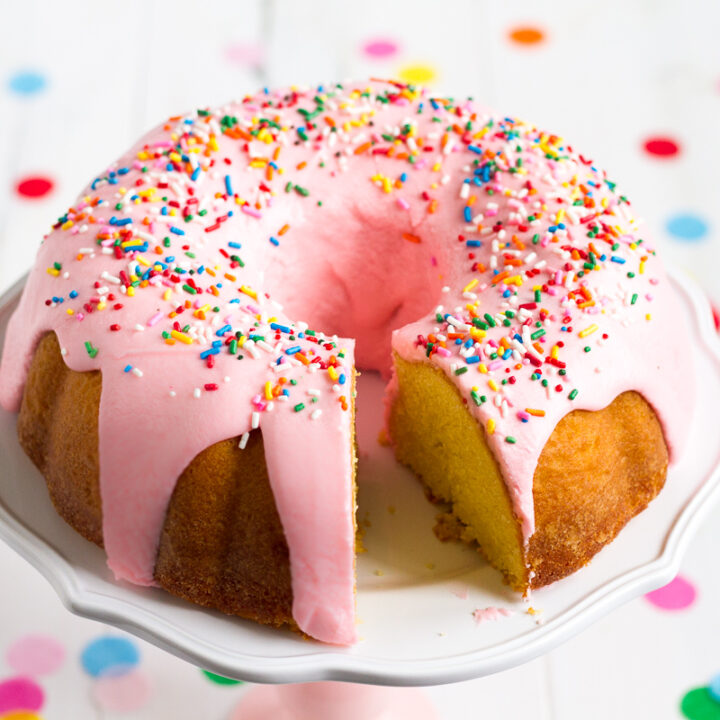 Pink Donut Bundt Cake
Additional Time:
30 minutes
Total Time:
1 hour
30 minutes
This darling pink donut bundt cake looks just like an old-fashioned donut! With dense, sweet, flavor and classic pink frosting, it's as yummy as it is cute!
Ingredients
for the cake:
1 cup (2 sticks) butter, softened
2 cups sugar
4 eggs
4 teaspoons vanilla
3 cups cake flour
3 1/2 teaspoons baking powder
1 teaspoon salt
1 1/2 cups buttermilk
for the glaze:
1 1/2 cups powdered sugar
a pinch fo salt
1/2 teaspoon vanilla
6 Tablespoons heavy cream
2 drops red food coloring
colored jimmies or rainbow sprinkles
Instructions
Preheat the oven to 350°F. Butter and flour a standard bundt pan; set aside.
In the bowl of a stand mixer, beat butter and sugar on medium speed until light and fluffy, 1-2 minutes. Turn the mixer on low, and add eggs one at a time. Beat in the vanilla.
In a medium bowl, combine cake flour, baking powder, and salt. With the mixer on low, add about 1/3 of the flour mixture to the bowl, followed by about 1/2 the buttermilk. Repeat until everything has been added. Scrape down the sides and bottom of the bowl and beat the batter on medium for 30 seconds.
Pour the batter into the greased bundt pan. Bake for 45-48 minutes until golden on top, and until a long bamboo skewer inserted in the center comes out clean.
Remove the cake from the oven and allow it to cool on a cooling rack in the pan for 10 minutes before flipping the cake out of the pan. Allow it to cool on the cooling rack completely before glazing.
When the cake is completely cool, combine the powdered sugar, salt, and vanilla in a medium bowl. Add heavy cream slowly, whisking, until the glaze is thick but spreadable. Whisk in the food coloring. Use a spoon to scoop the glaze onto the cake, using the back of the spoon to gently spread the frosting to the edges. It will flow down the sides of the cake on its own if you spread it just over the edges. Immediately top with sprinkles.

Notes
If you're using a dark or black bundt pan, like I am, decrease the baking temperature by 25°F (down to 325°F) and keep the baking time exactly the same.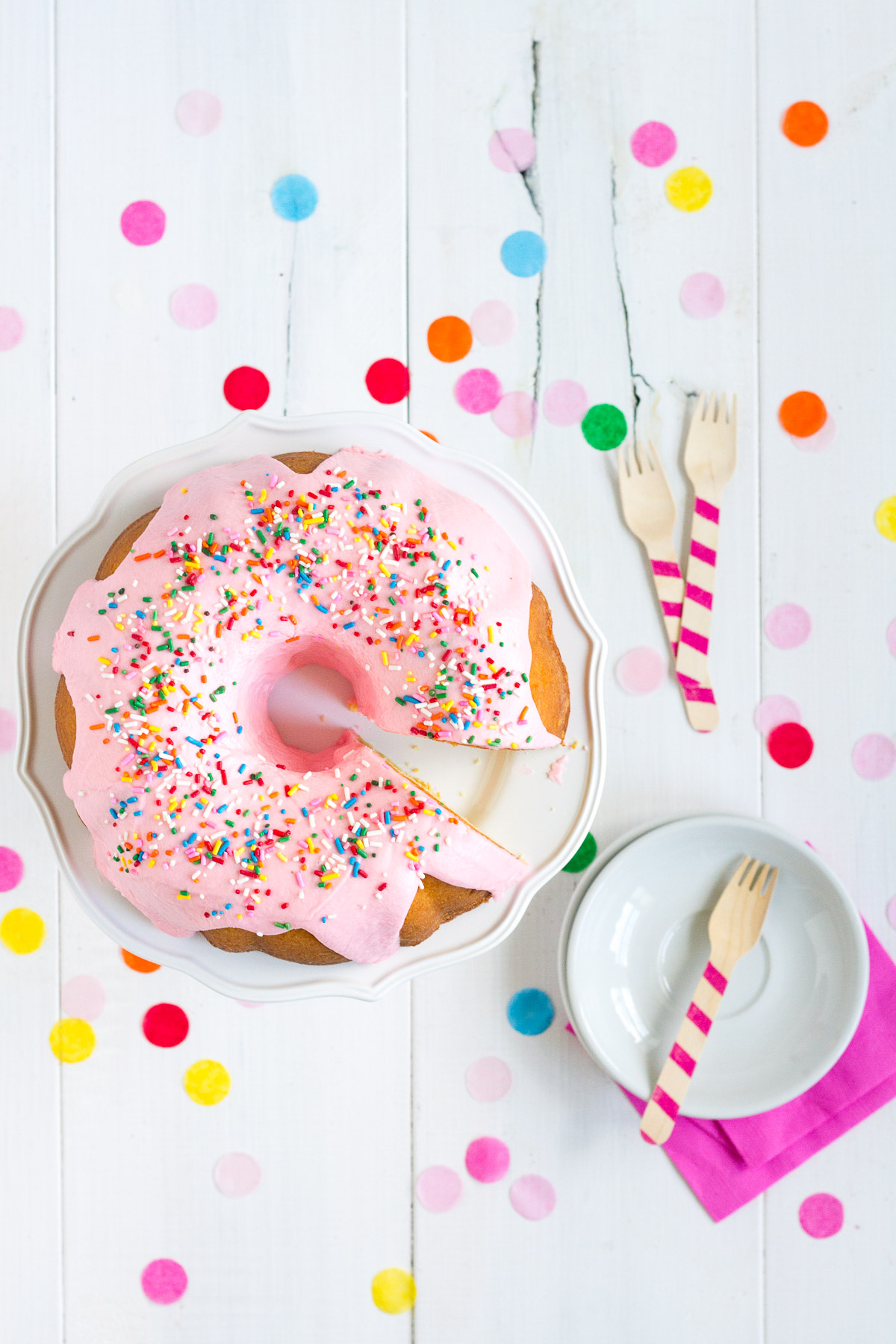 All week, I've been sharing links to doughnut-themed projects from some of my blogger friends. Big thanks to the lovely Dawn of Revel and Glitter for putting together a week-long blog hop bringing you crafts, parties and recipes every day on then lead-up to National Doughnut Day!
Our first post on Monday included a fun giveaway that you can still enter; click HERE. And Tuesday, Wednesday, and Thursday all had posts full of links to the cute donut projects and recipes you can see in the collage below.
A Bubbly Life | A Joyful Riot | Cupcakes + Cutlery | Giggles Galore | Grey Grey Designs | Lemon Thistle | Lulu The Baker | Lynlee's | Modern Moments Designs | Salty Canary
And the fun isn't quite over yet! In addition to my pink donut bundt cake today, you get two more DIYs:
DIY Tassels for a Doughnut Party with Lemon Thistle
Mini Doughnut Boxes with A Joyful Riot
Thank you for partying with us this week! Don't forget to enter the giveaway on Monday's post, and follow our Pinterest board to keep up with all the donut inspiration!