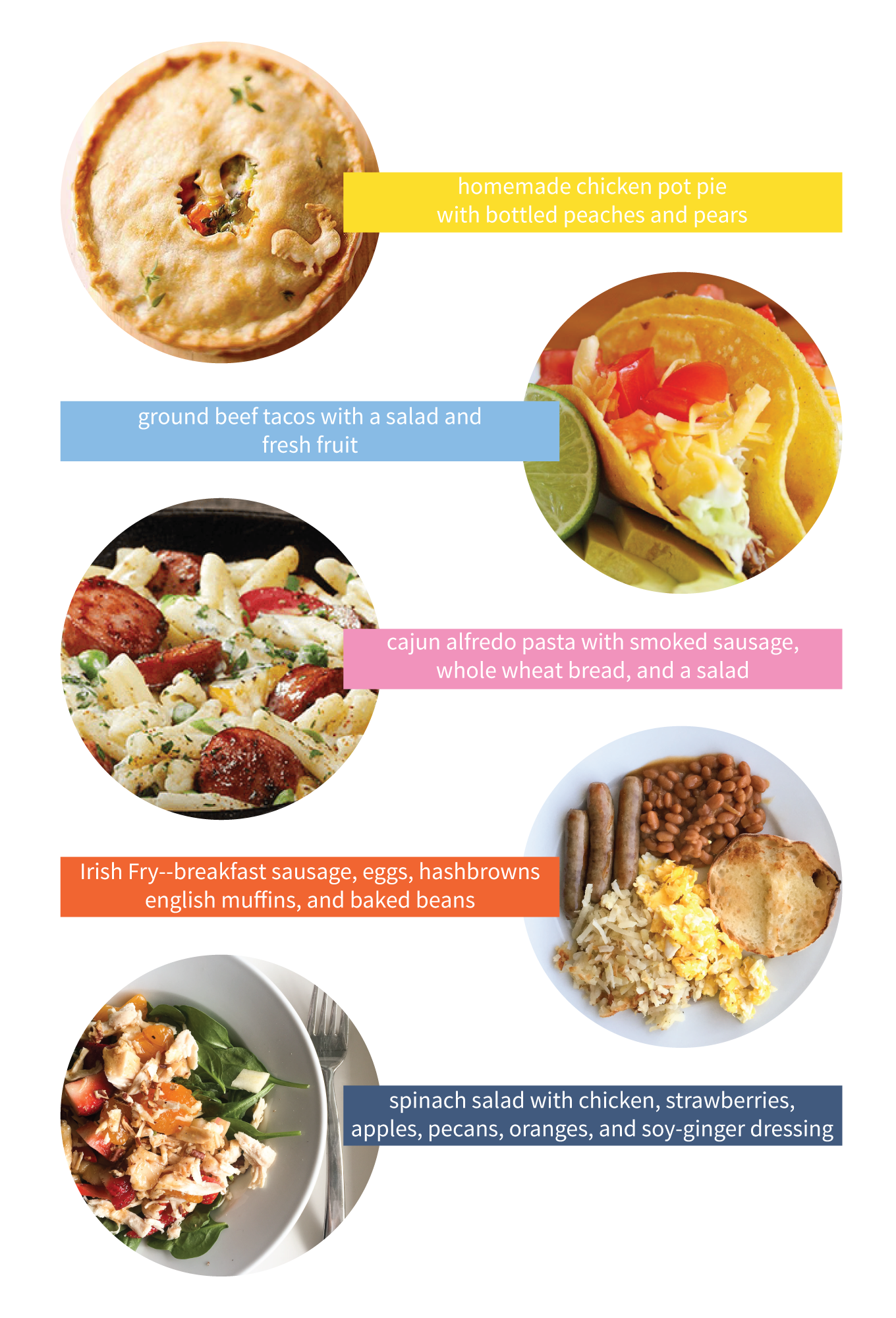 I woke up yesterday morning and realized that I hadn't written my Menu Ideas post for this weekend! Luckily, I think Sunday is just as good a day to post ideas for easy weeknight dinners as Saturday is. This week, we had some old family favorites along with a new go-to. Here's what we enjoyed for dinner this week…
Homemade Chicken Pot Pie with bottled peaches and pears (photo from BHG.com): Chicken pot pie is a family favorite in our house, and this recipe is pretty easy, and a big hit with everyone who tries it. My little sister shared it with us after her family fell in love with it, and we've fallen in love with it too!
Ground beef tacos with a salad and fresh fruit: We just can't escape tacos in my family! This week, we had simple ground beef tacos seasoned with out homemade taco seasoning. Half of us used flour tortillas, half of use used fried corn tortillas, and they were all delicious! We had a simple salad with it, along with fresh kiwi, pineapple, and grapes.
Cajun Alfredo Pasta with Smoked Sausage, whole wheat bread, and a salad: We first had this yummy pasta dish at my mom's house and loved it right away. The whole family thought it was delicious, and it was seriously one of the easiest meals I've ever made. It's definitely going in our regular rotation. Yum!
Irish Fry: Every St. Patrick's Day for as long as I can remember, my family has eaten an Irish Fry for dinner. It's a meal that I look forward to all year long. Breakfast sausage, eggs, hashbrowns, english muffins, and baked beans. It's such a good combo, and if you love breakfast for dinner, you have to give it a try!
Spinach salad with chicken, strawberries, apples, pecans, mandarin oranges, and soy-ginger dressing: Out of all the salads we've been eating lately, this is one of the favorites. It's super easy to toss together, and really full of flavor. Without the chicken, it is great as a side salad, and with the addition of the chicken, it's a perfect main course.
We're on Spring Break this week! We'll be doing a little camping, a little gardening, a little cleaning and organizing, and hopefully enjoying lots of family meals together. For more ideas for quick and delicious meals you can make and enjoy with your family, read all of the posts in my Menu Ideas series. Have a wonderful week!