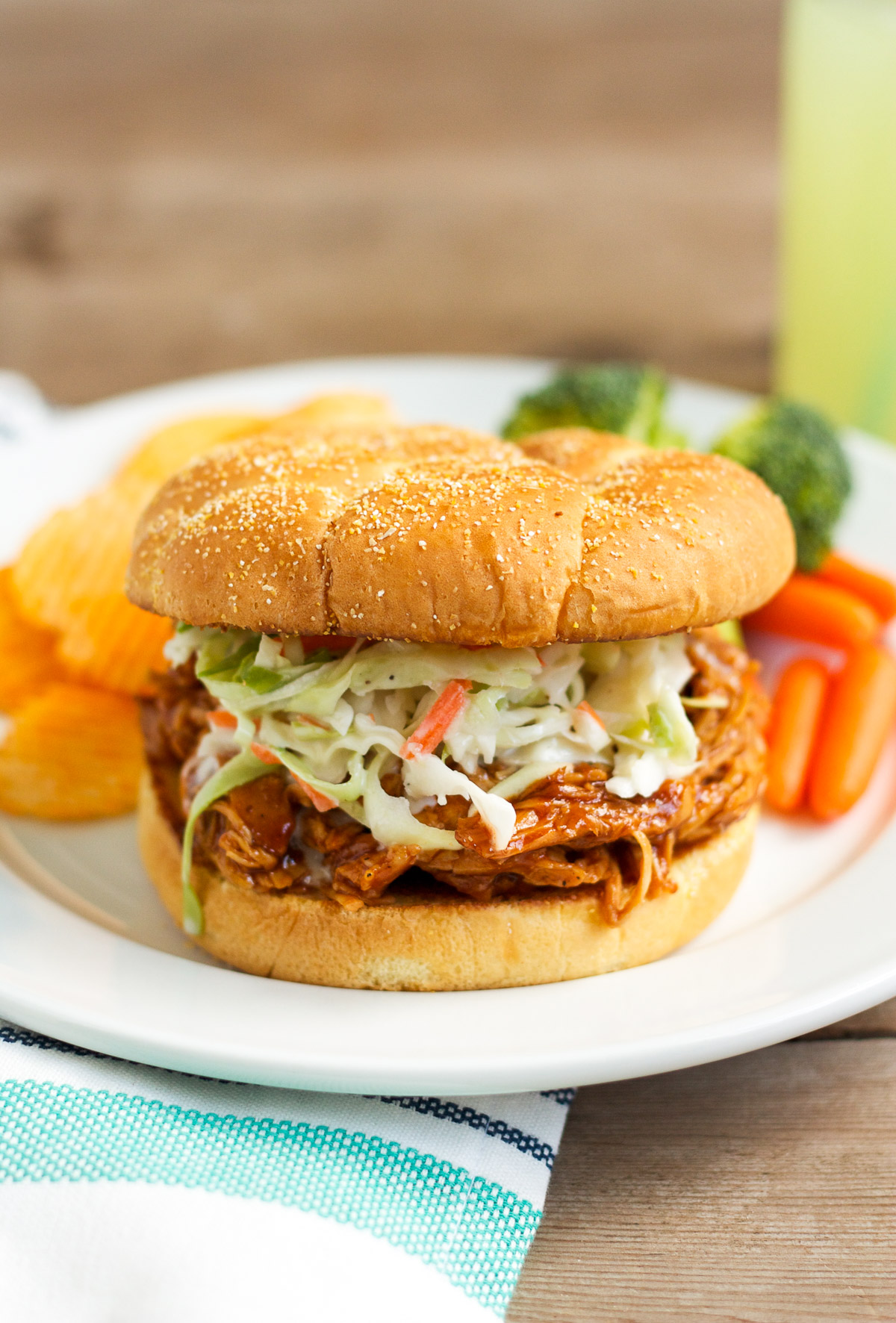 If you follow my This Week's Menu Ideas series, you've probably noticed that a few dinners pop up regularly in our weekly meal planning, like these delicious barbecue chicken sandwiches. I can't help it! Every time I make them and eat them, I wonder just how soon I can make them again, because they are that amazing. Earlier this summer, I decided to make barbecue chicken sandwiches for dinner, but I decided that it was time to try something new. I love barbecue sandwiches, but we just didn't have a go-to recipe that consistently turned out delicious…until now!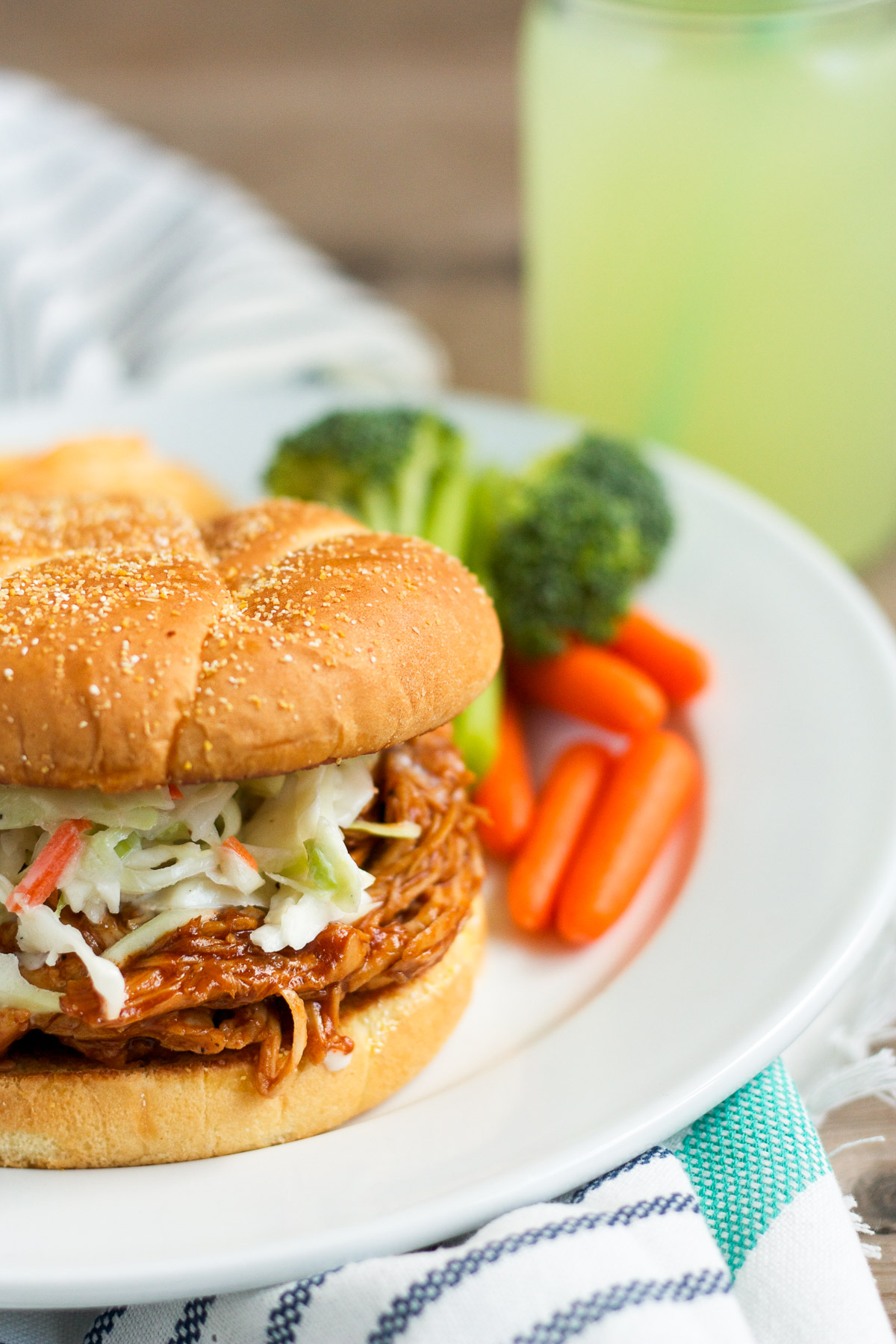 If we were going to build a better barbecue chicken sandwich, we needed to work from the bottom up. We started buttering hamburger buns and browning them on a griddle earlier this year for burgers, and it instantly improved our burger game by a mile. I knew a better bun would be the first step toward a killer chicken sandwich, and it has proven to be a fantastic change. Buttering the buns and cooking them on the griddle prevents them from soaking up all the barbecue sauce and getting soggy. And butter and a little crispness reminiscent of a grilled cheese sandwich? Yum!
The next part of the sandwich that needed perfecting was the barbecue chicken—the main component! Now I appreciate a good crockpot recipe as much as anyone; I have lots of tried and true slow-cooker recipes that my family loves. But I just haven't found a crockpot barbecue chicken that I love. The chicken always turns out OK, but I just had a feeling it could be better than OK. The Pioneer Woman has a great recipe for barbecue chicken cooked in the oven, not the slow-cooker, so I tried her method with a few tweaks, and the chicken was amazing! Tender but not mushy, and so flavorful. The chicken was perfect, and only required a few minutes more than just throwing ingredients in a crock pot.
Now, in my opinion, a barbecue sandwich just isn't complete without a heaping spoonful of cool, creamy cole slaw on top. I didn't have to look far to find a fantastic cole slaw recipe—I've been making a great one for years. It is fresh, easy, and delicious, and you can make it ahead of time and pop it in the fridge until dinner.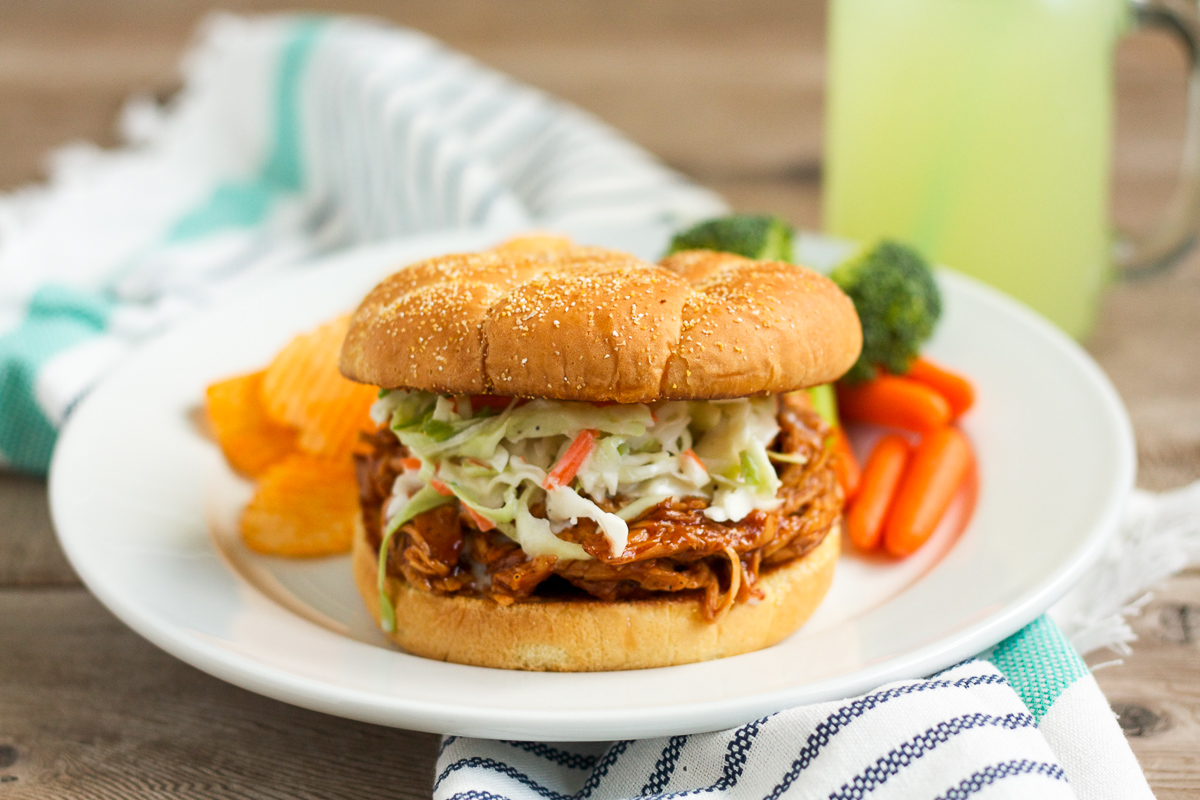 With buttered and griddled buns that won't get soggy or mushy, hearty, flavorful, shredded chicken, and cool, tangy cole slaw, these sandwiches are sure to become an instant favorite. I promise they'll knock your socks off!

Barbecue Chicken Sandwiches
These delicious barbecue chicken sandwiches, topped with creamy cole slaw, are so tasty, you'll want to have them every week! adapted from
The Pioneer Woman
Ingredients
for the cole slaw
½ cup mayonnaise
⅓ cup sugar
¼ cup milk
¼ cup buttermilk
2½ Tablespoons lemon juice
1½ Tablespoons white vinegar
½ teaspoon salt
freshly ground black pepper
1-lb bag shredded cabbage or cole slaw blend (7-8 cups)
¼ cup shredded carrot
for the chicken
4 lbs boneless, skinless chicken breasts (not frozen!)
kosher salt
freshly ground black pepper
2 Tablespoons extra-virgin olive oil
1 medium onion, peeled and thinly sliced
8 cloves garlic, peeled and lightly smashed
32 oz BBQ sauce
8 large hamburger buns
softened butter
Instructions
To make the cole slaw, begin my whisking the mayo, sugar, milk, buttermilk, lemon juice, vinegar, salt, and pepper in a large bowl until smooth. Add cabbage and carrots, and toss to coat. Cover and chill at least 1 hour.
To make the chicken, preheat the oven to 300°F. Season the chicken breasts with salt and pepper on both sides. Over medium-high heat on the stove, heat the oil in a large dutch oven. Add the chicken breasts, and cook until lightly browned on both sides. Remove the chicken from pot and set aside on a large plate. Add sliced onions and garlic cloves to the dutch oven, and saute until onions are translucent and tender, about 5 minutes. Add chicken back to the pot and top with BBQ sauce. Cover and bake in the preheated oven for 1 hour 30 minutes.
When the chicken is cooked through, place the dutch oven on the stove or on a heat-proof surface. Remove the chicken from the pot and set aside on a large cutting board. Remove and discard any garlic clove pieces you can find in the sauce. Using two forks, shred the chicken. Put the shredded chicken back in the pot, stir to combine, cover, and set aside.
Butter the inside of the hamburger buns, and griddle them butter-side down until golden. Place the griddled buns butter-side up on a cooling rack to cool.
To assemble the chicken sandwiches, place a heaping forkful of chicken on a bottom bun. Top with a spoonful of cole slaw and the top bun. Enjoy!
Notes
You might be tempted to use frozen chicken in this recipe, but make sure to thaw it first. Otherwise, the sauce will be watery.

Don't skip the step where you brown the chicken before adding it to the sauce. It makes a huge difference in both flavor and texture.

I used to just griddle hamburger buns and then stack them on a plate to cool, but that makes them get soggy and flat. Going to the extra trouble of putting the griddled buns on a cooling rack to cool ensures that they hold their shape and add a very pleasant crispness to the sandwich.