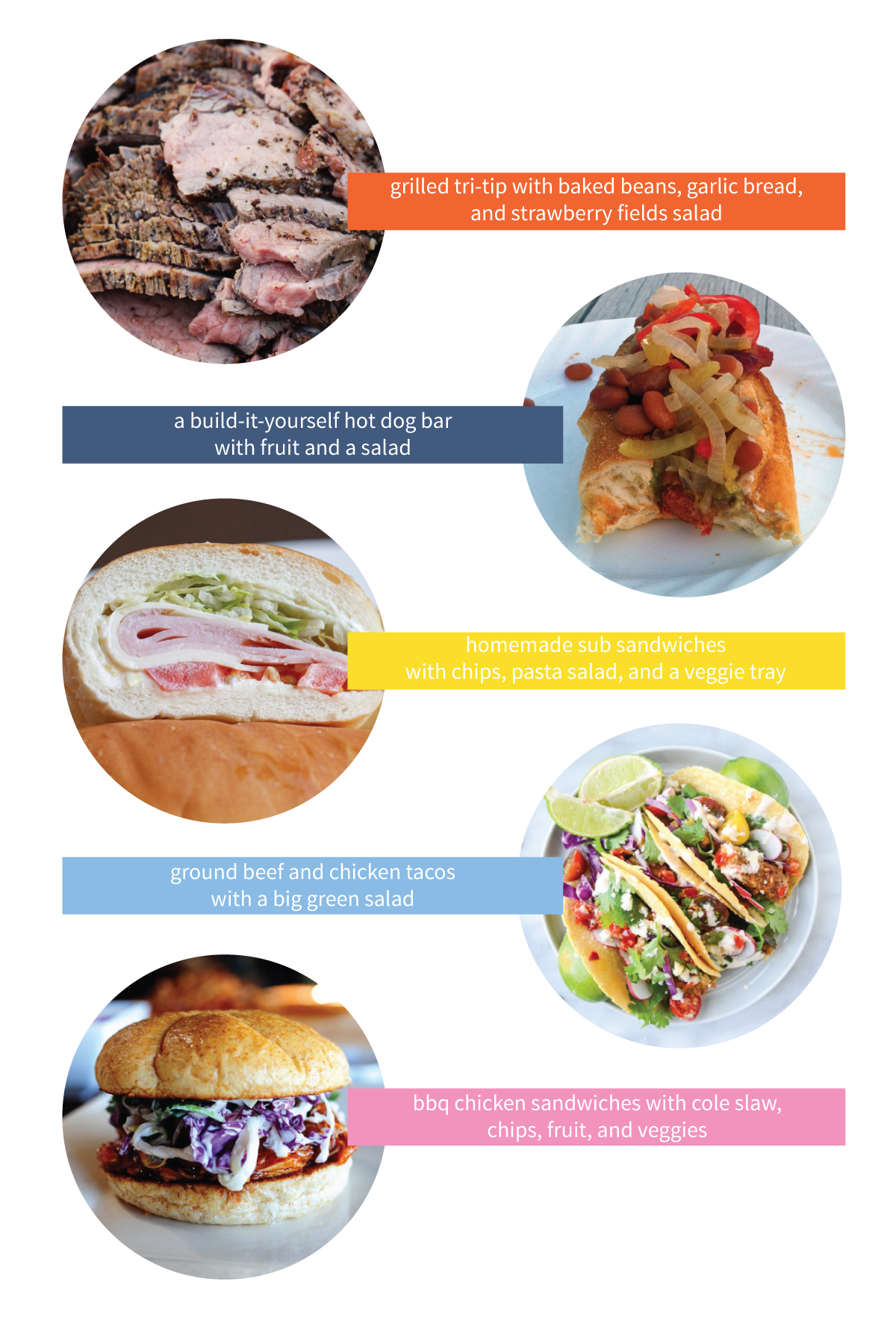 One of my favorite things about summer is the food. I supposed I could say that about any season or time of year, and I do, but I really do love the food we eat in the summer. This summer has been extra fun food-wise because for almost an entire month, we were eating every meal with a big group of cousins! Cooking for a crowd in the summer doesn't have to be a pain. With the right menu choices, you can feed twice the number of people with the same amount of effort—and we know because we got lots of practice this year! For this week's menu ideas, I rounded up some of our favorite summer dinners that can easily be scaled up to feed a small army…
Grilled Tri-Tip, Baked Beans, Garlic Bread, and Strawberry Fields Salad
My husband grew up in the central coast of California, where Santa Maria-style barbecue was invented. This is our version of one of his favorite meals. The grilled tri-tip is super easy (only 4 ingredients!) and always a hit with everyone. Store-bought baked beans and yummy garlic bread make for simple sides. And the strawberry salad is delicious.
A Build-It-Yourself Hot Dog Bar with Fruit and a Salad
Who doesn't love hot dogs in the summer? They are so good and so easy, and you can make a ton of them without any extra effort. We had a build-it-yourself hot dog bar at one of our family reunions last month, and it was so good. We cooked up a bunch of our favorite hot dogs, and put out a few different kinds of topping: ketchup, mustard, and relish for classic hot dogs, homemade chili, chopped onions, and shredded cheddar for chili dogs, and homemade guacamole, crumbled cotija cheese, pinto beans, and more for Sonoran Hot Dogs. Paired with a simple green salad and some fresh fruit, it was delicious!
Homemade Sub Sandwiches with Chips, Pasta Salad, and a Veggie Tray
Sandwiches are always an easy meal, and great for feeding a lot of hungry people without too much effort. And everybody can make their sandwiches however they like. We made our favorite pasta salad recipe, my Nana's Macaroni Salad, to go on the side, and put out a big veggie tray. And if you're having sandwiches you have to have chips!
Ground Beef and Chicken Tacos with a big Green Salad
My husband and I both love tacos, but we disagree on which is better: ground beef or shredded chicken. So when we had family in town for a reunion, we made both! We browned a couple of pounds of ground beef and seasoned it with our homemade taco seasoning, and also made a batch of our favorite mexican crockpot chicken. We put out flour tortillas and fried up plenty of corn tortillas, and had all the toppings you'd want: cheese, guacamole, sour cream, tomatoes, lettuce, and more. Refried beans and spanish rice were originally going to be served on the side, but this was our last meal of the week, and we opted for an easy salad instead.
BBQ Chicken Sandwiches with Cole Slaw, Chips, Fruit, and Veggies
We've had these yummy BBQ chicken sandwiches a lot since I first tried them a few months ago. They are so delicious! I adapted the recipe from an oldie but goodie recipe from The Pioneer Woman. We topped ours with homemade cole slaw (I'll post the recipe soon), and had chips, watermelon sticks, and fresh veggies on the side.
Do you have any tips for cooking for a crowd during the summer, or any go-to meals that are easy to scale up for lots of dinner guests?