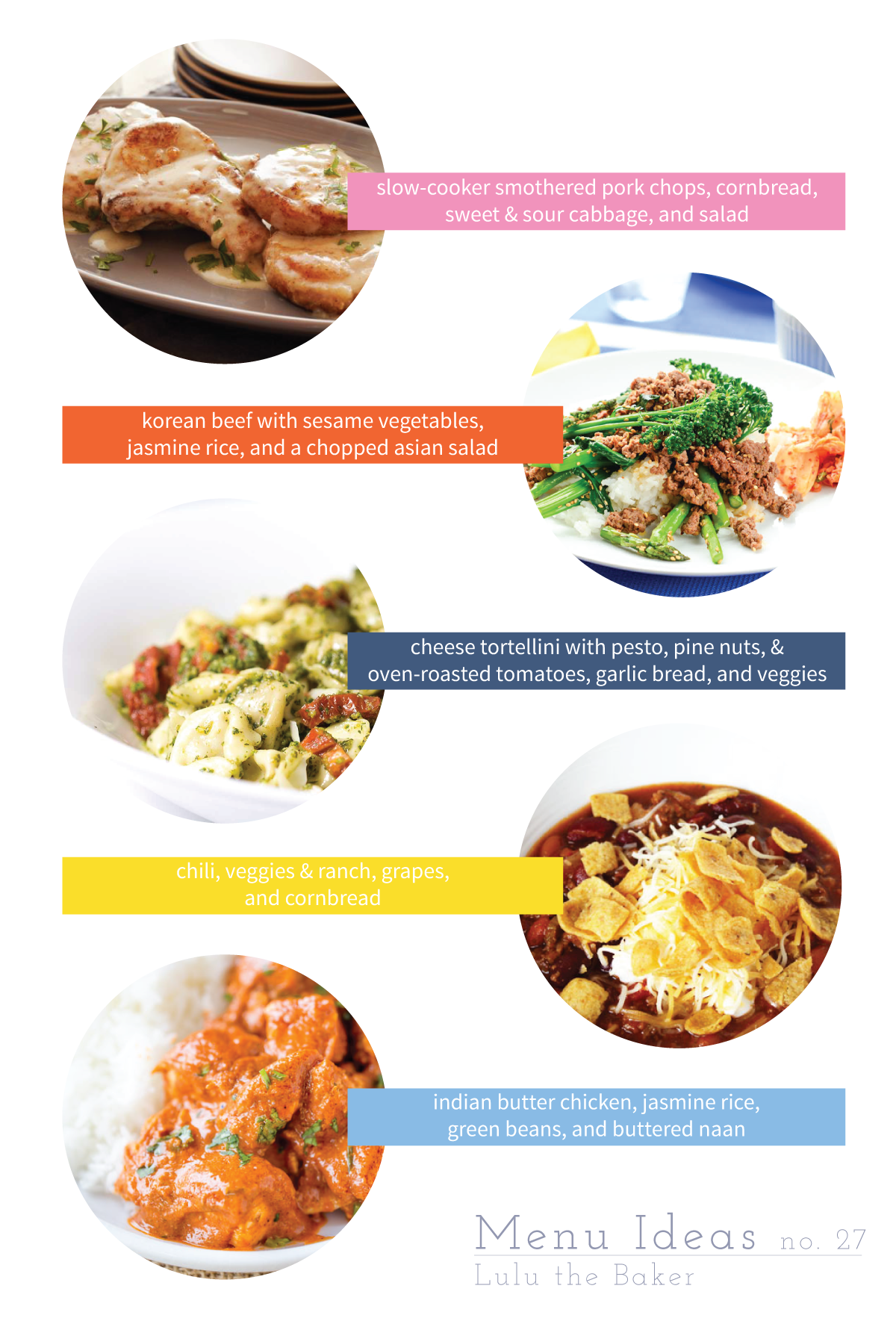 When we visited my sister and her family in Connecticut last month, she asked me why I hadn't posted any menu ideas in a while. She said those posts are her favorite and the most helpful to her, and it made me wonder if you guys feel the same. I started this series to share easy weeknight dinner ideas that my family makes and loves, but while I really like these posts and assumed everyone else would, I honestly don't get any feedback on any posts, so I never know which ones you guys like. I'd love for you to leave a comment or share this post or like it on Facebook or really ANYTHING and let me know if you want to see more Menu Ideas posts or if you think they're rubbish. We obviously eat dinner every night, and I have loads of dinner ideas that I can share if you want them.
On to this week's menu ideas! I'm a big believer in seasonal cooking for a whole slew of reasons, but mostly because I feel like our meals should reflect the current weather/mood outside. So all of these dinners are what I consider to be great Fall dinners. They are warm, cozy, flavorful, and mostly on the hearty side. There are a few slow-cooker dinners in here, which are always helpful, and the others are just plain easy.
Slow-Cooker Smothered Pork Chops, Corn Bread, Sweet & Sour Cabbage, and Salad
When my husband and I first started dating, my mom invited him over for Sunday dinner with my family, and these smothered pork chops were on the menu. They've been a family favorite for decades, and are so easy to make. Forgive me because I'm about to give you one of those non-recipe recipes. But I promise these are hard to mess up. Place boneless pork chops in the bottom of a slow cooker. If you have time, sear them first in a little olive oil, but if you don't have time, that's OK. Season them with salt and pepper. Thinly slice a large onion and scatter the slices over the pork chops. Top with a can of cream of mushroom soup and sprinkle generously with seasoned salt. Cook on low for 6-7 hours or on high for 3-4 hours. They are great with any kind of potatoes, but this time, we served our pork chops with golden cornbread, sweet & sour red cabbage (follow this recipe but use red cabbage and cook it longer, until it's tender), and a regular green salad. [photo from foodnetwork.com]
Korean Beef with Sesame Vegetables, Jasmine Rice, and a Chopped Asian Salad
My friend Ali created an amazing app a couple of years ago called Weeknight Society. Every week, the app features a seasonal menu highlighting 5 easy weeknight dinners you can make in about 30 minutes. The 5 featured recipes include ingredient lists, step-by-step pictures, and serving tips. And all the old recipes are stored in the archives, which you have complete access to. AND IT'S FREE! Every recipe I've tried from Weeknight Society has been delicious, and this Korean Beef with Sesame Vegetables was incredibly popular with our family. We served the beef and veggies over jasmine rice and served a store-bought chopped asian salad on the side. We will definitely make this one again!
Cheese Tortellini with Pesto, Pine Nuts, & Oven-Roasted Tomatoes, Garlic Bread, and Veggies
If you've followed along with the Menu Ideas series, you'll recognize this meal. It's one that my family loves and eats over and over again. Cook store-bought tortellini according to package directions. We like the ones with cheese, but you can get crazy with the fillings if you like. While the pasta is cooking, toss grape tomatoes with olive oil, salt, and pepper, put them on a baking sheet, and roast at 450°F until they are shriveled and cooked through. Scoot the tomatoes to one side of the pan, add a handful of pine nuts, and continue cooking until the pine nuts are golden. Watch them carefully so that they don't burn. Toss the cooked pasta with store-bought pesto sauce and the oven-roasted tomatoes and pine nuts. Top with parmesan cheese or shredded mozzarella, and serve with garlic bread and veggies or a salad. [photo from Life's Ambrosia]
Chili, Veggies & Ranch, Grapes, and Cornbread
I love when cold weather hits and we can start eating chili for dinner! I love chili, and this chili recipe is our favorite. I got it from my aunt many years ago, and we really haven't made any other chili recipe since because this one is so good. We pretty much always serve chili with cornbread, although my husband likes his with flour tortillas. Veggie sticks and ranch, and fresh fruit like grapes or apple slices help balance the meal and add freshness. And the leftovers are even better, so don't be afraid to make a full batch.
Indian Butter Chicken, Jasmine Rice, Green Beans, and Buttered Naan
My whole family—parents, siblings, nieces and nephews—gets together for a fun vacation every summer, and everyone gets a night to make dinner for the group. My brother and his family made this Indian Butter Chicken recipe from Dinner then Dessert when it was their turn this past summer, and everyone loved it and wanted the recipe so they could make it again when they got home. When I made it recently, I followed the recipe but made a few tweaks to suit our tastes: I omitted the cayenne from the marinade and subbed anaheim peppers for the jalapeños because no one in my house likes hot and spicy, and I used boneless, skinless thighs instead of breasts. You do have to marinate the chicken the night before, then do more prep before throwing it in the slow cooker, so it isn't a dump-and-go type of recipe. But the results are tender and savory, and totally worth a little effort in the morning. The chicken goes well with jasmine rice, roasted green beans, and warm naan slathered with butter.
If you need even more ideas for what to make for dinner this week, be sure to check out the Menu Ideas archives, where you'll find 26 more round-ups of easy weeknight dinners that have been tested and approved by my family. I'd love to hear if you try any of these recipes, or if you have a go-to weeknight meal that you think I need to try. Leave me a comment below or message me on Facebook, Instagram, or Twitter.